Dufour 40
---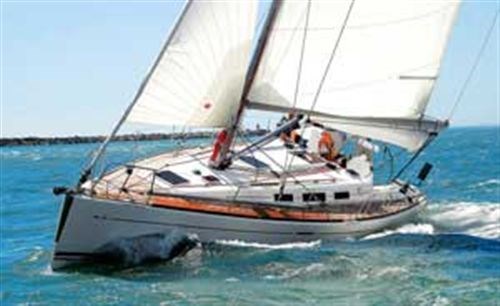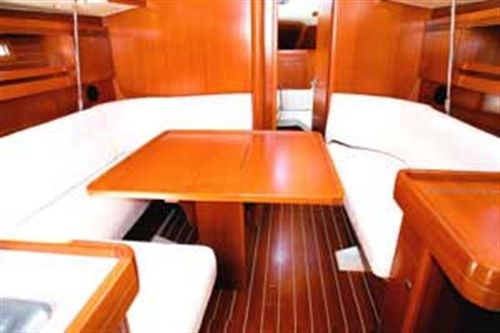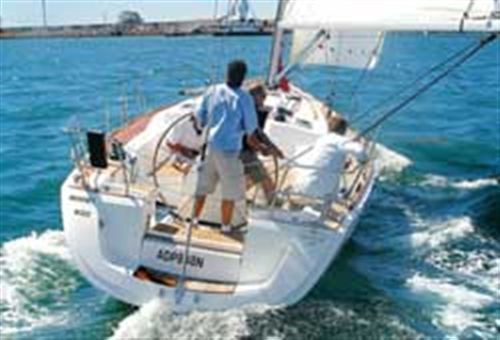 The new Dufour range of racer/cruiser is being touted as a yachtman's yacht. Australian correspondent David Lockwood tackled 40-knot winds in the first 40-footer to land Down Under, and filed this report.
French yachtmaker Dufour has, until now, been the mother of 30-41ft comfortable cruising yachts in an aptly-named Classic range. The Classics that sailed Down Under can be found gadding about Gippsland, wandering around the Whitsundays and prancing about Port Phillip Bay as we speak.
This is all well and good providing you are not a new-breed yacht owner who needs a fast cruiser that rates under IRC and has a chance of winning a regatta or two. To cater for that market, Dufour went back to the drawing board. Voila! Enter the Performance Cruiser range of 30-41 footers.
The new range of yachts is also timely because it follows the company's acquisition of fellow French yachtmaker Gibsea. With that new brand, Dufour weighs in as the second-biggest yachtmaker in France behind the Beneteau-Jeanneau Group.
Competitively priced compared with a Beneteau 40.7, the new Dufour 40 ($370,000 standard fitout) has proven a big hit since its release in December 2002. More than 100 of the flash 40-footers have been sold worldwide after being anointed Boat of the Year at the Paris Boat Show.
In Australian waters, the Dufour 40 has already raced in the Cruising Division of Hamilton Island Race Week, where it finished between sixth and tenth over the line. But I reckon my test was a better indicator of its wet-track form. Look at the images hereabouts and tell me this yacht isn't smoking.
I noted 37kt of true wind over the deck and 10kt-plus on the clock as we roared down the Hastings River at Newcastle with a full head of sail. In survival mode, that was. There were tugs, ships, blaring horns, white horses and - thank heavens - a single-line reefing system that helped us work our way back home. More on the wild ride later.
FAST WORK
Italian yacht designer Umberto Felci, who has been commissioned by Grand Soleil and various sportsyacht makers, penned the pretty 7300kg hull lines. The vacuum-bagged hull has solid GRP below the waterline and foam-cored sides. The 2.10m deep-draft lead keel provides a 37 per cent ballast ratio.
But, the really significant thing is the injection-moulded deck. The next big thing in boatbuilding, the resin-transfer moulding process produces perfectly fair inner liners and outer decks and saves on weight, too. The process is so efficient that Dufour can trot out a deck a day.
Like all good yachts, most of the weight is down low. At rest, the bluff stem and forefoot sit clear of the water, just like a slippery racer-cruiser - even despite a watertank under the forepeak double. The boat doesn't drag its high-cut transom, either, even though there are water and fuel tanks under the aft-cabin mattresses.
Sensibly, most of the paraphernalia you usually find in cruising yachts had been left in the chandlery, and the Dufour 40 was pretty much race-ready but for its furling headsail. And the upgrades on this yacht were chiefly in the performance department.
The so-called Performance package has spinnaker gear, aforesaid deep lead keel, upgraded halyard winches, extra blocks and running rigging, a factory-fitted fully-battened dacron main and No 2 on a Facnor furler, plus a North's 147 per cent #1 racing jib.
The Spinlock clutches atop the cabin are handy to the upgraded Harken two-speed 44 halyard winches. Primary winches are two-speed 48s alongside the wheel, within reach of the skipper with the mainsheet. The location of these items was geared around short-handed sailing.
As there isn't a lot of room to crouch behind the primary winches, the headsail trimmer was left facing aft and looking over his or her shoulder. But importer Gill Finlay has since pointed out that in racing mode, the sheets are run from the blocks back to the winches on the cabin top.
The swept-back Sparcraft 9/10 rig flies a fair 89sqm of sail area, yet the boat feels nice and stiff thanks to a deep 2.10m keel with 2700kg of lead. Suffice to say, the single-line reefing system came in handy in the high winds, as did the Harken adjustable backstay when working to windward, and the solid boom vang when smoking downhill.
The boat had an upgraded 55hp - instead of 40hp - Volvo saildrive with folding prop that assisted with parking in the strong winds. Other options included a Raytheon electronics pack with chartplotter, teak decks, stainless-steel bow protector and windlass, lifeline gates and stylish Alcantara white fabric liners down below. 
SMOOTH SAILING
The Dufour 40 is nothing if not an all-over accessible boat. The deck flows and has rounded edges, a good grade of non-skid, and the correct angles for sure footing when pressed. Cockpit space is sufficient to harbour a crew of, say, six.
The gunwale was traced by teak toerails (which won't be welcomed by human ballast), solid stanchions and lifelines with intermediate wires. There were also side gates for taking on provisions or late starters when not moored stern-to in Med' fashion.
A collapsible aft infill creates a walkthrough cockpit. The transom has a removable swim ladder and a decent boarding platform. Nearby is a quick access panel to the steering gear, cold handheld transom shower, two pushpit seats, gas-bottle locker and storage locker in need of an overboard drain. There is a dedicated spot for the liferaft.
Up front is a good anchoring setup for worry-free nights on the plough. A windlass and deep chain locker lets you retrieve the anchor without worrying about stacking the rode. I also noted cool French deck fillers for fuel and water.
BELOW DECKS
The companionway hatch was a tad sticky, but once inside you should pick up on the big-boat feel that comes from the hull volume of yachts 40ft and bigger. The interior is certainly liveable and it makes for a yacht that will be at home at places like Hamilton and Coffs Harbour during regattas - and with the clan thereafter.
Layout options include three cabins/one head as tested, three cabins/two heads and two cabins/two heads. All versions feature Moabi mahogany joinery, which is a light-red timber rather than coffin-grade mahogany.
The white injection-moulded liner, five deck hatches, six opening ports and bone-coloured manmade suede inspire an almost Scandinavian feel.
Big handrails, fiddles, curved edges and wide companionways make for easy movement in a seaway. Details like double-toothed door locks, vented louvre locker doors, and excellent engine access on all sides didn't go unnoticed.
But it's the boat's broad beam that leads to a very accommodating saloon. Four people can sit around the deep portside U-shaped lounge around the dinette, which conceals a bottle rack. Flip up the table leaf and you'll get dining room for another couple sitting on the settee opposite.
The navigation station to starboard near the companionway has a good seat with back support, chart storage, deep stationary locker and a fold-down switch panel that revealed coded wiring. Needless to say, the French yacht is built to CE standards.
There are handy at-a-glance fuel and water gauges, a nightlight and Raymarine electronics including a plotter screen.
Opposite to port is a galley that's also handy to the crew up top. By rights you should be able to use the L-shaped space in a seaway. There is an adequate amount of food-prep space on the counters, which have fiddle rails and stone-like tops. I noted an opening porthole.
Amenities include double stainless-steel sinks, saltwater foot-pump and wash, two-burner gimballed gas stove and a deep top-loading 12/240V fridge/freezer. A hinged door reveals a garbage bin, and there are cutlery drawers, sliding vegetable baskets, a crumb tray under the sole, and overhead lockers with supplied plastic glasses and "mock crock". 
SWEET DREAMS
The two aft cabins are each dominated by a generous 1.95m x 1.41m double berth. The mattress is fashioned from 10in foam and wrapped in a washable striped-camel and white cover. There is only one opening porthole per aft cabin, but there is the option of fitting a second port for improved cross-flow ventilation, says the dealer.
Headroom is 1.98m and each cabin has a hanging locker, shelf and seat/shoe locker. No matter what tack, crew should find a sea berth either back aft or on the portside lounge.
DUFOUR 40
The third forepeak cabin has a 2.2m x 1.96m offset double bed located on some interesting joinery. An unsupported section of the bed frame appeared vulnerable. But, there was good headroom, dressing room and storage space for your clobber.
Last but not least is the head behind the nav station to port. The convenience is convenient to the companionway, has full headroom and an easy-clean moulded liner. There are handy grabrails, upmarket Euro-style fittings and an impressive plumbing arrangement with everything clearly labelled.
I couldn't find a hook to hang the handheld shower so you can wash your hair with both hands. The loo was a simple manual Jabsco number than could be upgraded to a push-button affair. But full marks for the big wet locker, as this was a wet and wild sail.
SURVIVOR NEWCASTLE-STYLE
We ran before 35knots with a full head on a run bordering on out of control. We dumped the mainsheet and, even with the sail flat against the shrouds, we cracked 10kt. I peered over the stern and there was a fair old wake out the back. Time to furl.
We put a reef in the main and left a little hanky on the furling No 2. This mightn't look like the most flattering of sail arrangements in the accompanying pics - but rest assured, the boat was balanced and powered up when we worked to windward doing 6-7knots.
My grip was a little firmer on the leather wheel than usual as we split the wind and managed to maintain 7knots upwind. The steering was light, without much in the way of weatherhelm, and the deep rudder never let go when we pulled out of the run and put nose to wind.
I came away from the Dufour 40 thinking it was a manoeuvrable, easy-to-sail, honest yacht with a lot of space below decks and a cheery interior design. It qualifies as a fast cruiser flying its North's #1 - more than a cruiser or racer-cruiser. Judging by recent sales, the yacht has found its niche.
Now, Newcastle Harbour is a funny place to sail, what with tugs and coal-laden ships all giving us the horn. But to the yacht's credit and that of the crew, we broke nothing in 37knots. That this is an apparently strong yacht augurs well for doing offshore regattas and the cruisy legs with the clan in between.
Keep up to date with news from Trade-A-boat or like us on Facebook!