Elliott 1250 Tourer
---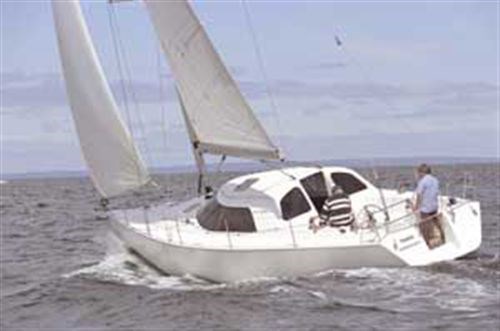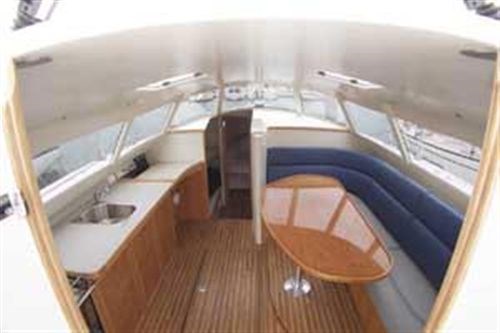 This Aussie-built, Kiwi-designed deckhouse cruiser has the legs for fast passagemaking around the bay or the South Pacific. Vanessa Dudley reports.
New Zealand yacht designer Greg Elliott has built a high profile on both sides of the Tasman over the past couple of decades for his stable of racing designs with striking looks and performance.
Yachts like the 45ft Kiwi Coyote, 50ft Hydroflow, the 55ft Future Shock and the 16m schooner Primo, have all attracted attention as ocean racers designed for speed rather than handicap results, while smaller Elliott designs have been prominent in trailerable racing and club training schemes.
In an interview with New Zealand journalist Ivor Wilkins upon the launch of Kiwi Coyote, Elliott summed up his racing yacht philosophy thus: "It's all about drag reduction and weight reduction. Reduce drag and weight as much as possible, combine that with a reasonable amount of power in the rig and you are out of here. Simple as that."
With deep draft foils and a rotating carbon fibre wing mast, Kiwi Coyote was a clear winner of the PHS division of last year's Hahn Premium Race Week at Hamilton Island, while Hydroflow nearly set a new elapsed time record for monohulls in this year's Auckland to Noumea Yacht Race.
In spite of his established reputation as a designer of high performance racers, Elliott has also been building an increasing following for his cruising designs. Deckhouse/pilothouse cruisers like the 16m Tourer Bushido II and the eyecatching Benny 53, Go (produced from the same hull moulds in New Zealand but with very different interior layouts and finish), and the 15.5m Tourer Mushio have been attracting attention as fast passagemakers.
Now an Australian company, New Yachts, has produced a scaled-down version of Greg Elliott's deckhouse cruiser. According to Elliott, this is probably as small as his Tourer concept can be taken.
The Australian connection
Peter Newman, the principal of New Yachts, is well-known around the Australian yacht racing scene. He has been involved with offshore racing for some 30 years and was Victoria's Chief State Measurer for a long period, building technical and practical experience which he says has proven valuable in the development of the 1250 Tourer.
Newman was also previously involved in production of the Davidson 34 series of yachts, and more recently formed an alliance with Greg Elliott to produce cruiser/racer Elliott 9.6m designs such as Raptor and Frequent Flyer and also Elliott 11m yachts such as Dixie Chicken and Veloce.
New Yachts has established a working relationship with Victorian boat builder Blue Marine, headed up by Jeff Casley. Blue Marine built the 9.5m and 11m Elliott designs for New Yachts, as well as the pilothouse cruiser Mushio, and was again engaged to build the moulds and now the hulls for the 1250 Tourer.
The formula
New Yachts labels the Tourer 1250: "a formula that gives true performance with all the cruising amenities."
According to the company's publicity materials "the high volume, low drag hull shape has a bulb keel to give stability in all conditions. To enable moderate displacement, composite construction is used throughout.
"The rig and rigging is arranged for ease of handling by one person, and easy sail handling for one or two people. Accommodation layout is designed to the client's specific individual interior requirements. The layout is deceptively simple and uncluttered both below and above deck."
Blurred distinctions
The most striking feature of the boat is the way it blurs the distinctions between outdoor and indoor living. Rather than stepping down into what can seem like a dark dungeon, as is the case on traditional aft cockpit yachts, the transition from cockpit to deckhouse involves little change in altitude, vision or brightness.
The saloon is on almost the same level as the cockpit and has wraparound windows providing excellent views for anyone relaxing out of the weather on the settees, cooking a meal or looking after the navigation.
These gains have been obtained without making heavy concessions in sailing performance, vision from the cockpit or overall aesthetics. Yes, this is a pilothouse yacht rather than a thoroughbred racing model, but that doesn't mean it's a dumpy motorsailer, with the lines of the superstructure remaining quite streamlined.
DIY or sailaway
The 1250 Tourer is being produced from female moulds, which have been made for the hull, deck, internal structure and furniture.
The boat is being marketed in various stages, starting from the cheapest alternative of hull, deck, keel and rudder with internal structure fitted, which may appeal to sailors with DIY skills, through to a fully-completed sailaway version. A degree of customisation of the interior is possible.
New Yachts says the 1250 is built to American Bureau of Shipping standard, with hull and deck construction of E-glass and Vinylester resin over a PVC core. The deck is reinforced in high load areas with extra laminate and high density core.
Vinylester resin was chosen over polyester for its better structural properties, greater shear strength and resistance to osmosis.
All the interior framing is structural, including ring frames at the back and front of the keel area and at the mast, which is keel-stepped.
The curved armour glass pilothouse windows are specially produced for the Tourers. New Yachts says that the designer attacked them with a sledgehammer without being able to break the glass.
An exterior wraparound screen is provided to keep heat out of the saloon and cut the glare. If I was planning to head off on a long ocean cruise on this boat, I'd probably also want to take some stormboards for additional protection of those big windows in the event of meeting the ultimate storm. But then, I'm paranoid.
Keel options
The standard boat has a fixed keel - a steel fabrication with a lead bulb bolted and faired into the foot - giving a draft of 2.28m.
However, the demonstrator yacht is the lifting keel version which enables the draft to be reduced to 1.65m. The keel casing is quite unobtrusively incorporated into the forward end of the saloon. The hydraulic rams for the keel lift mechanism are tucked away under the saloon floor, where there is a large amount of storage space and access to the engine. This is a 39hp Yanmar 3JH3CE saildrive turning a 16in two blade folding propeller.
There are four big 6-volt tractor batteries and a starter battery. The standard diesel fuel tankage of 240lt in two stainless steel fuel tanks is estimated by New Yachts to give a range of 550nm. There is room for more tankage if required.
Sail power
The standard rig is a 15/16ths fractional sloop with aluminium spars, using locally made anodised sections. The mast is set up with two sets of swept-back spreaders, with a wide shroud base utilising carbon fibre chainplates at the gunwale, plus a split backstay which can be adjusted using an 8:1 purchase block and tackle. The boom vang is a Selden strut.
The sail plan has a fully-battened mainsail with slab reefing and a 110% overlap jib set on a Profurl roller-furler, attached right at the stem.
This area is stengthened by the bowsprit, which extends some 550mm. Peter Newman believes the bowsprit could be up to a metre longer without unduly hindering the boat's manoeuvrability around crowded marinas, etc.
A masthead gennaker could be set with a tacking line run through a block at the front of the bowsprit or the boat could be set up for conventional spinnakers.
The anchor locker is big enough to house a gennaker as well as the windlass.
The mainsail is set up with lazy jacks and RCB cars to allow it to be more easily reefed. In-boom reefing could be an even better option for extended shorthanded cruising.
Generally speaking, though, the boat is well set up for singlehanded or shorthanded sailing, with halyards and sail controls led aft to winches and cleats just in front of the steering wheels where they can be handled by the driver with or without the assistance of crew.
There are two genoa halyards and one masthead spinnaker halyard, all led back to a bank of rope clutches in front of the starboard wheel, while the port side control lines include the mainsheet and main halyard.
The headsail sheets are led clear of the deckhouse windows to Lewmar 44 self-tailing winches mounted forward on the cockpit coamings. To make life easier for shorthanded sailing, these could be repositioned closer to the wheels. The area immediately forward of the wheels is also used to mount the Brookes & Gatehouse H1000 electronic wind/log instrumentation, while binnacle-style compasses are mounted further forward on the cockpit coamings.
Transit zone
No mainsail traveller is included with the mainsheet instead runs through fixed blocks on top of the deckhouse instead. Thanks to this, as well as the twin wheels and the lift-out stern door, the cockpit is in fact a rapid transit zone from stern to saloon.
One unusual feature is the large sump at the forward end of the cockpit, covered with a timber grille but with two large holes draining directly through the bottom of the hull. This is to allow fast water run-off in the extreme event of the boat being pooped from astern by a big wave.
The stern door (of perspex or white plastic) slots simply into a timber frame, while the companionway can be closed off either fully, or with lower storm doors to cockpit coaming height, when the going starts to get rough.
There is a big storage bin under the centre of the cockpit which could house a liferaft or packed RIB, plus another huge storage area on the port side which is sacrificed if a three cabin layout is selected rather than the two cabin layout of the demonstrator boat.
Room with a view
The saloon houses the galley along the port side, leading forward to a navigation area, opposite a table and settee seating on a slightly raised platform on the starboard side.
The navigation area still requires some thought, because it is quite cluttered and the lifting benchtop obscures the instruments mounted on the outer side. This area was certainly a work in progress at the time of our sail, with a proposal to add a fold-out seat, as well as an inverter, to be positioned under the navigation station.
The L-shaped galley runs around the aft end of the saloon and includes an Italian four-burner stove and oven, a 120lt front opening Isotherm fridge (240v/12v), plus a top opening freezer compartment, a microwave oven, a large single stainless steel sink with pressurised hot/cold water supply, and lots of cupboards and drawers, including one dedicated for pots and pans.
There is a lot of storage space outboard of the galley and the settee, and according to Peter Newman, the boat could be modified to incorporate water ballast tanks on either side if required by an owner. Customisation is encouraged within the general parameters of the production yacht 'shell'.
The 1250 Tourer offers three interior options, enabling the owner to select between one, two or three cabin versions. Each includes a double cabin forward, after which the choices are a double cabin in one or both of the aft quarters of the boat.
If an aft quarter is not allocated to sleeping facilities, it can be used as a toilet/utility room and/or for storage, as is done with the port quarter of the demonstrator boat. When used as a sleeping cabin, the quarter area can house a double berth, two single bunks one on top of the other or even a double lower bunk with a single upper bunk.
Stepping down through a neatly moulded, curved door provides entry to the demonstrator boat's starboard aft cabin, housing a double berth, hanging locker and shelf space plus access via a hatch at the aft end to the cable steering system.
Moving forward from the saloon, there is a step down to two single berths on the port side and a toilet/shower unit to starboard.
The demonstrator boat's bathroom included a Vacuflush toilet system with a 150lt holding tank, a vanity unit with a Corian benchtop and a big, round S/S sink, supplied with pressurised hot/cold water. A separate nozzle and mixer tap is provided for showering.
The master cabin is in the forward most section and houses a large vee-berth, hanging lockers, storage shelves and an ensuite door providing access to the bathroom.
The materials and colours of the interior have been selected by New Yachts in conjunction with a Melbourne interior designer. Five different timbers and colour schemes are offered.
While more 'traditional' choices of mahogany and teak are available, I liked the clean, light tones of the demonstrator boat, with its European beech joinery (nicely done by contractors Caporn Marine), teak-and-holly-look flooring, large amounts of white painted surfaces and blue/grey soft furnishing materials. I'm sure there'll be people who won't like this much white space and will say there should be more timber, but there's a lot to be said for keeping things simple, and I'm a pretty big fan of 'hose it out' practicality.
Performance
We sailed the Elliott 1250 Tourer on Melbourne's Port Phillip Bay with an afternoon seabreeze of 10-15knots. With two onboard, the yacht proved to be very cruisy and easy to handle. It was happy to lope along quite effortlessly on a fast reach, mowing through the lumpy, low seaway, throwing the occasional sea and spray across the foredeck.
Steerage was direct from the twin wheels under sail and motor (forward and reverse). The helm felt lively and responsive and the boat is manoeuvrable enough to spin in its own length.
Vision forward over the deckhouse was unobstructed for the helms person while standing at either wheel or sitting outboard in a comfortable steering position.
There were a few minor traps for new players; for example, there's not a lot of room between the steering wheels and the halyard/sail control winches, making it easy to whack your knuckles against the wheel when you're winding a winch handle (one of those mistakes you hope to make only once or twice before an automatic avoidance strategy locks in).
My assessment is that New Yachts' Elliott 1250 Tourer does have some vital extra dimensions that could help it to thrive. Firstly, it offers something different from most other boats in its size range, by bringing the deckhouse concept and lifting keel option to a boat which remains performance-oriented and eminently sailable.
And secondly it appears to offer value for money in a qualitative sense. It's not the cheapest boat of its size on the market, but it's important to remember that we're talking about a well-built composite hull which is cleanly finished and well thought out in most respects.
It's a versatile boat which is just as well suited to day sailing on the bay or making fast trans-Tasman crossings.
ELLIOTT 1250 TOURER
Price as tested: $A450,000
Options fitted: Hydraulic lift keel.
Priced from: $410,000 (Sailaway Including mainsail and jib; DIY packages start from $145,000.)
GENERAL
Type: Monohull
Length overall: 12.44m
Waterline length: 10.92m
Beam: 4.06m
DRAFT
Fixed keel: 2.28m
Lift keel (up/down): 1.65m/2.75m
Displacement: 6500kg
Ballast: 2100kg
CAPACITIES
Berths: Six
Fuel: 160+80lt
Water: 150+240lt
ENGINE
Make/model: Yanmar 3JH3CE
Type: Marine diesel saildrive with folding two-blade prop
Rated hp: 39hp
SAIL AREA
Mainsail: 40.40sqm
Jib: 33.30sqm
P: 4.60m
J: 14.40m
I: 14.50m
E: 3.30m
Supplied by: New Yachts, Port Melbourne (Vic), phone (0409) 848 550; email: newyachts@digitalave.com.au
Keep up to date with news from Trade-A-boat or like us on Facebook!