Fi-Glass Senator Excell
---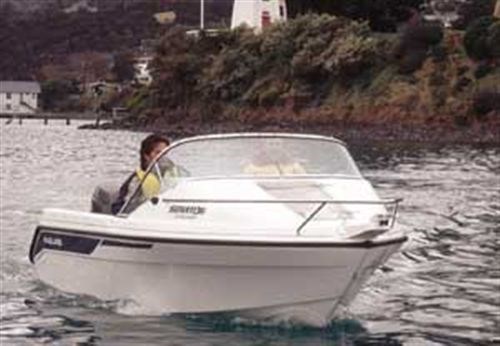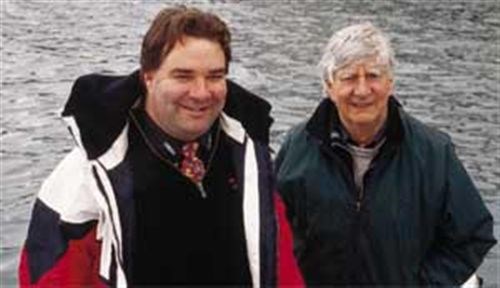 For more than 40 years Fi-Glass Boats have put boats and boating within the reach of ordinary New Zealanders. Steve Raea and Paul Smith traveled to Akaroa to sample the award-winning Fi-Glass Senator Excel.
Fi-Glass Boats have put boats and boating within the reach of ordinary New Zealanders for more than 40 years. Since 1959, Fi-Glass boats have largely dominated the fiberglass trailer boat market, producing a range of affordable family boats. It is a company that has boomed in good times and survived through the bad, tightening its belt as required to ensure its longevity when other manufacturers have fallen by the wayside. That success can be safely attributed to one driving principle that is as valid today as it was in 1959 - a quality product at an affordable price.
Fi-Glass founder and director Frank Simpson needs no introduction. He is something of a God Father in fiberglass boat construction and his contribution to the New Zealand marine industry was recognized in May with the Boating Industries Association inaugural Lifetime Achievement Award. It was especially fitting, therefore, that Frank Simpson and his Fi-Glass Senator was awarded Best Power Boat at the recent Christchurch Boat Show.
From humble beginnings in 1958 manufacturing fiberglass shower trays and washtubs, Frank Simpson and his team of pioneers built up a fiberglass boat building empire that saw Fi-Glass scale dizzy heights to become New Zealand's largest fiberglass boat manufacturer in the mid '70s, turning out more than 600 units a year. Early designs included the Fi-Glass Fisherman, the Viscount - New Zealand's first fully-moulded cabin boat - the Dominator and the ever-popular Firecrest.
But New Zealand's boom-bust economy made such high production levels impossible to sustain and, as Frank Simpson consolidated, production was scaled back to about 120 boats a year throughout the '80s and '90s. To some extent, the company coasted along on existing models while other brands became established in the fibreglass boat market.
In 1995, Frank Simpson's son, Griff Simpson, joined the firm and was initially sent up country to a Fi-Glass dealership to learn how, in his own words, to market and sell Fi-Glass boats. Following his "apprenticeship," Griff returned to the Christchurch factory where he eventually took over from his father as Managing Director and set a new course, developing new models and rejuvenating the Fi-Glass dealer network. Hard work and re-investment in the Fi-Glass assembly line is now paying dividends with the company lifting production to about 250 boats a year. The most popular design in Fi-Glass range is the Lightning followed by the Firestar/Dominator series, the Warrior and the Senator. The company now sells it products through a tight dealer network, the most successful of which is Fi-Glass's own Christchurch dealership, Mr Boats.
The 5.5m Senator Excell was one of four new models developed jointly by Frank and Griff Simpson and perhaps, more than any other design, captures the essence of the company's philosophy - quality at a fair price.
Designed primarily as a family runabout, the Simpson's sought to offer in the Fi-Glass Senator the attributes that cater for general-purpose recreational usage: A roomy cockpit, a dry and comfortable ride, easy and predictable handling and a modest trailerable weight - all within affordable financial parameters.
In the eight years since the Senator was first released, Frank Simpson has come to think of this design as his best, especially the underwater lines. It comes as no surprise, therefore, to learn that the Senator is Frank Simpson's own choice of Fi-Glass boat to support his Marlborough Sounds holiday home.
The Senator was the first of the Simpson's variable deadrise designs in which the deadrise changes across the hull section, both latitudinally and longitudinally.
The Senator hull has a single planing strake each side positioned close to the chine and turned down. While just 70mm at its widest point, the single strake effectively breaks the water away from the hull and turns it down. Any wider, says Frank, and the noise of water slapping the hull becomes intrusive.
The Senator follows construction techniques common across the Fi-Glass range. The hull is laid-up in solid GRP with closed-cell foam filling between solid GRP stringers. The transom is reinforced with Klegicell while the floors are moulded separately and glassed into the hull. The GRP deck and superstructure is fitted out with instrumentation, steering, wiring, lights and stainless fittings before being attached to the hull. All upholstery is completed in house as too is the final detailing and graphics package before the completed boat is lowered on a Fi-Glass designed and built galvanised steel trailer.
The Senator design has a small cuddy cabin forward that is intended to enhance the runabout nature of the boat rather than offer a full cabin facility. The cuddy is fully lined and provides sitting shelter for two adults and two children, dry storage and access to the bow for anchoring duties via a large polycarbonate hatch. For those users who prefer a larger cabin at the expense of a less cockpit space, the Fi-Glass Firestar model offers such a design while utilising the same hull as the Senator.
The mirror calm waters of Akaroa Harbour failed to provide any meaningful assessment of the Senator's ability to handle choppy conditions but while the boat rode beautifully as expected in the calm, the hull design suggests it should perform just as well in the rough.
Previous Trade-A-Boat editor Geoff Green tested the Senator-hulled Firestar on a lumpy Lyttelton Harbour and was impressed by the hull's performance: "I didn't get wet nor bashed about. I could still sit at the helm, although I choose to stand in some of the rougher bits where the waves were almost white capping. Within the context of a relatively short run and a lightly loaded boat, I was impressed with how the Firestar ran. It was responsive, handled well and rode nicely."
We shared those sentiments. We too found the hull responded well to the helm and was quick to find the plane when the throttle was opened, even with the motor moderately trimmed. The Senator rose to the plane effortlessly without lifting the bow and there was no transitional hump to work over. Displacement speed to a level plane occurs at about 16mph and without any discernable change in attitude.
We had two examples of the Senator available - one fitted with twin back to back seats, a carpeted cockpit sole and a brand new 100HP Yamaha four stroke engine. The other was fitted with two pedestal seats, a vinyl cockpit sole and a new 90HP Mercury two stroke engine. Both packages offered the same top speed of 43.5 mph at 6000 rpm and acceleration was equally similar. The Yamaha-powered boat was marginally quicker off the mark, but the Mercury-powered boat quickly hit its stride in the mid range, keeping the boats neck and neck. However, the additional cost of the Yamaha four stroke engine was quickly justified in my mind with its superbly quiet, smooth and presumably economical operation. But whether the quieter operation of the four stroke equates to the $6000 price difference between the Yamaha and the Mercury is a matter of personal taste.
The Senator is produced as a mid entry-level boat, built to a very competitive price.
It is also built to perform and give years of reliable and trouble-free service while retaining the good looks inherent in fibreglass construction. Resale values are excellent for well-maintained boats. The hull is CPC (Coastguard) compliant and virtually unsinkable given the generous use of foam under-floor buoyancy.
Griff Simpson says some former dealers did the Senator a bit of a disservice in describing it as a fully-fledged cuddy cabin boat when it would be better described as an all-purpose runabout. It was for that reason Fi-Glass launched the Firestar model in 2000, which at 5.25 metres, has a larger cabin but smaller cockpit and side decks. The Senator is something of a jack-of-all-trades. It will happily accommodate four anglers with enough room up forward to stow the skis or wakeboard if the fish aren't biting. Conversely, the Senator is a great picnic boat for the less adventurous. It is easily towed and easy to get on and off the trailer. This is an important consideration for older buyers. And with a height of just 1.96 metres on the trailer, the boat will fit comfortably in most garages.
Griff Simpson makes no bones about the fact the Senator is built to a price.
"We've always been about affordable boating. We acknowledge that our boats are built to a price but I could confidently challenge buyers to find a better all-round package for less than $35,000.
"What we offer is a base-line package that maximises size, space and performance without sacrificing strength and quality. If buyers are after a highly spec'd trailer boat then there is no shortage manufacturers to call on."
While price equates to extras, both Senator models tested were true "turn-key" packages with nothing to add but fuel and water. That in itself is refreshing. As I've said before, buying a boat should be a simple and pleasurable business - not a transaction littered with uncertainties because of a spec sheet that reads like a phone book. With the Senator range what you see is what you get. There are options but none of them essential. These include an under-floor fuel tank, sun canopy, braked-trailer and the usual electronics.
Development continues to be a big part of the Fi-Glass business and there is talk of new model on the drawing board but Griff is not giving too much away at this stage. Needless to say it will no doubt raise the bar another notch in terms of comfort, design and affordability.
Fi-Glass Senator Excell
Length overall: 5.50m
Length hull: 5.25m
Beam: 2.04m
Deadrise: 21 degrees
Weight on trailer (less motor): 650kg
Recommended HP: 70-130 HP
Height on Trailer: 1.96 metres
Cabin dimensions: 1.25m x 1.10m
Cockpit dimensions: 3.0m x 1.67m
Price as tested:
(Yamaha 100 HP) $39, 372 inc gst.
(Mercury 90 HP) $ 33,300 inc gst
Boats supplied by: Mr Boats, 247-251 Dyers Rd, Christchurch: Tel: (03) 384 2726: Email: sales@mrboats.co.nz
Keep up to date with news from Trade-A-boat or like us on Facebook!