Fyran 705 X Pursuit Hard Top
---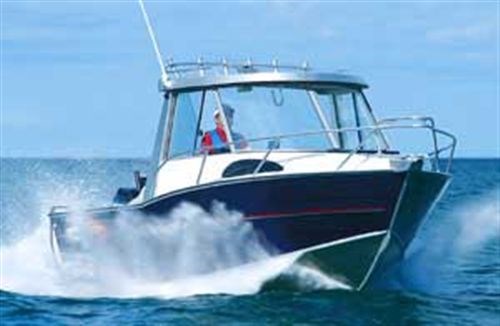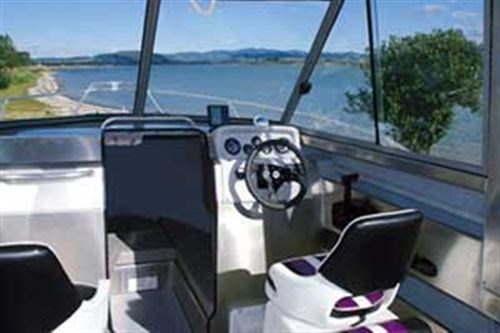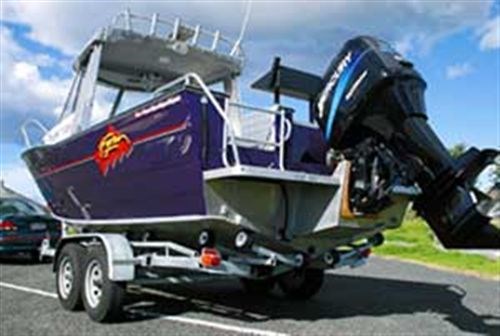 Think Kiwi boating and more often than not the name Fyran will spring to mind. Steve Raea discovers that although the historic brand is still as strong as ever, a willingness to change with the times has also contributed to its dominance in the aluminium trailer market.
For generations of New Zealanders the name Fyran and Parkercraft have been synonymous with summer family boating fun. There would be few Kiwi households that did not at some stage have a Parkercraft "tinnie" wedged down the side of the house collecting debris during the long winter months. But, with the onset of summer, it would be wheeled out and invariably fitted with the interminable Seagull outboard and put into service for another season. They were then, as they are to a lesser degree today, as much a part of Kiwiana as gumboots and the Sunday roast.
But lest we forget their early traits - the leaks, instability, the kauri-gouging gunwhales and their eye-popping weight. Fortunately, boats and boating have come a long way since the 1950s and so too has Fyran which, after almost half a century, continues to dominate a large sector of the aluminium trailer boat market. Fyran's longevity says a lot about the company and its ability to read the market, producing a range of affordable boats from the humble 10ft dinghy to the new flagship 705 X Pursuit.
Having cut my teeth on a 10ft Parkercraft dinghy - a loyal but leaky tender that survived everything from coral reefs to mangrove swamps - it seemed only appropriate that my re-acquaintance with the brand should be in the form of the newly released Pursuit.
The 705 Pursuit is very much the result of a bullish demand for hard tops and combines modern hull design with tried and tested construction techniques developed over many years. The Pursuit hull is from the design board of Paihia-based designer Alan Walker, who has worked with Fyran for about six years. Walker designed the Fyran 620 that went on to form the hull for the popular Fyran 600 and 650 models. While the 705 is essentially a new boat, it is typically Fyran and incorporates many of the features and design ideas inherent throughout the Fyran range. Moreover, it shares the same construction techniques as its smaller cousins insomuch as it draws its strength from the use of fully welded aluminium extrusions for the keel and chines. The keel bar is welded internally and externally, as are the chines, thus creating a rigid and solid structure. The hull is formed from pressed 5mm marine grade alloy and the topsides and transom are both 4mm plate. Hull rigidity is formed from three full-length stringers each side of the keelson with a combination of full and half bulkheads. The boat is built on a jig from the keel up, which ensures that every boat that leaves the factory is the same. As with all Fyran boats over 5.8 metres, the alloy plates are plasma-cut to ensure accurate fabrication.
The new Pursuit was released at this year's Hutchwilco New Zealand Boat Show, but it had not been finished to Fyran managing director Mark Street's satisfaction and was withdrawn from judging as a new release. Its next public viewing was at the recent National Boat Show at Mystery Creek where it took centre stage on Sportscraft Boats stand. Fully painted and equipped, the Pursuit stood out as something a little special - an undeniably pretty boat with fine lines and a sense of grace. The 705's raised sheer line and cabin top gives the boat a sportsfisher look and the imported curved glass windscreen and shapely aluminium overhang further add a sense of purpose. The 705 Pursuit looks like a boat that has been carefully designed rather than something that has merely evolved.
It would be fair to describe the base boat as being short on frills, but this is reflected in the price. As with all Fyran models, however, there is an extensive list of optional and after-market extras that can be added at the factory or at the fit-out stage. These include an aluminium treadplate floor, transom-mounted bait board, capstan, upholstered seating, covers and electronics.
The 705 Pursuit demonstrator fell midway between the base product and a fully spec'd boat with three-quarter paint, fishfinder, VHF, lights, bait board, anchor and chain.
The primary purpose of the new Fyran is offshore fishing and this is reflected in the simple cockpit layout and seating plan. The transom is typical Fyran with a chequerplate platform and a narrow walkthrough on the port side and a fold-down two-step boarding ladder. The ladder is robust, but would benefit from a third step to make boarding easier. Both sides of the transom are equipped with solid alloy handrails that extend to the outer edge of the transom. The transom combing is wide and relatively low with a cut away for the outboard. This allows the engine to be raised without having to remove the transom-mounted bait board. The fuel filler is also set into the rear of the transom.
The standard cockpit sole is manufactured from marine ply and covered in a hard wearing, non-skid vinyl stapled underneath. Again, it is standard Fyran fare and promises easy cleaning and lasting looks, but being ply, it is susceptible to rot over time. For those boats fitted with ply floors, polystyrene foam is fitted beneath the sole to give the boat positive buoyancy. A 3mm chequerplate cockpit sole is offered as an alternative and this would be my choice if the boat were primarily to be used for offshore fishing. The advantages of a sealed alloy floor are threefold - it's harder wearing, gives better underfoot grip and allows sealed buoyancy to be built in.
The Pursuit cockpit is designed around the angler with wide and relatively low gunwhales, giving adequate protection from quartering seas while providing a comfortable seat when fishing. The cockpit is fitted with single full-length shelves for rods on each side and this is welded fore and aft to provide a solid step up to the deck. The combings are fitted with two plastic rod holders aside and these are supplemented with a rocket launcher across the top of the hard top. The Pursuit is fitted with a 135-litre underfloor alloy fuel tank that, in my opinion, is on the small side for a boat of this size given its offshore fishing potential. Forward of the tank is the underfloor fish bin, which is large enough to accommodate dive tanks and belts and general boating hardware. Being ply, the lid is susceptible to swelling and was difficult to remove and replace. This could be overcome with the addition of a simple lift-ring.
Seating options vary according to requirements, but the standard arrangement of king/queen combos set on plastic bases is a good compromise between comfort and fishibility with good dry storage options. The helm station is standard Fyran with plastic moulded facia for engine instruments and a wide flat dash area for mounting larger navigation instruments. The companionway hatch is set amidships and has good height and width. A stainless handrail is bolted over the hatch to aid access in boisterous conditions. There is no cabin door nor option for one so overnight security will require a bit of forethought. The passenger is catered for with a solid dash handrail and plastic moulded footrests that are both well angled and secure.
The overriding beauty of the new Pursuit is the imported curved safety glass windscreen that wraps around the boat to give panoramic views through all points of the compass. The screen is set relatively well forward and gives the cab a great sense of space and volume. The driving position has been well thought out with ample room to stand or sit behind the wheel depending on conditions. There is reasonable headroom under the hardtop and a dedicated overhead shelf for radio gear and wiring. The cabin provides comfortable overnight accommodation for two with full-length vee berths and an optional infill squab to create a double. There is a pair of narrow parcel shelves for personals and a larger shelf set against the starboard bulkhead. The cabin is fully lined and fitted with tear-shaped polycarbonate side windows and overhead deck hatch.
A notable feature of bigger Fyran models is the separate and very deep anchor locker that not only allows anglers to carry a lot of rode, but also effectively gives the boats a very solid crash bulkhead. The Pursuit has a polished alloy bow rail with a twin-tube pushpit and this runs aft to the outer edge of the hardtop. While the demonstrator was not fitted with a capstan this is an essential option for buyers with plans to venture offshore. Nonetheless, the Pursuit has relatively wide side decks and these are fitted with a non-skid adhesive. Overhead handrails are also fitted to the hard top to assist those going forward.
Our September test day in Tauranga was uncharacteristically calm with a light breeze and a clam sea - a blessed relief after two weeks of persistent gales. And while conditions presented no real test of the boat's offshore potential, it did provide an opportunity to wind out the new Mercury EFI 200hp V6 outboard - the maximum recommended engine size. With just two up and no gear, the Pursuit was a willing partner, clocking in excess of 45mph at Wide Open Throttle.
With a towing weight of 1900kg, the Pursuit is a light boat by hardtop standards and as such it has a tendency to lean into the breeze and will require trim tabs. These had yet to be fitted. Despite its weight, the boat felt particularly stable even at top speed and showed no tendency to skip out or chine walk, which surprised me given the combination of no weight and top-end horsepower.
The Pursuit was a joy to throw around and quickly inspired driver confidence, responding to the lightest touch on the wheel. The full-length keel provided excellent grip on the water when putting the boat through tight, looping turns. I believe the boat will handle even better once its got some weight onboard, particularly in any sort of seaway. Like all moderate vee aluminium hulls, you know you are at sea and will always be susceptible to the odd crash and bang and in this respect the Pursuit is no different. But this is not a hard-riding boat as shallow-hulled boats tend to be. The fine entry and full bow sections give the boat an easy motion and passenger comfort will be determined largely by the driver's speed through the water. I would hesitate to box the new Pursuit as a dedicated hard-out fishing platform. While there is little doubt that the new 705 is capable, it is a boat that lends itself as a genuine all-round family weekender - a recipe Fyran Boats has been perfecting for more than 50 years.
Words and pictures: Steve Raea
SPECIFICATIONS
Type: Hard top
Length overall: 7.05m
Beam: 2.5m
Deadrise: 18 degrees (at transom)
Hull: 5mm
Topsides/transom: 4mm
Cabin top/deck: 3mm
Towing weight: 1900kg
Rec power: 140hp-200hp
Trailer: Sportline Tandem braked
Price as tested: $73,500
Manufactured by: Street Marine, Greenmount, Auckland.Tel (09) 273-1700. E-mail mstreet@fyran.co.nz www.fyran.co.nz
Keep up to date with news from Trade-A-boat or like us on Facebook!