Genesis 3600 Targa
---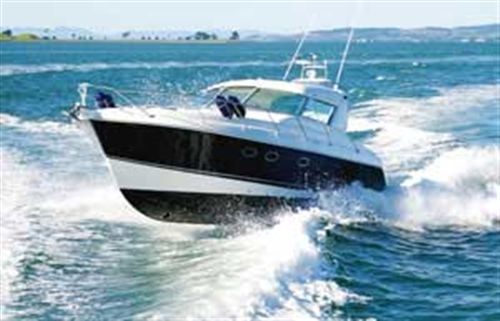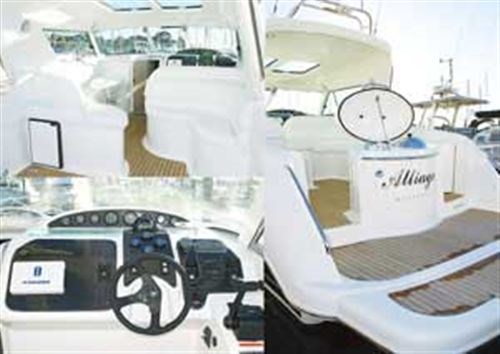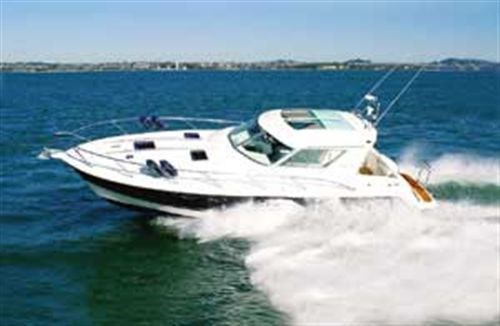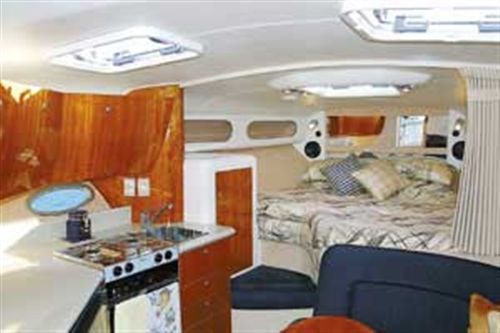 Auckland's Genesis Marine has turned the local sports cruiser market on its head with the continual release of futuristic designs to go head to head with the rise of imported sports cruisers crowding the New Zealand market.
The latest in the Genesis range is the award winning 360 Targa, a sophisticated and elegant design with fast, sporty lines derived in part from the successful Genesis 335 Targa launched in 1999.
Genesis is now a household name and the undisputed market leader in the sports cruiser market, with five models ranging from the Genesis 360 Open to the flagship Genesis 400 Flybridge.
Genesis Marine Ltd was established in 1984 in a partnership between Basil and Chris Pollock, but the company's beginnings date back a further 10 years. At that time Chris Pollock's father Basil was manager for Vista Craft, the company building Vista Craft boats. Basil Pollock wanted a boat of his own and commissioned designer Keith Eade to draw up a 32ft (9.7m) hull. This became the Genesis 32 and was first displayed at the 1976 Boat Show.
Chris Moon, then marine manager for McMillan Ford, and Chris Pollock, owner of Westcoast Boats, decided there was a local market for an open type sports cruiser and together designed the Genesis 3100.
The first Genesis 3100 Export was built for Chris Moon and it put the company firmly on the map. New models soon followed in the shape of the Genesis 320 Open and the Genesis 320 Targa, Flybridge, Tournament and Profish. Well over 100 of this model were produced.
In 1998 Genesis launched the Genesis 400 Flybridge and Genesis 400 Targa, followed a year later by the Genesis 335 Targa. Today, Genesis Marine manufactures between 16 and 20 boats a year with strong export demand from Australia.
In many ways the new Genesis 360 Targa defines the sports cruiser concept and draws on a quarter-century of design and build experience to produce a boat that holds its own in the company of the world's best sports cruisers.
The design philosophy behind the 360 Targa was to create a spacious and free-flowing interior within the confines of a mid-size hull, but at a price to compete with mass-produced Australian sports cruisers now finding their way to New Zealand.
But that said, the Genesis is still very much a custom-built product with handcrafted internal joinery, extensive teak decking and a standard of finish that imparts a genuine pride in the company's products.
>Cockpit
The sports cruiser lifestyle begins at the cockpit and this is one area where the new 360 Targa has come in for close attention with a new and extended split-level teak-laid swim platform. The platform is wide and open and lends itself to fishing, diving or simply as a place of choice to throw down a towel for a spot of sunbathing. The platform also incorporates a new large-radius stainless steel mount amidships for a rear-mounted inflatable dinghy. Two stainless clips are attached to the lower platform into which the dingy attaches. It is an ingenious design that requires no effort yet keeps the tender secure and out of the way.
The Genesis Targa range features a unique central cockpit pod that houses a Magna gas barbeque, sink unit with hot and cold shower and general storage beneath. The pod has a moulded elliptical lid with a gas-assisted strut. When not in use, the lid locks down and keeps everything in its place when in running mode. The 360 features wide, swinging doors each side of the central pod that can be hinged back at anchor or securely closed while underway. The doors impart a sense of space and allow for the free flow of passengers to and from the cockpit.
The cockpit itself is a thing of beauty with a teak-laid sole, crisp white vinyl lounges, acres of soft linings, fold-away rear seats and a spacious raised helm station giving unrestricted views through the wrap-around Taylor-made glass windscreen.
Immediately to port of the transom doors is an open area of cockpit with twin fold-out seats recessed into both sides of the cockpit combings. Owners can either enjoy the openness or, if required, use this area for entertaining with the addition of a fold out occasional table. Immediately to starboard of the transom gate is the first of two richly upholstered elliptical lounges that neatly follow the cockpit contours, giving the boat a distinctly contemporary look and feel. The starboard lounge seats three and has a high padded back that forms part of the backrest at the helm station. From here the wide foot well curves to port where the second cockpit lounge is set against the port side opposite the helm station. This station features a second curved lounge with an elliptical cocktail table set on a pedestal. The emphasis here is on open, uninterrupted views across the cockpit and aft out to sea, while being able to share life aboard with those at the helm station. There are several sassy fittings worth noting, including the clear acrylic glass holders and glove box set into the port cockpit bulkhead. An electric fridge is recessed into the rear of the starboard lounge and there are options for a freezer.
The helm station opposite is raised above the main cockpit companionway to give height below the sole for the second of the 360's double berths. Genesis believe sports cruising is all about conviviality and to this end has elected to fit a bench seat across the helm face that is wide enough for two passengers. The station is ergonomic and bristles with instruments mounted into a split-level moulded facia with carbon fibre insets. The engine management gauges and rev counters are set into a arched arrangement across the bottom of the windscreen, with the larger navigation instruments and wheel set lower down with trim controls and VHF radio. A nice touch is the clear acrylic chart holder and rigid-mounted glass holders within easy reach of the driver. The twin-engine controls are set in against the starboard side and fall nicely to hand.
The 360 Targa arch has a stylish aft rake yet provides almost 9ft of headroom and features twin sliding glass hatches in the roof. Despite the obvious benefits of light and sun, the hatches, when open, prevent backwash finding its way into the aft end of the cockpit when running at speed.
Time out
Genesis has sought to blend indoor and outdoor living with a seamless transition from cabin to cockpit and has largely succeeded through a combination of clever design and artful layout. Although passengers are still required to step down into the cabin, it is a far cry from days gone by when the only sensible option was to back down the stairs in reverse. A defining point of the interior/exterior crossover is the sliding companionway door that is a further refinement of the unit fitted to the smaller 335 Targa model. The door slides port to starboard and disappears into the helmstation bulkhead giving wide access down below.
Three steps down and you find yourself in a modern and stylish interior that is both spacious and welcoming. There are no sharp edges and few flat panel bulkheads, but rather a series of flowing curves and rounded mouldings easy on the eye.
Genesis has worked hard to create an interior that feels custom-built as opposed to a kitset build complete with fillers and bog. The 360's cupboards are set up high above the galley and cocktail cabinet and have curved front panels that hinge open from the top. These can be built in a variety of timbers including cherry, walnut or jarra, and are finished in gloss, semi-gloss or matt, depending on owner requirements.
The 360 Targa galley is set on the port side and features a shapely Corian counter top with a variety of appliance options that include a microwave and two-burner hob or a full oven. An electric 12-volt fridge is set in under the galley bench and there is a single stainless steel sink with single mixer. The galley is set off with twin stainless ports set into the topsides giving views and ventilation. Chris Pollock has described the galley as along the lines of a modern bar, which is an apt description.
Opposite the galley to starboard is the main saloon and this features a wraparound optional leather settee and a highly varnished dining table with seating for three. Twin 12 and 240-volt BEP switch panels are set into the starboard aft bulkhead.
The master double is positioned forward and lies against the port side of the hull. There are a number of options here that include a single berth set above the double to starboard, or a TV and cabinet for general storage. The master double is set relatively high up in the boat and is reached via a small step up with storage under. The bathroom is on the port side immediately inside the cabin and, although not large, features a full-size shower, separate vanity with mixer and electric toilet plumbed through a Lectra/San onboard treatment facility.
The aft cabin is not a cabin as such, but a large area under the cockpit that benefits from the raised helm station. While short on standing headroom, the area has ample sitting headroom and two soft couches set in a L-shape from which the backs are used to create a generous double berth. This is the ideal hideaway for the kids and an area large enough to spread the monopoly board for those wet winter weekends. All up, the interior makes a statement about style and modern contemporary living. Genesis has succeeded in crafting an interior that is light and airy yet warm and inviting. It is ideally suited to a couple, but is child-friendly, with enough internal volume to keep the kids out from under your feet.
Sports cruising
The spirit of sports cruising lies in performance and it is here that the Genesis 360 Targa comes into its own. Some sports cruisers can be ungainly creatures at sea, suffering from designers' attempts to stuff as much volume into a hull as possible, in effect creating something of a large floating saucer. These vessels tend to ride high in the bow and are prone to pound in a short chop. They also have a tendency to blow around in a breeze and require constant attention on the helm. It is not uncommon, either, for sports cruisers to cavitate wildly when leaned into tight turns.
The Genesis 360 Targa showed none of these traits during sea trials on a perfect winter's day on Auckland Harbour. The boat rides and handles more like a trailer boat and instils a genuine feeling of driver confidence, responding instantly to throttle and trim. It is a spirited performer capable of fast cruising at 25 to 27 knots, with a top speed well in excess of 30 knots, depending on power and drive options.
The test boat was fitted with twin 200hp Volvo stern drives that were well matched to the hull and delivered a crisp performance throughout the rev range, particularly when pushed through 3200rpm. At 5.5 tonnes, the 360 is no lightweight, but it lifts effortlessly from displacement to plane and has enough weight to shoulder its way through short seas with no effect on performance. Throw the boat into some tight looping turns, but hold on - the Genesis is a willing partner, turning in almost its own length with no sign of slip or hesitation. The Genesis 360 is a drivers' boat that is deceptively quick and agile yet well mannered and easily managed. All up the new Genesis 3600 puts the sport into cruising and might be just what's required to persuade a few Kiwi diehards that life doesn't stop at the flybridge.
Words and pictures: Steve Raea
Genesis 360 Targa
LOA: 11.5m/38ft
Beam: 3.50m/11ft6in
Draft: .900m/3in
Weight: 5400kg/ 11,800lb
Fuel: 585lt
Water: 360lt
Price as tested: $349,985.00
Priced from: $337,683.00
Boat supplied by Genesis Marine Ltd, tel (09) 837-0375, fax: (09) 837-0374. E-mail enquiries@genesismarine.co.nz. Visit www.genesismarine.co.nz
Keep up to date with news from Trade-A-boat or like us on Facebook!