Genesis 400 Flybridge
---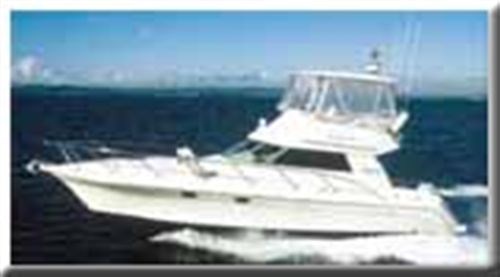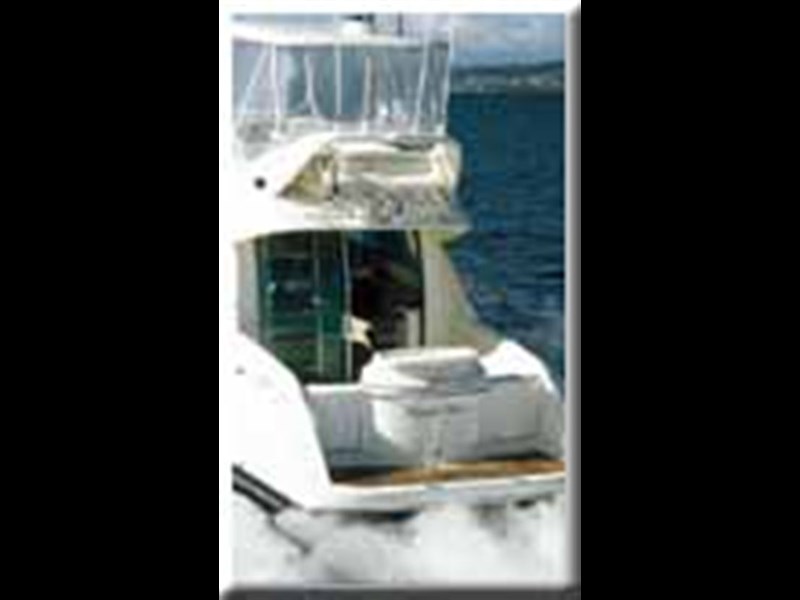 Genesis Marine, with its range of popular mid-size launches, is New Zealand's most prominent production launch builder. Geoff Green went aboard Crystal Clear, the latest Genesis 400 Flybridge.
Graham Calvert has enjoyed a demanding working life but in recent years his focus has shifted away from the business world. An affinity with the marine lifestyle made a launch an integral part of his retirement plan and he committed to his 12m marina some years ago. But it was only after three years of research that he built the boat to fill it.
Graham says he investigated many new and second-hand boats, and while he had an open mind as to origin or brand, he had a list of requirements that disqualified most contenders.
"I wanted a boat that was as comfortable as my home. It had to look the part and provide all the facilities to entertain family, friends and guests. I saw the 400 Euro and realised a modern, well-dressed forty-footer could meet my social needs and yet I could handled it without an experienced crew."
Some elements of Graham's buying decision were driven by his commercial experiences and he says he spent considerable time researching the background and reputation of the companies he considered potential builders.
"Security was hugely important to me. I wanted to deal with a firm that was financially secure and well managed because I didn't want any worries or constraints during the construction process. I also wanted to deal with a company that was putting consistently good-quality product into the market place."
FLEXIBILITY IN DESIGN
While Genesis are production builders, he says Chris and Lynn Pollock provided the flexibility to customise the boat to suit his requirement. "This boat is not going to sit on the marina and I wanted heating and cool air ventilation so we could enjoy it all-year round. And while I'm not primarily focused on the fishing and diving lifestyles, we do enjoy them, so the boat had to have a live bait tank and dedicated storage for two sets of dive gear."
While Graham knew his mind, he was pragmatic enough to know he needed the builder's input and enthusiasm to achieve a harmonious result. "I felt comfortable giving Chris the final sign-off and I came to trust his judgement."
EXPANDING RANGE
The 400 Euro is one of two sizes in the Genesis range, the other is the 335 Euro (33ft-6in.) and to date 13 and 18 have been built respectively. Genesis is also widely known for their 3100 and 320 models, now discontinued, but sold in such numbers they have a significant presence on the water and second hand market (a total of 136 were built).
Genesis now offer three versions of the 400 Euro. The Flybridge model shown on these pages, an Enclosed Targa which has sliding doors to define the cockpit and saloon areas, and the soon to be released Open Targa that features a more open plan arrangement.
Construction of the 400's foam-cored hull starts by laying down a clear vinyl ester resin backed up by a second layer of vinyl ester resin and chopped-strand mat to head off any osmotic problems. Then the remaining outer skin, Klegecell foam core and inner skin are laid down to survey standard. Every boat is inspected and signed off by an independent surveyor and all current models can be put into survey without complex retro-inspection.
The majority of 400 Flybridge owners have opted for the two-cabin layout. Working back from the bow, this layout provides a cabin forward (optional island berth or four bunk layout), shower to port and toilet to starboard (single button Lectrasan-treated toilet system). Also a private starboard cabin with a double bunk that runs back under the helm, capable galley to port, then three steps up into the spacious saloon which has the downstairs helm station to starboard and dinette to port. A servery links the saloon and galley areas.
Other major options include a choice of drive systems and engines. Crystal Clear is powered by twin 300hp six-cylinder Yanmars driving through vee drives and shafts. The photographic boat, Zealous, the first Genesis 400 Flybridge, was powered by KAD44 Volvo stern drives. Both are very responsive and move along very nicely, with a top speed around 30 knots and a cruising speed anywhere between 18 and 27 knots.
Items of note and distinction include the elliptical barbeque station in the cockpit (it also supports a cockpit table or the bait board, and has a freezer in the base), teak decking in the cockpit and a curved aft slider. The 400 Flybridge makes good use of curves and flowing lines to give it a thoroughly modern look without being overstated, and curved glass windscreens play their part in establishing this image. They are optically perfect and imported from America.
SPECIFICATIONS
Genesis Flybridge 400
Length overall: 12m
Beam: 4m
Draft: 1m
Approx. weight: 8,500kg
Fuel capacity: 1,000l
Water capacity: 450l
Recommended power: 400-800hp
Drive options: Stern drive or vee-drive shafts.
Popular engines: Volvo KAD44/DP, Yanmar 6LP-STE
Keep up to date with news from Trade-A-boat or like us on Facebook!