Gulf Craft Ambassador 36
---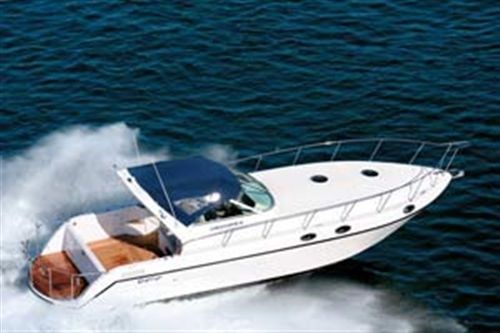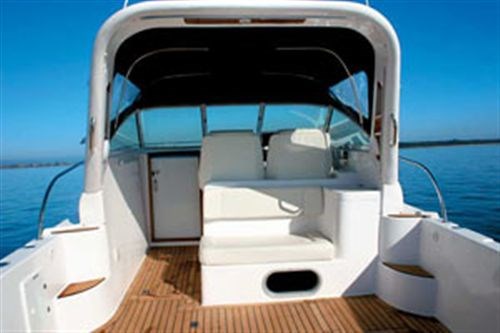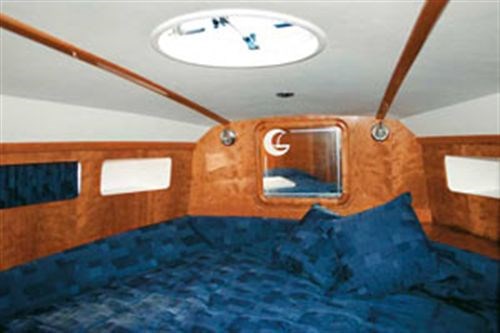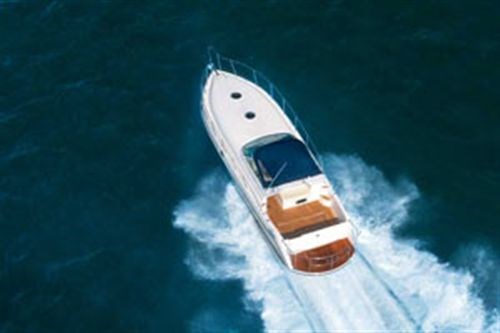 With all that sand, Dubai doesn't sound like an obvious place to build luxury launches. But the Arabs have a centuries-old sea seafaring tradition - and have shrewdly assessed Western boat tastes. The Ambassador 36 is an elegant result of that analysis. Lawrence Schaffler took one for a spin.
The Ambassador 36 is part of Gulf Craft's rapidly-expanding production boatbuilding facility. Established in 1982 and based in Dubai (United Arab Emirates), the company builds boats from 18 feet to 130 feet and its factories produce around 600 vessels a year.

There are two Ambassador 36s in New Zealand - both part of the Dreamboats (boat charter) fleet - and a third is on order. Gulf Craft New Zealand Ltd - the local agency, has been operational for a year.

The most recent arrival is based at Dreamboats' Tauranga facility. It's only been operational for a few months, but is already a favourite with charterers because of its size, comfort - and above all - its speed. In the words of one recent skipper: "Couldn't believe how quickly we got to the Mercurys and back - 30 knots the whole way."

With that kind of comment, you'd expect a sleek, streamlined hull with plenty of grunt - and the boat doesn't disappoint. From the jetty she looks vaguely predatory - a fine, sleek bow, a foredeck that stretches on forever, a low hard top and a raked, targa arch. And I may as well get this out of the way now: with WOTs she does 40 knots - though I have to say it doesn't feel like it - very smooth.

Despite the 36-foot designation, the boat's actually a little over 38-feet (38'6" to be precise). That's because of what is arguably the boat's nicest feature - a large, semi-circular swim platform that continues the natural lines of the boat. Richly-finished in teak decking and adorned by a stainless steel rail, it's a superbly functional and very attractive area.

A feature of the Gulf Craft range is that the factory delivers its boats in a basic or 'semi-completed' configuration: the major components are all installed, but owners are given the option to customize various aspects of the boat, and of course, fit accessories and electronics of their choice.

This flexibility can - as in the case of the latest Ambassador 36 - extend to engine choice. "Our first boat was fitted with twin 160hp Volvo D3 engines," says Dreamboats director Glen Chappel, "but the second boat's owner likes to go really fast." His boat has been fitted (locally) with twin six-cylinder, 260hp Volvos and duo-prop sternlegs. More about their performance in a minute.

Boarding the boat is via that semi-circular platform, through either of two gates in the stainless steel rail. One of the gates, incidentally, is wider than the other to allow entry for fully-kitted divers.

Cockpit
Stepping up and through a transom door takes you into a fairly large cockpit. It's particularly spacious because the boat's owner has chosen to forego any of the settee options available as standard. He wanted more space to fish, and instead is having portable seats/bins fabricated locally.

The main feature of the cockpit is the helmstation's two-person seat, and its two-seater return facing aft. The unit is finished in thickly-padded, white vinyl, and contrasts nicely with the teak decks in the cockpit sole and helm. For those less fanatical about their fishing, I suspect the settee option in the rear of the cockpit would better complement the 'social fabric' of the cockpit. Alongside the two-seater return is a small basin with fresh water.

The cockpit is surrounded by large glass windows in aluminium framing. Good visibility - even if the dominant view is that endless foredeck. And while the airflow between windows and hard-top will be welcome on hot summer days, the boat's equipped with a set of clears to keep less idyllic weather at bay.

A timber dash houses the instruments for the twin diesels, with throttle and trim tab controls built into an arm rest to the right of the actual helm - a perfect, 'natural' position. There's a Plastimo compass on top of the dash, and to the left, in prime position, is a 10" state-of-the-art Lowrance chartplotter/fish finder. It's a sumptuous unit - spitting out GPS readings/speed data clearly and continuously.

For party types inclined to boogie in the cockpit and boarding platform - and it's easy to consider them as a single, flowing entity - a pair of Fusion speakers are built into the targo arch. The arch is also fitted with six rocket launchers.

Access to the engines is via a 2m x 1m hatch on gas struts in the cockpit sole. Again, this is a modification of the standard boat's much smaller hatch. The bigger hatch is a way smarter move - particularly considering the selection of the bigger engines. There's not much room between these beasts, and I suspect most maintenance will be carried out from above.

Access to the foredeck is up two, teak-inlaid steps (either side of the cockpit) and out on to fairly narrow side decks (around 200mm wide). But the sides and fore deck are surrounded by a sturdy stainless steel rail - so there's no shortage of handholds. Sun lovers will appreciate the foredeck - a wide, expansive area that's interrupted only by two medium-sized hatches in the center. Come to think of it, those bopping dancers in the cockpit could easily be persuaded to take their party to the foredeck.

To help the boat into a secure anchorage, a Quick windlass nestles in the anchor well, flanked by a pair of up-down foot switches.

Interior
It's a simple, pragmatic layout - a nicely-balanced composition of high-gloss cherry joinery, white vinyl ceilings and fascias, blue upholstery and dark grey carpeting.

Stepping down the companionway steps (port, front of cockpit) finds you at the aft end of the triangular saloon table, and its surrounding L-shaped settee. The boat's set up for six guests (maximum), and the settee should accommodate them all with a slight squeeze. Headroom is good - it accommodates my 1.79m frame easily. Those of loftier builds might find themselves stooping occasionally.

Opposite the saloon table is a tidy, compact galley. It comprises a two-plate electric cooker, a front-loading 12-volt fridge and a sink with a hot/cold mixer. There's plenty of storage above and below the bench top - but strangely it's all cupboards. Where are the drawers? Just aft of the galley is the bathroom - again fairly compact but functional.

It contains an electric toilet, basin with mixer and a separate, wall-mounted shower that drains through a teak duckboard. A 60-litre hot water cylinder (in the engine room) receives its energy from either the engine or shore power. The boat's also equipped with grey and black water holding tanks (76 litres apiece).

Sleeping arrangements (for six) are divided between the double berth in the forepeak master suite, a longitudinal cabin aft/port with two single berths, and the saloon table/settee that's converted to another double berth. For the couples in the cabins, privacy is ensured.

The master suite's piece de resistance is its somewhat unusual bed: it's oriented diagonally, and because it's very large, almost allows its occupants to sleep longitudinally or transversely. Storage space - under the bed, in lockers and in the shelving running down the hull - is generous. With its white, blue and timber décor, it's an elegant suite. Fully-carpeted floor and sides keep it warm and cosy.

Tucked under the cockpit, the aft cabin has much less headroom - but what it lacks in height it make up for in width. Its two single berths are divided by a small chest of drawers, with additional storage in side shelves, below the bunks and in a locker near the entrance. A hatch for ventilation opens into the cockpit.

As might be expected with the electric cooker, the boat is equipped with an inverter (2500 kW) and 240-volt outlets are scattered throughout. Though this boat isn't fitted with air-conditioning, it does have all the ducting pre-installed. Air-conditioning, I would guess, is a given in Dubai...

Stylish halogen lights are fitted throughout the boat, with two, circular, ceiling hatches in the saloon and main cabin - plus numerous portholes - providing natural light and ventilation.

All up, the designers have packed an impressive amount of space, styling and privacy into a 36-foot boat. She's very comfortable, and with her 760-litre fuel tank and 200-litre fresh water capacity, is perfectly equipped for extended cruising. And with those engines, she's fired up to get you to the next anchorage in a jiffy. Speaking of which...

Performance
The first thing you have to adapt to in the skipper's seat is the pair of throttles. They're Volvo's electronic models and they're superb. Very light and minutely responsive. So shoving them forward - as you would conventional throttles - takes one by surprise when the 260hp engines react accordingly. They're turbocharged but are also fitted with superchargers that begin contributing their magic at around 1500 rpm. Suffice to say, you feel the kick immediately.

At 3100 rpm (cruise speed - the GPS shows the boat doing around 30 knots) the engines are sipping about 67 litres an hour between them. And she's happy to run like that for as long as there's fuel. WOT - 4000 rpm - returned 40 knots.

Fully laden, the boat weighs around 5500 kg and is fitted with hydraulic steering (four turns lock-to-lock). She's also equipped with the latest QL trim tabs - and with the engine's electronic controls - it's easy and quick to set her up for any sea conditions. The strakes and variable deadrise (fine at the bow - 22o degrees at the transom) keeps the hull running true in turns. We experienced slight cavitation during tight, high-speed turns - though I suspect experimenting with the stern-legs' trim might sort out most of that.

We also experienced a little blow-back at 40 knots, but who cares? I wasn't going to let a little mist spoil an exhilarating ride. As might be expected, those big diesels go about their business with enthusiasm - but not particularly quietly. I'd be keen to experiment with a little more engine insulation.

Overall, it's an impressive boat. Solid construction, quality finish, good design - and a great performer. At $346,000, 'value for money' is a phrase that comes to mind, and it will the company's expansion plans (see box), it will be interesting to see what sort of impact Gulf Craft's products will have on the international leisure marine industry.

If you're keen to check out the Ambassador 36, roll along to the Tauranga Boat Show (18 - 20 November). She's on display.
Gulf Craft Ambassador 36 Specifications
PRICE AS TESTED: $346,000
LOA: 38'6" including swim platform
LWL: 27'9" (8.46m)
Beam: 11'7" (3.53m)
Draft: 1'8" (0.51m)
Displacement: approx 5500kg
Fuel capacity: 757 litres
Water capacity: 200 litres
Bilge Pumps: two - total capacity 6000 gph
Grey Water Holding Tank: 76 litres
Black Water Holding Tank: 76 litres
Engines: 2x 260hp Volvo Penta with sterndrives
Max speed: 40 knots
Cruise speed: 30 knots
Base price: (with D3 Volvos 160hp) $295,000
Keep up to date with news from Trade-A-boat or like us on Facebook!