Hahn 47 Sportsfisher
---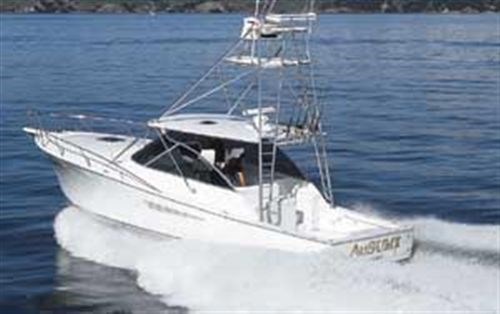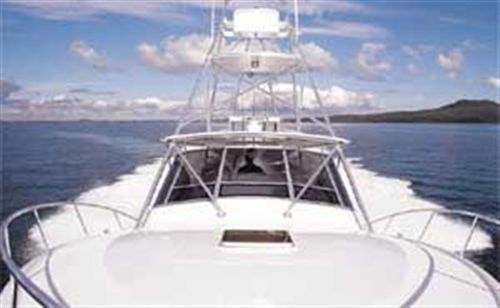 An avid sportfishing couple built AuSUM II to crown their retirement and it represents the distillation of all that they observed, learned and desired during more than four decades fishing together aboard many boats. They invited New Zealand field editor Geoff Green to write a review and he and Chris Lewis completed the photography.
When AuSUM II was launched into a brief blue-sky window in Auckland's wet winter weather it pulled the fishermen in droves. Anybody with a line cut on their hand or a lure bag in the garage was drawn towards the gleaming alloy tower, purposeful sheer and uncluttered cockpit. And although AuSUM II looked totally out of place amongst New Zealand's multi-purpose hardtops, even the most inexperienced coveted the boat's fishing potential and saw that warm tropical and sub-tropical climates were its forte.
Which is not surprising because AuSUM II will be based south of Ft Lauderdale and its American owners will fish and cruise Florida, the Bahamas, Caribbean and Mexico.
AuSUM II's name is derived from the periodic table abbreviation for gold (Au) and interpreted literally it means the Sum of Gold, although the owners apply a more liberal translation and suggest it means the total of everything high-end, solid and reliable in a sportsfishing boat. And it doesn't hurt that the name mimics that well-used word that describes everything and anything impressive.
Primarily they wanted a sea-kindly boat that rode well at speed and to achieve these goals they placed a high-value on the hull form and less emphasis on interior volume. They often fish or transit the Gulf Stream, a river within an ocean that can generate a short sharp chop and standing waves depending on the strength of wind opposing it. While the variable sea conditions will dictate running speed, so too will the way in which AuSUM II will be used throughout the seasons. During the hurricane season its fast 30-33 knot cruise will provide day-boat and overnight options from a secure canal-side berth behind the owners' home. During the cooler tropical winter the bow will be pointed to more distant destinations with the expectation of staying away for up to two weeks, and it's in long-distance mode that a 21/23-knot slow cruising speed will be utilised to obtain extended range. This will enable them to fish the Bahamas and return to base without paying the premium rates incurred when refuelling in this country.
Sea trials in Auckland's Hauraki Gulf proved AuSUM II met its primary targets. Its twin 660hp Caterpillar 3196E diesels powered it to 35.46 knots through the measured mile with a full load of fuel (3185L) and water (450L), and 14 people aboard to simulate the weight of stores and equipment.
I was one of the twelve-strong ballast team assembled for the engine warranty trials a few days after the measured mile run and the full-throttle segment of these tests coincided with a transit through Motuihe Passage, a stretch of water that was afflicted with a 3/5-foot wind-against-tide chop not unlike Gulf Stream conditions. Everybody aboard, including seasoned gamerfishermen, professional skippers and myself, were impressed with the ride and handling. Running with and against the waves AuSUM II mowed them down with relatively little movement or noise and a soft progressive ride that enabled everyone to stand around chatting almost hands free. It was a very comfortable 35-knot ship.
The owners also had other considerations when working up AuSUM II's specifications, not the least being good resale value in America, the ability to handle and maintain it by themselves and to fish it hard with a team of just two. These requirements led them to the express bridge concept that is also well suited to outdoor living in tropical climates and allows non-fishing guests to socialise with and observe the active crew.
During their search for the right boat they looked at all the American mid-range express models - such as those produced by Cabo, Viking and Buddy Davis - and also checked out Riviera and Black Watch from a distance, but no one boat offered everything they wanted. It was a chance boat show meeting with Richard Downs-Honey, managing director of respected New Zealand marine composite engineering firm, High Modulus, that led them to custom build in New Zealand.
While their research showed New Zealand builders in general and Vaudrey Miller Yachts in particular had the expertise to build in epoxy-based composites and handcraft the interior to superyacht standard, AuSUM II's owners were not prepared to move away from a known American designer who understood local conditions and fishing styles.
They selected Walter Hahn, a naval architect with many respected sportfishing boats to his credit and now designing for American Custom Yachts. The best known of his east coast boats include Glass Machine, a 65-foot Monterey, Renegade, an 80-foot Monterey, Bullet, a 46-foot Kincheloe-Nickerson and Freedom a 65-foot American.
Hahn says Glass Machine's hull became the most popular hull design for Monterey because it was easily driven, fast and efficient.
"Renegade was powered by two 3500hp MTU engines and with a top speed of over 50 knots it was the fastest sportfishing boat in America at one time. Bullet was a very good sea boat for it's size and cruised at better than 1nm per US gallon at 26 knots, and Freedom has been towed behind it's mothership for thousands of miles and fished all over the world in adverse conditions."
Hahn based AuSUM II's design on the 46-foot series he designed for Kincheloe-Nickerson Marine. These boats were powered by everything from DDC 6V92TAs to 1100hp MAN engines and were well regarded for their speed and sea keeping.
"The only real change I made was to make the hull a little wider for the sake of the interior arrangement and to increase the deadrise to help maintain the running trim angles of the slightly wider hull."
To define AuSUM II Hahn provided the lines drawings and key specifications such as laminate lay-up, engine position, shaft angles, rudder positions and placement of the batteries, three fuel tanks, water tank and holding tank. Vaudrey Miller Yachts took over from this point and their project management team completed the interior and exterior design and detailing in consultation with the owners.
Vaudrey Miller revisited the lay-up and drew on High Modulus' composite expertise to reengineer AuSUM II's hull, deck and internal structure to reduce overall weight while improving strength and stiffness for the same construction cost. This was achieved by replacing less efficient chop-strand matt backed cloth and quad-axial fabrics originally specified for the hull with recently developed tri-axial fabric and E-glass/Kevlar hybrids. Two laminate layers were deleted from the original deck specification by making selected use of unidirectional carbon fibre to stiffen it and improve structural strength while reducing weight and labour content.
Brian Shaw, design engineer at High Modulus, describes AuSUM II's specification as a medium-tech epoxy structure.
"We used DNV High Speed Light Craft Rule 96 as a guide and the boat can be run hard in any conditions."
As well as offering leading edge composite expertise and high building standards, AuSUM II's owners say building in New Zealand offered another significant advantage - a low exchange rate.
"When we started building the New Zealand dollar was worth US40c, and although it strengthened to nearly US50c, it was still two-for-one and a great financial incentive. Even with air travel, accommodation and Philip Wilson Marine's owner representative costs factored in, Vaudrey Miller offered the best price-to-quality ratio and I could not have built it cheaper in the States or Australia."
The high-quality expectation they had is evident everywhere, from the Aquamet shafts spinning in flush-mounted struts to the top of the Black Marlin tower (Black Marlin is an Australian company and they built the tower on site at Vaudrey Miller).
The interior cabinets are finished in cherry and madronna burr and in keeping with the owners' desire to fish rather than clean, everything is designed for minimal daily care. The Avonite and Corian backsplashes in the galley and head extend to a good height and solid wood teak and maple flooring is finished in two-pot lacquer so it can be swept or mopped rather than vacuumed. The only carpet is on the risers around the bed in the owner's cabin and every other surface can be wiped down with a damp cloth.
The interior layout could be described as accommodating two-plus-two-plus-two. The owners aren't into crowds although they did want the ability to have family and guests stay aboard when anchoring out. Dedicated accommodation is provided in the owner's double cabin in the bow, the only private cabin on board, and secondary berths are provided on the saloon settees, and if required, the settees on the express bridge. Although AuSUM II will be taken on extended cruises, the majority will be structured around overnight marina stays that enable the owners to stay aboard and guests to be accommodated in a hotel ashore, and the boat to be fished as a day boat heading to a new location every few days.
Because great emphasis was placed on the cockpit, express bridge and a soft riding, fast running hull form, the interior is relatively compact compared to designs with less focus on fishing and fast cruising, although by anyone's standard it's luxury accommodation, comfortable, practical and beautifully presented. The saloon is to port and the galley to starboard, and the bathroom is positioned forward of the galley as a semi-ensuite that can be accessed from the saloon or owner's cabin.
A 12kW Northern Lights generator runs the appliances - microwave and two-element cook top - because the owners do not consider LPG gas appliances safe. Everything is electric, including the Gaggenau barbeque built into the aft deck next to the engine room entrance and bulk freezer.
The saloon carries all the usual facilities, including a large flat screen TV (with a satellite link), and of course it's air-conditioned.
The owner has an appreciation for sound engineering because he will service and maintain the boat himself and is aware that all systems need maintenance or eventually wear out. To increase operational independence he requested that some redundancy be designed into the support systems. For example two independent air conditioning systems are fitted instead of a single large unit, two independent water pumps are plumbed into the freshwater system and the refrigeration is divided into separate refrigerator and freezer systems with individual compressors and piping.
The engine room is well laid out with all the service points close at hand and although a long way off, it was reassuring to see thought given to engine overhauls and replacement. All the flybridge elements can be removed intact and engine-sized "soft patches" (sealed but removable panels free of wiring and plumbing) in the sole lifted to expose the engines underneath. A day's work would see the express bridge stripped out ready to lift a head off or crane an engine out.
Although the photos show the boat incomplete, as much thought went into the fishing systems as the engineering and hull. It was shipped to Florida minus the gamechair, riggers, gaffs and tag poles because the owners already have theses items or they will be purchased in the States. There was no point freighting them to New Zealand only to ship them back again. American origin accessories to be fitted include a Pompanette chair, Rupp outriggers and centre-rigger and removable tuna tubes serviced with water from a high-capacity continuous operation deck wash pump.
The owners are in to all styles of fishing, including gamefishing and bottom fishing, and their son is a fly-fishing purist, so the boat will be used to chase all species in all ways. It goes without saying the cockpit is well set up with the coamings at the right height, toe-kicks, a decent sized outward opening transom door and long side-lockers for wash down equipment, gaffs and tag poles (the owners support tag and release and generally only keep what they will eat or will not survive). The mooring cleats are under the coamings and nothing protrudes above the coamings except the tops of the flush mounted rod holders.
The large live bait tank has a light in the top so the fish can orient themselves in the confined space at night, leading to stronger swimming and less mortality, and a window in the front allows a suitable bait to be selected at a glance.
A large insulated fish box under the centre of the cockpit is designed to hold six 50kg tuna (chance would be a fine thing says the owner) and it's equipped with a macerator pump to discharge the slurry and gore. When away from the marina for any length of time, additional ice to cool the fish bin will be sourced from the icemaker on the express bridge and from blocks frozen in the large capacity cockpit freezer.
The express bridge is a couple of steps up from the cockpit and the move from the helm to the transom can be made in a flash. Visibility from the helm is good in all directions, including back into the cockpit. Like the rest of the boat, less is more, and the helm is free from clutter and gadgets. The main electronics are under glass and key switches are in the glove box or recessed under the helm module so the boat can be washed down without worrying about getting them seriously wet.
A wash down hose is even plumbed into one tower strut so the owner doesn't have to drag a hose up to the top station which has all the necessary controls to helm the boat from up high.
AuSUM II was shipped to Florida in mid August where it will be geared up and exhibited in the next Fort Lauderdale boat show as part of Vaudrey Miller's marketing push into America and Europe. The company is promoting its custom build capabilities on the east coast and they hope to secure more AuSUM II clones and hybrids to build.
As for AuSUM II's owners, they just want to go fishing.
Hahn 47 Sportfisher
LOA: 47ft (14.3m)
LWL: 41ft 3in (12.6m)
Beam: 15ft 6in (4.8m)
Draft: 3ft 9in (1.18m)
Displacement: 14,500kg
Fuel capacity: 3185L
Water capacity: 450L
Construction: Kevlar, carbon fibre, E-glass, Corecell epoxy composite
Engines: Twin Caterpillar 3196E
Horsepower: 660hp each @ 2300rpm
Generator: 12kW Northern Lights
Top speed: 35.46 knots (full fuel and water, loaded)
Cruising speed: 20-33 knots
Designer: W G Hahn naval architects, Florida, USA, Email: acy@gate.net
Builder: Vaudrey Miller Yachts, Auckland, New Zealand. Email: info@vaudreymiller.com
Owner's Representative: Philip Wilson Marine. Email: hilip_wilson@xtra.co.nz
Keep up to date with news from Trade-A-boat or like us on Facebook!