Hanse 371
---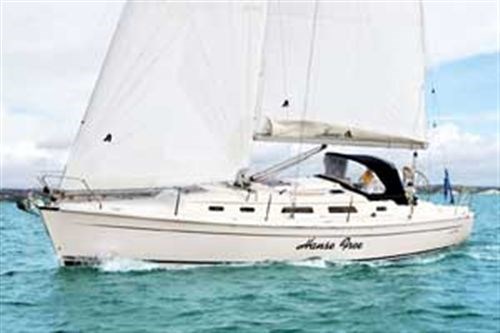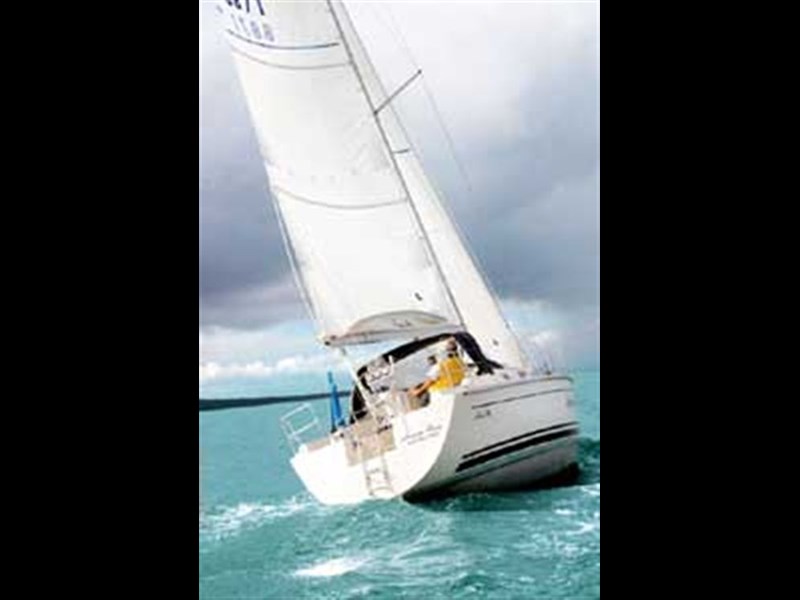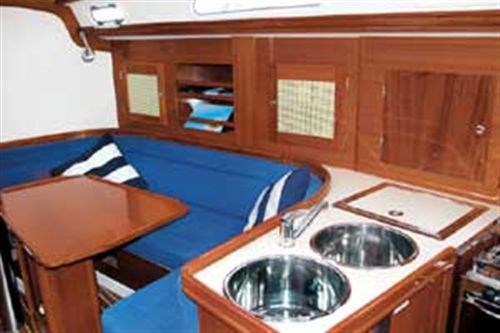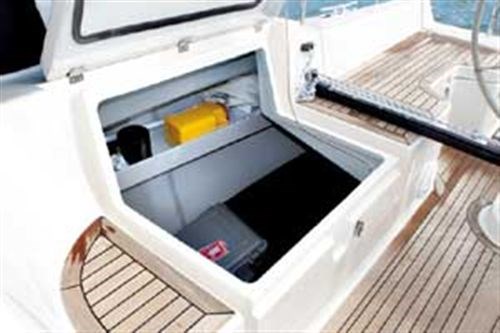 Voted 'Boat of the Show' at Europe's largest boat show in 2000, the Hanse 371 has become the German manufacturer's top-selling model - and as Lawrence Schäffler reports, it's not difficult to see why.

Tony Newmarch took delivery of his new 371 three months ago, and has called her Hanse Free. While the name embodies the spirit of trouble-free cruising, it perhaps has a greater resonance with the way the boat sails: easy, balanced, nimble, smooth - and virtually hands free.

A slippery hull shape, the fin keel and bulb, the semi-balanced, spade rudder, self-tacking jib - together they create a stress-free sailing experience. To the point where an auto-pilot almost seems superfluous. So there's not actually a helluva lot to do - other than find a suitably romantic CD to slip into the player and enjoy the sail.

Drawn by the internationally-renowned design agency, Judel/Vrolijk & Co, the 371 is a spacious, performance-oriented family cruiser - also eminently suitable for two couples. Newmarch's company (International Marine Brokers Ltd) began importing various models in the Hanse range 18 months ago. Hanse Free is one of two 371s in New Zealand, and it's a safe bet that more will quickly follow. A third is being collected by its Kiwi owner in Germany next month: he plans to take her on a bout of extended cruising.

The Hauraki Gulf dished up light winds (around 10 knots) for our sail on Hanse Free - and at the outset I'll say I wish we had heavier airs. She handles beautifully in the light stuff - and everything suggested she'd be even more exhilarating in stronger wind. Newmarch says she's as sea-kindly in 20 knots plus.

Hanse Free was perfectly set-up for our sailing conditions, but a robust rod kicker and back stay adjuster offers plenty of opportunity for fine tuning. She's well-equipped for short-handed sailing. All running rigging leads back to the cockpit. Halyards, the reefing line and rod kicker lines lead to two self-tailing Harken winches on either side of companionway. The fully-battened main sail uses single line reefing system.

Two more, slightly bigger Harkens are mounted further aft on the cockpit combing for the genoa or genniker. While standard 371s don't have a spinnaker pole (the one on Hanse Free is Newmarch's addition) the track for the pole on the mast is provided.

 The self-tacking jib (the clew's linked to a traveller forward of the mast) works particularly effectively under close-hauled conditions: it's a bit like riding motorcycle - flicking lightly from tack to tack. She points about 32o off the wind (apparent), and is exceptionally light on the helm.

With the large helm, that profiled rudder and fin keel configuration, she turns on a dime. A bigger overlapping genoa is also provided with the boat, but it's fitted with separate sheets (and genoa tracks with fairleads). No doubt the genoa will make for more exciting sailing, but the self-tacking simplicity will obviously be sacrificed.

Displacing around six tonnes, she also moves very easily under power. Standard 371s are equipped with a 30 hp Yanmar. Newmarch has gone for a slightly bigger unit (39hp), to cater for New Zealand's more boisterous weather. It's connected to a sail drive with a two-blade, folding propeller, and delivers between 7 and 8 knots at cruising revs.

Cockpit
Good party potential here. It's a large, self draining cockpit (open transom) that offers good space for a 37 foot boat - even with Newmarch's main traveller 'adjustment'. Unlike standard 371s which have the main traveller located on the cabin top, ahead of the companionway hatch, he has relocated the traveller to the cockpit, just forward of the pedestal helmstation.

Newmarch claims this change provides for faster trimming during racing. Perhaps, but while the boat is quick and should hold her own in round-the-buoys racing, my personal view is that she's too elegant to be subjected to the 'insane' set. The relocated traveller is not particularly intrusive - but I'd prefer to keep it where the designers put it.

I liked the lack of a fixed cockpit table. I prefer spaciousness in a cockpit for sailing: and am happy to use a stowable, fold-up table for alfresco meals at anchor. The helm station carries a large leather-clad wheel (1000mm diameter), comprehensive Simrad instrumentation and the autopilot. All instruments are easily visible, and the sturdy spray dodger should keep everything dry beating into foul weather.

With three, large lockers, cockpit storage is more than adequate. Two are aft, on opposite sides of the helm, and ideally situated for mooring lines, fenders, outboard fuel tanks, barbecues, etc. Another large locker, on the starboard side, provides direct access to the large, starboard cabin below.

 And it's a particularly useful and versatile feature. Hanse 371s are available in a two- or three-cabin layouts (accommodation for four and six respectively - though with only one bathroom, the two-cabin option is perhaps more sensible).

In the three-cabin version, that starboard cabin/locker is fitted with double berth (like its twin on the port side). In Hanse Free's two-cabin layout, and the starboard cabin becomes a large, sail/storage locker, directly accessed from the cockpit. It's also accessible below though a door in the bulkhead. And should it be necessary, it's possible to sleep an extra body in the locker. Very convenient - especially for sails.

Out on the coachroof/foredeck area, there's good space for relaxing and sunbathing. There are 11 windows on the 371, seven of them opening. The two largest hatches (Lewmar) open over the forepeak and saloon respectively.

Interior
She's a beamy, large volume boat, and the sense of spaciousness and airiness continues below. Décor is a blend of high-gloss mahogany joinery, white vinyl ceilings, navy blue upholstery and cream-coloured rattan doors. A classically, nautical theme.

The master cabin in the forepeak sports a comfortable V-berth, with good storage space in hanging lockers on either side. There's that large opening hatch for ventilation above, and shelves down either side of the berth.

A large U-shaped settee with table dominates the starboard side of the saloon. It easily seats six. Opposite, on the port side, is the chart table situated between two, separate upholstered seats. The switchboard panel for the electrics is above the chart table, as well as the VHF and radio/CD.

An L-shaped galley is aft of the saloon, immediately to the right of the companionway. Very convenient for serving nibbles and meals directly up to the cockpit. It's fitted with a gimballed, two-burner cooker and oven, a top-loading freezer and a front-loading, 12-volt fridge. Good working area in terms of bench-top space, and all complemented by twin, stainless steel sinks.

As indicated, the Hanse 371 only has one bathroom. It's on the port side, opposite the galley, and just forward of the aft, port cabin. It contains a marine-toilet (connected to a holding tank), a vanity with hot/cold water and pull out shower. The water tank capacity is 220 litres.

Immediately aft is the port cabin with its double berth and hanging lockers.

 All in all, it's an airy, open layout - well thought out, will more than enough room for two couples to co-exist in relative privacy. With her easy sailing characteristics, she's also a hassle-free, cruising companion, able to turn on a hot burst of speed if and when required. She's what sailing is meant to be.

Construction
The 371's hull and deck are laminated in a light, but solid hand-laid sandwich construction. They are bolted together using a stable, aluminium outside rail and firmly bonded together with high-strength glue. Bulkheads glassed to hull and deck.

In the gel coat and in the outer laminate layers, high-quality isophthalic resin is used as an osmosis protection. A stable floor segment absorbs the forces of rig and keel. The advantages of the design include absolutely watertight hull-deck connection, optimum protection against osmosis and optimum heat and noise insulation.



Hanse 371 Specifications
LOA: 11.25m
LWL: 9.85m
Beam: 3.59m
Deep draft keel: 1.09m
Shoal draft keel: 1.69m
Displacement: approx 6.0 tonnes
Mast height a. WL: approx 17.30m
Mainsail: approx 38m2
Self-tacking jib: approx 27.5m2
Genoa 140%: approx 45.30m2
Engine: Yanmar 39 Hp
Designer: Judel/Vrolijk & Co.
Fuel: 80 litres
Water: 220 litres




Keep up to date with news from Trade-A-boat or like us on Facebook!