JBoats J160
---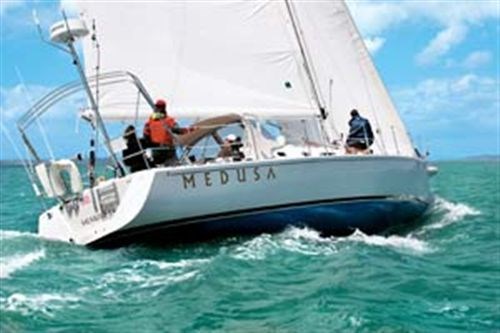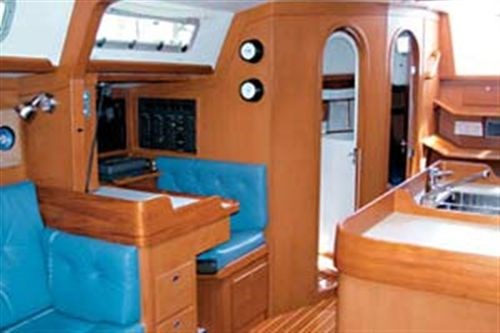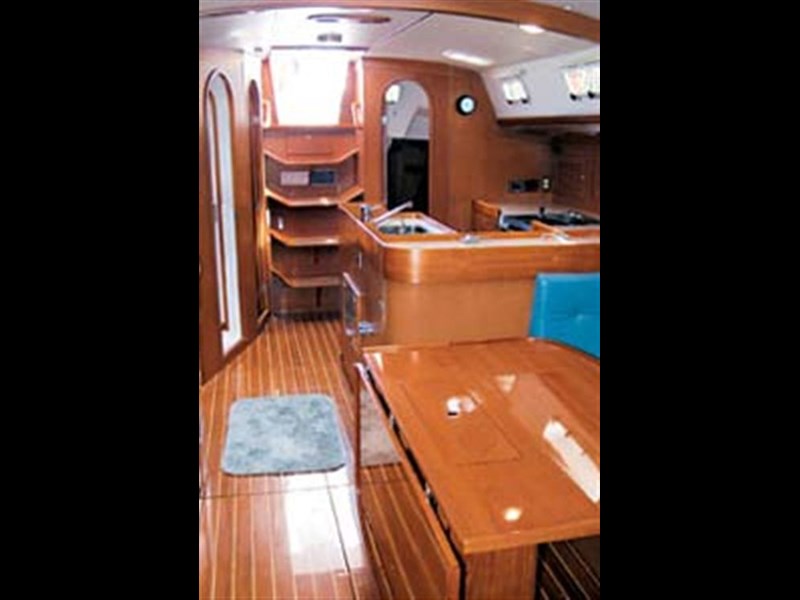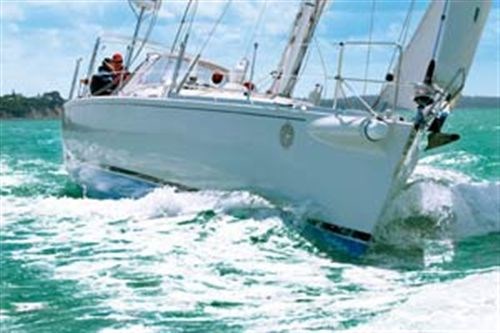 America's leading one-design yacht builder J Boats is taking its racing pedigree and applying it to cruising yachts and the results are impressive. Steve Raea sniffs out the flagship of the fleet - the J160.

American Ken Watson is a man in a hurry. It stands to reason, therefore, that whatever he does he does it fast. And his leisure time on the water in no exception. "I like to go fast but I also like to be comfortable."

To my ear that sounds like a recipe ideally suited to a large and powerful launch.

"Been there, done that," says Ken. "And yep, it was great, but I missed tweaking sails, eeking speed out of a yacht while racing, and most of all the silence of a sailboat gliding through the water." Add to that Ken's taste for offshore-voyaging and the formula changes again.

The former "dot-comer" retired to New Zealand five years ago after visiting Auckland in 2000 to watch the America's Cup. "I fell in love with the country and didn't want to leave. I purchased a property in Takapuna and bought a beautiful Don Senior powerboat which I cruised extensively between Auckland and the far north. We had great times but I am a sailor first and foremost."

And Ken knows a thing or two about yachts having competitively raced J24s out of San Francisco throughout the 1980's, arguably the most hotly-contested JOG one-design fleet in the world. In 1988 Ken's sailing moved up a knotch, taking delivery of hull number one of the new J 37, a performance cruising yacht designed with offshore voyaging in mind. But with Ken's taste for comfort and speed it wasn't long before he was again looking to upgrade.

"My next yacht was a new Sabre 43, again it was a performance cruising yacht built on the US east coast. It was a lovely sailboat and it served us well for a number of years. But we again outgrew her. You soon run out of space when you start adding generators, dive compressors, air bottles, watermakers and the other gear required to be truly self-sufficient for extended periods of time." Likewise, he says, bigger is faster, quieter and definitely more comfortable.

Ken's search for a suitable 50-footer performance cruising yacht began first in the United States and then to New Zealand and again back to the US.

 "I first went to the Sabre factory and asked if they could build me a 52-footer. I liked the way they built their yachts and we had been impressed with the 43. They declined. Without the tooling the cost would have been prohibitive. I then looked at the Santa Cruz 52, a very fast American design built primarily for offshore racing. It was quick, no doubt, but it sounded like a bass drum below decks in any sort of seaway. It also demanded a crew to sail it and to my mind any more than three when cruising is a crowd. The search continued." Ken says the next boat on his shopping list was the recently-launched J160.

Unlike her smaller sisters, particularly the hugely-popular J105 race-yacht, the J160 had been designed to fill a perceived gap in the American cruising yacht market. While there was no shortage of US-built cruising yachts, most fell into the medium to heavy displacement category with honest if not sparkling performance.

Ken says the J boat pedigree virtually demanded performance, but it was the comfort side of the equation that impressed him most when he inspected the design.

"I was impressed by the cruising layout and the attention to detail and finish of the interior. There was little doubt that the design would accommodate my cruising needs." The only remaining question, he says, was the yacht's offshore manners and her ability to be sailed short-handed. The boat passed on both counts during sea trials. But between his other commitments and moving to New Zealand, Ken's sailing plans were put on ice until last year when his search began anew.

Now living in New Zealand, Ken began to look at New Zealand-built yachts and investigated commissioning a Kauri-built yacht. "I love kiwi designs and really wanted a Kauri boat but the figures just didn't stack up. There was nothing suitable on the second-hand market. I looked hard for six-months but, economically at least, nothing could compete with the J boat."

After trawling the internet he found his J160 lying at Anacortes in Washington, not too far south of Vancouver. It was a one-owner boat launched in 1999 but it had been very lightly used. "Medusa had less than 200 hours on the engine and only 20 hours on the generator. It was effectively better than new". Ken negotiated a settlement through a US yacht broker and purchased the boat sight unseen subject to a visual inspection on his arrival. There were no nasty surprises and he took delivery a short time later. Plans were immediately put in place for her delivery to New Zealand.

The Design
There is no denying that the J160 is a purposeful looking yacht and very different in styling from many of the modern production keelers landing in New Zealand. Aesthetically, the yacht is pleasing in a contemporary sort of way with short overhangs, pleasing sheer, moderate freeboard and topside flare and a relatively full and flared bow. This combined with a narrow waterplane, fine entry and low-wetted surface adds up on paper to good performance and a comfortable motion in a seaway.

J Boats marketing material goes to lengths to emphasise that the J160 has the lowest centre of gravity in its class giving rise to what the company claims are impeccable manners and the ability to be sailed easily by two or three people. "...less sail is needed and working loads are reduced. The J160 is as easy to handle and sail as a traditional 42-footer."

And that, it seems, is fair comment given that three crew delivered Medusa from Washington to New Zealand without drama and managed better than 200-mile days in laid-back cruising mode. Ken says the boat will sail all day long at eight knots hard on the wind and climb effortlessly over 10 knots with cracked sheets. Ease the sails out further and the numbers continue to climb.

J Boats racing heritage has played a big role in the yacht's construction which is high tech by any standard. The J160's hull and decks are manufactured from end-grain balsa-core and vacuum-infused fibreglass using the company's patented SCRIMP technique. This technique, according to company literature, results in a strength-to-weight ratio that exceeds custom race yacht oven-baked pre-preg construction.

 The SHRIMP process is also used in moulding all structural bulkheads which are glassed on fore and aft faces to the hull and deck with non-woven biaxle fibreglass. The process also eliminates the need for secondary bonding with floor stringers. A vinylester resin-barrier coat is added to the lay-up beneath an NPG gelcoat to protect against osmosis. So confident is the company of its product that it offers a 10-year transferable warranty against blistering.

The hull and deck flanges are bonded both mechanically and chemically with thru-bolts on four-inch centres and 3M 5200 urethane sealer. The cast lead keel is attached to a heavily laminated keel stub with inch and a quarter stainless bolts.

For the technically challenged it is suffice to say the J160 is built in excess of the Offshore Yacht Service standards of the American Bureau of Shipping - a standard applied to many New Zealand-built racing yachts that have 'been there and done that'.

Ken Watson says Medusa copped her share of foul weather on her sail home including a 60-knot hiding off the Northland coast - the same blow that dismasted several boats and drove one yacht ashore during the recent RNZYS Ice Breaker.

"Our worst beating was a storm off the Tuamotus. We spent a day and half-flying off steep 15 to 20 foot waves. They were boat-breaking conditions but the yacht punched through no problem. I gave up worrying and just enjoyed the ride."

The cockpit layout is refreshingly simple for a 52-footer and J Boats is genuine in its claims that the boat is set up for short-handed sailing. With a single wheel recessed into the cockpit sole, the helmsman can operate both the mainsheet and the traveller from the helm. The cockpit combings are wide, comfortable and easy to negotiate when going forward and the electric primary sheet winches take the grunt out of trimming.

With all lines led aft there is no good reason to leave the security of the cockpit. Cockpit stowage is generous with two cavernous lockers aft each side of the quadrant and a smaller locker on the port side, Gas bottles are carried in a vented locker to starboard. A large watertight sail locker is built into the bow forward of the accommodations.

The J160 is equipped as standard with a three-spreader masthead rig by Hall Spars and discontinuously rigged with Navtec Nitronic rod rigging. The furler is compliments of Harken. The deck gear is almost exclusively by Lewmar with Bomar deck hatches and opening ports.

Belowdecks, the J160 is tasteful appointed with three staterooms, two head/showers, a large dinette saloon and a U-shaped galley with the nav station opposite to starboard. The master cabin is forward of the mast and set to port with a desk and swivel chair opposite to starboard. Forward is the master shower and head. Twin double cabins are set in under the cockpit aft, with the starboard cabin sharing access to the day head and shower.

Interior options include all teak or off-white bulkheads with the obligatory teak and holly sole. Home comforts include a three-burner oven, twin galley sinks, Corian-like counter tops, 12-volt and compressor-driven refrigeration, air conditioning and central heating and a water-maker. The list of factory-fitted optional extras is exhaustive and limited only by your wallet.

So what does it all cost. Plenty. A new J160 in standard trim, says Ken, is retailing for about $US 1.1million. But, as he says, to build a similar boat with similar appointments in New Zealand would likely cost considerably more.

"Purchasing second hand in the States was by far the most economic option for me and having completed the exercise once I would not hesitate to do it again, particularly in the big boat market. The choices are endless and with the strength of the New Zealand dollar nothing else stacks up as well."

Ken paid US$600,000 for Medusa and another $100,000 refitting her in Washington for the voyage home. "I was more than happy with the boat and the price. I essentially got a yacht that to my mind was better than new."

 J Boats has not till recently been marketed with any gusto in New Zealand but that has recently changed with the appointment of International Marine Brokers' Duthie Lidgard as New Zealand agents. Duthie says while the agency is still in its infancy there has been an encouraging level of genuine enquiry.

"My feeling is that it will be the bigger boats like Medusa that will appeal to the New Zealand market. One-design racing in New Zealand is languishing and I suspect it will continue to do so. Local interest is definitely favouring the larger designs."

Meanwhile Medusa is waiting on an order for new laminated racing sails and Ken for his membership at the Royal New Zealand Yacht Squadron after which the pair will become regulars on the Auckland racing and cruising circuit. And come May next year it's back to the tropics - the fast way.



J Boats - J/160 - Medusa
Designer: Rodney S. Johnstone
LOA: 52.7ft
LWL: 45.6ft
Beam: 14.5ft
Draft: 7.2 ft
Disp: 31,200lb
Ballast: 12,000lb
Engine: Yanmar 88HP




Keep up to date with news from Trade-A-boat or like us on Facebook!