Kiwi-Kraft 780 HT
---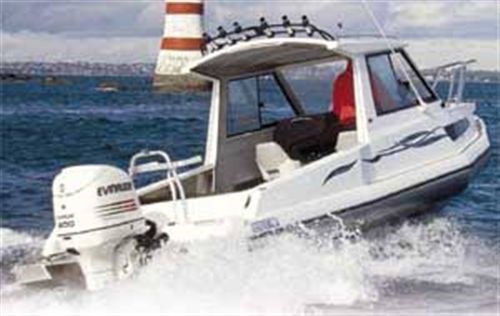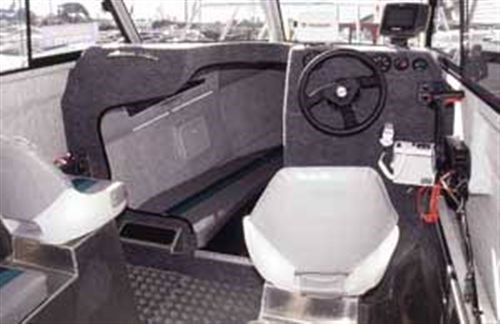 It is refreshing to find a boat builder who makes no bones about the sort of boats he builds. Kiwi-Kraft's Rodney Harris is one such boat builder. He builds pontoon boats and he builds good ones.
Pontoon boats are a relatively new phenomenon in New Zealand and have their routes firmly established in the commercial sector. It is only in the last 15 years that their qualities have been recognised and developed for the recreational boating market. But their growth has been exponential and, as a hull form, they have quickly established a reputation and track record second to none when it comes to on-the-water performance.
Harris is something of a pontoon pioneer having built pontoon boats for about 14 years. His first boat was a four metre fishing boat. It sold before he even had a chance to power it but it was the beginning of big things. Harris then established the Kiwi-Kraft brand.
The early days brought a mixture of fortunes but the company survived and has gone from strength to strength to become one of New Zealand's biggest names in pontoon boats. Harris now employs 11 staff and has a business plan that will see about 150 boats built by the end of the calendar year.
Harris' journey has been something of a voyage of discovery in terms of his boat's design and build with subtle and not so subtle changes over the years helping to evolve what he now considers to be a near-perfect hull design.
"We're happy with our hull design and general engineering and are now tending to concentrate on aesthetics. We're beginning to dress the boats up a bit more and as far as that goes the sky is the limit. We want our boats to appeal to women and the general recreational market."
Kiwi-Kraft produce a range of 10 boats from 3.60m to 8.20m. The 780 Hard Top is the second largest in the range and is pitched at both the commercial and recreational user. The boat is built to MSA survey standards and carries the CPC Safety Compliance Plate that provides owners with the confidence that comes from knowing the vessel is inherently safe.
Harris concedes early on that pontoon boats are not for everyone with their box-like cabin structure and multi-chine pontoon hulls. But beauty, he argues, is very often little more than skin deep - the difference between a good paint job and a bare hull.
The beauty of Kiwi-Kraft is their rugged frame, solid engineering and sea-keeping abilities. The 780 Hard Top is a hybrid developed about four years ago and improved ever since. About 20 units have been built and put into active service on the coast of both islands. The majority, however, are employed in commercial dive and fishing operations.
Construction
The 780 Hard Top hull is constructed from 5mm plate with 3mm pontoons and topsides. The pontoons have multiple welds on each side and are built with nine sealed compartments, each pressure tested to 5 PSI during manufacture.
A tenth sealed compartment is welded under the cockpit sole, collectively, making the boat virtually unsinkable. The hull has a variable deadrise reducing from 39 degrees at the bow to 22 degrees at the stern thus providing a relatively deep vee.
A feature of the 780 is the extremely fine and long bow entry that has been credited for the boat's predictable and well-mannered behaviour in a seaway. Hull performance is further assisted with twin planing strakes that run the full length of the boat.
The 780 has a full width portofino-style stern set inboard of the pontoons with a stainless steel boarding ladder to port. The dive platform is constructed from aluminium deck plate with welded grab rails each side of the transom to assist divers onboard.
The transom does not have a cut away in the stern but the aft combing is wide enough to stand on comfortably and is fitted in non-skid rubber.
The cockpit is wide open and long and begs to be fished from. The floor is again welded aluminium plate with a large central storage bin welded amidships for dive tanks. Full length parcel shelves are built into the cockpit combings for rod storage.
The combings themselves are a perfect height and width for sitting on, either inboard fishing or outboard for diving. A single aluminium gate in the transom swings inboard to give access to the twin battery banks, lube mix for the outboard and bilge pump.
The cockpit like the rest of the boat is a no frills affair - or better put - purpose built for serious fishing. There is no wet bar or fridge, carpet or sink - just one of the most practical hose it out cockpit designs I've seen. That design philosophy has been carried through to the cuddy which is as basic as they come.
There is a considerable step down into the cabin which means greater headroom once below. While short on trinkets Harris has got several things spot on. Firstly, the length of the bunks.
Too often we're expected to stretch out on bunks compromised by joinery, sinks, stoves and the like. The net result is an uncomfortable night curled up around an appliance. Not here - there are none.
The cabin, however, is light and airy with a small perspex window each side and a Weaver hatch overhead. The cabin is nicely lined with frontrunner to take the chill out after a hard day's fishing.
The floor is again welded deck plate with a bottom drain plug for any wayward spill. Personal clobber is well catered for in the cabin with a deep parcel shelf on each side and two sealed hatches giving internal access to each pontoon. There is further storage under the squabs.
The hard top is simple but well designed and has sufficient headroom to satisfy all but a Harlem Globetrotter.
All-round visibility is excellent through the tinted 6mm toughened glass windscreen and sliding side windows but a couple of wiper blades wouldn't go a miss.
The test boat was fitted with an after-market rocket launcher across the hard top roof but the boat comes equipped with rod holders in the stern and a clever bait board that clips into two alloy cleats welded to the transom rail at the stern.
Seating comes by way of a king/queen seat combo on both the driver and passenger side. The seats are mounted on large aluminium plinths with good storage beneath. A foot rest has been added for both driver and passenger and a grab rail as been welded forward of the passenger seat.
Like most hard top designs, there is a want to stand when running or beating into any sort of weather at speed and the 780 is no different. Access to the cabin top and bow has been well thought out with a wide deck-gripped step up onto the cockpit combing, aided with full length handrails welded to the aft edge of the hard top. From here it is a steady and sure walk along wide side decks to the bow.
The aluminium bow rail is tall enough to make it a useful appendage and it extends well aft. The whole set up feels as safe as houses. A deep self-draining anchor locker is set back from the stem with a welded bollard for making fast. A no-nonsense stainless steel fairlead is bolted further forward and gives a useful anchor clearance from the bow. The boat is fitted with a heavy rubber rubbing strip which runs from stem to stern.
The overall finish of the boat was impressive with two-pot paint and decals above the pontoon line. While it may not be everybody's darling, I thought the boat was ruggedly handsom in a Speights sort of way.
Ride
The 780 test boat was fitted with the new Evinrude 200HP Ficht Ram outboard from Bombardier and propelled by a standard alloy propeller. The new engine's performance was quite simply stunning with hole-shot acceleration throughout the entire rev range.
The engine has the same acoustic qualities as a scolded cat below 4000 rpm and the ring of a banshee when pushed through to red line. The 780 enjoys - no needs - big horsepower. Pontoon boats by their nature means more wetted surface dragging on the water.
Thus greater power is required to get them up and onto the plane. Planning is where they're happiest and the new Ficht Ram made light work of that.
The Navman chart plotter fitted to the boat showed a cruising speed of 27 knots at 4000 rpm and a top speed of 41.7 knots at 5,800 rpm. The power band from 4000 rpm to red line at 5,800 is impressive and reminded me of my days riding two-stroke trail bikes.
Early pontoon boats weren't known for their soft ride - in fact some were damn uncomfortable - but those days have gone. The 780's fine entry and long bow delivered a very comfortable ride indeed with the mid-bow sections barely doing any work at all.
As Rodney Harris says, the key to a quality ride in a pontoon boat is horsepower, and the Evindrude 200 had heaps. He adds that correct trim is also an important element of performance and says he trims his own Kiwi-Kraft out as much as he can. While conditions on test day weren't overly trying, they weren't that good either with a one to two metre swell rolling down Auckland's Hauraki Gulf.
The 780 ate it up and at full noise. In fact from where I was - taking photos from the cockpit of a substantially larger sportfisher - the 780 seemed to be doing it easier than us. The boat, however, did suffer a bit in terms of trim and some trim tabs would go a long way, particularly when running hard in a crosswind. Leeway is part and parcel of hard top design and it is only natural not to compensate when on the helm.
This can, in strong winds, result in crabbing. Solution? - tabs. With that said, this is one boat that I would feel more than comfortable taking out for a day in less than ideal conditions. Many owners have and they've all returned home safely. Rodney Harris would be happy, I'm sure, to raise the heckles on your neck as he did mine with stories of fishing sorties out of the deep south when it may have been wiser to stay at home with the latest copy of Trade-A-Boat.
All up, the Kiwi-Kraft is a well built and rugged performer that makes no bones about its purpose in life - to get there in back in safety wherever that may be while providing a super-steady platform for diving or fishing, whether for commercial or recreational purposes.
Kiwi-Kraft 780 HT
Builder: Kiwi Engineering and Marine
LOA: 7.80m
Beam: 2,500mm
Deadrise: 22 degrees
Weight: 2200kg (approx)
Fuel: 200 litres (underfloor)
Engine: Evinrude 200 HP Ficht Ram
Rec HP: 200 - 250
CPC rating: 10 adults
Price as tested: $87,500
Boat supplied by: Family Boats, 247 Ti Rakau Drive Pakuranga, Auckland. Tel (09) 274-0511, E-mail: sales@familyboats.co.nz
Keep up to date with news from Trade-A-boat or like us on Facebook!