Lazercraft 680 Sportsman HT
---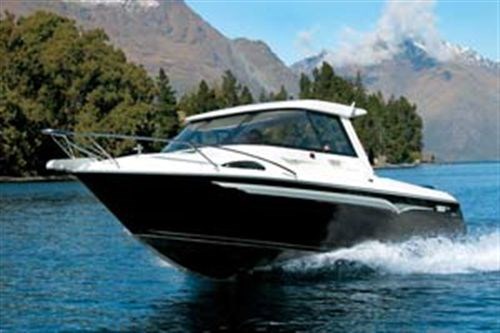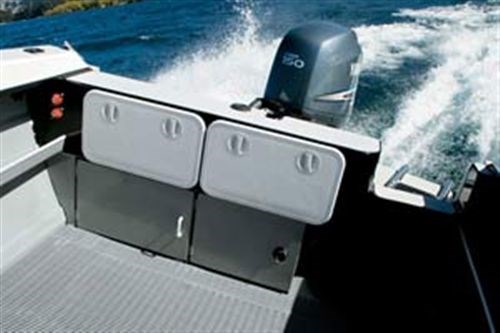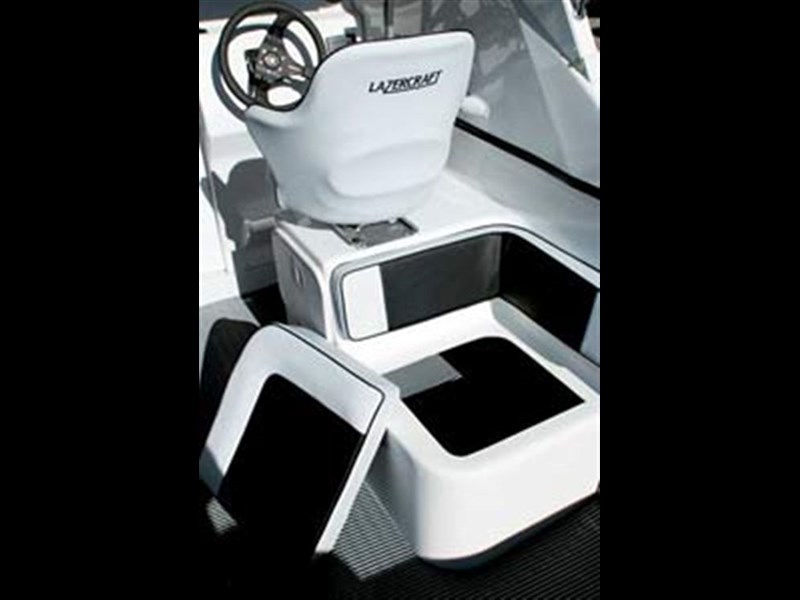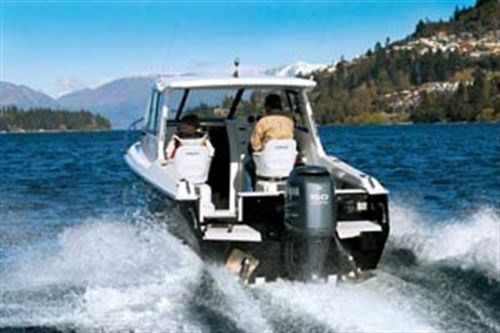 Big enough for a serious fishing party but light enough for easy towing, Lazercraft's new 680 HT is the manufacturer's calculated response to market demands. It's also a fine example of thoughtful design and sharp engineering - and is a treat to drive. Lawrence Schäffler reports.

Since its debut at Auckland's Hutchwilco Boat Show in June this year, orders for the 680 have been pretty steady. Hull number 10 has just rolled off the Dunedin company's production line, and there are orders for at least two more.

The 680 is positioned between the company's existing flagships: the 620 and 740. And as Lazercraft's Queenstown dealer Shane Johnston explains, it targets those who require a finer balance in their boating requirements.

"Some fishermen find the 620 a little too small for serious blue water fishing. The 740's great, but it's heavier and bulkier, and many find towing it a little daunting. In addition, many of the 740s are twin-rigged - so there is a cost consideration. The 680 is something of a compromise - large but light - and so far, it seems to have struck a chord."

Like all Lazercraft models, the 680 HT is a hybrid: fibreglass deck and topsides mated to an aluminium hull. It's a particularly successful marriage, combining the smooth aesthetics of a fibreglass finish with a robust aluminium hull. Hull fabrication uses 5083 aluminium - 5mm on the bottom and 3mm for the sides. Overall, she's a sharp looker: clean, aggressive lines, with the hardtop nicely in proportion.

"Attention to detail" has become something of a cliché in boat reviews, but this boat really does do the phrase justice. There are many examples, but for me the best one is the engine mounting system that incorporates nylon bushes to minimize vibration and eliminate the conductivity/electrolysis issues that can plague aluminium boats.

Dealers and owners are not required to drill holes in the transom to mount the engine. Lazercraft has "pre-installed" mounting holes with nylon bushes. Together with the nylon board between mounts and transom, the engine remains fully insulated from the boat. Johnston carries out circuit tests with every engine fitting to make sure there is no conductivity.

Another "detail" example is the pre-installed wiring loom with its six-pole switch/fuse panel. With most owners investing in an $80,000+ boat preferring to fit their choice of electronics - Lazercraft provides only a moulded fibreglass console/dash with space for a fishfinder/chartplotter, compass and GPS (a VHF radio and CD player are typically installed in the fibreglass ceiling panel). Thanks to the pre-installed cabling, there is no need to route cables around, behind and under frames, bulkheads and paneling to install and connect these instruments.

A subtle half-round aluminium rubbing strake conceals the transition between aluminium hull and fibreglass topsides, and with the fine finish on the Nyalic-treated hull, the materials mix is not immediately obvious. Only the unpainted hull undersides and two pairs of planing strakes are giveaways. She boasts a fine-entry bow, a 20o deadrise, a 2.85m beam and a portofino stern - all contributing to fine, flowing lines. The hull carries a two-year warranty.

More examples of the successful integration of aluminium with other materials are evident in the cockpit. The heavy duty treadplate that's used for the cockpit floor is covered with "wall-to-wall" rubber matting. Kinder on the feet and secure underfoot, it disguises the bland aluminium and delivers a much "softer" look.

The matting lifts out easily, so washing down the cockpit with a hose is easy. Vinyl-faced shelving and plastic lockers built into the sides and stern respectively complete the illusion - it looks like a fibreglass boat.

Cockpit
When taking a break from fishing, the skipper and three mates relax in padded, vinyl-covered pedestal seats with aft-facing returns. For those who prefer more space for fishing activities, a "returns-less" option is offered.

The driver's seat pivots 360o and is equipped with forward/aft adjustment - so it can be customized to anyone's height. There's plenty of storage under the return seats, and additional lockers are located under the pedestal seat bases.

The fibreglass hardtop contains large, sliding glass windows on either side, curved, acrylic windows on the corners and central glass pane in front. All contribute to excellent visibility. Lazercraft has just developed reinforced glass versions to replace the curved acrylic windows, and they'll be fitted to all future models.

Without instrumentation (other than the Yamaha 150's engine gauges - speed, fuel management and rev counter), the dash/console understandably looks a little bare, but it's big enough to accommodate any chartplotter/fishfinder preferences. There is the six-pole panel, the Hy-drive helm and a pair of rockers for the Lectratab trim tabs, a standard feature on the boat.

Dedicated, moulded recesses are provided for a compass and GPS receiver (with the fibreglass roof, the receiver can be mounted on the dash rather than on the roof). The expansive, vinyl-covered dash top also contains a handy receptacle for sunnies, hats and other personal items.

An attractive part of the unit is the curved door (lockable) that slides smoothly behind the dash. Inside the cabin is a full-length V-berth (with an optional inset for creating a double berth), with double-tiered shelving on the sides. Overnighting for two should be easy.

Again, everything is faced in vinyl and/or upholstery, so it's a warm, cosy area: no hint of aluminium. Even the storage lockers under the berths are lined with carpeting. This helps with insulation (noise as well as warmth). A large, perspex hatch with gas stays set into the cabin ceiling lets in plenty of light. If desired, a toilet could be fitted to the cabin sole - between the berths.

Up on the foredeck, a large anchor locker sits behind the stainless steel bow roller. This boat wasn't fitted with a windlass (Johnston says few South Island owners fit them as they tend to "drift fish" rather than anchor on the west coast), but there's plenty of room to add one, and lots of space for rode below. Stainless steel rails surround foredeck, with additional grab rails on the side of the hardtop.

Back in the business end of the cockpit, the boat's set up for fishing and diving - with a healthy dollop of convenience. A battery of rocket launchers (six) graces the aft end of the hard top. Four more rod holders are set into the gunwales (covered with grip-tread). The aft end of the hardtop's also fitted with a discreet, aluminium track to take a set of floor-to-ceiling clears - useful for keeping the crew dry during foul, west coast weather.

There's a spot for a baitboard/ski-pole in the center of the transom. Below is a selection of lockers - one dedicated to batteries - but together the offer excellent storage for fishing/diving gear. Dive bottles can be stored in shelves running down either side of the cockpit, under the gunwale.

The portofino stern's equipped with a step-through door and a fold-down boarding ladder. It also has a mount for a small auxiliary, as well as hatch that gives access to the bilge pump. Under the aluminium floor is a built-in, 180-litre tank that can be increased to 210 litres as an option.

All up, the 680 HT and its trailer tip the scales at 1850kg. Like the hull, the Lazercraft tandem-axle trailer is fabricated from 5083 aluminium. Its brakes are equipped with stainless steel calipers. A central, tread-plate walkway and a 10:1 winch make launching and retrieving a simple, sure-footed exercise.

Performance
Recommended horsepower for the 680 starts at 150hp, and tops out at 225hp. Ours was fitted with a four-stroke, 150hp Yamaha, and it proved more than ample on Queenstown's Lake Wakatipu - climbing on to the plane quickly and cruising easily at 35 knots. For psychological comfort during blue water excursions, I'd perhaps opt for a power plant with a bit more grunt.

The hull knives keenly through the water, and the carpeting/insulation against the hull dampens noise effectively. Protected by the hardtop, it's a comfortable, dignified ride. There's plenty of wind sheer around Lake Wakatipu, and the hard top cops a fair amount of it. But the trim tabs did a sterling job at keeping her level. She turns quickly and easily, the planing strakes holding her true in tight turns. The hydraulic Hy-drive helm makes for light steering, and she responds instantly.

Queenstown Marine's Johnston says the 680 HT is on track to become his most popular seller, and it's not difficult to see why. A classy blend of robust construction and fine aesthetics - and it's not often you can say that about an aluminium boat.



Lazercraft 680 Sportsman HT (price as tested - $83,995)
LOA: 6.80m
Beam: 2.485m
Freeboard: 0.77m
Vee: 20o
Fabrication: 5083 aluminium
Sides and Decks: 3mm
Bottom and Transom: 5mm
Floor Tread Plate: 3mm
Weight: 1850kg on trailer




Keep up to date with news from Trade-A-boat or like us on Facebook!