Logan 33
---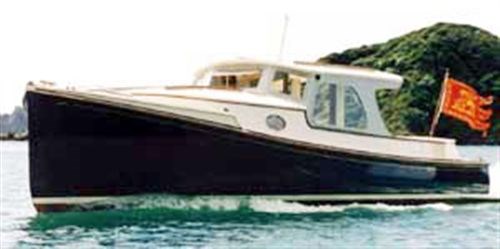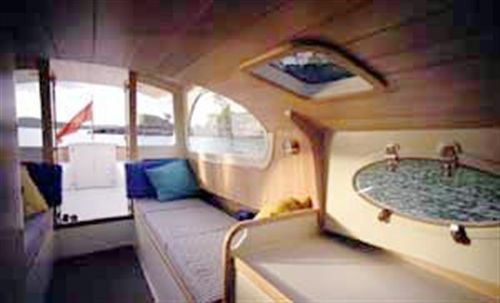 David Barker has blended classic with contemporary, simplicity with sophistication and technology with style to create a beautiful little cruiser that is inviting, quiet, fast and economical. Geoff Green spoke to him about the influences and experiences that produced Feather.
David Barker, international artist, is well known for the trio of lightweight, high-performance sailing catamarans - Sundancer, Stratosphere and Sundreamer - he designed. He built the 12m Sundancer while living in Sydney and sailed it to New Zealand where he built Sundreamer, a powerful 17-metre multihull that he raced and cruised for fourteen years.
Deceptively simple but functional, Sundreamer had no engine or luxury comforts, but she was - and still is - ocean capable and blistering fast.
Barker says ski goggles were standard issue on board because she was a maximum speed, maximum drama, maximum concentration type of yacht.
"She required a core crew with skill, fitness and respect and she seemed to grow younger and friskier every year. After many exhilarating and enjoyable adventures Sundreamer was no longer the boat for Tanya and I and we began to look towards more relaxed adventures at sea."
Feather, a picnic style launch with basic long-stay facilities now provides that marine lifestyle, and although she appears diametrically opposed to Sundreamer, some similarities in concepts were carried over.
Barker's catamarans moved through the water efficiently with minimum disturbance to the environment and David and his wife Tanya wanted the same from their powerboat. And Feather, like Sundreamer, had to be a unique craft that took the eye.
The chain of events that led Barker to redesign and restyle his Logan 33, a craft built by Logan Classic Boats in Whangarei and finished by PM Boat Builders in Kerikeri, began many years before and was influenced by a Canadian RAT.
The first RAT was an aluminium boat used to pick up supplies and ferry visitors to and from an isolated island home off Vancouver Island, British Columbia, where David and Tanya spend the northern summers. RAT was named after the rodent because it was grey and almost indestructible but served well as Rural Alternative Transport.
The present day RAT that services their Canadian retreat was the forerunner of Feather and bears many resemblances. Both are outboard powered 1920-style launches.
Powered by a Honda 50hp four-stroke engine, RAT is a Thames Slipper launch designed by Englishman David Thomas and custom built in timber.
Tanya runs the 7.8m RAT and says it handles the four-mile trip to Boat Harbour, Vancouver Island very well, regardless of conditions. The launch is also used for picnic trips and weekend cruises to show guests the Gulf Islands.
Sundreamer was sold in 1999 and while in Auckland to complete the hand over David chanced upon a magazine article featuring a stock Logan 33. While driving to the Bay of Islands to sail Sundreamer for the last time he stopped in Whangarei where Eric Knight, the builder, took him for a demonstration run in his Logan 33, Dolly.
Barker saw the potential in the Logan 33 hull to carry a four-stroke outboard in the stern and began to muse, sketch and calculate.
"I went back to Canada thinking this was the craft Tanya and I could enjoy in New Zealand. She was very pretty and had the pedigree of an older, efficient boat."
Meanwhile the work of American designer, Bruce King, for whom David had completed many renderings, had become influential.
"Bruce designed a successful 36-foot picnic boat for the Hinckley yard. She was based on an east coast lobster boat but by specifying lightweight composite construction he had transformed a five tonne workboat into a very successful shoal draft picnic craft."
While the Barkers could not afford a Hinckley, they had three concepts to consider. The RAT, Logan 33 and Hinckley were individual vessels with a common theme; easily driven, classic style launches drawn by designers familiar with yacht design.
"I believe yacht design experience added an extra dimension to their launches. They drew carefully faired lines that worked without resorting to mere horsepower."
"Being an artist and boat designer there was no way I could buy a boat off the showroom floor, I couldn't resist interfering, despite the cost. Eric Knight was very accommodating and he agreed to build an ultra lightweight, outboard powered version of the Logan 33 production boat."
The stock Logan 33 has a diesel engine under the forward bunk and relocating the power plant to the stern removed a number of intrusive elements; noise, the aroma of hot oil and diesel, vibration and shafting. Without the diesel the front bunk could be split in two and the sole lowered to provide easier access to the forward hatch.
"I wanted to be able to stand securely inside the hatchway to lay the anchor because I prefer to see where it is placed and didn't want an anchor winch to retrieve it over the vulnerable straight stem. It was also important to have access to the bow without walking along the narrow side decks and I did not want lifelines or rails imposing on Feather's elegant sheer line."
The diesel fitted to the standard Logan 33 weighs 180kg plus the weight of the shaft, bearings, propeller and rudder. The Honda 90hp weighs 160kg complete and offers the advantage of being retractable. Transferring the weight from bow to stern required extra buoyancy aft and Barker designed a large swim platform incorporating the necessary flotation.
"The stern doesn't feel the engine and I believe the platform extension is sympathetic to Arch Logan's beautiful hull lines."
The platform was faired a long way forward into the original hull and the underwater sections flattened to produce a more stable form. The hull speed of the original Logan is around 8 knots but with the Honda swinging a 13 x 15in stainless steel propeller Feather easily achieves 17 knots. Predicted top speed with a 14 x 14in propeller is 20.5 knots.
Feather was laid up in Logan Classic Boats' mould without gelcoat due to the intended hull modifications and because Barker wanted to indulge himself in a boat with a dark coloured hull.
"It had to be hand-faired and painted."
He says minimising weight was a prime focus and is a key component of Feather's success. Much of the redundant deadwood was blanked off in the mould to reduce wetted surface and allow waves to slide under the stern in a quartering sea. During construction the builders suggested placing lead ballast in what remained of the hollow deadwood but Barker would not hear of it.
"After sailing catamarans lead ballast was a total anathema. There was no way Feather could be built too light because even with balsa core bulkheads and light-weight composite hull materials it still weighs 1280kg complete."
High Modulus specified the laminate and pared the hull weight down. Barker says Feather is built like a contemporary racing yacht, but lighter because there are no rig or keel loads. Kevlar / E-glass fabric and medium density Divinycell foam cores were used in the hull, decks and coach roof.
"Ron Holland [he and David grew up together in Auckland's East Coast bays] had gifted me two spools of carbon fibre which I kept for many years in case I needed to repair Sundreamer's rudders or centre boards, and we finally put it to good use reinforcing Feather's strategic areas."
The overall effect of the stern-mounted outboard, extended boarding platform and reduced hull weight was to make the boat float higher. It sits 15cm higher at the bow and 1cm higher at the stern when compared to a standard Logan 33.
Other variances include restyled windows and cabin lines, the bulkheads repositioned to create 2m berths in both 'cabins' and a self-draining cockpit as featured in RAT.
Barker says the modifications were costly but Logan Classic Boats did a nice job.
"It's a small boat for what it cost but I'll always be rewarded in my own heart. I wouldn't want the finish, layout or design any other way."
With the hull and cabin structure complete, and the cabin ceilings sarked in cedar to minimise weight 'aloft', Feather was transported to Peter McLea's yard in Kerikeri so David could be on hand to consider detailing and finishing. At this stage Feather was two thirds complete.
Like the concept and exterior presentation, the interior detailing is special. It's developed by an artist's eye, his appreciation for fine things, an almost minimalist attitude derived from a refreshing return to basic principles and a near ruthless focus on reducing weight.
Forward of the cockpit doors Feather is open plan and Barker has worked to optimise volume and a feeling of spaciousness throughout.
The saloon is fitted with a bunk on each side and the helm is set forward to starboard. A single step leads down to the galley (port) and the toilet opposite, which, is without a door but has the opening positioned to generate sufficient privacy. Two bunks are positioned in the forepeak, which has a surprising amount of sitting room and they can be converted to a double by using the forepeak floorboard as an infill.
Barker says Sundreamer had bucket-and-chuck-it plumbing facilities so the head fitted in Feather is one luxury he has bowed to, mainly to facilitate the installation of a holding tank but also to raise crew comfort levels. There is no other plumbing, not even a water pump to service the vanity or galley.
"My parents immigrated to New Zealand from an English coal mining town when I was ten and my first boating experience was in the Bay of Islands four years later aboard a launch called September Morn. She was very basic as boats used to be but we had fantastic fun without the complex equipment deemed necessary today. Feather is very similar to September Morn and in many ways she is an echo from the past."
The ship's water is carried in portable carry tanks stored under the bunks, just as the fuel for the Honda is carried in three tote tanks stored in a large ventilated spaces beneath the seats in the cockpit.
"Feather uses so little fuel I can hardly remember the last time we filled the tanks up."
Feather is used extensively as a day boat in the Bay of Islands although when time permits David intends making extended cruises to the Coromandel coast, Mercury Islands and Parengarenga harbour.
"Compared to her heavier sister-ships, Feather does have a very quick motion but though easily provoked there is no pendulum effect and she steadies quickly. In general I expect her to be a very capable sea boat, at least as capable as I am."
Feather does not generate a planing hump but trims level as she makes an apparently seamless transition from displacement to planing speeds.
"I don't think she planes in the accepted sense, but seems to push straight through a very small bow wave just like the catamarans did."
The Barkers tend to cruise at a sedate pace and have been asked if Feather is powered by an electric motor when they slide into a bay. At idle Feather does four to five knots and the Honda can hardly be heard.
"It is also nice to travel fast when we feel inclined and this graceful young lady has startled a few launch owners by keeping pace as they thunder along on the plane."
Keep up to date with news from Trade-A-boat or like us on Facebook!