Mac Millennium 600
---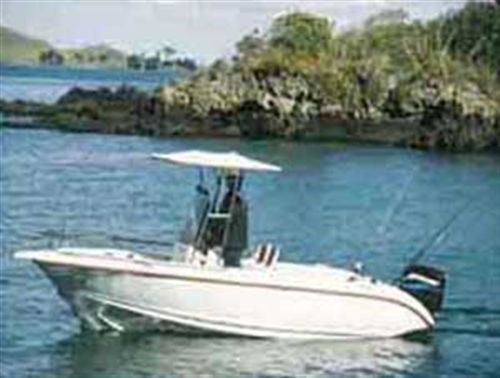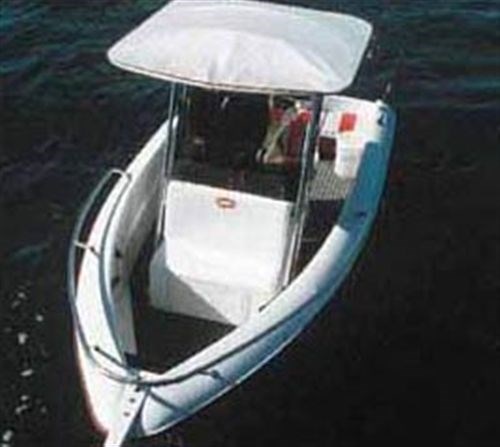 The release of the all-new Mac Millennium 600 has elevated rotationally moulded plastic boats to a new level in the marketplace. Geoff Green took the first boat for a spin.
AN OPEN MIND
If you have not experienced the many positive aspects of a rotationally moulded plastic boat you need to approach the Mac 600 centre console with an open mind. This was graphically demonstrated when Martyn Jones, general manger of Galloway Asia Pacific Ltd, hefted a piece of heavy-wall 20mm-diameter steel tube to full head height and power slammed it across the deck of the demonstrator. Such a forceful demonstration shocked my complacency and made me realise there was more to the plastic boat business than I had thought because there was not a mark, bruise or crack on the Mac.
Not too many people bash their boats with steel bars but there are plenty of divers, fishermen and commercial operators who give them a serious workout. Even I have dumped my alloy boat on the rocks while trying to position a land-based fisherman on a likely spot.
This is the market the Mac 600 centre console is well suited to. Galloway Asia Pacific is so sure of its product they offer the first owner a lifetime structural warranty.
Mac boats are also being used for less demanding roles because thermoplastic offers positive properties other than good strength and shock absorption. The material is an excellent insulator, it is non-toxic and impervious to short-term fuel spills (plastic tote tanks are made from fuel grade thermoplastic). It doesn't suffer from osmosis and won't rot, corrode or degrade if you leave the boat parked under a tree every winter. UV degradation is not an issue and, what's more, thermoplastic produces a relatively quiet hull that doesn't transmit much impact noise on the move or hull-slap at rest.
SEAMLESS CONSTRUCTION
The Millennium 600 is moulded as a one-piece seamless boat and there is not even a hull-to-deck join. It's quite a feat of rotational engineering and Galloway Asia Pacific has recently won an Australasian Rotational Moulders Association award for their enterprise.
The heat cycle is the genesis of any plastic process but it also causes minor distortion of the metal mould until it becomes conditioned and stress relieved. This was one reason the Mac 600 wasn't particularly fair and Martyn says the steel mould will be progressively faired and straightened now it has been through a few heat cycles.
Centre console boats are basic by nature and the Mac 600 is no exception. It consists of a one-piece hull and deck, a flat plywood floor which sits on the moulded fore and aft girders and a fabricated aluminium outboard bracket. A two-person centre console incorporates a forward seat, two bucket seats on pedestals and a strong stainless steel tower to carry the soft top and any rocket launchers or aerials you may require.
There is ample floor space and the walk-around function works well, although it is momentarily reduced between the hull and stainless steel uprights that support the soft-top. Even so, you could move back and forth while under pressure from a decent kingfish or tuna and not think about it.
There are no toe spaces because of the moulding constraints (the mould can't have reverses or undercuts that will prevent the boat releasing from the mould), but fish-fighting balance is not a major issue until you move forward past the centre console to where the hull tapers in. Keen fishermen can resolve this issue by fitting padded bolsters around the boat at deck level.
The 600 has a full-width rear bench seat built in three sections. The port and starboard sections are removable to open up the floor space and improve access to the corners and boarding platforms on the stern.
The Mac 600 is rated for 90 to 135hp and the review boat was fitted with a 90hp Mercury, which gave good performance. I'd only go for the high-end rating if I was setting the boat up primarily for diving and I'd think an entry-level budget version fitted with 75hp would perform satisfactorily because the Mac 600 centre console is relatively light.
There is no doubt the size and design of the Mac Millennium 600 has extended the potential market for Galloway Asia Pacific. The release of the sport cabin version will position the brand in the sports-family market now held by the GRP and alloy builders. They will be watching developments closely because the game will hot up if the big Mac hulls can be faired and straightened some more.
Specifications
Mac Millennium 600
Construction: Polyethylene thermoplastic
External beam: 2.2m
Internal beam: 1.8m
Deadrise at stern: 20°
Horsepower rating: 90-135hp
Fuel: 120lt
Towing Weight: 1300kg
Warranty: Lifetime structural for first owner
Keep up to date with news from Trade-A-boat or like us on Facebook!