Oyster 53
---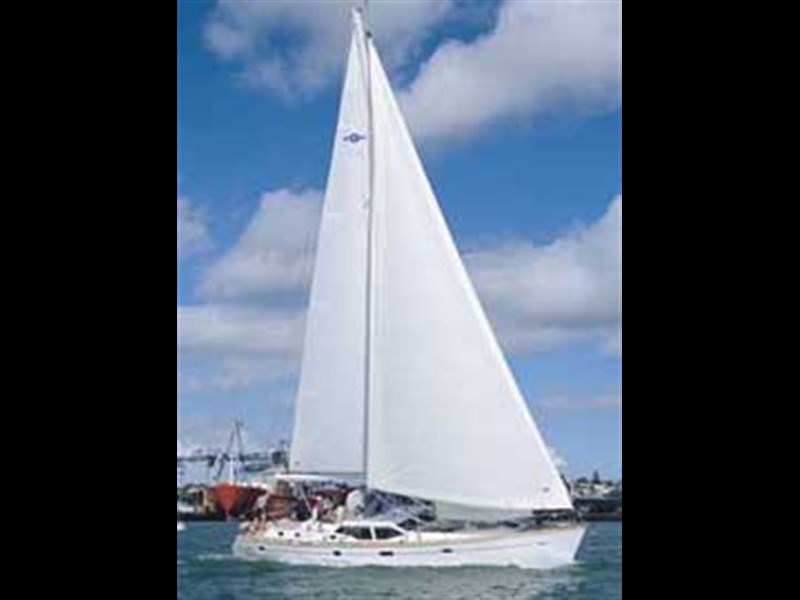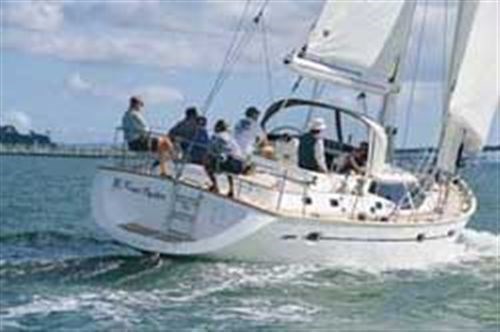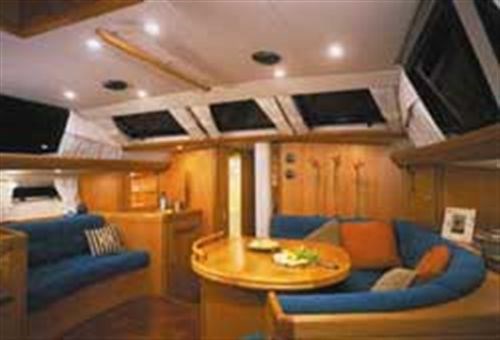 Highly regarded British yacht builder Oyster Marine has cultured a pearl Down Under. Vanessa Dudley test-sailed the first Kiwi-built Oyster 53 in Auckland.
British company Oyster Marine has carved out a stately home for itself at the luxury end of the international production yacht market. It builds a range of blue-water cruisers from 12.8m - 25m (42-82ft), all incorporating the deck saloon concept that the company claims to have introduced to the world more than 20 years ago.
The yachts are built for short or long-range cruising in comfort, utilising traditional, time-proven construction methods and high standards of craftsmanship. "Well-built, solid and stylish" is a typical description of these craft.
Oyster's reputation doesn't come at a budget price. No matter how fast you say it, about $NZ2.7 million (£720,000) still sounds like a lot of money for a 53ft yacht, even if that 53-footer has an LOA of 53ft 10in. With that sort of price tag, you're justified in expecting a very special sailing craft.
But before you jump for joy at the prospect of a cheaper product at our doorstep, it should be said that Oyster Marine intends the Kiwi-built yachts to be virtually indistinguishable from their British siblings, with no difference in pricing. Oysters will still sell in British pounds.
We took a close look at the first Oyster 53 off the McDell Marine production line before it was shipped to England. The second boat, built for Australian Oyster representative North South Yachting, sailed the Tasman soon after launching and appeared at the Sydney International Boat Show.
Despite the high price tag, North South Yachting managing director Ralph Hogg is receiving many enquiries from potential buyers in our part of the world.
The 53 is one of Oyster's newest models and, in keeping with the company's "design team" approach owes its hull lines, appendages and sail plan to noted British designer Rob Humphreys, while styling and other input was developed in-house.
Humphreys calls the craft a "performance cruiser", despite its stated displacement of about 22 tonnes.
Oyster Marine takes pride in its construction techniques, using "no-nonsense belt-and braces-style" methods to produce boats for the long term. Both the hull and deck are constructed of solid, hand-laid GRP in female moulds, using vinylester resin and powder-bound mat in the outer hull laminate. Oyster Marine offers a one-year hull warranty and three years for GRP below the waterline.
The standard keel has what Oyster calls the High Performance Bulb, which gets the lead ballast as low as possible.
The rudder is hung from a full-length skeg, reinforced with a bronze base plate to provide thorough protection.
The biggest challenge involved in this boat test was deciding where to start. First impressions at the marina were of a full-bodied craft with well-proportioned, stylish lines, presenting a modern take on cruising tradition.
The teak decks, from stem to stern, were just a foretaste of the timberwork waiting below decks, where parquetry-style chequer-board teak flooring complements the North American white oak joinery throughout.
The overwhelming first impression as you venture down the companionway, though, is one of generous space. This is due to the deck saloon arrangement, which provides a very high coach roof, and more than ample airiness and light in the saloon.
High-quality furnishings increase the feeling that this is a custom-built craft rather than a production-line model. Oyster Marine, in fact, promotes its ability to complete each boat on a "semi-custom" basis, with owners specifying their choice of interior layout, joinery and equipment.
The standard layout provides two large double cabins - the master stateroom aft and the guests' cabin forward - as well as two more cabins equipped with two single bunks, two bathrooms, a well-equipped walk-through galley, navigation station, and ample storage and locker space.
Kiwi Oyster is set up with a Selden rig and optional in-mast furling that requires a hollow-leeched mainsail. The mast is keel-stepped, and the masthead cutter rig provides inner and outer forestays, both set up with Harken roller furling systems.
The second McDell Marine-built boat sent to Australia was set up with a masthead sloop rig (with detachable inner forestay), incorporating a Profurl in-boom mainsail furling system, Matrix aluminium mast and Profurl headsail furling system.
Given the efficiency of the modern boom systems and their ability to deal with fully battened mainsails, I, too, would prefer in-boom over the in-mast option. Having said that, I was surprised by how well Kiwi Oyster's mainsail did set up. In flat water and under the cutter rig, we were able to power the boat up nicely between 30-40 apparent wind angle, with the speed surging towards 10kt and acceleration surprisingly quick.
At broader reaching angles, the pace was more sedate, hovering around the 5-6kt mark and nearing the crossover point to motor sailing that would probably prevail during a longer passage. Range under the auxiliary engine is estimated at 1600nm and the standard diesel tank holds 750-800lt, which can be extended by another 250lt if required.
The yacht nonetheless retained a sense of purpose under sail, holding its momentum through the lulls as you'd expect of a 22-tonne vessel. I would love to see how it performs under the big masthead spinnaker included on the long list of options.
All-round vision is good from the helm station and, although curiously balanced to the point of weightlessness, steering via the Whitlock system seemed very direct. It's easy to oversteer at first.
The boat was set up with electric-powered Lewmar 64 self-tailing primary winches, mounted outside the cockpit coamings, while the in-mast furling also relied on an electric system.
Comfortable cockpit seating is protected from the elements by a standard sprayhood and the addition of the optional bimini fitted to the Australian boat.
Passengers have ample space on the broad aft decks, completely clear of ropes and rigging. There is also access into the aft storage compartments for sails and associated deck gear. Buyers considering long-range cruising might also contemplate alternative layouts with even more deck storage space than the standard layout.
The review yacht had the optional bow thruster, an 8hp Sleipner unit controlled from the helm station that allowed the boat to be manoeuvred within its own length in the crowded Westhaven Marina.
The companionway has a neat optional arrangement allowing the storm board to be locked at various heights as required. Stepping down through it, you find a large lounge area to starboard, including semi-circular seating (furnished in plush blue Alcantara) for 4-6 people around a double drop-leaf table.
Seating for two more (and space for mounting a television) exists on the port side, forward of the generously proportioned navigation station.
The deck saloon area is slightly raised to allow functional positioning of tankage and storage in the bilge, but without losing the sense of space provided by all that headroom.
The large windows, which are an essential element of the deck saloon concept, have very high-specification 12mm "superglass", able to withstand big waves breaking on deck. In any case, the company provides the option of storm boards that can be fitted over the windows in dire conditions (think Perfect Storm). Hogg called this "an option for the paranoid".
Moving aft along the port side, there is good access to the centrally-mounted engine (a Yanmar 100hp turbo-charged diesel is standard), two single sea berths opposite and access to the giant master stateroom aft, including a large double island berth, ensuite bathroom, hanging locker, storage space and seating.
Moving forward along the starboard side leads you through a well-equipped galley with double stainless steel sinks inboard, and front-opening 24V DC Frigomatic refrigerator and gas cooker with four burners, grill and oven outboard. Mica laminate countertops provide food preparation space.
The standard domestic systems include a 750lt hot and cold pressurised freshwater system supplying the galley and showers, while electrics include 24V DC ship's system, additional 175-amp, 24V alternator and shore power facility.
Standard navigational electronics include a Raytheon (now Raymarine) ST7000+ twin linear system and ST60 sailing instruments, Garmin 12 channel GPS interfaced with the autopilot, VHF radio, and stereo CD/FM radio with cockpit and saloon speakers.
Forward of the saloon is a second bathroom to port. At first, I was surprised that both bathrooms house manual Jabsco toilets, as I expected the latest whiz-bang flush system. But according to Oyster Marine, the manual units are preferred because they are simple, reliable, and easy to use and maintain, a philosophy the company also employs with its deck hardware wherever possible. Oyster says the Vacuflush freshwater toilet is a popular optional upgrade.
There is a private double cabin forward and a twin bunk cabin on the starboard side, both with hanging locker space and storage space.
For what it's worth, I should mention my own previous experience with the Oyster range was on a very different craft, an Oyster Lightwave 395 cruiser/racer previously produced by the company that had begun life as a builder of racing yachts. Founder and current chairman Richard Matthews is a keen and successful ocean-racing yachtsman.
The Oyster 53 is a handsome, solidly-built bluewater cruiser that could take you almost anywhere - not in a tearing hurry, but in comfort, style and, given prudent seamanship, as much safety as possible. Potential buyers will have to weigh up whether it represents good value for money under the New Zealand dollar's current exchange rate with the British pound.
And like other prestige marques, Oyster Marine is keen to stress those two little words "residual value" that mean so much when it's time to move on ... to the Oyster 82 pilot house, perhaps.
Specifications
Price as tested: About $NZ2.8m
Options fitted: Bow thruster, electric in-mast mainsail furling system, electric primary winches, air conditioning etc
Priced From: About $NZ2.7m (£720,000)
General
Material: Solid GRP
Length (overall): 16.40m
Waterline length: 13.90m
Beam: 4.66m
Standard draught: 2.22m
Displacement (in sailing trim): 22,250kg
Capacities
Berths: Eight
Fuel: 800lt
Water: 750lt
Engine
Make/model: Yanmar 4JH3-HTBE
Type: Marine turbo diesel
Rated hp: 100hp
Sail Area
Working sail (150% foretriangle): 148.80sqm
Rig height: 21.88m
Supplied by McDell Marine, 11A Aketea Rd, Glen Eden Auckland.
Ph (09) 813 9025
Keep up to date with news from Trade-A-boat or like us on Facebook!