Quinnie Spirit 5.8m
---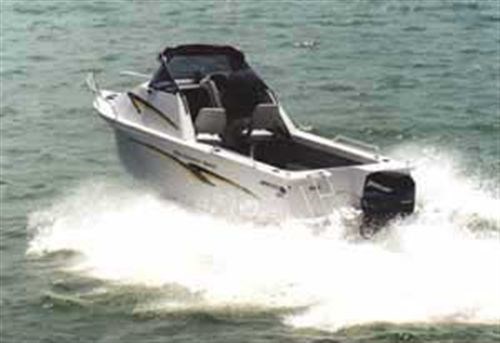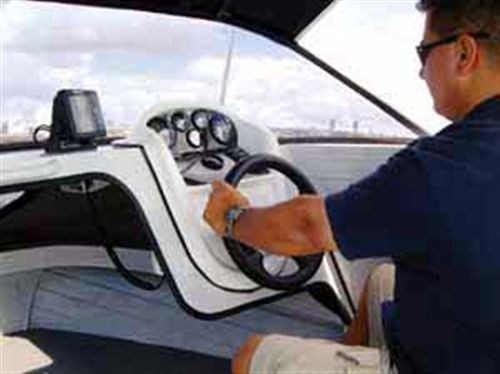 If technology could relieve traffic-jam blues by teleporting you from behind the wheel of your car to behind the wheel of your boat, owning a Quinnie Spirit would be really useful - a seamless transition, but for the wind teasing at your tie and toupee. Lawrence Schäffler reports.
The 5.8m Quinnie Spirit is among the top-of-the-range models in Australian manufacturer Quintrex's cuddy cabin boats. The company specialises in aluminium boats and fitted with a 90hp Mercury outboard, this one's promoted as a classy, step-aboard-and-drive package by New Zealand distributor Auckland Marine.
As packages go, it offers an impressive line-up of goodies for the $39,995 (inc GST) price tag, but essentially, it's all about eliminating fuss. It's designed for boat owners who want all the extras (even the ones they've not thought of), but can't be bothered identifying, finding, buying and fitting them. Standard fixtures include a VHF radio, a compass, navigation lights, a fish finder, a curved windshield, a canvas canopy and of course, a galvanised road trailer.
Quintrex's strategy to make boats as user-friendly as possible is encapsulated in its promotional pay-off line - "Boating made easy". With the Quinnie Spirit, the company has taken this concept to new lengths, particularly the remodeled dash that would look perfectly at home in any modern saloon car.
"Duplicating the typical motor car instrumentation serves to enhance the driver's familiarity and comfort," says Auckland Marine's Gary Sutton.
The strategy is obviously working - the Quinnie Spirit has proved hugely popular in Australia and more than a dozen have been sold in New Zealand in the past few months.
Of course, it's not that Quintrex doesn't trust the average owner to look after his boat adequately - it recognises that boat owners are busy people, who typically don't have time to personally inspect every facet of the boat.
That's why the Quinnie Spirit is equipped with an electric bilge pump, a battery isolation switch (in case you've left something on), a fuel and water separation filter, navigation lights (so you don't have to pack up at sunset just as the fish begin biting), a collapsible canopy ... well, it's basically a fully-kitted, idiot-proof boat.
The extensive features notwithstanding, the Quinnie Spirit is a high-performance boat and most of that relates to its hull. Like all Quintrex boats, this one features a stretch-formed hull. It's a particularly sharp-entry, deep V-hull (60o) that cuts through the water effortlessly. But unlike many other aluminium hulls (fashioned from flat sheets), the Quintrex hulls deliver superior stability and easier planing, thanks to their longitudinal ribs V-strake pressing.
"Quintrex's construction technique basically bridges the gap between aluminium and fibreglass," says Sutton. "The stretch-forming not only allows for longitudinal ribs and V-strakes in the bottom of the hull, but also enables compound shapes in the hull itself."
As a result, the Quinnie Spirit sports a classic, flared bow that efficiently deflects water down and away from the boat so occupants stay completely dry, as well as aiding lift and recovery when the boat is driven into a swell or is running ahead of steep or breaking seas. Compound curves in the hull also increase the stability and strength of the 4mm-thick aluminium.
The designers have also used the capability of the pressing technology to circumvent two problems that often plague manufacturers of conventional (flat-sheet) aluminium boats - stability and power.
"To create a nice riding hull that tracks well, you need a deep-V hull," explains Sutton. "But deep-V hulls can also promote instability and usually require lots of horse-power to push them through the water."
Quintrex's compound-curve pressing technique can produce a variable dead-rise hull in aluminium and in the Quinnie Spirit's case, it is an 11-degree deadrise. In effect, the hull is the combination of a deep-V entry and a "flat bum" that provides excellent stability. The mix gives the boat more lift and smoother planing when the throttle is wide open.
Maxi transom Another feature the contributes to the hull's performance is the Maxi transom - a relatively new development. Essentially, the designers have extended the waterline length and incorporated the hull into the boarding platform to form an additional buoyancy compartment. The motor is mounted on the back of the boarding platform, rather than in the more-conventional transom position.
Originally designed to cater for the increasing popularity of the newer, heavier four-stroke and direct-injection two-stroke engines, the Maxi transom greatly increases buoyancy aft. This allows Quintrex hulls to carry a larger engine than before and also helps keep water out of the boat when backing up or reversing. While the Auckland Marine package supplies the Quinnie Spirit with a 90hp outboard, motor size can be increased to 115hp.
From a performance perspective, the Maxi transom extends the hull's planing surface, and enables it to get up on the plane more easily and slowly. From a utility perspective, the transom offers additional options. The bracket holding the fold-down boarding ladder, for example, can be easily substituted with one for a burley bag or for a small auxiliary motor.
Interior
The Quinnie Spirit is designed for six with two upholstered, swivel pedestal seats up front and a folding lounge seat at the back. The helmsman's seat is adjustable forward and backwards while the lounge seat can also be shifted to a second position further forward, leaving an open area aft for wrestling uncooperative snapper to the ground. Four fishing rod holders are set into the combing near the transom.
There is plenty of storage space in side pockets running the full length of the hull, as well as under the floorboards in the forward section. Fuel is stored in a 110-litre tank under the floorboards aft. The floorboards also hide 2.2cu m of flotation, enough to support a swamping of about 2.5 tonnes.
Boat owners wishing to make a statement will be disappointed that the Quinnie Spirit is only available in two colours - white and grey - but the options are virtually unlimited in terms of the trim colours. Similarly, the vinyl upholstery is standard - again, white and grey - but any colour can be specified for the canvas canopy.
The boat is supplied with a Kwene anchor, 50m of warp and the appropriate amount of chain.
Clean lines, easy handling, good performance and fully-equipped for immediate fishing, diving or just messing around for a day.
Investing in a Quinnie Spirit shouldn't be a difficult decision.
Specifications
560 Quinnie Spirit
Hull Specifications
Length: 5.8m
Beam: 2.31m
Freeboard: 77cm
Hull thickness: 4mm
Length on Trailer: 6.6m
Height on Trailer: 2.53m
Weight total approx: 990kg
Hull weight: 505kg
Number of people: Six
Recommended hp: 90
Maximum hp: 115
Quinnie Spirit
Standard Package - $39,995.00 including GST
Outboard: Mercury 90hp (equipped with speedo, tacho, trim gauge, hour meter and fuel gauge)
Trailer: galvanised Dunbier, single axle, includes road costs
Anchor well and anchor kit
Fully painted hull
Two side pockets
Four rod holders
Two drink holders
Two upholstered swivel seats
Compass and navigation lights
Electric bilge pump
Underfloor tank, 110 litres
Bow rails and bowsprit
GME GX 548 VHF
Lowrance X85 sounder
Screen and side hand rails
Maxi bracket and ladder
Folding rear lounge (seat)
Keep up to date with news from Trade-A-boat or like us on Facebook!