Ramco Sportsman 850 Hardtop
---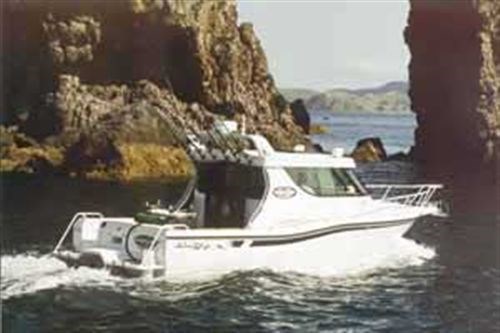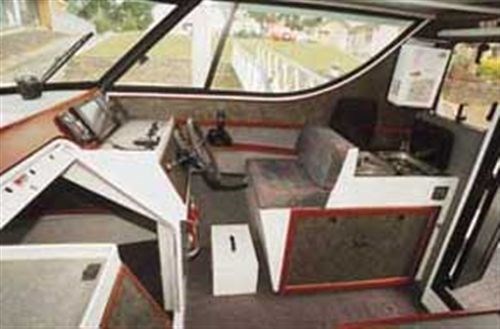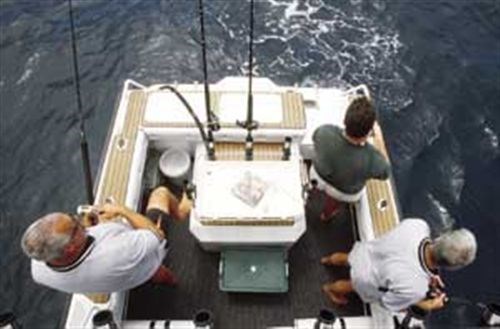 Moderation is the new model Ramco 8.5m (26ft) Sportsman Hardtop, released at the 2001 New Zealand Boat Show where Ramco staff christened it "The Magnet".
It was the largest boat on their stand, and its eye-catching size and stylish drop-sheer attracted a steady stream of visitors.
It was designed as a multi-purpose weekender, optimised where possible for fishing. Ramco Boats managing director Bill Mackrell says it's ideal for a couple, but can service up to four people who enjoy the cruising, fishing and diving lifestyle.
"Moderation is perfect for my wife Alison and I," he says. "We often leave Friday night and spend the weekend cruising the Aldermans, Mercury Islands or Great Barrier, before returning to Pauanui on Sunday afternoon, ready to drive to work in Hamilton early Monday morning."
The 850 is a big aluminium trailer boat and its 2.8m beam, full headroom in the enclosed cabin, cruising facilities and 315hp diesel stern drive combine to deliver the attributes of a small planing launch, while retaining the practicality of pulling it from the water on a day-to-day basis.
At sea, the 850 delivered the comfort of its mini-launch promise, and was easily removed from the water and parked at Pauanui, ready for future use.
Under current trailer laws, the 850 can be towed under over-width permit regulations, although the rig's all-up towing weight of nearly four tonnes when fuelled, watered and provisioned will discourage owners from a road-legal package. To do so would require a heavy-class trailer, a heavy-class tow vehicle, heavy-class licences for both units and COF inspections every six months. Mackrell is one of the few big trailer-boat manufacturers to quote a towing weight that includes provisioning, fuel, water and gear.
Buyers will more likely retain the 850's trailerable essence, and the peace-of-mind and reduced maintenance schedule of storing a boat out of the water on a launching trailer - in Moderation's case, an Elite Series Voyager trailer that comes standard with brakes. It can be launched from a trailer park, beach site or canal property using a tractor or four-wheel drive, and relocated for seasonal expeditions or home-based maintenance, by transporting the boat and trailer on a commercial low-loader.
The 850 is divided into three main areas. The cuddy cabin carries two generous bunks, storage lockers and the toilet. The main cabin houses the helm, galley and two-seat dinette that converts to a single bunk. The cockpit is set up for fishing and houses the 315hp Yanmar diesel/Bravo I stern drive.
Cruising north from Pauanui towards Castle Rock at 2900rpm, the six-cylinder Yanmar delivered a comfortable 21 knots (measured on the GPS) into a slight-to-moderate sea taken on the forward quarter. Although nothing serious, the sea was at times testing and caused the smaller boats in our fleet - a Ramco 810 and 680 - to gradually fall behind.
All three crews intended fishing the Mercury Islands, staying overnight and returning the next day. We made a chance connection with Bill's ex-partner Neil Thomas, who lives with wife Barbara aboard their very capable steel motor yacht. Once at Mercury Cove, the crews from all four vessels intermingled and although I fished, travelled and slept aboard the 850, others came and went. Crew numbers fluctuated between three and five.
For the trip to Mercury Cove, we had four adults aboard and all were very comfortable. Moderation rode and handled well, and we passed the time chatting in the cabin. We found the engine noise very subdued and Bill is pleased with the Yanmar's performance in all respects. Later in the day when we reached calm water, we cruised at 27 knots (3500rpm) and Moderation reached a top speed of 32.3 knots (3,900rpm).
With the cabin doors and the leeward sliding window open, fresh air flowed and what little spray there was stayed outside. Ventilation options also included large Weaver hatches in the foredeck and cabin top, and two smaller Weaver hatches set into the aft bulkhead.
A stop to jig and bait fish around the trevally schools about Castle Rock proved successful, and we replaced the fail-safe sausages we carried just in case the snapper fishing was no at the Mercs. Fellow fisherman and boat reviewer Sam Mossman, fished with 3kg, resulting in some moderately extended playing times and more relaxed banter, but this time in the cockpit.
Although the engine box took up much of the cockpit and my 20-litre fishing pail cluttered one corner, our four crew were able to move about and exchange places when under pressure. It helped that all were experienced, polite individuals, but even when we had five socialising in the cockpit later that evening (four fishing), there was workable space.
The side decks were comfortable to sit on, as were the dedicated seats in each forward corner of the cockpit. The lightly padded bolsters were the right height to lean against, and there was plenty of toe space around the seats and under the side shelves that each held two dive bottles. The best possible cockpit layout (within the weekender context) was pretty much a forgone conclusion, because Bill is a keen stand-up game fisherman and it was unlikely his own boat would be anything but well thought out. From a jigging perspective, the rocket launcher across the top of the cabin was angled too far aft and I sometimes fouled my rod on those stored above ... but that's easily rectified.
The cockpit floor, top of the engine box and side decks were capped with Flexi-teak, a rubberised compound so like teak, it fools most people. It's great for grip and insulation and easy to keep clean, and boat builders love it because the manufacturer supplies panels cut to shape and ready to glue down. The only downside is that all the trailer boats and launches I've seen it fitted to have shown evidence of minor bubbling and lifting.
The engine box has a 100mm up-stand above the self-draining floor and any free water in the cockpit drains into two sumps that exit via rubber duckbills fitted in the transom. The engine compartment was fitted with two 1000 gallon-per-hour bilge pumps and a third was installed in the forward bilge.
The engine box carried a large pedestal-mounted bait board that drained over the side through a slurry pipe. A gamechair option - as seen at the boatshow - can be fitted in place of the bait board.
A live bait tank was fitted in the starboard aft coaming, access to the power steering reservoir and trim-tab pump was provided by a central hatch, and the port coaming was cut-away for easy access to the full-width platform fitted with twin swim ladders and a big burley bucket.
To qualify as a weekender, a trailer boat must have sleeping, galley and dining facilities, a toilet that can be closed off for privacy and a hot water shower. Moderation had all those items and the shower was fitted in the cockpit against the cabin bulkhead, close to the califont installed in the adjacent galley. The gas bottle was fitted under the cockpit seat, once again to keep the gas pipes to the califont and stove short and sweet.
Facilities in the galley included a two-burner gas stove and sink serviced with hot and cold water, cupboard storage and side-shelf storage. An Electrolux portable chiller was plugged in and stored in the cuddy, and we relocated this to the cabin when preparing to sleep.
Bill and I selected the long straws, and we had a comfortable night's sleep on the generously sized bunks in the cuddy. They convert to a big double/small triple with an infill and there would have been room to sleep Sam Mossman had the infill not been left behind. Sam drew the short straw and was allocated the dinette bunk Bill had openly described as a short single during the welcome-aboard briefing.
In dinette mode - a table with two seats - the potential bunk looks full size and the "short single" description was forgotten until Sam hit the sack. After five hours fitful sleep, he awoke to describe it as "a hobbit's bunk".
Although too short for Sam's big frame, it's fine for children or adults less than 1.7m tall. With the option to sleep three in the cuddy and one in the dinette, Moderation has the potential to sleep four people.
A marine toilet was fitted under the central portion of the vee-berth in the cuddy, and a roller door was fitted to close off the cabin entrance and provide privacy. The toilet was not plumbed into a holding tank, but a chemical toilet could be fitted or a 100-litre custom-made holding tank installed if required.
The cuddy was serviced with a red night-light, switched from the main switch panel (as were all areas of the boat), and the many lockers had courtesy lights that automatically switched on when they were opened.
The interior was finished in a combination of grey Frontrunner, Formica panels and hardwood with jarrah-like colouring. The same Formica laminate was used to finish the lockers in the cuddy, the cabin sides, parts of the dash, galley and dinette table.
All hardtop Ramcos are now fitted with optically perfect curved-glass windscreens imported from America, and the lack of corner posts gave good visibility and a spacious feel. Being glass, as opposed to Perspex which scratches, a wiper was fitted to the driver's screen.
The helm was comfortable to sit or stand at, with plenty of room for instruments and electronics. The electronic fit-out included a Simrad combination chartplotter/ sounder/radar, Simrad autopilot, Sitex Ultima VHF and a remote-controlled spotlight used to pick out channel markers when returning to Pauanui at night.
Moderation was constructed using Ramco's proven fore and aft girder system, and meets MSA requirements for an inshore commercial passenger vessel. Bill says the eight fore and aft girders give good support to the 6mm bottom, and the sides are 5mm. I thought the boat was well put together and nicely painted.
The hull has a 20-degree deadrise and a 120mm wide chine at the transom. The chine tapers towards the bow, but is still about 70mm wide with a slight downturn around the driver's position to turn down the spray.
The water tank (100 litres) and fuel tanks (200 litres and 100 litres) are installed under the cockpit and saloon floors. Based on a Christmas cruise to Great Barrier, Moderation has a range of about 200 nautical miles at 27 knots. Waterwise, the 100-litre capacity should last a resource-conscious couple about five days.
Bill designed and built the 4.2m Seeker as a private project in 1984, receiving requests for three hulls before it was launched. The Seeker became Ramco Boats' founding model, and the company has since steadily refined and expanded its production range from dinghies up to the wide-beam 850. Ramco will also build specials up to 12.5m long.
Bill's marine lifestyle helps his designs. He likes practical no-nonsense boats that work for him and since he is a big man (1.9m and 115kg), this translates into craft with plenty of headroom, space to move and stability.
His boats are generally easy to occupy and Moderation was no exception.
We did pretty much everything in Moderation and it allowed us to do it comfortably. There is only one thing, though ... you might want longer weekends.
Specifications
Ramco Sportsman 850 Hardtop
LOA: 8.55m
Beam: 2.82m
Deadrise: 20 degrees at transom
Max rec power: 350hp
Bottom thickness: 6mm
Side thickness: 5mm
Engine: Yanmar 6LPSTZ
Configuration: Six cylinder turbocharged
Drive: Mercruiser Bravo 1
Base Price: $67,000 incl GST (no electronics, engine or trailer)
As reviewed: $200,000 including GST
Boat Supplied by: Ramco Boats Ph 07 847 0150, e-mail: ramco@ramcoboats.co.nz
Keep up to date with news from Trade-A-boat or like us on Facebook!