Robertson Boats Rampage
---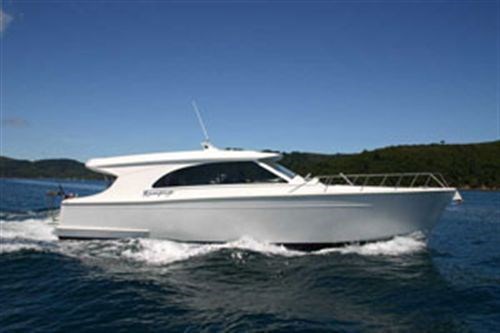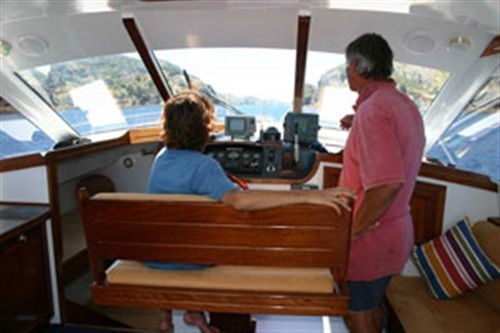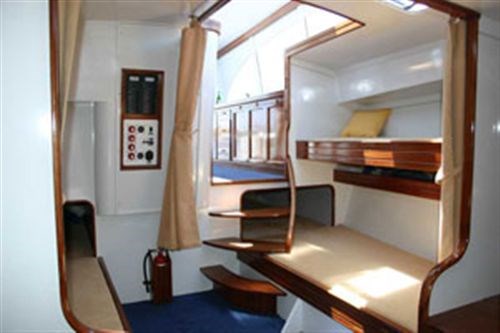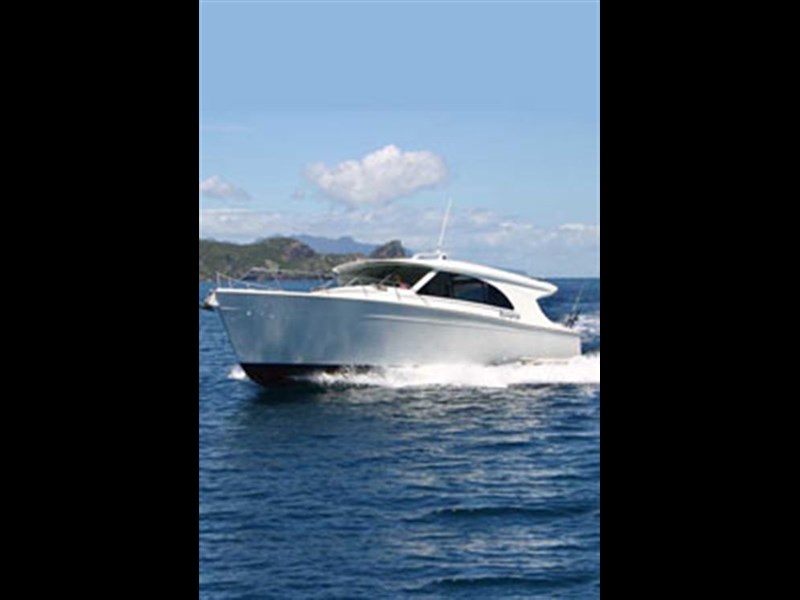 Stylish, comfortable and fast, Robertson Boats new 40-foot planing sedan Rampage brings a fresh and innovative approach to the design board. Steve Raea caught up with the designer, builder and boat at Gt Barrier Island.

Simplicity and elegance are two words that go a long way to describe Robertson Boats new 40-foot sedan planing launch. Designed by Conrad Robertson four years ago and built over two years as and when time allowed, Rampage was launched 12-months ago with little fuss or fanfare. This was no reflection on the design or the boat, but symptomatic of a work schedule that did not afford the time required to market the boat to the masses.

Third generation boat builders, Robertson Boats, is arguably New Zealand's premier builder of wooden composite yachts and launches. Best described as quiet achievers, Conrad Robertson and his staff of 17 skilled tradesmen continually impress with the range and type of vessel built at their yard on the southern banks of the Mahurangi River near Warkworth. Recent launchings include a 57-foot Don Senior launch, the complete restoration of a commercial Brin Wilson-built displacement trawler and a 50-foot blue-water cruising yacht for American clients. Add to the mix three Kawau Cat passenger ferries and you start to get the picture.

The Robertson legacy dates back three generations with father Chris Robertson being a leading designer and builder of yachts and launches throughout the 1970s and 1980s. Sons Conrad and Martin took over the family business in 1981, establishing the company's purpose-built Mahurangi facilities. These include more than 6000 square-feet of workshops, 5000 square-feet of hardstand, commercial slipway and an 80-ton travel lift.

Rampage was principally designed to fill a perceived gap in the market for a single-level sedan with generous accommodation and home comforts. It also had to be economical on extended cruises but offer planing-hull performance for day boating.

With the hull heavily constructed from three-skins of plywood and supporting a three-quarter keelson with deadwood protection for the propeller and shaft, Rampage weighs in at around 8.5 tonne. The hull shape is fairly conventional with a moderately fine entry, single strake forward and a long run aft. Maximum beam is carried all the way aft to the stern boarding platform providing a very generous saloon and cockpit.

Conrad says he was weary of creating a box-like superstructure but did not want to overly compromise internal volume by getting too carried away with sweeping curves. The end result is impressive and might best be described as a subtle blend of futuristic, contemporary and classic. Below decks Rampage is a fine example of New Zealand craftsmanship with a stunning yet simple timber fitout where the emphasis is on clean open-plan living.

As the owner of the Chris Robertson designed/Conrad Robertson-built yacht, Alnilam, it is only fair that I declare my interest in reviewing Rampage and my anticipation of meeting father and son at Great Barrier Island between Christmas and New Year. And what a pleasure. It would be hard to find two more genuine guys with a real passion for boating in New Zealand.

While simple is the word Conrad draws on most to describe Rampage, it belies an exacting attention to detail evident in every facet of the boat's construction and design. The harder you look the more you see.

The interior layout reflects the adage that less is more and features a wide open saloon with a stainless steel galley running the full length of the port side with sliding cupboards and drawers built in beneath. Opposite to starboard is a full length plush camel-coloured squab giving uninterrupted 360 degree views of the world around you. Generous seven-foot plus headroom is carried throughout the boat and further imparts a sense of space. While a central saloon dining table is an option, it is not one fitted to Rampage.

"We elected to go without a table, preferring the extra room. We often eat in the cockpit and spread ourselves out on the saloon floor at night when playing cards or what have you. It works well for us where as a table might work better for others."

Storage is a feature of the boat and a real necessity when cruising for extended periods. Rampage is well set up with cavernous lockers built under the saloon squabs and forward wheelhouse bulkhead, supplemented with huge cockpit lockers built under the sole.

The open-plan theme extends forward to the accommodations in the bow where a large island-style double takes pride of place in the bow. Aft and to each side are large comfortable wooden bunks with yacht-like quarterberths further aft on each side. Conrad's use of camel-coloured fabrics blend seamlessly with the rich mahogany bunk fronts, cabinets and hanging lockers that complete the fitout.

Doors of any description are, says Conrad, an unnecessary evil and you won't find any inside Rampage. What you will find instead are heavy colour-matched curtains that when drawn provide three cabins, the master forward and those offset to port and starboard. While this arrangement might not provide enough privacy for some, it further imparts an overall feeling of space and light. Access to the saloon is by way of a gentle three-step curved mahogany staircase on the port side.

The helmstation and engine management systems and electronics are set amidships and flush-mounted on the forward bulkhead. A reversing dual timber bench seat serves both underway and at rest, giving clear views through both the windscreen and cockpit.

The cockpit is the only place to be in summer and Rampage has a beauty – wide, protected and well laid out with a separate shower and toilet built-in under the coachroof which extends to the transom making it usable in any weather. Clever ideas abound and none more so than the boarding platform that hinges inboard to create a solid transom as and if required. Timber slated bench seats have been built in on the port and starboard sides with ample room for an occasional table and chairs for happy hour sundowners.

New Zealanders' passion for diving and fishing have been well served with wide aft transom combings and custom-made stainless steel rod holders. Again, huge twin lockers in the cockpit sole will swallow up rods, tanks and other summer essentials. An interesting feature is the location of the compressor-driven fridge/freezer. This has been built into the cockpit sole forward of the water tanks and features two levels – the top level forming the fridge and the lower level being the freezer. The unit extends across the full width of the cockpit and is huge for a boat of this size.

With a 14-foot beam across the transom, the Sedan has little in the way of side decks and is not designed with this in mind. While it is possible to go forward, the easy option is to go out through the hatch above the helmstation. But once forward, the foredeck is large and inviting and the perfect place to work on a tan or a good novel.

From any distance Rampage has a certain old-world charm. There is nothing crass or loud about the boat and everything blends together seamlessly to create what could be mistaken for a stately semi-displacement 10-knot cruiser. But don't be fooled because, as her name suggests, Rampage has the wares to embarrass many larger twin-screw flybridge launches. With a single 8.1-litre Daewoo six-cylinder engine rated at 360 horsepower, the design emphasis was on economical cruising and this has been achieved.

At 1850 revs Rampage will cruise all day at 19 knots. Increase the revs to 2100 and the log jumps to 21 knots. Give her a full head of steam and Rampage comfortably breaks through 24 knots, the tacho locked at 2500rpm. With many years practical experience powering and re-powering launches, Conrad says he chose to go with Daewoo which he says is essentially the same engine as a M.A.N.

"Daewoo build M.A.N engines under licence and there have been no problems that I am aware of. I was initially going to install a Scania but have been very impressed with the Daewoo. It is economical, quiet and well-priced."

With twin rudders for easy close-quarters handling, hydraulic steering and excellent all-round visibility, Rampage is an easy boat to handle and has proved well mannered in a seaway, tracking well without any requirement for trim tabs.

The rise in popularity of sedan-style launches is no accident and reflects a global trend due in no small part to increasing world-oil prices and an ageing boating population. But more so, as some brokers will affirm, sedans and semi-displacement single deck launches are being seen as an alternative to the traditional kiwi bach which is now beyond the reach of many. Conrad Robertson's Rampage is a fine example of a modern yet stately vessel designed to meet the needs and wants of the typical New Zealand boating family.



Robertson 40 Sedan
Designer: Conrad Robertson
Builder: Robertson Boats
LOA: 12m
LWL: 11.1m
Beam (max): 4.25m
Engine: Daewoo 8.1 litre six-cylinder (360hp)
Water: 1200 litres
Diesel: 870 litres
Priced from: $457,000
Rampage is for sale, but no confirmed price as yet.
Contact Conrad Robinson on phone (09) 425 7001.




Keep up to date with news from Trade-A-boat or like us on Facebook!