Salthouse 52
---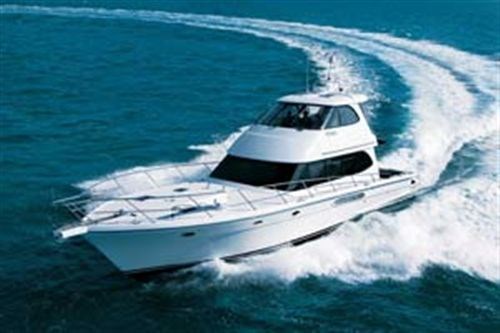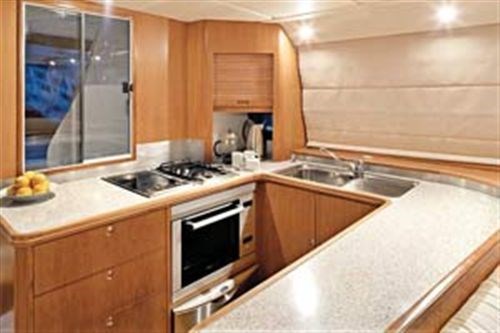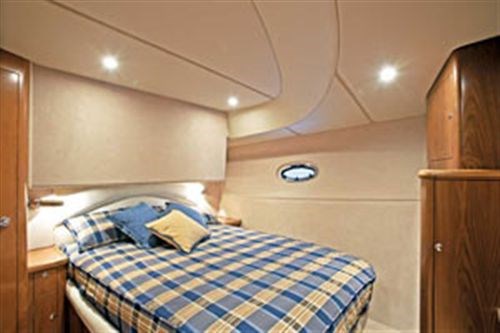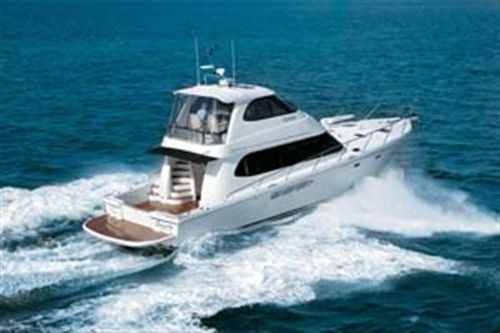 Last month the first, new-generation 2005 Salthouse 52 left New Zealand to join several of her older sisterships making names for themselves across the Tasman. Lindsay Wright went aboard before she left.

Elegance is all the more effective when left understated and Bob Salthouse, designer of the range of boats that carries his name, is a master at applying it.

Serenity, the latest launching from the Salthouse yard at Henderson, was restyled to follow the lead of the wide body Salthouse 65 launched in late 2004. That boat is based in Queensland and has been lifting eyebrows at Australian boat shows this year.

Sitting alongside the wharf, the new 52 looks purposeful, with a clean, flowing profile and curved 8mm thick glass windscreens to round off her modern styling.

Started last September as a spec boat, Serenity was sold in April this year to Adelaide owners who are retiring from sailing boats, says Salthouse Group marketing and sales manager, Troy Woods.

"All of the Salthouse boats are semi-customized, built to the owners' specifications and there is an almost endless variety of layouts and equipment available."

The hulls are hand-laid using vinylester resin in a female mould, with a core of 22mm kiln-dried, end-grain balsa and four, big, full-length composite stringers for rigidity. The balsa core creates a much stiffer boat with better noise and thermal insulation.

Carbonfibre is used in stress areas or where weight is a consideration (such as fly bridge and fore deck). Decks are fitted to a flange - glued, bolted and fibreglass taped. Hull and decks are then sprayed inside and out with two pot polyurethane paint to give an attractive, easy-to-maintain gloss appearance. Hulls are all built to Lloyd's certification.

All Salthouse hulls are warped planing designs - relying on a fine entry curving back to a minimal six to eight degree deadrise aft, to maximise efficiency. This allows the boats to surge straight up onto the plane at 12-13 knots and stay there with minimal throttle action.

The 52 actually measures 59'6" (18.14m) overall with her bowsprit and boarding platform, and 53'6" (16.31m) on deck.

Stepping onto the boarding platform, two sliding doors on heavy plastic runners allow access to the aft cockpit, all single level with laid, teak decking.

A Salthouse signature feature - the spiral staircase - winds up to the flybridge on the port side. A moulded fridge is to starboard with an enclosed toilet/shower area, handy to the water recreation area forward of it.

Serenity was built for family cruising, so the three-cabin layout optimizes the space available within her 16'4" (4.98m) beam. Clever use of available space is noticeable throughout with offset bulkheads and shared spaces.

Stepping through the sliding door into the saloon, a full-sized domestic Fisher & Paykel stainless fridge nestles back into teak surrounds to starboard, and a full galley to port features two bench-top gas burners and two electric elements with a convection microwave oven below.

A Corian counter, backed with brushed stainless steel, separates the galley from the saloon proper but enables whoever's cooking to stay in contact with conversation around the big teak table in the saloon. The semi-circular seating around the table is in white leather upholstery, which, combined with cream vinyl bulkhead liner and deckhead trim, help create a bright and light ambience.

The oval seat/coffee table is a particularly clever feature. Inverting the leather-bound seat transforms it into a nifty teak coffee table. More sumptuous seating in white leather lines the starboard saloon side.

Serenity's owners opted for satin teak finish. A trim fillet of lighter wood, which invites a lingering caress, is inlaid into the generous teak cappings. Salthouse has gone to great lengths to reduce weight in the 23,000kg cruiser and all cabin doors, hanging locker doors and draw fronts are made from high-density foam core with teak veneer. This also helps reduce noise levels and enhances privacy for owners and guests.

Personalisation is to the fore throughout the boat: the teak liquor cabinet, for example, is fitted with dividers specially cut out to accommodate bottles of the owners' favourite tipple.

A short spiral staircase (which can be raised on gas struts to access a clothes washing machine) leads down to the accommodation. The master bedroom has a queen-size berth set against the watertight bulkhead forward, with ample hanging locker space on both sides and drawer stowage underneath.

Deck hatches pour natural light into the cabin and en suite facilities are shared with the two-bunk cabin to starboard. The generously-sized bathroom is accessible off the companionway and features a circular shower base and rotary perspex shower door with stainless steel fittings and highlights.

The door slides round easily to enclose the shower area, allowing maximum space within the shower and easy access, while keeping the water where it should be.

A creamy, café au lait suede finish covers the bulkheads in the sleeping areas and gives a soft, intimate feel. Another double cabin with island berth bunk and en suite circular shower and toilet is to port.

A large, flush hatch in the expansive cockpit deck leads down to the engine room. Alloy stairs lead down between two 1500-litre fuel tanks - both equipped with generous water traps. Stainless steel valves and fuel lines feed through primary filters on the forward bulkhead.

Serenity's pair of 660hp, Cummins QSM11 and Twin Disc transmissions, rest high on wood cored bearers. All round accessibility is good and Acoustop insulation is used to line the deckhead. The 13.5 kVa Onan generator, in soundproof box, is mounted athwartships forward of the motors.

The Cummins' two exhausts are suspended by webbing straps where they transit the aft bulkheads to reduce noise and vibration and they exit the hull underwater right aft. "All the smoke and noise is left about 15 metres behind the boat underway," says Woods. "You can stand in the cockpit and talk on a cellphone at 25 knots."

With a full load of 3000 litres of fuel, 1000 litres of water and eight people aboard, Serenity topped 30 knots on trials and Woods says that economical cruising speed is 21 knots, with the engines pulling 1800rpm and using about 120 litres per hour each.

Deep gutters drain any errant water from the engine room and lazarette hatch openings but inflatable seals are available to meet watertight survey requirements. The seals are inflated by using a dive bottle and controller located under the flybridge stairs. Another hatch right aft leads to a spacious lazarette which houses a 3600-litre per day Sea Recovery watermaker, 150-litre holding tank, 2 x 500-litre fresh water tanks and hydraulic steering.

Back on deck, the spiral staircase to port leads through to the flybridge. Here, Serenity offers outdoor entertaining par excellence. Seating, interrupted amidships by a drinks fridge, surrounds the forward perimeter of the area. The midships steering console is equipped with two swivel seats. Air can be ducted from the air-conditioning unit below to defrost the windscreen and clear screens aft can be removed to allow natural air circulation as necessary. All round visibility is excellent.

Salthouse is currently building about six boats a year, about 80 per cent of which go to Australian owners. There is increasing interest from the US, however, where six Salthouse boats have already been delivered. Woods says plans are afoot to double production within the next few years.

It's fair to say that Salthouse owners buy into much more than a boat - they become part of the legacy. "We often get emails or letters from owners keeping us abreast of what they're up to with their boats," says Woods. "I guess it's like being part of one big family - and it's a relationship we're happy to nurture."



Salthouse 52 (base price is $1,528,000)
LOA: 59' 6" (18.14m)
LOD: 53.6" (16.31m)
Beam: 16'4" (4.98m)
Draught: 4' (1.22m)
ENGINES
2 x 660hp QSM11 Cummins
Max speed: 31 knots (full tanks)
Cruising speed: 25 knots
Fuel: 3000 litres
Fresh water: 1000 litres
Displacement: 23,000kg
Construction Lloyds certified, end grain balsa cored, glass reinforced plastic with composite




Keep up to date with news from Trade-A-boat or like us on Facebook!