Sampitres Wave-piercing Catamaran
---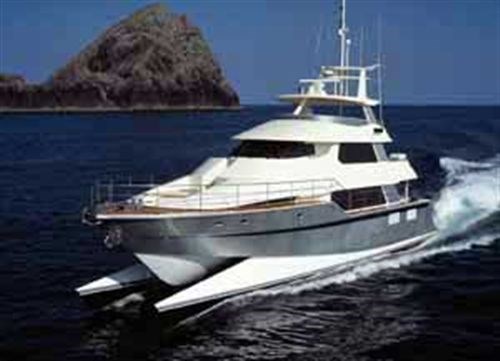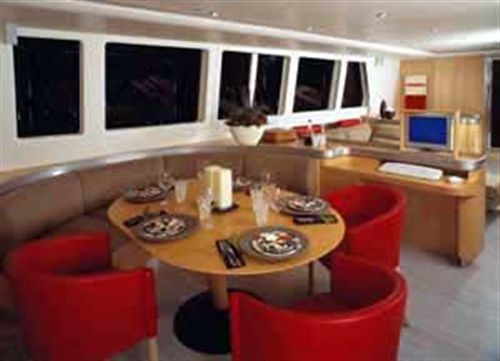 Spectators around the Waitemata Harbour can often observe leading-edge designs before they are exported around the world. Sampitres, the latest wave-piercing motor yacht designed by Craig Loomes Design Group was commissioned during Christmas and Geoff Green was invited aboard before it was shipped to Europe. Photography by Chris Lewis.
Sampitres is the third wave-piercing catamaran built to a Craig Loomes Design Group (CLD) design. The first - Ultimate Lady - powered this creative design office to international prominence when it won an International Superyacht Society award in 2000. Ultimate Lady, a classy sportfisher at heart, clearly demonstrated the design style was suited to the most sophisticated of pleasure craft and boldly steered what had been a commercial concept in a new, luxurious direction.
Sampitres - the name draws on the Spanish word for "three" as the third vessel to carry the Sampi name - follows that direction, but on an amended course. Although CLD's client wanted the generous living spaces and purposeful lines associated with a CLD wave-piercing design, the brief moved many design parameters outside of established models. Primarily, Sampitres had to accommodate berthing stern-to in Mediterranean marinas - a lifestyle option not available with a wide-beam catamaran - coastal cruise at better than 20 knots and have transatlantic range at reduced passage making speed.
The narrower than normal catamaran beam (6.15m) and relatively heavy displacement required to carry the transatlantic fuel load prompted CLD design principals Craig Loomes and Andre Moltschaniwskyj to consider revised demi-hull shapes. The design obstacle they had to overcome was increased resistance caused by overlapping pressure waves trapped between the hulls, a phenomenon well documented in fast, narrow-beam displacement catamarans.
After testing many hull forms and comparing the data with their Ultimate Lady baseline - Ultimate Lady was the most efficient catamaran tank tested at the Australian Maritime College's facilities in Hobart - they settled on a design delivering optimum range at passage-making speeds and required only moderate horsepower to drive it above 20 knots.
The demi-hull shape required to maintain efficiency and bleed-off the pressure wave was beamier and deeper, and fuller in the midsections than the slim hulls normally associated with high-speed displacement catamarans.
This semi-displacement form delivered the added advantages of walk-in engine rooms and provided accommodation space in the demi-hulls, features not normally associated with a 24-metre catamaran capable of more than thirty knots.
Although Sampitres was commissioned strictly for private use, it was designed and built to Germanischer Lloyd (GL) classification - the German equivalent of Lloyds - ensuring it meets the structural, operational and safety considerations of a small passenger ship in charter. It is also built to a luxurious standard and embodies all the appointments of a sophisticated, but relaxed lifestyle.
Vaudrey Miller Yachts in Henderson built Sampitres, and they maximised project flexibility and worker access by building it in eight major sections, bringing them together as the project progressed. The hull, decks and superstructure were built of advanced epoxy resin composites, including Airex linear foam cores, carbon fibre and Kevlar below the waterline for greater impact resistance.
The components were built with very little in the way of tooling, other than temporary computer-cut frames derived from CLD's digital files. The foam cores for each section were planked into the temporary frames, the inside glassed and the internal structure installed before the component was rolled over and the external laminates applied.
When Sampitres was launched, its twin 1300hp V12 MAN diesels, each driving through a remote mounted ZF vee-drive gearbox, stainless steel shaft and five-bladed AIR carbon fibre propeller, delivered a top speed of more than 30 knots With the integral fuel tanks partially filled with 14,000 litres - considered the maximum fuel load required for coastal cruising - 1000 litres of water and 23 passengers aboard, Sampitres averaged 24.9 knots over the measured mile (timed in both directions). Interestingly, during extended full-speed testing later the same day, the ship's GPS consistently registered more than 27 knots while motoring into a 15-knot breeze and moderate opposing tidal flow. It appears Sampitres benefits from additional wind pressure in the tunnel and runs more efficiently at maximum speed in choppy water rather than calm.
Sampitres displaces 80 tonnes in coastal cruising trim and it cruises comfortably at 22 knots. A professional captain aboard for the commissioning and GL survey processes said it provided a soft, progressive ride in 1.5-2m seas encountered 30 miles off the coast.
A full 24,500-litre fuel load increases Sampitres' displacement to 90 tonnes and provides transatlantic range at delivery speed (10-12 knots). The maximum fuel load will only be carried in the early stages of ocean passages and at other times, it will be maintained at 14,000 litres or less. Even with 24,500 litres aboard, Sampitres attained 22.9 knots through the measured mile.
When underway, Sampitres can be trimmed using the carbon rudders canted 35 degrees off vertical. Although this feature was primarily engineered to induce inward heel during a turn (catamarans usually heel towards the outside of the turn), toe-in or toe-out can be programmed in via the rudder feedback control. The rudders' horizontal component act as partial trim tabs that pull the stern down or lift it up when the blades are adjusted relative to one another.
The placement of the freshwater tanks provide an additional trim option and water can be pumped between the 1,000-litre tank in the bow and the 1,000-litre tank under the main deck cockpit seating in the stern. Water can be distributed between the tanks to suit specific sea or load conditions, or adjust trim at rest (for example, when the substantial anchor and chain required by GL survey is let go). A HEM watermaker replenishes the freshwater supply and enables either tank to be kept full while daily needs are drawn from the other.
Sampitres has four decks and is optimised to provide spacious, comfortable living for the owner - including a generous owner's cabin, extended living spaces and shaded alfresco areas - while providing for selected guests and discreet live-aboard facilities for a fulltime captain.
The owner developed the contemporary interior décor in conjunction with CLD. He introduced selected European design houses that each contributed furniture designs to specific areas. The décor is pitched well away from that of a traditional marine interior and draws on many architectural practises, like full-height doors and wall-hung cabinets. The underlying décor is built around slightly blonded maple and sycamore timber bulkheads and cabinets, neutral furnishings punctuated with splashes of bright colour, aluminium highlights, and variations in fitments and fittings. Tuplo hardwood floors - hued with pastel blue and pink washes - and brushed aluminium cappings and door trims provide continuity throughout.
Primary facilities on the main deck include a spacious master cabin and en suite, gourmet galley, day head, saloon and a cockpit lounge with stairs leading down to swim platforms on either side. A hydraulically operated boarding plank (passaralle) extends from within one stairwell, while the other houses swim stairs.
The master cabin has a Japanese feel (it's referred to as the Zen room) and is laid out asymmetrically with the head of the bed against the starboard side. Shoji (rice paper) panels line portions of the cabin, screening the hull curves, but allowing diffused light to filter through from the portholes behind. Selected cabinets and the Shoji frames have a darker finish that provides a contrast to the white rice paper and lighter tones of the almost clear finished maple bulkheads and cabinets.
The master cabin also features a walk-in wardrobe, hanging lockers, desk, couch and spacious well-equipped ensuite with a steam shower.
The gourmet galley separates the master cabin from the saloon. While nautical terminology suggests it should be described as a galley, this facility is actually a Creazoni kitchen, custom-made in Italy. It's equipped with the latest European fittings, including a four-burner gas hob and oven, microwave, dishwasher, chillers, freezers and Espresso machine, and features a silver metallic Formica finish with brushed stainless steel handles.
The "kitchen" can be provisioned through a service hatch in the cabin side, and two large hatches in the floor provide access to storage facilities in the plant rooms that carry refrigeration units and hot water cylinders in the demi-hulls below.
The saloon has an expansive feel and relatively large windows maximise the view. Although Sampitres is air conditioned throughout, large deck hatches in the cabin sides open to circulate fresh air when the climate suits. The saloon is furnished with a mixture of scatter furniture and inbuilt fixtures, including a computer terminal with a pop-up screen adjacent to the breakfast bar and dinning area. European design house B&B Italia designed and supplied the sofa and dinning chairs, and another - Potocco Banana - contributed the dining table.
The air conditioning, fibre optic lighting, automated window blinds, stereo system and plasma-screen TVs are integrated into the programmable Vantage computer system. Menu pads throughout the vessel enable the temperature, illumination, ambience, TV channel, music-selection and sound levels to be selected or pre-programmed in up to six areas.
A curved stairway links the main deck lounge with a dual-purpose lounge (named the Picasso Room) on the bridge deck above. Other facilities on this level include the ship's bridge, captain's cabin - serviced with an ensuite and workstation - day head, and a refreshment centre equipped with a sink, microwave, fridge and coffee maker.
A pullout double bed integrated into a wall unit - when not in use, it retracts into a space under the double berth in the adjacent captain's cabin - equips the lounge for its guest cabin role. Additional guest berths are provided in the demi-hulls (a cabin with two singles berths is provided in each hull) although, because they are close to the engine rooms, laundry and lower bathroom facilities, the captain may have to vacate his cabin in favour of additional VIP guests.
The watch keeper or overnight guests can use the bridge deck bathroom and catering facilities, giving that level a measure of self-containment. The curved stairs providing access to the shaded flybridge are adjacent to the mini-galley and the refreshment facilities also service anyone relaxing on this deck.
Due to the reduced beam and Portuguese bridge, the main helm station is more compact than those on previous CLD wave piercers, but it carries every aid and control befitting the vessel's build quality. With a nose cone-like interior shape, twin helm seats, an expansive array of instrumentation, segmented windscreen and plenty of height above the water, it feels like an expanded, but very plush 747 cockpit.
An elevated bench seat behind the Recaro pedestal seats caters for three guests, doubles as a stand-by berth when making passage and has chart stowagebelow.
Watertight doors on each side of the bridge provide access to the Portuguese bridge, from which the captain can see aft to the stern and gain access to the bow. A berthing station is provided on the starboard side with additional berthing stations on the flybridge (centre aft) and main deck levels (port quarter). The thrust separation, although not as wide as some catamarans, is wider than a monohull of the same length, allowing Sampitres to turn on the spot. Warping winches on each quarter and the bow assist with final positioning.
The flybridge level has a comprehensive secondary helm, bringing the total of control stations to five. Generous seating, and a drinks preparation area with sink, refrigerator and beverage locker are also available on the flybridge.
CLD and Vaudrey Miller Yachts have jointly crafted many interesting and innovative features. The canted rudders and aircraft-type doors on the bridge - they have pneumatic waterproof seals and when opened, move first out then slide aft - are two examples, and the tender storage and deployment system is another.
The owners wanted the ship's 3.6m diesel powered tender (also a custom CLD design) to remain unseen when stowed and to achieve this, the garage was accommodated in the bridge deck coamings. With the touch of a button, the rear portion of the bridge deck slides aft to cantilever beyond the stern and from that position, the tender descends into the water below. The garage also contains two motorbikes and, when berthed stern to the waterfront, they can be independently lowered to the ground.
Two long carbon fibre beams run between rollers in the coamings, supporting the garage. The coaming shape dictated beam geometry and when a 750kg proving load was applied, they deflected a mere 15mm over their 7m length.
The garage mechanism is driven by an electric motor driving two pinions that engage racks bolted to the top of the carbon fibre beams. A frequency controller in the circuit supplying the electric motor allows the rate of travel to be programmed so the garage accelerates from its closed position, then gently decelerates to a stop when fully extended.
A second tender (inflatable) can be launched from the foredeck, but a permanently mounted foredeck crane was vetoed for aesthetic reasons. Instead, a three-piece carbon fibre davit was designed to stow in a foredeck locker.
One person can assemble and operate the 600kg-capacity davit and deploy the inflatable.
Four lifting lugs built into the hull structure are another feature utilising the exceptional strength of carbon fibre. They utilise race-yacht chain-plate technology where carbon fibre is laminated around a stainless steel tube and the tube accepts a pin connecting the rig. In Sampitres' case, the "chain plates" accept lifting strops and the vessel can be raised from the water anywhere a suitable crane is available.
The fact Sampitres is a narrow-beam wavepiercer makes it distinctive. That it is built to a luxurious standard, and is capable of 30-knot speeds in light trim and extended ocean voyages at 10-12-knot delivery speeds makes it even more interesting. It will be as unique in Europe as it was in Auckland.
Specifications
Sampitres
Vessel type: Wave-piercing catamaran
Length overall: 25.18m (83ft)
Length waterline: 22.46m (74 ft)
Beam: 6.15m (20 ft)
Draft: 1.55m (5ft)
Displacement: 90,000kg in ocean-going trim
Fuel capacity: 24,500 litres (5,444 gals)
Water capacity: 2,000 litres (444 gals)
Construction: Epoxy composites utilising E-glass, Kevlar, carbon fibre and Airex linear foam cores
Main engines: Twin 1300hp MAN V12 diesels
Designer: Craig Loomes Design Group
Phone: +64 9 360 9799
Email: designer@cld.co.nz
Website: www.cld.co.nz
Builder: Vaudrey Miller Yachts
Phone: +64 9 838 6691
Email: smiller@vaudreymiller.com
Website: www.vaudreymiller.com
Keep up to date with news from Trade-A-boat or like us on Facebook!