Senator 860
---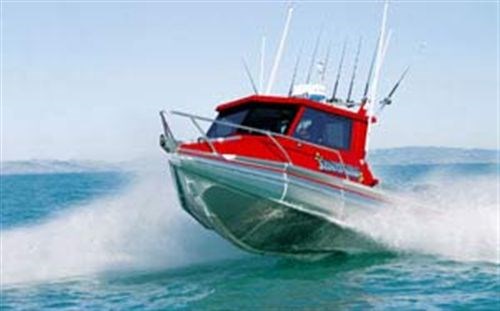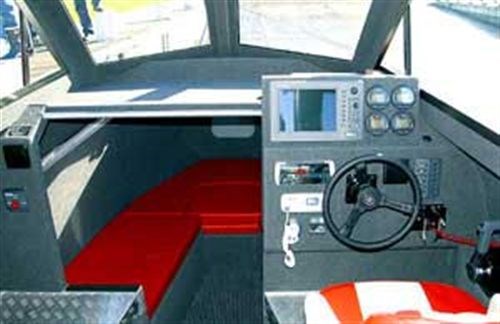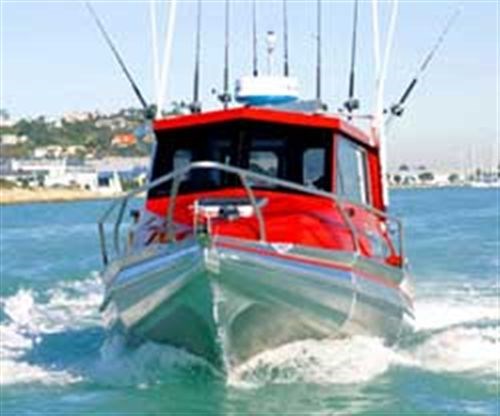 Chasing big fish in deep water requires a strong, sea-kindly boat. The custom-built Senator 860 pontoon hard top Showgirl 4 is just the ticket. Steve Raea reports.
Dave Vesty and family have spent much of their adult lives diving and fishing off the coast of Porongahau, which lies roughly midway between Napier and Castlepoint. Those that have navigated these waters will know that it is a rugged piece of coastline known for its violent winds that build up steep and breaking seas capable of putting the fear of God into anyone caught in a blow. It is a piece of New Zealand that might genuinely be called inhospitable. But that, says Vesty, is the attraction.
"It is as it should be - inaccessible and unspoilt - the sort of coastal waters that harbour the big trophy fish that we target. The diving is also first class and we head out at every opportunity during the summer months."
But heading out for Vesty and his crew is no mean feat - there are no launching ramps, carparks or cafes at Porongahau, just a small strip of beach and a gnarly two-metre swell that relentlessly crashes onto the beach. Launching involves backing the boat down the beach with a tractor and picking your moment between wave sets. Get it wrong and there is every chance the boat will be washed off the trailer and it all starts again. This, says Vesty, is "hard top" country because, without exception, you can expect to wear at least one breaker as you power across the sandbar and out into deep water.Vesty's last boat was a Senator 585 with a Saltwater series Yamaha 200hp and, through hard-won experience, he pretty much has beach launching down to an art.
But he is a little less gung-ho about the prospect of beach launching his new 860.
"It's going to take a bit of practice, but I reckon we'll get it sorted. I've got a bloody big Case tractor that I'm doing up at the moment. It's got huge wheels that will allow me to back the boat in far enough to float it off and fire-up the engines. That's the plan anyway."
It was the requirement to launch off the beach that ultimately determined the set-up of Vesty's new Senator 860 and persuaded him to fit twin Yamaha HPDI 150 two-strokes outboards with counter-rotating props.
"I considered four-stroke outboards because of their fuel efficiency and quietness, but in the end decided to go with the Yamahas. They provide the sort of power and acceleration I need to get the boat out of the hole quickly and across the sand bar."
There is little doubt that the Senator 860 will cope with the odd beach grounding. Vesty specified a second fully-welded keel bar along the bottom and a strengthened towing eye to winch the boat up the beach on the off-chance that things get out of shape.
Vesty speaks highly of his previous Senator 585, which he described as a safe and reliable workhorse, but a little hard riding in offshore conditions. It was also getting a bit too small to accommodate his growing crew.
"We outgrew the boat. These days I can have anything up to six passengers. We all like to dive and fish so you can imagine the amount of gear that was coming aboard. "There was never any question that we would get a bigger boat nor that it would be another Senator. It was just a question of time."
Senator Boats, based in Napier, has established a reputation for innovative and stylish pontoon designs since company founder Wayne McKinley set up shop in 1994. A welder and fabricator by trade, McKinley initially began building 4.7m and 5.7m pontoon boats. The range has expanded considerably and now includes a full compliment of cuddy, hard top and offshore boats ranging in size from 4.4m to 10.2m. McKinley has also designed and built larger commercial vessels up to 13m. The factory is now turning out about 70 boats a year and has a full and busy work schedule.
The success of the Senator brand is in no small way attributable to the business relationship between Napier's Firmans Marine and Senator Boats. Firmans Marine is an institution in Napier where it has sold and serviced Mercury and, more recently, Yamaha outboards since 1971. Established by Ray Firman, the business is now owned and operated by his son, Brian, who negotiated sole marketing rights to the Senator range. Under the agreement, Firmans Marine purchase the entire Senator range and fit them out before putting them on the yard. In recent years, Firmans Marine has appointed Mr Boats in Christchurch and Timaru as well as Haven Pleasure Boats in Nelson as South Island Senator dealers. Hamilton's Rollo's Marine is its upper North Island dealer. It is an arrangement that works for all parties. It not only ensures a quality fit out, but also protects owners' investment through strong re-sale values.
The 860 is a custom-built boat based on Senator's standard RH 750 Hard Top model and is constructed from 5mm aluminium plate on the hull and 3mm plate D-section pontoons. It has a heavy sealed chequer-plate sole and built-up cockpit combings to raise freeboard aft for offshore work. The boat has a portofino-style stern with the boarding platform and dive ladder positioned between the outboards. Vesty's brief for a fully self-contained vessel suitable for extended passages and overnight use had a considerable bearing on the internal layout and use of available space. Showgirl 4 is fully featured with a 12-volt Waeco fridge, two-burner hob, sink and shower unit, electric craypot winch and boom crane mounted on the hard top. The twin-engine installation also required twin starting batteries and oil reservoirs - considerations that further shaped the design. For all its nuances, the 860 is a classy looking boat with a surprisingly large and open cabin and helm station that bristles with the latest in marine electronics. These include a powerful 1.2KW colour sounder and a Furuno NavNet system featuring radar, plotter and GPS.
The transom area has come in for special attention with some clever ideas including separate transom fillers for the oil reservoirs and an outboard fuel filler with locking cap. There is also a large lift- out hatch giving easy access to the dive platform. The transom arrangement has allowed a live bait tank to be built into the boarding platform with a plunger-type burley pot fitted on the port side. There are numerous handrails for boarding, including two in the centre and one on the outboard side of each of engines. The cockpit itself is a dedicated diving and fishing platform with a game chair that lifts out to make way for a drop-in bait board. The board is positioned well forward of the transom to give anglers equal and easy access. The cockpit coamings are high and wide making them ideal to sit on when fishing from the side. A nice touch is the synthetic teak overlay. There are two seats set on aluminium plinths built in under the hardtop overhang. The port seat lifts off to give access to the sink and shower unit and the gas locker is located under the starboard seat. The 860 has a particularly large 378-litre underfloor fuel tank and a generous under-floor fish bin that will no doubt be home to dive bottles. A second 120-litre fresh water tank is located under the cabin floor.
The hard top is fully enclosed with a sliding aluminium door that can be latched back or securely locked. The hard top height is extremely generous but will create some difficulty for the vertically challenged when it comes time to retrieve their rod from the overhead rocket launcher mounted across the top. There is a decent hard top overhang and this has been put to good use with a spotlight and stereo speakers mounted underneath.
The cabin itself is light and airy with excellent visibility through safety glass screens. There is storage under both the helm and passenger seats and under the squabs in the cabin. The hard top and cabin are both fully lined and nicely finished with matching red and white squabs. Cabin access is wide and open with a quarter bulkhead on the port side and a half bulkhead on the starboard side. While the upside is a feeling of openness and space, the downside, in my opinion, is the lack of secure seating for the passenger. This is overcome to some extent with solid handrails across the top of the hard top and above the cabin entrance. Again, both the passenger and helmsman have solid chequer plate footrests. The cabin has two full-length berths and a marine head fitted in the vee with squab on top. There is an overhead Weaver hatch and a watertight bulkhead with plastic hatch giving access to a deep self-draining anchor locker.
The steering station and instrument facia is well laid out with BEP switch panels and flush-mounted VHF radio, engine management instruments and electronics. The driver position is good and the remotes nicely placed. The hydraulic steering was quite stiff and the wheel a bit too low for my liking and would benefit from moving the seat further aft on its plinth.
Up front, the bow has a solid aluminium bow rail that extends aft to a midway point on the cabin side and a Maxwell Freedom rope/chain anchor winch to take care of anchoring duties. Should you need to venture forward, the 860 has wide side decks with non-skid underfoot. The bow section, however, has quite an angled sheer and is no place to be in choppy conditions.
Unfortunately, time was such that we were unable to put the 860 through a thorough test. The boat had only been delivered to Vesty the morning Trade-A-Boat arrived and the hours ran away. We did, however, manage an hour at sea off the Napier foreshore where a low swell was being pushed in by a moderate South Easterly. The outboards had less than an hour on the clock and Vesty was understandably reluctant to open them up. Despite this, the boat performed very well, lifting onto the plane quickly and settling into a comfortable 3500rpm cruise that delivered a respectable 27 knots. The new generation HPDI Yamahas were barely discernable over the slap of water on the hull.
Vesty has subsequently had the boat out fishing and is rapt with both its performance and fuel economy. "I've worked out that at 3300rpm I'm using about 50 litres of fuel an hour. That's almost the same as my last boat with the single Yamaha 200."
Vesty says the 860 is a lot softer riding that the smaller Senator 585 and is a joy to handle. He has invited us to Porongahau to document his beach launching before heading out to a favourite fishing spot well offshore, where he promises we'll get among the "trophy" fish and experience first-hand the sort of conditions that influenced his decision to purchase his Senator 860.
SPECIFICATIONS
Length overall: 8.6m
External Beam: 2.65m
Internal beam: 2.1m
Deadrise: 18û at transom
Weight (fuelled): 3360kg
Fuel capacity: 378ltr
Engines: Twin Yamaha 150hp HPDI
Price as tested: $178,900
Priced from: $123,500 (Yamaha 200 salt water series)
Boat supplied by Firmans Marine Centre, 43 Pandora Rd, Napier Tel (06) 835 9718, e-mail Firmans@inhb.co.nz www.senatorboats.co.nz
Keep up to date with news from Trade-A-boat or like us on Facebook!