Silver Tiger ST975
---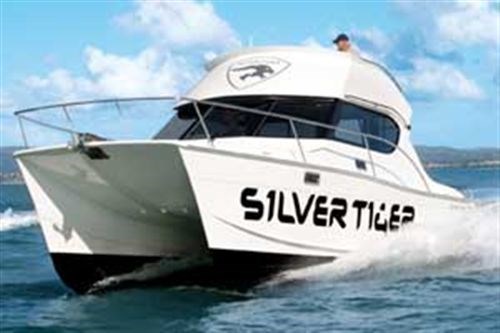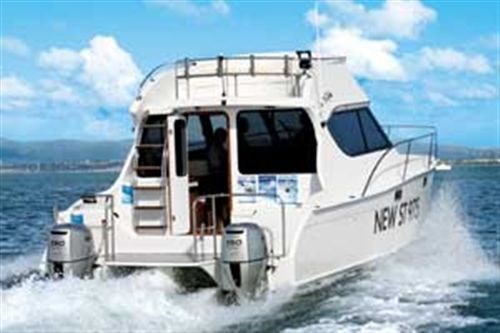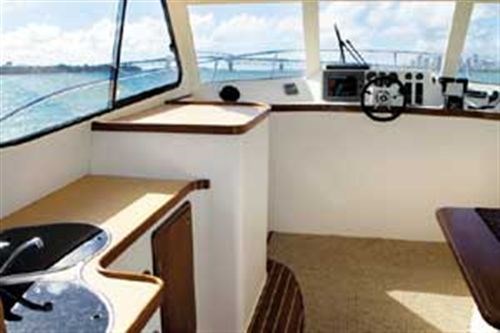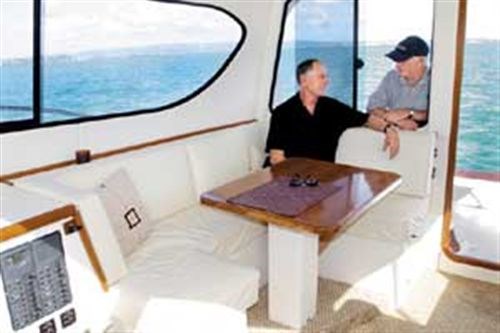 West Auckland catamaran builder TDL Marine has added a 9.75 metre Silver Tiger into its range. Dene Priestley hopped aboard the first of these twin-outboard powered vessels - and carved a wake across the Waitemata harbour.

Running outboards on a large sports catamaran is a departure from the industry norm, but there are many good reasons for their inclusion on the Ron Given penned and Silver Tiger branded vessels. With new, fuel-efficient four-stroke outboards aplenty across all brands and in all sizes, there are obvious benefits in terms of serviceability and easy change-over - if and when required.

Outboards can be trimmed clear of the water when at rest, or trawling with a single engine. There are additional space-saving advantages: in place of the conventional inboard engine cavity, there is a large, dry storage locker. And with the cat, the storage factor is doubled.

The ST975 has a bigger sister - the ST 1200. To date there are six of the 12-metre Silver Tigers gracing the surface, although all have found their way to offshore owners and foreign ports. One of these - fitted with twin Yamaha 225 four-stoke outboards - made an epic 845nm trip from New Zealand to Noumea via Norfolk Island (for a fuel stop) in 51.3 hours (2.1 days) actual travel time. This is an unofficial record-breaking journey and it's also believed to be the only outboard-powered vessel to do this passage.

The delivery journey was done in February 2004 and was skippered by TDL's Kelvin Travers. It clocked an average speed of 16.48kts and used 4,000ltrs of fuel. This gives a credible overall consumption figure of 4.7ltrs to the nautical mile for a quick high-speed international voyage. The first leg from the Bay of Islands to Norfolk Island took 27.5 hours, with the second leg from Norfolk to Noumea taking 23.75 hours, where they arrived without much left in the 1000ltr onboard and additional 1000ltr bladder deck-stored fuel.

Although this info is not really needed when talking about the new ST975, it relays build credibility for the brand and justification for larger outboard powered craft, and a trust by the builders to stand behind their product in the toughest of real, ocean-going tests.

Climbing boat-to-boat from our chase boat had me perched on the wide wooden-topped boarding platform jutting out between the two Honda outboards. One small step gains entry to the cockpit.

Open space is the key here with natural seating provided by the raised, moulded port and starboard sections of the rear cockpit bulkhead. There are handy cupboards, lighting for night fishing, and as mentioned before, large hatches opening up to reveal the enormous storage cavity's created by having the motors hanging on the stern. Great for large fenders and all the fishing gear.

To starboard is the ladder leading up to the open flybridge, and beside that is the door opening into the interior. On either side one step up finds you on the fairly narrow access to the wide and fully railed flat fore deck, which has storage locker hatches for ropes etc, and plenty of room for an inflatable tender. Sun loungers will love this spot while at rest, and solid grab rails make the transfer forward a safe stroll.

In the main saloon the set-up is an open plan area housing a comfortable six-seater couch/dinette to starboard, directly port of that is the well sized and fairly simple open galley with stainless steel sink, fridge and three-burner gas hob. There is plenty of bench space including on the bulkhead forward of the galley which can double as a leaner and plotting table.

There are bulkheads on both sides giving separation to the entrances to the accommodation, and the helm controls and electronic displays are centred along the unit that runs port-starboard beneath the aluminium framed forward facing 8mm armoured windows. Side glass is 6mm. There was no helm seat present, although plenty of room to place one if that's what the owner requests, and forward visibilty is good.

With a four metre beam this area was again about open space, with plenty of room to move about. Great for entertaining. Colouring on the demo boat was light and neutral and the cream upholstery and light carpet contrast well with the wood trim and galley wood-lined flooring area.

Accommodation
Heading down the steps into the port accommodation, you turn aft into a single and good-sized bathroom, complete with shower, head and vanity with natural porthole-supplied lighting. Forward along the port hull leads to the master cabin with raised king-sized bed. There is a good amount of cupboard storage, and although the nature of the boat means there is not a huge amount of headroom, the cabin feels roomy and comfortable.

The starboard layout comprises a single plus-a-bit forward cabin, and a tightish double cabin aft. Although this layout will suit the family of four, Kelvin pointed out that by reducing the main cabin to a queen, the starboard cabin can also be turned into a queen and owners wishing to host friends may prefer this option. It's easy to forget that all this is housed in a boat of under 10 metres, and none of the cabins have you feeling like you're sleeping in a cupboard. In fact the whole boat has an open home type feel.

I must admit that at first glance I assumed the Silver Tiger was only running the main single helm, but once up the easy ladder to the open flybridge, the subtle starboard mounted throttle and steering toggle came to view. With comfortable seating for around six or seven adults this spot also gives a panoramic, 360-degree view.

With the controls being so minimal and lots of people chatting on the flybridge, it's actually easy to forget the guy on the right is in command, but on a fine day this is definitely the spot. Although open and running at over twenty knots, the sloped window and front shape of the upper bridge mouldings appears to push most of the breeze conveniently over the heads of the bridge-sitters. We had five people up on the flybridge while performing high speed turns and crossing ferry wakes and the level stability and un-flustered running of the hulls was impressive.

Under way the twin 150 Honda's seem happy pushing the 3.3 ton cat to the mid-twenty knot mark. With this being early days for the ST975, Kelvin believes with more prop experimenting they hope to achieve a top speed of just over 30 knots. At pace the outboards are quite noisy for cockpit dwellers, but head into the main cabin and shut the door and the sound drops dramatically. Likewise they appear quiet from the upper bridge.

In saying that, an economic cruising speed of around 18 knots has the Honda's humming at a much lower and less audible note. I questioned the choice of the 150 outboards: Kelvin explained TDL's theory of 90hp per ton will give the best economy versus performance. He points out that many owners put huge motors on to boats, but very rarely run them at full tilt. Owners can choose up to 225hp outboards.

To feed the outboards each hull carries 350 litres of fuel, which is predicted to give a 300nm range at around 20 knots. Electronics are by BEP with one starting battery and two house batteries. A full battery management panel controls and protects the voltage, and there are electronic tank monitors to keep an eye on fuel usage and remaining supply. Morse steering is positive and light.

Silver Tigers are built to NZ marine survey requirements and constructed from a tough and very rigid sandwich foam, ply and resin combo, which gets extra kevlar support in the stern. This also makes for a quiet running hull from the interior.

All of the exterior fittings are stainless, including the electric windlass roller and beltings. The ST975 carries 200 litres of water, and hot water is supplied by a Rinnai gas hot water califont. Finish both inside and out is top quality, and she is an attractive modern looking vessel with smooth moulded lines.

The Silver Tiger 975's start at a price of around $295,000 + GST, with the test boat valued at $365,000 + GST, and interior layout can be customised to your requirements. Engine preference also impacts on costs. I personally would opt for bigger outboards to give a lower revving cruising speed while keeping all the other advantages mentioned earlier.

For further info on the Silver Tiger range check out www.silvertiger.co.nz. Test runs in the new ST975 can also be arranged by giving Kelvin Travers a bell on 09 836 6920 or email kelvin@tdlmarine.co.nz.



Keep up to date with news from Trade-A-boat or like us on Facebook!