Southern Boats 670 Cuddy Cabin
---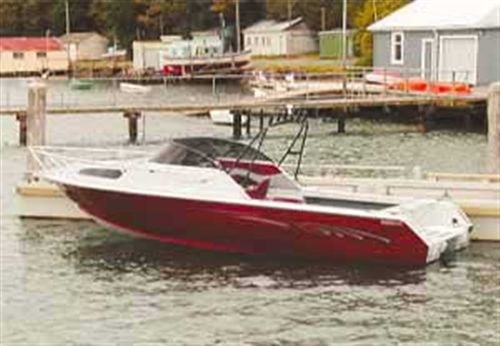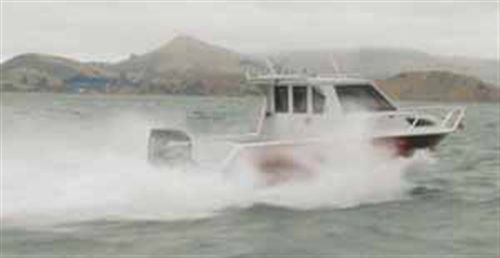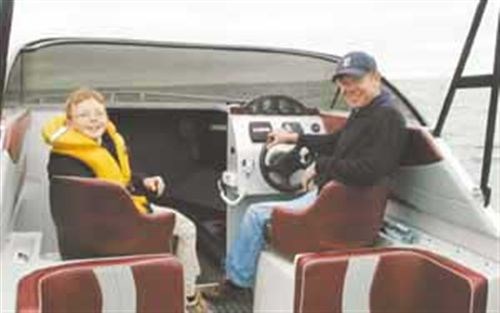 Sleek lines and dazzling looks set the SouthernSportz 670 Cuddy apart from its peers and proves again the South Island's prowess in aluminum boat building and design. Southern man, Steve Crowley, checks out the 670 Sterndrive and the 670 Outboard.
Some of New Zealand's brightest ideas and best designs are born in tin sheds when keen minds get to thinking. Thus began the story of Southern Boats and their pioneering days designing and building aluminum boats in a tin shed in Fairfield, Dunedin.
It was 1997 when Mike Coombes and Gary Moore first put their heads together and toyed with the idea of striking out on their own as designers and builders of quality aluminum trailer boats. They were both working at Lazercraft in Dunedin when they took the leap, risking steady work and income to put their own ideas into production.
It was a steep and challenging proposition for both partners who initially operated under the name of MG Engineering, supplementing the boat building side of their business with aluminum fabrication and general engineering work.
Boat building was initially confined to smaller cuddy cabin boats with about a dozen units being manufactured during the first two years in business, predominantly for local clients. But as Mike's designs progressed and the quality of build and finish improved, new orders began to roll in from further afield. The company was quickly growing and it was time to expand.
It was then, in 1999, that a third partner, Alan Ranfree, came onboard and the business began operating under the name of Southern Boats, concentrating exclusively on the SouthernSportz range of cuddies and hardtops ranging from 5.2 metres to 8.2 metres. The partnership quickly outgrew its tin shed in Fairfield and moved to larger premises in Mosgiel near Dunedin.
With a staff of 10 and a dealer network spanning the entire country, Southern Boats is now producing more than 60 new boat/trailer packages a year with increasing numbers heading north.
Our task today was to put the 670 cuddy through her paces and compare the boat's sea-going characteristics when powered by a Yamaha 150HP outboard and the 4.3 litre V6 (210HP) Mercrusier sterndrive.
It promised to be an interesting day as we effortlessly rolled our way toward Back Bay at Port Chalmers with the 1700 kg 670 outboard model in tow. The wind had been forecast to get up and we were expecting some serious chop at the heads of Dunedin Harbour. We weren't disappointed.
Launching was no fuss and after parking the turbo-diesel wagon the Yamaha was fired up and we were off and planing towards the heads before I knew it.
The 670 model was first launched in August 2000 and designed to provide a stable fishing platform for serious fishing while attaining the performance characteristics required for water skiing. Moreover, comfort was also an important consideration given the recreational nature of the boat. The resulting design in clearly aimed at family boating which, not surprisingly, is its strongest market.
The first thing that struck me was just how quiet the ride was despite a fair chop across a half-metre swell. This is largely due to the hull's interior lining separating passengers from the elements. The next thing that grabbed me was the sense security in knowing that 10mm of foam separated my head from the cabin roof - a relief given my hosts earlier instructions to hold on tight. And I did. The punch from the 150HP Yamaha had us on the plane in no time. From a passenger's perspective, there was no shortage of things to hang on to with handrails strategically placed around the boat.
With the design's exaggerated gullwing hull shape, 20 degree deadrise deep vee and reverse chine, the ride was remarkable dry and comfortable, even when the boat was being thrown around in tight turns. On the wheel, the well-positioned windscreen kept the wind off what is left of my hair. Being one, however, who prefers to look over a windscreen rather than through it, I found myself on tiptoes when wanting to experience the full sensory pleasures of wind and water.
And a pleasure it was. The boat handled very well, responding freely and easily to the slightest movement on the wheel. The chop created no difficulties and there was no reason to button off, even as we motored through the rip that races around the entrance to Dunedin Harbour.
The 670 provides generous cockpit seating for a boat of its size with back to back seats on fibreglass pedestal bases. A further two seats are placed aft giving up to six adults respite when conditions demand it.
Stowage is good in the 670 model with ample room provided under the seats for fishing tackle, personal gear and the like. Fishing is well catered for with easy access to live bait bins built into the back of the boat.
With the sterndrive model alongside, there was little appreciable difference between the two boats on the water, but once onboard the sterndrive I was surprised by just how quiet the Mercrusier workhorse was - and right throughout the rev range. The sterndrive, like the outboard, had the boat up and planning quickly and comfortably cruising at 35 miles p/hour at a comfortable 3500 rpm.
The sterndrive 670 model incorporates the same basic features and overall package of the outboard model but with the added benefit of a quieter four stroke V6 inboard motor. Surprisingly, there is actually more cubic metres of cockpit floor space in the sterndrive model due to the boat's innovative hull design.
The extra weight of the inboard provided a more stable ride, but it lacked the all-out punch of the Yamaha which propelled the boat slightly faster than the Mercrusier through the low to medium rev range. The more powerful Mercruiser eventually outgunned the Yamaha with a top speed of 50 m/ph at 5000 rpm. The Yamaha, however, wasn't far behind, giving a top speed of 45 m/ph at 5.600rpm.
Test equipment on board the sterndrive model measured fuel consumption at 20.5 litres an hour at 3000 rpm giving a boat speed of 30 m/ph. Test equipment was unfortunately not available to do a similar comparison on the outboard. It should also be noted that at 150HP, the Yamaha was at the lower end of the manufacturers recommended maximum 250 horsepower rating.
The 670 model we tested had a open half-caddy with a Weaver hatch built into the cabin top providing easy access to the anchor locker forward. Two V berths are built in providing shelter and summer accommodation for two adults. Two shelves are also built into the cabin providing additional storage. The 670 is also available with a lock-up enclosed cabin option providing better security for longer trips. In either case the cabin bunks are long enough to ensure a comfortable night's sleep.
All good things come to an end and so it was for us as we turned our boats around and headed back to Port Chalmers via the local lads secret fishing spots but unfortunately time did not allow for a quick cast.
In summary, the 670 cuddy is a well engineered hull incorporating the traditional five-stringer construction technique giving owners the sort of peace of mind that comes from knowing they can get home safely when things cut up rough. The standard of finish is generally excellent with quality paint systems throughout ensuring years of good looks. The SouthernSportz range all carry a three-year warranty on the hull.
Southern Boats 670 "turn key" packages include a bowsprit and full length bow rail, boarding ladder, auxiliary outboard bracket, sliding helm seat, Weaver hatch, cabin lining and shelves. Navigation lights, rod holders, decals, and a 150 litre under-floor fuel tank are also standard. Construction includes a 4mm treadplate floor, 5mm hull and transom and 3 or 4mm sides, depending on owner choice. An aluminum tandem axle braked trailer is also provided as standard.
Specifications
Southern Boats 670 cuddy cabin
LOA: 7.9 metres
Beam: 2.45metres
Freeboard: 830mm
Max Rec Power: 250HP
Hull Thickness: 5mm Alloy
Transom: 5mm Alloy
Sides: 3mm Alloy (4mm if requested)
Trailer: Tandem Braked (Alloy or Steel)
Price as tested: $66,000 (Yamaha 150)
$72,000 (Mercruiser sterndrive)
Boats supplied by Southern Boats, Tel (03) 489, 1490, Web: www.southernboats.co.nz
Keep up to date with news from Trade-A-boat or like us on Facebook!