Stella Maris Motorsailer
---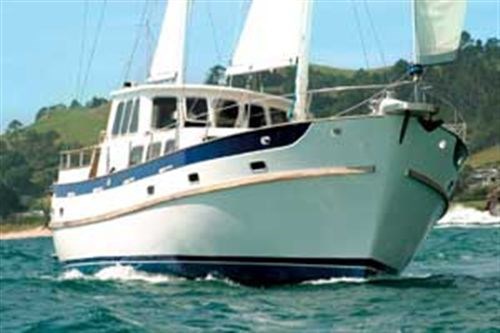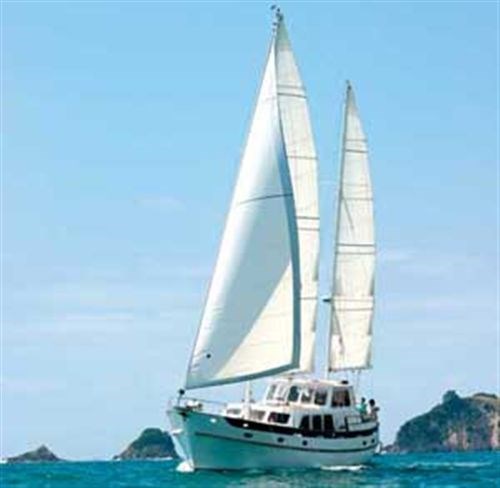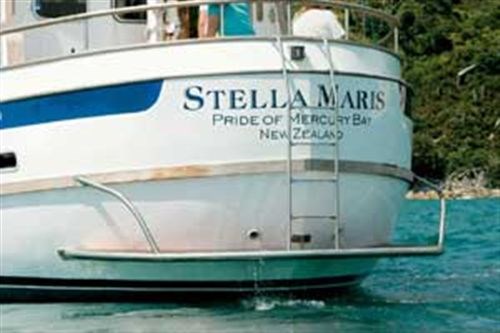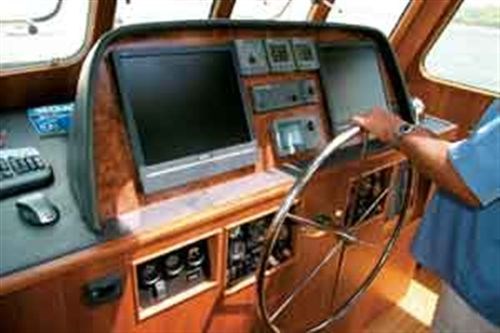 A motor sailer offers the best virtues of both wind and powered boats. With a full sailing rig it's an efficient, long-range passage maker - its engines ensure that schedules aren't dictated by the wind's fickleness. Norman Holtzhausen reports.

Stella Maris is just such a blue water motor sailer. Designed by Dutch naval architect Pieter Beeldsnijder, she was recently launched by Motor Yacht Boat Builders of Whitianga.

The hull, decks and wheelhouse were constructed of GRP by Cheoy Lee Shipbuilders of Hong Kong. It was the 18th and last hull of the "Cheoy Lee 52" class to come out of the mould - and has had a chequered history since then.

Originally cast in the late 80s, she remained unfinished in the shipbuilder's stock. She was purchased by a New Zealand owner in 2001, and later commissioned to be completed by the same shipyard.

A change of owner resulted in the still unfinished boat being shipped to New Zealand late in 2004. A group of local investors commissioned Don Scobie of Motor Yacht Boat Builders to complete the boat to a luxury standard. This project has involved 43 different suppliers and has taken just over a year.

With her 17m LOA and 5m beam, Stella Maris is a big boat. Her design was modelled on the traditional North Sea trawler yacht, with the benefit of modern materials. She has a number of distinctive European features: high, bulwarked bows, a full keel with a large protected rudder, a heavy displacement and a rounded stern. This makes her comfortable and dry in all but the most extreme conditions and her waterline length of just less than 14m translates into a reasonable displacement speed.

 She is ketch-rigged, with alloy mast and booms. Her mainmast is 17m high, and the mizzen about 2m shorter. Her sail area (xx m2) generates sufficient thrust to see her sailing comfortably at up to 10 knots. A 1.7m draught enables her to anchor in relatively shallow water.

Engine power's supplied by a pair of 4.5-litre John Deeres developing around 150hp each. These push her 30 tonne bulk to an estimated top speed of 10 knots (recently launched, her the instruments are not yet fully calibrated). The 3000 litre fuel capacity and the cruising consumption of 15 litres per hour allows for a trip to Fiji under power the whole way.

Stella Maris' interior has been finished in American Cherry. This rich, red wood is offset by plush leather and suede upholstery. Teak and holly flooring completes the luxurious effect, and air conditioning throughout ensures everyone remains comfortable no matter what the outside conditions.

The boat's superbly set up for extended luxury cruising. Her fresh water capacity is 2500 litres and she has a 15kva genset (supplemented by four, 200 amp-hour house batteries and an inverter) to provide mains power throughout.

This configuration drives two refrigerators, a deepfreeze, ice maker, washing machine and separate drier and a microwave. Entertainment is provided by a sound system, DVD player and large-screen LCD TV.

Accommodation
It's ample, sleeping 10 people comfortably. A large, island double bed dominates the master stateroom, which has an en-suite bathroom and shower, and a DVD player and LCD TV screen. Locker space is generous, and large hatches provide plenty of fresh air. The pressurised water system's serviced by a 70-litre hot water tank.

A second, slightly smaller guest stateroom amidships is equally well-finished. The forward cabin has four single bunks, plus there are two other single bunks on board. All cabins enjoy excellent headroom, and there's no risk of even the loftiest passengers banging their heads.

 All controls and gauges are easily visible around the helm station, equipped with a padded skipper's seat, and the large wheelhouse provides excellent visibility forward. The main electronics package is a Furono Navnet navigation system, running off a standard Windows-based computer and driving dual LCD screens.

Data's supplied by GPS receiver, sonar and radar, which all feed into the integrated displays. A TMQ autopilot will ease steering blues on long trips. A padded leather couch along the rear and side of the wheelhouse easily accommodates half a dozen people.

On our test day we headed out from Whitianga harbour under power, with the John Deere's throbbing away gently. The twin shaft drives make for easy manoeuvrability, and the fast-running tide gave us no problems. Mercury Bay has recently developed a harbour bar, and it reacted fairly violently to the two metre Easterly swell. Happily, Stella Maris powered through very easily.

Once clear of the restricted channel, Don Scobie hoisted the Dacron sails, and it became clear that the boat's set up for easy, short-handed sailing. It took only two people to set all the sails and she handled the swells and 10 - 15 knot winds predictably.

All-stainless steel rigging supports alloy masts and booms. Cheoy Lee winches take the sweat out of hoisting sails. The self-furling genoa's complemented slab-reefing on the main and mizzen.

The swell prevented us from anchoring at our destination - Cathedral Cove. If we'd been successful, we could have used her Maxwell heavy duty, double chain anchor winch with 80m of chain and large plough anchor. A 3m inflatable with 15hp outboard can be used to run ashore, and it's the perfect accessory to the onboard Bauer compressor. All in all, an excellent dive package. 

Sailing is simple and trouble-free. Easy access to sheets makes tacking a one-man operation. As could be expected with such a heavy boat, she's fairly 'stiff' and doesn't heel much. That suited the confirmed non-sailors we on board, and they were very happy with a relatively stable platform.

Once we'd taken our photos we took a leisurely sail back into Whitianga, and that really is the way to enjoy this boat - at leisure. She is definitely suited to a discerning owner who knows there is more to life than getting from 'A' to 'B' as quickly as possible.

The journey is what it is all about, and Stella Maris offers it with luxury. Her ability to economically cover large distances makes her ideally suited to long and leisurely trips anywhere in the world.

Stella Maris will be on display at the Auckland International Boat show at the Viaduct basin in March. The boat is currently on the market and will be sold by private tender. To view the boat or for more details contact Don Scobie of Motor Yacht Boat Builders on 07-866-5429 or djscobie@xtra.co.nz.



Specifications: Stella Maris - Blue Water Motor Sailer
Designer: Pieter Beeldsnijder (Holland)
Hull built by: Cheoy Lee Shipyards, Hong Kong
Overall length: 17m (56ft)
Waterline length: 14m
Beam: 5m
Displacement: 30 tonnes
Construction: Fibreglass
Engine: 2 x 150hp John Deere 4.5litre diesels
Fuel: 3000 litres
Water: 2500 litres
Range under power: 2000km
Interior: Cherry wood with leather upholstery
Berths: 10
Equipment: 15kva Onan Genset, 4 x 200AH batteries and inverter
Electronics: Furono Navnet PC-based navigation system, with dual 17" LCD displays
rice: Boat is for sale by international tender and is expected to reach in the region of NZ$2m.




Keep up to date with news from Trade-A-boat or like us on Facebook!