Sunrunner 3400
---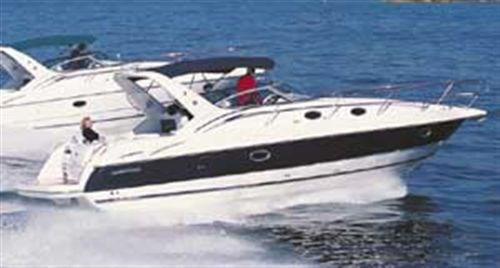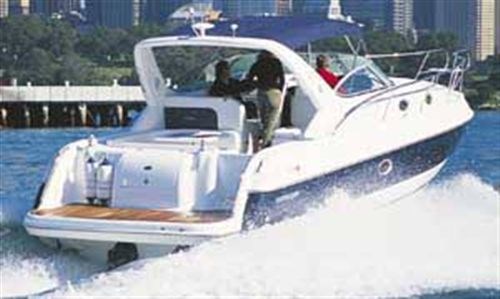 Designed and built for the distinct Australian lifestyle, the Sunrunner 3400 sportscruiser looks set to carry the 'Made in Australia' badge of quality into the international arena as well.
When you've been a boat consumer for 21 years, spending weekends on the water as a husband and wife team, you get a pretty good idea of what works in boats and what doesn't. Things such as a boarding platform wide enough to take a director's chair, so you can sit out the back at a calm water anchorage and wet a line, are examples of things that work. All the better if there is a drink holder nearby, a fridge not far away and shade should you want it.
Armed with a long list of such details, local businessman and avid boatie Paul Smithson set about making a better sportscruiser. He combined his on-water knowledge with that of a design team, invested heavily in moulds, plant and equipment, established supply lines for fittings from Europe and began making his better boat.
The Sunrunner 3400 was launched without too much fanfare but with plenty of new fans. To date, 12 of the sexy sportscruisers have been built. But it is even more of a tribute to the boatbuilder that hull No 2, which I drove about Sydney Harbour one bright winter's day, was pretty much spot on.
Simply, the Sunrunner 3400 is one of the best-finished Australian-made sportscruisers on the market. I ran a close eye over the hull and deck mouldings and they were as fair as any comparable boat. I looked at the headliners, carpets and upholstery and it was better than you will find on many big-name imported boats.
I examined the bilge, the back of storage holds and other out-of-the-way places and I didn't find a rough edge, slap-stick staple or smear of excess adhesive anywhere. The harder I looked at the Sunrunner, the more I discovered the quality of this boat.
The heavy-duty hinges, stainless catches, sinks, taps, hydraulic rams ? all are sourced from Italy. Yet the hull, being built to meet demanding export survey standards, is most definitely Australian-made.
Solid glass exists below the waterline, foam-cored or composite decks are above and there is no timber in the structure. On the water, the Sunrunner hull felt quite stiff despite being beamy and high-volume. There were no real rattles to speak of except for the transom-door bolt, one of the few local fittings which has since been changed.
Much to my delight, I found no token pieces of ply screwed over voids in the mould like some boats, no little add-ons or afterthoughts, as the concept for a better sportscruiser starts from the ground up. The top-to-bottom design, rather than the evolutionary process many boats go through, means everything about the Sunrunner is new.
Big plans
Why did Smithson start with a 34ft sportscruiser? The small-boat market is pretty saturated, he says, whereas the mid-sized cruiser market is poised to grow. A 34-footer is a handy-sized boat to own, easily driven and manhandled, the right length to slot into a marina berth or sidle up to a private pontoon.
Those who are taking a close look at the new Sunrunner include people upgrading from tired or dated imports and first-timers keen to get afloat. The boat is a complete allrounder with genuine accommodation and facilities for weekends away, and a boarding platform big enough to plonk a deckchair and cast a line.
Smithson plans to export the Sunrunner 3400 ? and subsequent models he wants to keep under wraps for now ? to at least seven countries. Just three weeks after the Sydney Boat Show he had orders for more than 20 boats. His new factory on the Gold Coast, across from Riviera, will have an 80-boat annual production capacity when it is finished.
Meantime, appointed dealers have been going demo-mad with prospective Sunrunner owners, who are jumping aboard for several reasons. One of the main ones is the boat's inventory which includes everything down to canopy, fenders, clears and an owner's pack.
The standard issue electronics aren't a little tridata readout and a radio, but a serious Raytheon L760 GPS chartplotter/sounder. A 7kVa genset hides below, along with airconditioning. As you see it here, you only need to add fuel and water and you can head off for a few days or more.
Outdoor living
Sunrunner's 'Australianisation' of the sportscruiser begins in the cockpit. Catering for the Australian way of life, the Sunrunner 3400 has a big outdoor living area with amenities that most pleasure-seekers would consider essentials but which aren't often found on boats, especially not as standard issue.
The extra-wide boarding platform is an integral part of the hull and not just bolted on. Adding to the deck area, it features a fully concealed two-stage swim ladder with no sharp protruding edges, a stainless rubbing strip, neat handrails tracing the hull corners and teak planking.
Built into the transom is a huge, fully-lined locker big enough to carry an outboard with a light inside so you can find the mooring lines at night. The lid rests on Italian hinges, opens via stylish catches and lifts on hydraulic struts.
A fender basket sits alongside with two Beseuzoni telescopic davits above so you can swing a ducky off the tail. The hot/cold cockpit shower just inside the transom door sits in a recessed circular moulding on the starboard side. You won't find one of those tacky plastic shower nozzles but a solid Italian chrome fitting and matching taps.
The engine vents alongside, moulded into the top deck, have a similarly chic look to them. But the piece de resistance is surely the wonderful amenities centre to starboard. It's highlighted by blue-flecked Corian tops (not the cheaper Granicoat) and is surrounded by a stylish stainless grabrail.
Two doors reveal a storage area below that is tailormade to take an icemaker. On the trailing edge is a locker holding the champagne glasses and tumblers, compliments of the house and bottles of bootleg (which you'll have to buy).
The cockpit centre comes with a lovely Italian circular sink with chrome tap, a Miele electric hot-rock barbie and a deep eutectic-style countersunk fridge for the drinks. There is an emergency cut-off so if you leave the barbecue on and close the lid it will shut off the power. There's also a stainless splash-back to catch the snag fat.
Overhead, a one-piece targa arch made in a split mould provides a mounting spot for lights, speakers and canvas. With the clears off, the Sunrunner looks like it was designed around its bimini top ? it is not an ugly afterthought like the canvas flapping on some Euro boats.
Shade falls over the two-person helmseat with bolster and the U-shaped lounge for four people opposite. If you want to soak up the rays there is the aft lounge around the dinette, which seats six people, or the optional sunpads on the foredeck.
Push button access
Press a button at the helm and a section of the floor and the cockpit table raise to reveal an engine room with plenty of space. The aluminium fuel tanks are built to survey with a dedicated wiring loom on future boats.
Insulation of the twin 5.7lt EFI MerCruiser motors on the testboat was substantial but there might be ways to further reduce engine noise.
Although the teak cockpit flooring is optional, you'd have to go for it because it complements the boat's quality. Moulded steps lead to the sidedecks and foredeck or you can follow the three moulded steps alongside the helm that lead to the opening US armour-plate windscreen.
All deck fittings are sturdy and through-bolted to backing plates placed in the mould. The bowrail is a split number that lets you take on passengers over the foredeck. The concealed windlass prevents the kids from catching a finger when it's time to pull up the plough and head home.
From bow to stern, the Sunrunner 3400 is an accessible boat with enough seating for eight people and the amenities to keep a party entertained all day and night long. For example, you can take a deck shower after a swim, cook a barbecue lunch, reach for a cold drink and kick back in the sun or shade. The deck design is definitely a reflection of someone who goes boating for enjoyment.
Comfort zone
A big companionway with curvaceous cut-out leads below decks. The first thing that strikes you is the amount of natural light streaming through the overhead hatches and nine portholes, which are stylish Italian numbers. Night lighting is said to be stunning, though I'd prefer chrome to gold-rimmed lights.
The off-white headliner panels, moulded walls and high-gloss American cherrywood create a tasteful, Euro-styled atmosphere. An open-plan layout with lots of headroom, plenty of beam and a sense of unity derived from a moulded liner, gives birth to a sportscruiser that isn't at all pokey.
Five people could sit on the lounge around the dinette in the middle of the saloon. A remote control sees the table retract and form an impromptu double bed. Accommodation either side is generous.
The aft cabin is a lovely, spacious place where owners and wives might find they get a better night's sleep than the bow. There is standing room at the entrance to the aft cabin, a hanging locker, your own Corian sink and a cuddle seat and two single beds with inner-spring mattresses that convert to a double.
I lay on the bunk noting the excellent finish around the walls which are covered in soft-touch vinyl, a privacy curtain instead of a door which helps to open out the boat and a stylish bedhead feature.
In fact, the finish on hull No 2 was hard to fault. Everywhere you looked the headliner fitted like a glove, the upholstery was well done and the joinery, such as the dinette which even had marquetry surrounds, was like something you'd expect in a foreign order.
Laying on the offset double bed in the forepeak, I could have easily woken the following day. The mattress is an innerspring number, flanked by soft-touch wall liners and a hanging locker with mirror. I noted the blue carpet had been hemmed and you could derive some degree of privacy in the forward cabin with a curtain.
Blue Corian benchtops and overhead cherrywood lockers announce the galley. I found a dedicated drawer with velvet lining for the cutlery and the remote control to lower the dinette. There was a ceramic cooktop with two hobs, Sharp microwave, fridge, storage space and a deep Italian sink so you can stack the plates for washing up back at the dock.
Open the door to the fully moulded bathroom aft of the galley and you're greeted with a room twice the size of that found in many sportscruisers. A teak grate and sump pump service the handheld shower, but maybe an extractor fan is needed?
Among the good gear here is a navy blue shower curtain, Italian fittings, overhead cherrywood lockers, opening porthole and a Vacuflush loo.
Drive time
With twin Bravo II sterndrive legs, the Sunrunner 3400 is an easy boat to manoeuvre. We pulled out of the marina and cruised into an almost surreal setting. It was one of those bizarre winter mornings (brought about by the hole in the ozone layer), which are more like a mid-summer's day.
There was sunshine, no wind, warm air and smooth waters for the boat test. We strode about the harbour, headed up near Watsons Bay, flashed past Potts Points, completed circuits off the Opera House, before returning to Birkenhead. With a touch of in-trim, the boat pops out of the hole smartly and is a willing accomplice on the water.
At cruising speed, the boat's natural running attitude is with the bow running quite free of the water. At 4200rpm, the twin MerCruiser 260hp motors returned a lovely 22kt cruise speed. At such revs, the boat drives beautifully on the wheel. But add some throttle and the hull runs flatter.
At 5000rpm, as the rev limiter kicked in, the Sunrunner 3400 returned 33.7kt on the GPS and 42mph on the speedo. This is plenty fast enough for a sportscruiser and the boat had a lovely, tight turning circle even at high speed. You can spin it on its length with throttles and parking is made easy by the boat's low but relatively wide body.
I found plenty of room at the helm to drive standing and there was a nice, clear view through the windscreen when seated. Throttle and wheel fall to hand nicely, probably not through chance but because the builders worked at getting the ergonomics right.
The walnut dash inserts, moulded in the United States, have recessed Faria chrome-rimmed engine gauges, neat switch panels with icons to direct you to their purpose, a Clarion remote for the sound system and the top-quality Raytheon L760 was flush-mounted nearby.
Once when traversing the washing machine zone beneath the Sydney harbour bridge, the Sunrunner came down with a little thud. But so would just about any boat of this calibre which teams a degree of sportiness with a big-hearted, wide-bodied hull packed with weekending amenities.
A cut above
There is no doubt the Sunrunner is a cut above your average sportscruiser. I'd rather buy it than a lot of boats in its size brought in from afar. What's more, you can save a lot of money buying a local product and get something that will stand up to our climate.
The Sunrunner is designed for hands-on boating, as evidenced by its thoughtful design. It's my guess that sportsboaters around the world will soon be shopping for boats with the "Made in Australia" badge. And not only because you can fit a deck chair on the boarding platform and cast a line.
Highs
Outdoors, a living area with amenities centre and a barby to die for. Indoors, a weekender with an open-plan layout and terrific accommodation.
Standard of finish with European fittings and exemplary mouldings is impressive and the inventory is huge. You get value for money and the way the boat responds to the wheel, it's soooo driver-friendly.
Lows
Needs a bathroom extractor fan, don't like the self-tapers on the dash, apparently a dedicated wiring loom and new transom-door catch are in the latest models.
Entirely subjectively, we'd prefer chrome-rimmed ceilings lights below.
Sunrunner 3400
Price as tested: $319,000 for Deluxe model with 5.7EFI MerCruisers, genset, air-conditioning, Miele barbecue, etc.
Options fitted
Teak decks, foredeck sunpads on Deluxe model
Priced from $289,000 for Standard model with 5.7EFI MerCruisers
General
Material: GRP Fibreglass and foam-cored decks
Type: Moderate vee planing hull
Length (overall): 11.33m
Beam: 3.55m
Draft: 0.81m (leg down)
Deadrise: 171/4
Weight: 5900kg (dry)
Capacities
Berths: Four plus two
Fuel: 715lt
Water: 300lt
Engine
Make/Model: Twin MerCruisers 5.7EFI
Type: Vee-eight petrol engine w/electronic injection
Rated hp: 260hp each
Displacement: 5.7lt
Weight: 446.8kg inc drive
Gearboxes (Make/ratio): Bravo II, 2.2:1
Props: Standard issue
Supplied by Marine Group Sales at Shop, 61 Birkenhead Point Marina, Drummoyne, New South Wales, Australia, tel (02) 9819 6615 or fax (02) 9819 6613.
Keep up to date with news from Trade-A-boat or like us on Facebook!