Sunrunner 3700 SE
---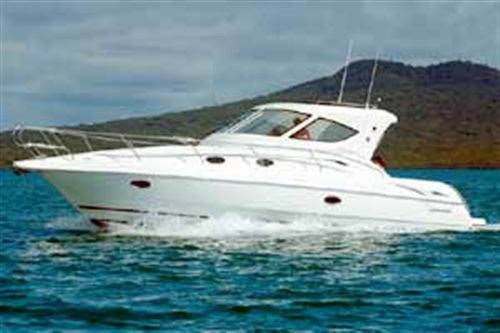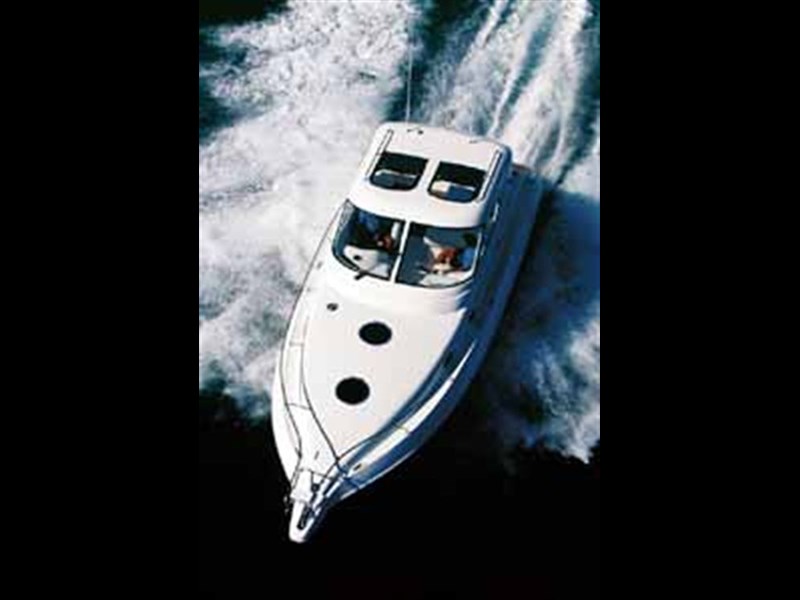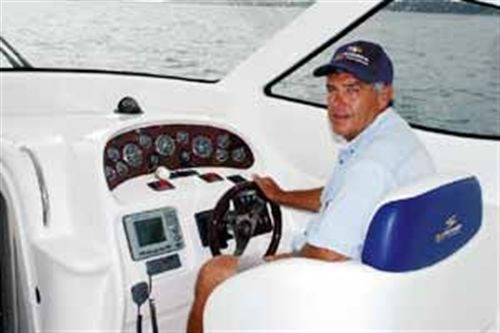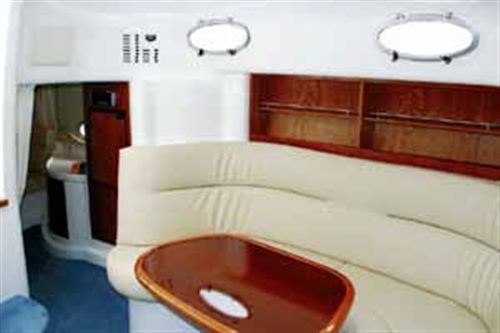 The sports cruiser market is the fastest growing segment in Australia and it's not hard to see why with boats like the new Sunrunner 3700 SE, writes Steve Raea.
The Sunrunner brand of Australianbuilt sports cruiser has taken the Aussie market by surprise, muscling in alongside established yards like Riviera and Mustang Cruisers for a share of the growing sports cruiser market. Having won Boat of the Show at the 2002 Sanctuary Cove Boat Show with the Sunrunner 3400 and a Certificate of Merit for its new 3700, Sunrunner has stamped its mark on the sport cruiser market. Domestic and export sales are growing and with it, the company's investment in research and design. That investment has paid dividends with the release of the Sunrunner 3700, which is pitched squarely at buyers looking for performance, volume and comfort in a package that can be neatly parked in a 12-metre berth.

The 3700 is delivered in a variety of configurations and power options and marketed under the banner of "deluxe" or "classic", depending on the level of fit out and creature comforts. New Zealand importer, Taylor Marine Ltd, negotiated the Sunrunner dealership at last year's Sydney International Boat Show and has so far imported two demonstrator models, the Sunrunner 3300 and the larger Sunrunner 3700. The primary difference between the two models, other than their physical dimensions, is the change from stern legs to shaft drive, something owners will appreciate for the reduced labour and maintenance costs and improved reliability.

The 3700 is also the first model to be completely built out of GRP and composites. Gone is the timber used in the construction of earlier models, and with that the plywood stiffeners common to a large range of production sports cruisers. The hull is solid GRP to the waterline with foam-cored topsides and deck and carries a full five-year structural hull warranty.

The 3700 was designed from the ground up and incorporates a range of new and quite unique features, both in terms of its build and level of appointment. And just as importantly, the new 3700 performs like a true sports cruiser with top of the line 315hp six-cylinder Yanmar turbo-charged diesels giving excellent hole shot performance and a genuine 32 knots at wide open throttle. Moreover, the hull has been designed to weather coastal conditions and has performed very well in the short southerly chop common to Auckland's Hauraki Gulf.

 The Sunrunner 3700 rises out of the water with a very level trim and holds a flat and low plane without the need to constantly wrestle with trim tabs. This makes the boat imminently more suitable for longer off-coast passages to say Great Barrier Island or the Bay of Islands. And while the 3700 is fitted with Bennett trim tabs, these shouldn't be necessary in anything other than a good solid blow.

The 3700 demonstrator in Auckland features a solid "sports top". This is the name given to the enclosed overhead superstructure. This features a large wraparound Taylor-Made windscreen and twin sliding overhead deck hatches, providing full weather protection for the helm station and aft cockpit lounges. In sunny Queensland, the open targa is the model of choice. Importer, Darryl Hayter, reasoned that Kiwi boaties enjoy their winter boating too much and would therefore be more likely to warm to the added protection of full overhead protection.

But the Sunrunner 3700 SE is all about the great outdoors with a large and open cockpit that can be configured to provide a spacious aft lounge or an unencumbered platform for bottom fishing or trolling. The 3700 is all about style and crisp, almost understated elegance. This becomes obvious the moment you step on to the full width teak-lined boarding platform with its recessed fender baskets and large aft lazerette on telescopic davits. This is large enough to store spare fenders, ropes, small outboard and your rods when venturing ashore. And once more it's lockable. Moulded into the starboard side deck is the chrome freshwater cockpit shower. Solid stainless steel fittings abound like the double handrails that follow the deck contour like a glove. Step through the starboard gate into the cockpit and start living.

The Sunrunner 3700 is available in various cockpit options. These range from a three-seater aft lounge to starboard with a two-seater bench seat to port as demonstrated to a full wrap-around six-seater settee and table with an amenities centre to port featuring large ice box, hot-rock electric barbecue and a circular stainless steel sink unit. Darryl Hayter chose the simpler layout, surmising that Kiwi buyers would prefer the enhanced fishing ability of an open and clutter-free layout. Hayter says he is currently working with designers to develop an after market rocket launcher to further enhance the Sunrunner's fishing prowess.

Move forward to the helm station and you could not fail to be impressed. While it might have fewer gauges and knobs than other sports cruisers in its class, it has several features that make it decidedly user-friendly. First and foremost is the helm seat. This can be hinged back allowing the driver to stand at the wheel, enjoying excellent all-round visibility when navigating congested waterways. Alternatively, fold the seat down, adjust the timber wheel and settle in for a fast cruise to your favourite island destination.

 The helmstation, depending on specification, features a walnut burr finish and is equipped with analogue engine instruments, a Si-Tex colour plotter/sounder and Raytheon VHF. The demonstrator was fitted with mechanical Morse controls but future Yanmar-powered Sunrunners' will eventually feature electronic shift controls. The boat is fitted standard with a powerful driver's side wiper. Opposite to port is the sliding cabin door that recesses neatly behind the helm station giving open and easy access to the saloon, galley and accommodations.

Below deck you will find a genuine weekend cruiser with the level of comforts and refinements expected of a market-leading brand. Sunrunner have used largely European imported fittings that extend to Italian door handles, Corian counter tops, softtouch liners and leather lounges. The joinery is polished cherry and the list of options is impressive with air-conditioning, entertainment units and additional galley appliances. Generous headroom and high, flared topsides, give the boat a lot of internal volume and this is used to good effect up forward in the master cabin. This features an offset island-style double berth with overhead circular deck hatches and oval topside portholes ensuring good ventilation and natural light. The master cabin is separated from the saloon by a solid door. This does not clip back when open but provides greater privacy that the standard curtain. The main saloon is set amidships to port and features a wrap around lounge with a solid table that drops down to form a third double berth if required.

Opposite is a small but perfectly formed galley providing the cook with a gas oven and hob, hot and cold running water and ample refrigeration and storage. Like many sports cruisers, cooking at sea will be a challenge with little to hold on to, but with a 30-knot potential, galley duties will be best left till the anchor is down and set. Owners could be forgiven for spending too much time in the shower/head compartment located to starboard at the foot of the companionway stairs. The bathroom is large, offers full headroom and features a handheld shower, Italian-made fittings, stainless steel sink and tapware. The second double berth is positioned athwartships under the cockpit and is accessed through a private companionway behind the main saloon.

While there is not a lot of sitting headroom in bed, there is good ventilation and light with strategically placed hatches. More importantly, Sunrunner realise guests like to have places to put their personal belongings by way of cupboards and drawers. Attention to detail is obvious in terms of furnishings and soft liners that butt up neatly against internal joinery and fittings. Better again, the 3700 is no quasi overnighter. With an 820-litre fuel and 300-litre freshwater capacity, the Sunrunner presents serious "self-contained" holiday options without the need to make port every second day to refuel.

 As said, the most notable feature of the 3700 to my mind is the way the hull lifts onto the plane without pointing its bow to the stars. There is no need to trim the bow down and pin it to the horizon using tabs. They are there, of course, but more for convenience than safety. The 315hp turbocharged Yanmar diesels are more than a match for the boat's 7000kg dry weight frame, delivering crisp performance throughout the rev range with an economical fast cruise of 25 knots at around 3100 rpm. Lean on the throttles and the turbo-charging takes over, propelling the 3700 to a true 30 knots in the wink of an eye. And this was with full diesel and water tanks. Overseas testing has put the top speed closer to 36 knots. Cast an eye out the back and you'll see a trailer-boat friendly wake, which is a real plus on busy holiday weekends. The boat feels very solid punching into a small, steep chop, and corners well, holding its line without any notable want to cavitate. There are however, to my mind, too many turns lock to lock given the boat's sporting heritage and performance edge of the big Yanmar's. This is something Sunrunner is looking at.

All in all the Sunrunner 3700 is a capable weekend cruiser with an emphasis on on-the-water performance. Its high topsides and noticeable flare are well suited to New Zealand coastal conditions and its level of creature comforts and sensible tankage will endear it to the more adventurous. And being nimble - twin screw - and nippy, prospective owners need not fear the inevitable run back into the marina.
Keep up to date with news from Trade-A-boat or like us on Facebook!