Surtees 6.7 Sportfisher
---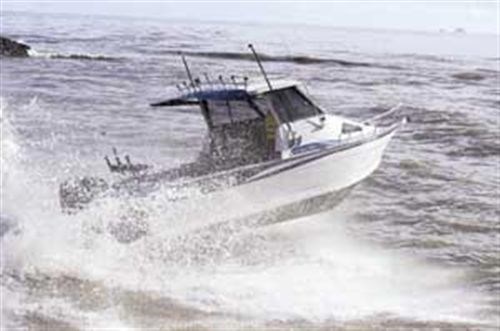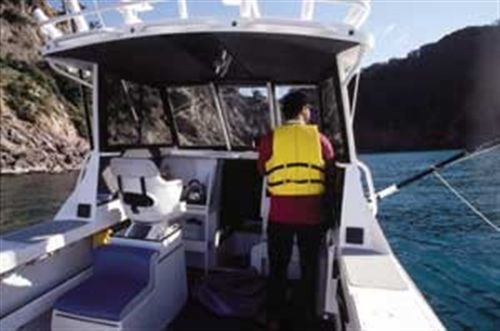 Winning awards is becoming something of a habit for Bay of Plenty boat builder Neil Surtees and his team who, for the second year running, walked off with an embarrassing amount of the silverware at the recent Hutchwilco New Zealand Boat Show Awards in Auckland.
Awards are nothing new to Neil and wife Jan who last year won the Best Aluminium Fishing Boat Under Six Metres Award with the Surtees 5.5m WorkMate. This year the couple went one better, taking out the coveted Boat of the Show Award with the Surtees 6.7m SportFisher Hardtop. Their success was further cemented with a second win in the Aluminum Fishing Boat Under Six Metres category, again with the Surtees 5.5m WorkMate. It was little surprise, therefore, that 40-year-old Neil could manage little more than a simple "awesome" as he collected the supreme award from Auckland Mayor John Banks at the awards dinner.
Neil is the first to admit that he's better at doin' than talkin'. And he's doin' just fine.
The Surtees brand has fast become synonymous with innovative, quality-built aluminium trailer boats that, foot for foot, rival and surpass many established brands that have had to do little more than stamp their name on their product to ensure success in what is arguably this country's most competitive new-boat market.
One could describe Neil Surtees as a sort of down-under Gyro Gearloose - the Disney character who toiled away with old sprockets and chains, turning out inventions that helped set the world on new and wonderful paths. A boilermaker by trade, Neil Surtees is one of those guys who takes things apart just to see how they work. Then, with bits spread out on his shed floor, he rebuilds, adding and subtracting parts as he sees fit culminating in an improved all-be-it unorthodox design that performs its function better, faster and cheaper than the original.
Neil's introduction to boat building dates back 15 years when, as a young petrol head with nothing better to do, he picked up a welder and built the first of several jet boats for his own use. It wasn't long before his work captured the interest of local divers and fishermen who beat a path to his factory floor wanting a piece of the action. Neil's hobby quickly took on a life of its own and the hard work started.
In many ways it is Neil's ability to think outside the square and visualise ideas and designs that has set the Surtees brand apart and resulted in exponential growth year-on-year that has seen the company reach dizzy heights with 200 units expected to leave the factory floor this year.
That growth has come at a price with 15 full-time staff on the books and constant investment in plant and equipment that now includes a computerised plasma cutter. The company's latest acquisition is a large new assembly shed on their rural property.
The Surtees now produce 10 models based on three hull designs ranging in size from 5.5m to 6.7m. The company's WorkMate design, available as a 5.5m, 6.1m or 6.7, has and continues to be the company's bread and butter model. The WorkMate, as the name suggests, is a working boat optimised for no frills fishing or diving operations. The company's BarCrusher and SportFisher models are more sports orientated with a fixed hard top and numerous build options that extend to a galley, enclosed head and lockable cuddy cabin making them suitable for both overnight and weekend excursions. Both the WorkMate and BarCrusher models are exported to Australia in big numbers and marketed under the single BarCrusher label.
The test boat, the 6.7 SportFisher Hardtop, is built using the same construction techniques used on all Surtees models with a 5mm aluminium plate hull, 4mm sides and 4mm checker plate floor. The hull is strengthened with six full-length stringers running the length of the hull from the transom to the bow. Welded gussets are placed every 400mm after which the checker-plate floor is welded into the hull in three sections giving exceptional torsional strength.
The design incorporates several features that set it apart from similar-sized alloy boats, namely Surtees "quickflow" water ballast system and "waveslicer" hull form that does away with planing strakes - something Neil believes only serves to aerate water passing under the hull, thereby causing unnecessary cavitation.
Neil is reluctant to give too much technical data away about his hull design, suffice to say it is a relatively deep V hull with a fine entry and a progressive deadrise rising to 18 degrees at the stern.
A spray rail has been added to the chine, running from the bow to amidships to deflect spray downwards and away. Much has been written about Surtees water ballast system. Simply put, it is a free-flowing tank welded into the hull above the V in the stern. The tank follows the centreline and runs the full length of the hull. Stop the boat and the tank floods with 350 litres of seawater - about 350kg of ballast. The extra weight down low greatly improves stability when the boat is stationary and takes care of the violent roll that can sometimes accompany deep V hull designs.
Put power on and the tank empties of its own accord in about five seconds. The ballast tank on the test boat was fitted with a gate that can be closed by pulling on a piece of 6mm braid. This allows the boat to be permanently ballasted, giving a softer ride in steep seas by increasing weight and reducing freeboard. Seldom would ballast be called for but it is an option that has and continues to be used on many commercial craft. The net effect is to transform what is a relatively deep V hull into a steady and stable platform for fishing or resting at anchor. Twin sealed chambers have been welded each side of the ballast tank for buoyancy with a 200-litre under floor fuel tank completing the below deck profile.
The 6.7 SportFisher is a good-looking boat from any angle with its gently angled toughened-glass windscreen and relatively low profile hardtop. Several features leap out as being different; none more so than Neil's forward hatch that when compared to the norm could be described as something of a barn door.
Rather than trying to squeeze through a standard-sized hatch to deal with the anchor, Neil has gone for big and it works. Add Neil's clever placement of an electric capstan on the cabin side, operated from inside the cuddy, and anchoring is a breeze.
The test boat was fitted with a full cabin bulkhead and sliding door and optioned with a mini galley set against the bulkhead to port. The standard option does not include the bulkhead/sliding door arrangement, instead giving unrestricted access to the cabin.
The cabin itself is not large, but has good sitting headroom with an option for an electric toilet located between the squabs in the bow. An optional infill squab is also available to create a double berth for the more adventurous. The cabin is fully lined and nicely upholstered with parcel shelves fitted on both sides. The helm station and cockpit are well laid out and roomy and showcase many of Neil's innovative ideas.
The 6.7 SportFisher has a portofino stern with a full-length transom with a walk through cut away to port under which Neil has housed the live bait tank. The transom and side decks are very wide, providing generous and clever storage options. The battery shelf is fitted under the transom and is enclosed with an upholstered hinged panel that, when open, forms a basic bench seat.
Two utility lockers have been built into the side decks for bait or tackle and the full-length cockpit storage racks take care of rods, fenders and the like. Various seating arrangements are available. The test boat was fitted with a foldaway bench seat on the driver's side and a king/queen combination seat on the passenger side set atop a large plastic storage bin base.
Sitting, however, is not something that comes naturally in a hard top and the 6.7 is no different. The hard top is well engineered with a welded rocket launcher and handrails well placed allround. The test boat was fitted with sliding side windows and a cockpit sun shade that fits into the aft end of the hard top. Again, the hard top is guttered with run off draining out through the handholds - another example of Neil's clever design.
At 785kg, recommended power for the 6.7 ranges between 150 and 200 horsepower. Being the sort of guy that he is, Neil opted for a new HPDI200hp Yamaha two-stroke for our outing on the Whakatane bar. The outboard had acres of grunt that Neil was not afraid to use despite a lumpy and confused swell rolling out of the north after a good hard blow the previous day. The bar, while not breaking, was full of holes but these presented little obstacle as Neil crossed back and forth while I snapped away from the rocks.
Back onboard and across the bar, it was full-noise across a lumpy sea to the Raurimu Islands for a quick fish. The 6.7 turned in an impressive performance, tracking like a train on rails as we leapt our way seawards charging along at about 37 knots with a little more than 5000 rpm on the tacho. It was soon clear that the boat was predictable in every sense of the word, landing with a comforting stern-first attitude when driven hard over the swells. The fine-entry bow and spray rails took care of any wayward spray and a dry windscreen at the end of the day speaks for itself. Surtees Boats have long had a reputation for being particularly soft-riding boats and the 6.7 SportFisher continues that tradition.
On many occasions I found myself gritting my teeth waiting for a bone-jarring crash as we pushed through the tops of swells only to land with a soft swoosh that appeared by all accounts to defy the basic principles of gravity. This is a safe boat by anyone's reckoning and well capable of blue-water excursions.
The overriding impression of the 6.7 SportFisher is one of quality. Everywhere you look on the boat there is evidence of a thought process that began at the design stage. From wiring looms secreted away to Neil's patented out-rigger mounts, everything about the boat yells attention to detail. And it is that attention that wins awards and, in the case of the Surtees 6.7 SportFisher, deservedly so.
Specifications
Designer/builder: Surtees Boats
LOA: 6.7 metres
Beam: 2.350mm
Freeboard: 730mm
Deadrise: 18 degrees
Ballast: 350 litres
Rec HP: 150 - 200
Weight: 785 kg (dry)
Base Price: (150 hp Yamaha) $53,000, (200 hp Yamaha) $56,000
Price as Tested: $87,000
Boat supplied by: Surtees Boats, 2909 SH 30, RD2 Whakatane, Tel: (07) 322-8461, E-mail: boats@surtees.co.nz, www.surtees.co.nz
Keep up to date with news from Trade-A-boat or like us on Facebook!