Surtees 6.7m Weekender
---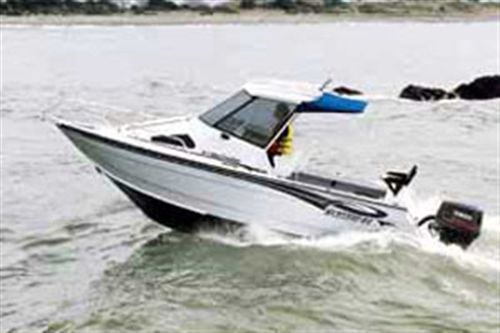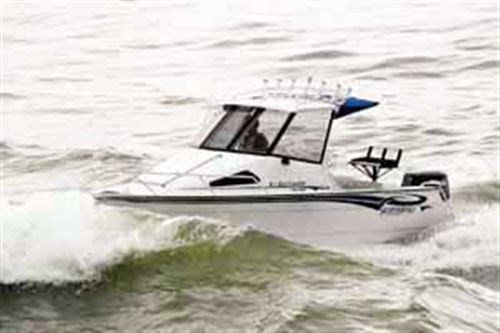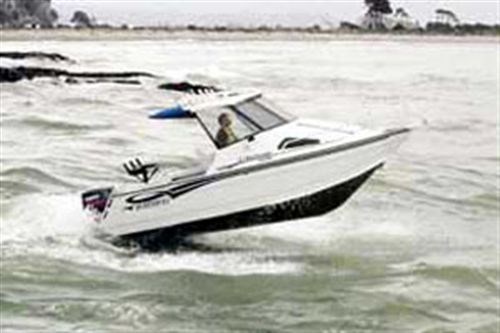 Central North Island boatbuilder, Surtees Boats, has added a little luxury to its top-line hardtop to cater for owners who want to cruise away for a quiet weekend. Lindsay Wright stepped aboard to check it out.
I'd always thought that anyone who called a boat model "Barcrusher", was being a bit cocky - having seen many more boats crushed by bars than vice versa.

But, after a tour through the Surtees factory - a collection of sheds and hangars set amidst farmland and pine forests near Kawerau - it becomes obvious that there's a bit more behind the name than just bravado.

For a start, each Surtees has a 5mm thick marine grade alloy hull, six fully welded stringers, integral buoyancy and water ballast tanks and alloy treadplate deck which is also fully welded. These boats are built strong - and come with a six-year hull warranty to prove it.

"All our boats are built to Maritime New Zealand survey standard," says general manager Paul Wills. "One of our 5.5m Workmates was rolled on the bar at Port Waikato a few months ago. It rolled backwards and forth in the surf for two days before it was winched ashore. The insurance company brought it back to the factory - and all we did was put a new top on it. The hull was OK. Two boats from other manufacturers were rolled the same day and both were written off."

Other Surtees are in commercial use as fish and charter boats and several are owned by the Royal New Zealand Navy social club for members use.

The Surtees tradition of rugged construction began 15 years ago when Kawerau boilermaker, Neil Surtees, began building his own aluminium jetboats to thrash around the wild, white water of the central North island rivers and waterways.

When he switched to fishing, Surtees put a bit of thought into what worked best out on the waves and came up with a foolproof way of adding ballast where it's most needed to maintain stability while fishing. People were soon seeking him out to build them boats and the business grew from being a one-shed operation to seven sheds and 25 employees producing close to 200 boats a year. Neil sold down his shareholding in the company in February this year, but his ethos of producing strong, affordable Kiwi boats continues, says Wills.

Each of the Surtees models, from 5.5m Workmate to 6.7m Weekender, has a fully welded water ballast tank in its bilges which fills up with water when the boat is at rest and dumps out in seconds once it gets underway.

Surtee's new 6.7m Weekender takes on just over 350kg of water ballast at rest, through an aperture at the tip of the 18 degree vee transom. Seconds after the Weekender comes to a stop, there's a satisfying slop as the ballast tank tops up and the boat noticeably steadies in the water.

"See," says Surtees sales manager, Phill Noblett, with the air of a magician who's just pulled a rabbit from his top hat, "no more rocking and rolling."

"Because of the water ballast, the boats don't need a shallow vee hull form to keep them steady at rest - we can give them a deeper vee for better sea keeping in the rough." The ballast tank is vented through the anchor locker forward.

An optional flap over the ballast intake port in the transom enables skippers to keep the ballast on board if they need it. "Waveboarders love it - it kicks up a bigger wake." Marlborough Sounds boaters have also taken to the Surtees range. "We've sold heaps down there," says Noblett, "because they don't get knocked around by the williwaws and wind gusts. It helps to have the weight aboard if you get caught out by the weather too."

It takes about five seconds for the tank to drain once the boat gets underway.

Personally, I noticed the difference when putting the 6.7 Weekender against the Manawahe wharf in Lake Rotoma. Despite her windage, the boat handles like a displacement vessel in close quarters situations, controllable and predictable.

The Weekender was born after several owners of 6.1m Barcrusher models contacted the company to say they wanted the same boat again but with a bit more size and some home comforts. "People were coming up to me at the boat show and asking for a bigger boat - one they could go away in," says Noblett. "That's where we do most of our research - at the boat shows."

The result, the 900kg, 6.7m Weekender, sits solidly on the standard dual axle Voyager Elite trailer along the winding road from the Surtees factory to Lake Rotoma.

The boat carries her 2.35m beam well forward of the stylish hardtop and has noticeable shoulders under the water. "It's designed so most of the water ballast is located forward," explains Noblett, "to balance the weight of people and motor at the stern - it sits level at rest." A 200-litre, pressure-tested fuel tank is welded into the hull along the centreline, underfloor, flanked by void buoyancy spaces.

The Weekender floats off the trailer on the level, the generous 730mm freeboard and wide gunwale ensuring a safe feel in the cockpit and offering a comfortable perch, on rubber non skid, for anyone dangling a line overboard.

Access is via the wide treadplate boarding platform and over the live bait tank set into the transom stepthrough, into a cockpit that is all business.

"It's meant to be half fishing boat, half caravan….this is the fishing boat part," Noblett says. A small live bait bin is set into the boarding platform and an underfloor bin can be flooded for fish stowage or used to carry two dive bottles.

Washdown water is hosed straight into the sump right aft where it is dispatched overboard by a Rule 2000 electric pump.

A wooden topped alloy module at the stern is cleverly designed as a bait board/tackle box and line dispenser. Fillet fish on the board, or select the right hook from the draws behind the watertight door below it, or pull out whichever weight monofilament you need from the reels snugly stowed beneath.

Four rod holders are set into the gunwale and three rocket launchers are mounted behind the tackle box to hold rods while changing gear. Another six rods can be loaded into the cabin top rocket launchers to put the most hooks where they count while in trolling mode.

The word "clever" crops up often, while looking around the Weekender. There's the two person bench seat, which doubles as a battery cover, against the transom and a portable seat (or optional rod holder), which clips onto the stowage shelf that runs around the cockpit.

Both house battery and starting power for the 225 horsepower E Spec four-stroke Honda outboard, are secured in individual boxes with their own switches and crossover connection. Surtees recommends 140-200 horsepower for the Weekender, but Noblett says, "we wondered what it would do with the extra horses back there."

The sole Racor fuel filter is easily accessible under the starboard gunwale but, given their propensity for unsightly and rapid rusting, it would be good to see some sort of cover around it.

Later model Weekenders will have a Califont gas water heater mounted in a cabinet on the port side behind the hardtop, and a gas bottle in a vented locker right aft to port, Noblett says.

Meanwhile, on the test boat, a single burner gas stove is removed from a drawer below the driver's seat and installed on a shelf fitted to the hardtop door.

It's just a short step from fishing mode to feet up relaxation, on board the Weekender. The cabin area is lined with dark grey marine carpet. Built of 3mm alloy plate for weight, with 4mm tinted and strengthened glass windows to allow good all round visibility, the cabin has almost two metres of headroom and an aura of airy space and comfort. The wide shelf above the dashboard has plenty of space for extra electronics.

An Engel three-way fridge is handily installed under the skipper's seat to starboard and on the other side there is an inbuilt alloy, 70-litre fresh water tank, topped by a deep alloy sink and serviced by electric pump. A comfy passenger seat clips to the sink and racks to hold crockery line the sides.

The comfy drivers seat and two-metre foam mattresses in the forepeak accommodation are all covered in the same colourful upholstery, installed in shed at the Surtees factory.

There are about 22 different options available to Surtees buyers so there's no such thing as a standard boat. There's plenty of room for my 1.86m frame to stretch out on the vee berth and the area can be curtained off when people need to use the toilet located beneath it.

The Weekenders big alloy hatch can be dogged watertight or opened to allow access to the electric windlass for weighing anchor, or anchor bin forward for deploying it.

With the door closed behind us, the Honda tachometer steady on 4000rpm and speedo wavering around 35mph (30.4kt/56.4kph) we chatted normally and the boat tracked steadily for extended periods without touching the Hydrive hydraulic steering wheel. This is where the big Surtees is most comfortable, there's minimal water noise, the Honda burbles gently in the background and Noblett says fuel consumption is about 15 litres per hour. The boat topped out at 47mph (41kts/75.7kph) at 5000rpm.

The Surtees hull, which has no spray strakes underneath, is quiet and steady in the water and the chine bar fires sheets of spray well away from the hull. One wiper is supplied for the driver but there is provision for others in the windscreen.

The Weekender tackled tight turns at high speed without fuss and never looked like breaking out or getting up to any other scary antics.

Thousands of boat show visitors voted the big Surtees into the Peoples' Choice winner at this year's Auckland Boat Show - I'd cast my vote in with them.

For $90,000, as tested, owners get a strong and stylish, long-legged cruising boat with enough amenities aboard for comfortable overnighting for two... and the ability to catch their dinner thrown in. There's another canny Surtees idea that comes into play on the launching ramp. A custom-made eye clips under a hook welded to the boat's stem to hold the boat on the trailer but, by moving a counterweight, it can be made to release the boat in a single, hands-free operation - or allow drive-on recovery in about 30 seconds.

The perfect end to a weekend on the water.

Surtees 6.7 Weekender ($90,000 as tested)
LOA: 6.7m
Beam: 2.35m
Hull
Bottom: 5mm
Sides: 4mm
Top: 3mm
Freeboard: 730mm
Deadrise: 18 degrees
Recommended HP: 140-200
Weight (without trailer): 900kg
Fuel: 200 litres
Fresh water: 70 litres
Water ballast: 350 litres
Ballast drain time (approx): 5 secs
Keep up to date with news from Trade-A-boat or like us on Facebook!