Trailcraft 6.4m Sportscab Hardtop
---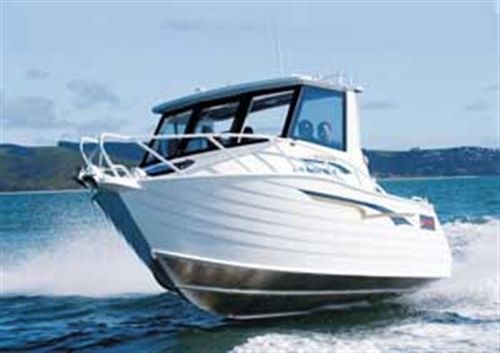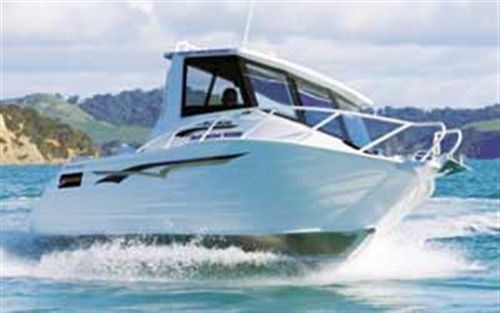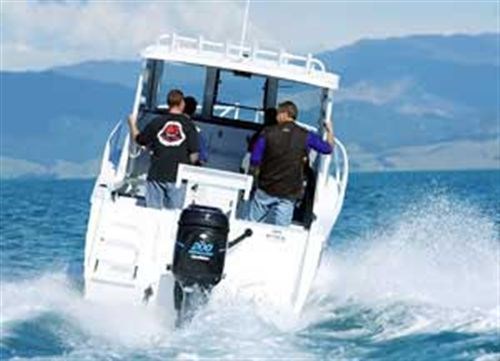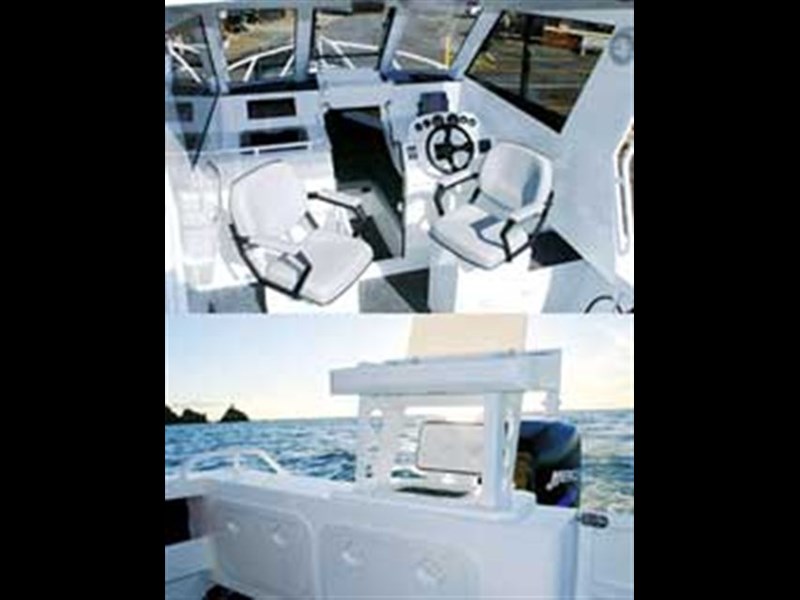 Australian aluminium boat manufacturer Trailcraft Boats chose New Zealand to release its new flagship hardtop model, the Trailcraft 6.4m Sportscab Hardtop. And, as Steve Raea reports, it is a fair dinkum contender in the 7m "tinnie" market.
Born on the rugged west coast of Australia, it seems almost incongruous that the first Trailcraft Sportscab Hardtop off the production line should find its way across the Tasman for testing and evaluation in New Zealand. But that is how things have worked out with South Auckland Marine taking delivery of the first 6.4m Sportscab Hardtop out of Trailcraft's Perth factory. A further three have been built to date for the Australian market and with each new boat has come minor modifications and improvements as dealer feedback filters back to the factory.
South Auckland Marine manager Gary (Gazza) Richmond and owner Rob Potter began importing the Trailcraft brand in June and displayed the first two boats at the Hutchwilco New Zealand Boat Show. It followed a call from Trailcraft owner Brett Martin looking to expand his dealer network into New Zealand. It was a big call by Martin and for that matter South Auckland Marine, too, which purchased its first boats "off the brochure".
New Zealand is well served by aluminium boat manufacturers - many who would argue that they produce world-class vessels. Moreover, Kiwi boaties have harboured niggling doubts about the build quality and integrity of Australian "tinnies", citing light construction and inferior build quality.
But, as Richmond discovered after visiting the Trailcraft factory on the outskirts of Perth, there are redeeming qualities associated with the Trailcraft brand and not least the size of the operation. Trailcraft is Australia's fastest growing manufacturer of aluminium boats with an extensive range of 30-plus models from its entry-level 4.3m dinghy to its flagship 6.4m Sportscab Hardtop. The company is now building 1000 units a year and has more than 100 full-time staff. Once more, Trailcraft manufactures commercial and stern-drive boats marketed under the Mercury Bermuda brand.
In fact, Trailcraft's is something of an Aussie success story, increasing its market share at a phenomenal rate and threatening the dominance of far more established brands. This growth has been attributed to the drive and energy of Brett Martin, a thirty-something human dynamo who launched an aggressive expansion plan after purchasing the business from his father several years ago.
While a relative unknown in New Zealand, Trailcraft has been building boats in Australia for 20 years and has collected its share of accolades along the way.
To the casual observer, an endearing feature of the new 6.4 Sportscab Hardtop is its strength. This is no Cinderella. It has a solid 5mm hull, 4mm pressed plate topsides and a 3mm fully welded plate cockpit sole. Fully fuelled, the boat weighs in at around 2250kg on trailer. This puts it in a same league as locally produced hardtops of similar size. The Australians, however, do some things differently and one of these is the way they measure their boats. The 6.4 is actually 7.3 metres overall, excluding outboard. It is a particularly beamy boat at 2.58m and has what might be described as an oversize hardtop that extends well aft into the cockpit. And with 7ft-plus of headroom, it must rank as one of the highest hardtops on the market. To look at, the Trailcraft might be described as boxy. It has an unusually flat three-panel windscreen and square sides, but this gives the boat an overwhelming sense of space and volume under the hardtop. The hull itself is not unattractive, with a raised sheer and slightly turned down and tapered chine rail. It has a moderate entry forward, but a very shallow deadrise aft at just 14 degrees. This makes for a stable ride at trolling speeds and at anchor - as we would later discover. The hull carries a large single full-length planning strake each side and a particularly solid keel bar with three full-length welds. The boarding platform is described in the brochure as "oversize" and this is not overstated. It is huge, extending 25 inches from the transom and is manufactured from chequer plate. This is, to my mind, a bonus and will be enthusiastically endorsed by the diving fraternity. It also lends itself to a twin outboard installation, which, says Richmond, is available as an option. The portofino stern is fitted with a walk-through door on the port side and is equipped with a solid fold-down boarding ladder. Full transom handrails have been welded each side for easy entry. The transom is particularly wide across the top combing giving ample room beneath for the battery boxes and oil reservoir.
The Trailcraft bait board is welded to the transom and has several unique features, including a hinged lid and bait storage bin built in below. Its permanence won't suit everyone and will make game fishing and skiing a challenge, but there are less permanent options available. But for the bottom-fisher it works well and it is certainly solid. There are no quibbles with the cockpit, which proved a real delight for the four anglers that "blooded" the boat on its maiden voyage off the eastern end of Auckland's Waiheke Island.
It is, by design, an anglers' cockpit with wide low side decks that beg you to take a load off between baits. The topside height is such that it is possible to lean over and rinse the squid from your hands without any fear of being tipped over by an awkward swell. The wide beam and flat stern section makes the boat extremely stable at anchor with similar attributes as a pontoon-type design. Anglers can move about without giving any thought to stability. Likewise, the boat will carry a considerable amount of diving and fishing gear without any undue compromise of performance. The cockpit layout is simple with half-size storage lockers built in on each side of the cockpit with a central underfloor fish bin fitted with a hinged lid and a gas strut to keep it open when required. Safety-wise, Trailcraft prides itself on its cockpits, which are completely sealed and self-draining through twin transom scuppers. It is a credible design feature for several reasons. It allows for an airtight chamber between the outer hull skin and the raised cockpit sole, which provides positive buoyancy should the boat be capsized or flooded. The scuppers also mean the boat is not reliant on electric bilge pumps. The cockpit sole is fitted with synthetic carpet glued down to the floor that, by its very nature, is perhaps not the most practical solution if the boat is going to be used primarily for fishing. It's nice underfoot but the chequerplate option will make the boat a lot easier to hose out and keep clean.
The hull is constructed using conventional methods with full-length stringers at 200mm intervals. The transverse bulkheads are also at 200mm centres and welded 10mm off the hull. This, according to Trailcraft, allows the hull to flex thereby increasing the life of the boat. The Sportscab has a pronounced keel bar that is welded through the centre and then fully welded down both sides making the boat suitable for beach launching and retrieval. The helm station is well laid out with a full cabin bulkhead and conventional companionway hatch amidships. The hatch itself is something of an engineering marvel with a bi-fold aluminium hatch top that folds back like a piano top and is held in place by a gas strut. The main cabin door hinges back and is secured by a bungy cord on the passenger seat plinth. When closed, the companionway is completely sealed, which, again, is a worthy safety feature. The cabin entrance is narrow by some standards and is not altogether easy to navigate, requiring passengers to step down into the cabin and stoop to avoid banging their heads on the hatch top. But once inside there is ample sitting headroom and sleeping accommodation for two with generous 7ft Vee-berths.
The boat carries a portable loo set between the berths and an optional infill squab can be added to create a generous double berth. The cabin is nicely lined and upholstered and fitted with an overhead hatch. There is plenty of storage in under each of the berths with twin parcel shelves for smaller personal items. The helm station and dash is constructed from plate aluminium brake-pressed in a series of bends to provide a squarish but practical helm facia for larger flush mounted navionics.
The analogue engine management gauges are set in a rounded dash for easy visibility. The windscreen is assembled with three safety glass panes separated by two large pillars. While these only slightly restrict visibility, the hardtop pillars in each corner are noticeable. The centre pane is in two pieces with the top section opening out to provide great through-flow ventilation for those hot summer months. The Sportscab has large side windows, too. The port side window is fixed, but the driver side window slides open on aluminium runners. These provide great all-round visibility but are subject to glare. Seating arrangements vary according to intended use, but the test boat was fitted with single seats on aluminium bases.
The base design is one of the best I have seen with the seats hinging forward to give access to two reasonable size lockers beneath, The aft face of the bases also have hinged plastic hatches for additional storage. The seats themselves are plastic with armrests and are mounted on swivel bases. Both driver and passenger have been provided with aluminium footrests, but these are angled too steeply forward to be of any real use. This is one area that Richmond says has been improved in subsequent boats.
Trailcraft have some good ideas and one of the more obvious is the location of the two-burner hob, which has been recessed into the dash opposite the passenger. The hob has a Perspex cover that simply hinges back. An aluminium handrail runs around the dash and forms a fiddle for the stove to stop the kettle flying about. Forward of the stove is a small plastic dashboard for cellphones, keys and the like. As mentioned, the hardtop is one of the biggest in its class and has been well designed, with acres of room to mount radio gear overhead without compromising headroom. The ceiling is covered in foam and carpeted over to good effect. But with 7ft plus of headroom, the vertically challenged are going to have a time of it placing and retrieving their rods from the overhead rocket launcher. But, for my money, the Trailcraft hardtop ranks among one of the most user-friendly on a boat of this size, but it would benefit from a centrally-mounted overhead hand rail. As configured, a third passenger is left with nothing but seat backs to hold on to when the going gets rough.
Being Mercury dealers it was only right that the first Sportscab off the rank should be fitted with a Mercury 200hp Optimax outboard - an engine well suited to the boat's weight and overall dimensions. Remembering too that this was a maiden voyage, the boat performed admirably despite requiring a bit more work on the prop pitch to get full revs at Wide Open Throttle. Being so beamy, the Trailcraft lifts easily from displacement to plane but, as you would expect with a boat of this weight, there is no head-jarring holeshot. Too much power and you'll dig a hole. Once up and running it is a simple case of trimming out the engine to get the boat riding flat.
Like all hardtop designs, the Trailcraft is vulnerable to wind and trim tabs are a must. These had been fitted and worked well, settling the boat on an even keel. Speed trials were inappropriate given the prop, but fully fuelled and with four up the boat settled in to a fast 25 knot cruise at 4900rpm. That morning, and in flat water with just two up, the boat recorded 36.9 knots at 5200rpm. The boat was predictable in its handling with no apparent vices, and delivered a very creditable and dry ride with the big chine taking care of the wash. The combination of the large keel and pronounced planing strakes ensured the boat answered the helm when thrown into tight fast turns. The boat's grip on the water was impressive. But this is not the softest riding hull form and it would be fair to say that you certainly know you are at sea in any sort of short chop. But again, this is to be expected with any beamy flat bottom boat.
The Trailcraft 6.4 Sportscab Hardtop is a solidly and well-built boat that will stand up to New Zealand conditions. It has some features unique to the New Zealand market that I suspect will find their way onto locally produced boats over time. It will attract a following among fishers looking for a boat that will venture safely offshore yet provide enough creature comforts to satisfy weekend family boating demands. Its stability at anchor, large hard top and generous overall dimensions must make the Trailcraft a serious contender in the 7m hardtop market.
SPECIFICATIONS
Length overall: 7m
Beam: 2.58m
Transom deadrise: 14 degrees
Hull: 5mm
Topsides: 4mm
Fuel capacity: 350 litres (underfloor)
Recommended HP: 115-250 (outboard)
Trailer: Trailcraft twin axle
Boat and trailer priced from: $51,800
Price as tested: $99,720
Boat supplied by: South Auckland Marine, 1 Walters Rd, Takanini, Auckland, Tel (09) 298-9436, E-mail info@samarine.co.nz
Keep up to date with news from Trade-A-boat or like us on Facebook!