Trophy 2352
---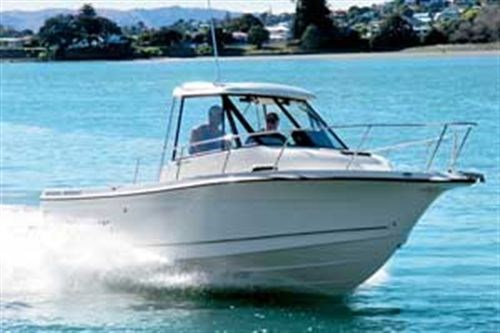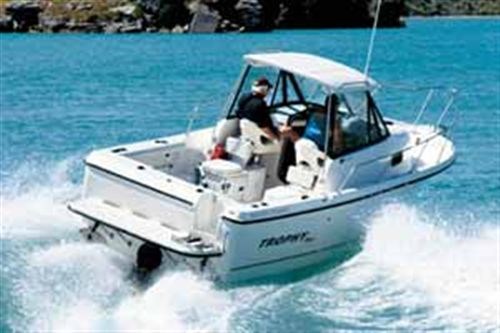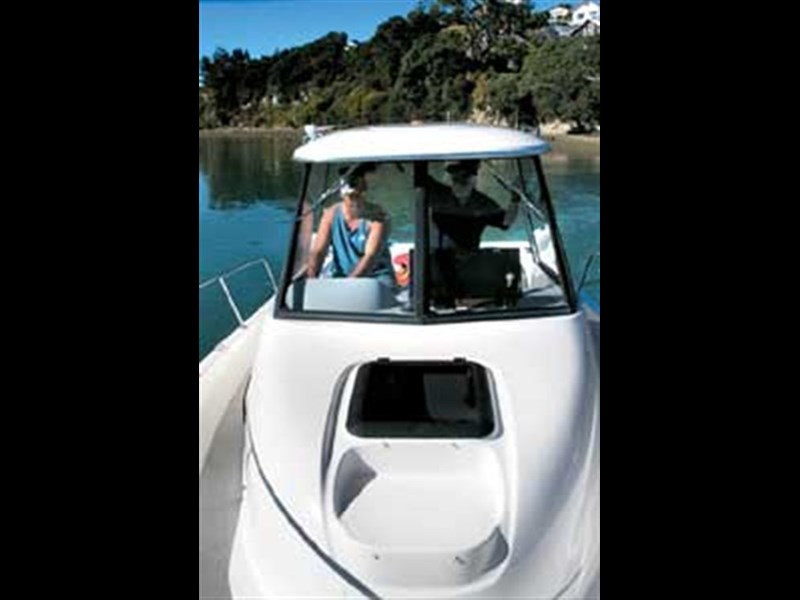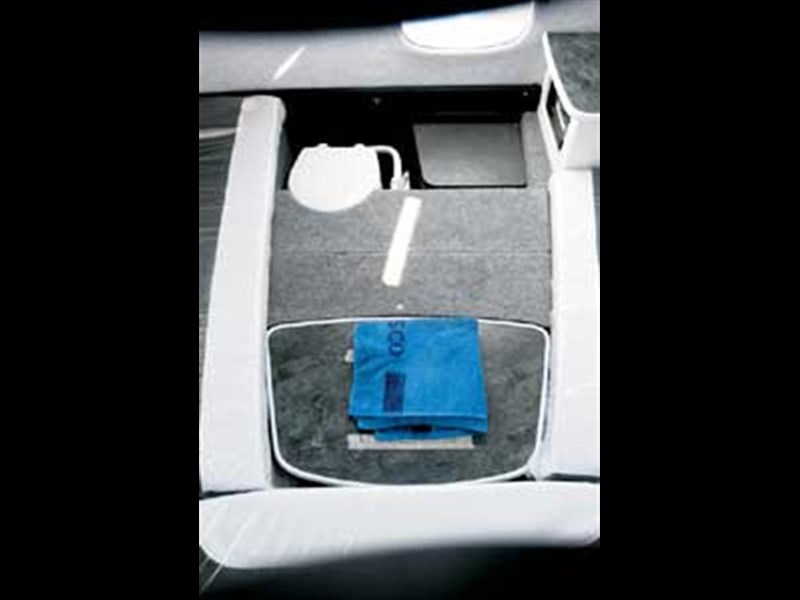 Just when does a boat become a launch? When it's too big to lug around on a trailer, perhaps. Lindsay Wright checks out a dedicated fishing machine that packs enough volume and hardware to qualify as a launch-on-a-trailer.

If you took a few keen fishers, stood them on the water with a fishing rod or two and designed a boat around them, you'd end up with something that was pretty close to a Bayliner Trophy 2352. Almost everything about the boat is there to facilitate the act - some would say art - of fishing.

The 2352's builders turn out about 2000 boats a year from their factory at Cumberland, Maryland, USA and market 14 different models, from 5.18m to 8.8m, to cover just about whatever you want to do in a boat. Hulls are moulded with integral foam cored stringer systems for strength and minimal distortion.

So the 2352, which measures in at 7.2m (23'6") LOA, is aimed squarely at fisherfolk, right from the walkaround layout, which allows more people to get lines into the water, to the inboard engine and stern drive which leaves the transom free for landing the big ones.

Our first look at the boat was sitting outside Fish City's Dinsdale premises in Hamilton. The steep vee of the hull's forefoot suggested that she'd go well into a sea, and the spray rail and good secondary flare on the bow would keep us dry on board. The hull's 20 degree deadrise at the transom and 2.57m beam should make her stable at rest and underway.

The 2.1 tonne Trophy was certainly stable on its Voyager SensaBrake trailer behind the tow vehicle, a Holden Commodore Crewman V8 utility, as we drove the twisting road to Raglan. "They come from the US on their own trailers, but the first thing we do is put them onto Voyagers - the Yank trailers are bunk (wooden slides with carpet on them) trailers and they only have drum brakes - the Voyagers have rollers and discs," Fish City owner, Ross Christensen, explained. All up weight for boat and trailer is 2.5 tonnes.

Launching, on the steep ramp beside Raglan's main wharf, went smoothly and the 260 horsepower Mercruiser 5.0-litre petrol V8 burbled straight into life. All models in the Trophy line come equipped with Mercury power packs and this one gets it's horsepower to the water via a 1.87:1 reduction Alpha One stern drive. There are also 220 and 250 horsepower options available.

After a warm up period, we leaned on the throttle control in the calm water of the harbour and watched the rev counter climb to 5000 with the speedo next to it registering 45mph (72.4kph - 39kts). The 2352 settled into comfortable, and smooth cruising mode at 3600rpm, giving about 30mph (48.3kph - 26kts) of boat speed.

The Raglan Harbour bar has recently been a killer, but it was quite benign as we headed across it and out to the Tasman Sea. It's hard to rattle the 2352; the tightest turns will provoke a little predictable cavitation, but at no stage does the boat feel cranky or unpredictable and directional stability is good. The 2352 surges out of the hole with the authority that only horsepower, a big propeller and weight can give.

An underfloor tank holds 380 litres of fuel and Ross says that the boat used 100 litres during a recent 10-hour day of game fishing.

The walkaround layout is rare in this country but it makes a lot of sense - particularly for a fishing machine. Walking along the side decks feels secure with handrails on the gunwale and hardtop and there's a nifty little seat moulded into the cabin top right at the bow. The non-skid moulded into the deck which the manufacturer calls "aggressive grip pattern", feels good and grippy on bare feet, even when wet. A separate locker to starboard holds the anchor and warp, ready to deploy.

At rest the boat feels stable and isn't affected by people moving around or clambering aboard from a wharf. The 2352 feels like a little launch in rapido mode.

Visibility is good from the wheel and two small opening quarterlight windows, just like your grandpa's car had, are fitted to the hardtop's tinted windscreens to direct cooling airflow over the occupants...there's no roast skipper on this boat.

This attention to comfort continues throughout the 2352. Instead of mounting the two moulded bucket seats on long pedestals, Trophy elected to mould two fibreglass tackle bins to the deck beneath them. Because they're close to the deck, the tackle bins are equipped with watertight lids and afford extra, handy stowage for all sorts of gear.

The seats are mounted on short aluminium pedestals fastened to the locker tops and the skipper's has a handy footrest moulded into the bulkhead in front of it. A fold-down footrest is provided for passengers and the ergonomics comfortably fitted my 1.86m frame. The seats also swivel and slide fore and aft, controlled by a locking mechanism, which falls easily to hand beneath them.

Two more padded seats are fitted behind the hardtop and generous padding is provided around the gunwales to ease the pressure on fishers' thighs. There are six rod holders, with covers, moulded into the gunwales and another two can be fitted forward of the hardtop. Aft mooring cleats are fastened to the hull below the gunwale where they won't foul fishing gear and access is through fairleads in the coaming.

Everywhere you look on the 2352, there's thoughtfully fitted stowage space. Four racks, with ends moulded into the coamings, are fitted in the cockpit to carry fishing rods and a small watertight locker forward of the engine controls is designed for wallets, keys and cellphones. There's a chilly bin fitted under the port cockpit seat which is a bit fiddly to access, and other spacious lockers, lined with marine carpet, inside the hardtop.

Two more seats face aft behind the ones inside the hardtop and a 48-litre live bait tank uses the space below the starboard one. An electric pump keeps the water flowing through the tank and a two-way valve redirects the water flow from the bait tank through a handy washdown hose.

Two 96-litre insulated fish holds nestle under the decks either side of the engine and can either discharge directly overboard or through a macerator pump. Two separate bilge pumps handle any water that gets belowdecks and a marine toilet in the cabin discharges into a holding tank that can be emptied through a macerator pump.

Gas and bilge level alarms are fitted throughout and a blower is fitted to get rid of any nasty vapours. "Petrol fumes aren't really a problem with these modern multi-point injected engines, " says Ross. "The fuel systems are completely sealed - not like the old carburettor engines that needed to be vented." An engine temperature alarm is standard.

All these systems need hefty battery power and Ross lifts a hatch forward of the engine box to show us. "We fit them all with a big, deep-cycle battery for the on board systems and a start battery for the engine," he explains. A battery switch enables the two batteries to be linked together and the installation looks like it could belong to a much larger launch.

And, of course, there's an integrated boarding platform moulded on to the transom for toting the big ones home (or for the kids to jump off when the boat's working in a different mode). The engine cover is also padded and affords comfy seating for passengers or fishers.

Lights are fitted under the gunwale to illuminate the cockpit at night. "Perfect for snapper fishing - when you don't want bright overhead light but need enough to work with," Ross explained.

A stainless steel wheel maneouvres the stern leg through a power assisted rack and pinion steering system, and the large rev counter and speedometer on the dashboard are supplemented by trim, water temperature, oil pressure, amp meter and fuel contents gauges. A bank of 21 circuit breakers allows for easy fault tracking and the dashboard has a fibreglass nacelle moulded above it to allow for the addition of optional electronics. The standard horn blasts loud enough to be heard above most engines.

Being American, there are warning labels everywhere, including a handy one by the trim tab controls, which reminds skippers of the problems that arise from using too much trim.

Step down into the cabin and the Trophy 2352 becomes a little launch again. The marine toilet squats against the bulkhead just off the centreline and padded inserts that convert the vee berth into a double bunk, are tied into a special holder forward. "I've slept three people in one of these," Ross grinned....and we speculate for a bit on who we'd like the other two people to be. An optional cover, from behind the hard top, can be used to close off the area and a 60cm square hatch combines with two opening portholes to provide ventilation and natural light.

In picnic mode, a table, also restrained in a special holder forward, can be rigged and four or five adults sit down to dine, hopefully on fresh fish. A single burner portable alcohol stove is stowed under a sink unit to port.

Fish City has been importing and selling the boats for two years - "I know almost all the owners by first name," says Ross. "The first two 25's we sold in Auckland both caught marlin in their first season."

Taking your own Trophy 2352 out to where the fish are will cost $110,000 as tested. "I've spoken to local boat builders who reckon that imports like the Trophy are great," he continued, "it makes the local manufacturers lift their acts a bit...and shows them what it takes to compete on a world market."



Trophy 2352 Specifications
LOA: 7.14m
Beam: 2.57m
Deadrise at transom: 20 degrees
Weight (base boat with engine): 2122kg
Length (rigged on trailer): 8.56m
Height (on trailer): 3.3m
Max draught: 0.94m




Keep up to date with news from Trade-A-boat or like us on Facebook!