Turbocraft 600
---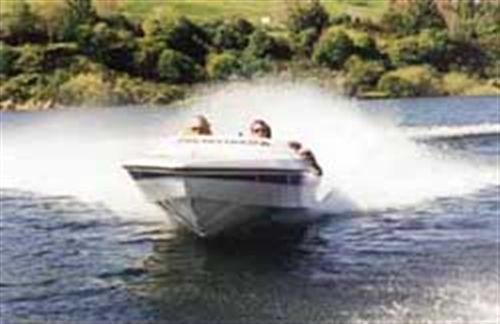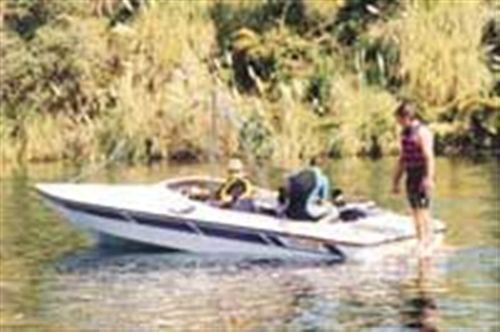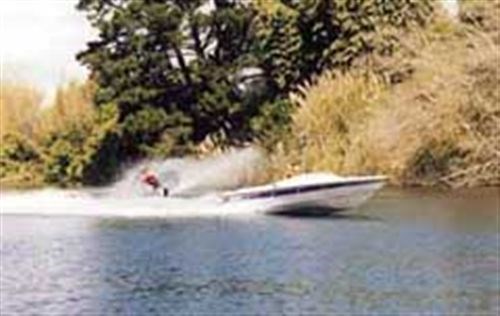 The Turbocraft 600 combines the ample power of a 5.7l V8 with the operational safety of a jet unit to produce a sports package aimed squarely at the recreational water ski and wake board markets. Paul Smith and keen skiers put it through its paces.
Hamilton Jet has forged a global reputation as a builder of riverboats, but they have also produced jet boats designed to operate in harbours and sheltered coastal waters for more than 40 years. The Turbocraft 600 is the new vehicle by which Hamilton Jet will promote the benefits of marine jet propulsion to a sport and recreational water ski market that, historically, has been dominated by conventional propeller driven craft.
The Turbocraft 600 is 6m long, but this does not include the boarding platform on the transom. It has an overall beam of 1.98m and the hull bottom has a constant deadrise of 20 degrees. There is one planing strake each side of the reasonably wide dropped planing plank and the hull bottom is finished with turned down chines.
This first example of the Turbocraft 600 is fitted with a new-generation Chevrolet LS1 5.7l all-alloy V8 engine. A detuned version of this engine is fitted to the Holden Commodore range of vehicles in New Zealand. The marine engine has locally designed and built centre-rise alloy water-cooled exhaust manifolds, a Link Electrosystems engine management system, and a stainless steel, closed-circuit heat exchanger cooling system to prevent internal corrosion of the alloy components.
Standard production versions of the Turbocraft 600 will be fitted with Mercruiser's 300hp multi-point fuel-injected Magnum V8 engine. Despite carrying a weight penalty due to its cast-iron construction, this engine has been extremely well developed and offers excellent performance when coupled to Hamilton's 212 water jet, fitted with a 2.4kW turbo impeller and 110mm-diameter nozzle.
The LS1 Chevrolet will be available as an option at extra cost. The Turbocraft 600's development owes much to the input of Phil Birss at Phil Birss Ltd, Te Rapa, Hamilton Jet's Waikato agent. And what better place to evaluate the boat than in the heartland of New Zealand water skiing and wake boarding - the Waikato River and Lake Karapiro.
The Turbocraft 600 was quickly rigged for a slalom skier. Due to the proximity of large clumps of weed, we elected to deep-water start the skier in clear water. The considerable thrust from the 212 jet with just moderate throttle popped the skier up out of the water effortlessly. While the turbulence from the jet stream is more than the purist would accept, for general skiing fun, the wake did not bother our skier. The ideal skiing speed of 32mph is achieved at a relaxed 3000rpm where the jet absorbs just 86hp, making for an off-load engine and economical family fun. The boat has more than enough grunt to pull several skiers if required and I have seen a similarly powered jet boat pull 13 skiers up at once.
In the time it took our skier to change from a slalom ski to a wake board on the rear platform, the boat crew had dismantled and stowed the ski pylon and rigged the high wake-board pylon. With both aft mounted 64.3-litre (17 gallon) fuel tanks full, the jet nozzle in the up position and about 2200 rpm showing on the tachometer, the Turbocraft 600 put up an excellent wake for board riding.
Not only does the jet instantly and effortless pull the wakeboarder out of the water, the boat driver can safely manoeuvre around a water-bound skier because there is no thrashing propeller. With no underwater appendages to snag or be damaged on contact with the beach, moving in and out of ski lanes is a breeze - no more hassle with trying to control a power trim and tilt, or a helm with 2-3 turns lock to lock!
For those inclined toward high-speed power boating, the Turbocraft 600 shows a reasonable turn of speed with 58mph indicated at 4500 rpm at wide-open throttle. At this engine speed, the jet absorbs 293hp. Since the rig was new, we were reluctant to hold sustained full-throttle operation, but boat speed should improve to well over 60mph and 4800rpm once the engine has freed up to produce 355hp at these revs.
My experience with the Mercruiser engine indicates 4600 rpm on this jet configuration is possible.
At wide-open throttle, the boat handles impeccably. It can be thrown about in a series of opposite-lock turns across wakes/waves without being unduly upset. I could expose no handling vices.
The Hamilton 212 water jet is a strong and well-engineered pump, which gives excellent performance and enormous load-carrying capacity in the low to mid-range. It is smooth and quiet in operation, and maintenance friendly. As a package, the 212 pump and large-capacity V8 combination is very impressive. And why would you fit a CD player to a boat with such a glorious, albeit subdued, exhaust note!
The Turbocraft 600 is moulded in conventional GRP, using polyester resin in a style that fits the generic ski-boat cues. The long foredeck, swept back GRP wind deflector and slightly raised coamings are on several products already in the market. The teak-finished aft deck and cockpit coamings add a touch of class further complemented by quality stainless-steel deck fittings. The coup de grace is the stainless steel and teak boarding platform, which also serves as a jet unit cover and protector.
Since this boat is aimed squarely at the family recreational water-skier and wake-boarder, a large underfloor ski locker is provided between the seats. The stainless-steel ski pylon is situated behind it and is supported by the solid, upholstered engine cover. The high wake-board pylon mount is further forward, also in stainless steel and supported by tensioned-nylon strops secured to stainless deck fittings. Both pylons can be installed, or removed and stowed in lockers within seconds.
The lined and carpeted cockpit offers plenty of space, and passengers are accommodated in twin back-to-back, floor-mounted, bucket seats. As a further concession to conventional ski-boat styling, and something quite unusual in jet boats, the helm is situated on the starboard side of the cockpit. A comprehensive array of instruments is offered, including a tachometer, speedometer, and a cluster including oil pressure, engine coolant temperature, voltmeter and fuel gauge. A hand throttle - placed close to the small-diameter sports wheel - supplements the foot throttle, while the forward/reverse actuator is mounted comfortably to starboard. Controls for the automatic bilge pumps, lights and ignition switch complete the dashboard controls.
The quality of the upholstery, general finish and presentation is high, certainly at the top end of that usually found in jet boats and comparable to most sports boats.
The Turbocraft 600 is not the consummate ski boat for the purist water skier - those can cost up to about $90K new. It is, however, a very competent water ski and wake-boarding sports boat with good looks, ample performance and excellent handling, and is economical to run and maintain. Add to this safety benefits not available in any other propulsion system, a competitive purchase price (packages start at $65,000) and you have a pretty convincing argument for the sports-oriented family-boater to look at this boat. Presented on a galvanised, multi-roller, tandem-braked Voyager trailer, the whole package certainly looked the part behind the Birss XR8 Falcon Superute.
Specifications
Turbocraft 600
Length: 6m, excluding boarding platform
Beam: 1.98m
Deadrise: 20°, constant
Construction: GRP/Polyester, solid timber full-length girders
Rec. Power: Mercruiser 300hp EFI Magnum V8
Jet: Hamilton 212, 2.4kW "Turbo" impeller, 110mm nozzle
Trailer: Voyager multi-roller, tandem, braked
Price: From $65,000 including GST
Boat Builder: CWF Hamilton & Co
Boat supplied by Phil Birss Ltd, 26 Euclid Avenue, Te Rapa, Hamilton.
Phone: (07) 849 4936
Keep up to date with news from Trade-A-boat or like us on Facebook!