Wavecrusher 3100 Flybridge
---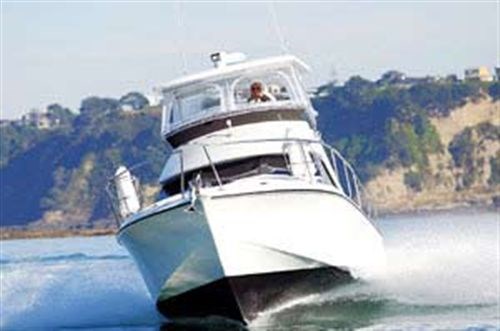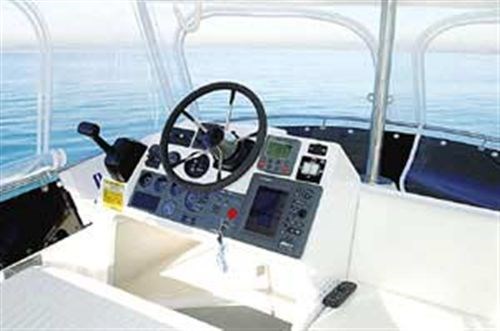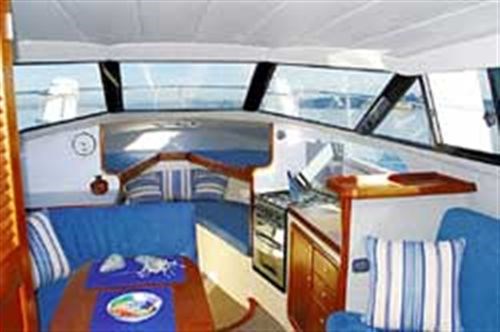 Wavecrusher Boats founder and marine industry icon Ian Waters is putting down his tools and handing over the reigns to his sons who, as Steve Raea reports, have big plans for the brand.
Wavecrusher Boats' principal designer and builder Ian Waters is no stranger to the New Zealand boating scene. For more than 45 years Waters has been building boats of all shapes and sizes and has amassed a build number in excess of 400 boats.
Waters' respect within the marine industry is also nationally recognised, and with no less than seven marine industry awards for his designs, his design prowess is well proven.
Waters' long-standing service to the marine industry has made him an active member of the Boating Industries Association, where he sits on the design committee responsible for setting manufacturing standards for BIA members.
But those 40-odd years of boat building have taken their toll on Waters, and this month he will put down his tools and hand over production of Wavecrusher Boats to his boat-building sons Dean and Venard. Both Dean and Venard are experienced boat builders in their own right, having worked alongside their father for a good number of years. Venard has also held senior positions with Australia's Riviera Group and Mustang Cruiser, where he honed his production boat building skills. But anybody who knows Ian Waters would also know that he won't venture far from the factory floor and will retain the role of consultant designer.
Waters leaves Wavecrusher Boats in good health and in good hands with plans well advanced for an all-new 3700 Wavecrusher flybridge design due to hit the water next year.
The Warkworth factory is also well advanced in its plans to concentrate more on the production element as opposed to the company's traditional custom-built approach to boat building.
The change in emphasis is clearly seen with the release of the latest Wavecrusher 3100 flybridge Dalliance for a Wellington buyer.
The boat is the first to feature a fully moulded GRP internal liner, fixed flybridge top, redesigned interior and enlarged bait station - changes designed to better suit busy professionals in a hurry.
Dean Waters - an RNZAF-trained engineer - says the changes also partly reflect the need to compete with the increasing number of imported sports cruisers entering the New Zealand market.
"We firmly believe that we build a better quality boat, but it is also important to give people what they want. There is a trend these days away from custom-built interiors with traditional timber finishes to moulded interiors with simple, clean lines, giving more volume and greater internal options. That is what we have endeavoured to produce in the new 3100 and we're happy with the results."
And so he should be. The new 3100 has the internal volume of many 36 footers, which is no mean feat given that the 3100 cockpit is big by any measure and loyal to its sports fishing heritage.
There are many subtle changes in Dalliance over its predecessors, particularly in the accommodation plan that now provides two queen size doubles and two generous single berths without compromising the saloon layout.
The flybridge has also been redesigned to allow for an L-shaped three-seater settee to compliment the two-seater helm bench, allowing five passengers to ride up top.
Dalliance is also the first of the 3100s to have a solid flybridge top complete with front and side clears, allowing the whole bridge to be closed in - an essential extra for Wellington and Marlborough Sounds conditions.
What has not changed is the Wavecrusher hull form, which after more than 10-years on the water, has proven to be an easily driven, dry and soft-riding hull requiring minimal horsepower. Although Wavecrusher Boats has traditionally powered its boats with Volvo Penta marine diesels, Dalliance has been fitted with a single six-cylinder 320hp Yanmar, giving a top speed of about 29 knots and a fast cruise of 25 knots.
The Waters' describe the Wavecrusher hull as a deep vee, concave configuration with a very fine entry, thus making the boats dry in short sharp conditions. The hulls are very distinctive to look at with their pronounced flare at the chine, tapering away to meet the waterline two thirds of the way down the hull. Owners describe the hulls as soft riding and extremely stable at anchor, making them ideal for fishing and diving activities. They are also recognised for producing minimal wakes, which make them particularly suitable in environmentally sensitive areas such as the Marlborough Sounds.
The 3100 cockpit is both an anglers and a divers playground with its central bait-station and twin hatch access from the teak-laid dive platform. The bait-station is 33 per cent larger than on previous models and is fully moulded to give an easy clean finish. The station features a reversible bait board with hot and cold water through a single shower mixer. The station is also fitted with a saltwater wash down pump housed inside the unit. The cockpit sole is teak laid and has an optional cockpit freezer set in against the starboard aft bulkhead. The unit doubles as a seat with a teak-laid lid as too is the self-draining gas locker set in on the port side. Utility storage lockers have been built into both sides of the cockpit combings and run the full length of the cockpit, providing secure rod stowage. Cockpit seating is a secondary consideration, but there is a solid teak two-seater bench that folds down against the forward face of the bait station. The flybridge stairs are manufactured from stainless steel with teak steps and located slightly to starboard of the centreline. It is a vertical ascent, but there is a generous landing platform and good grab rails to assist with the climb. Up top there is unrestricted visibility and a seating plan that features a white L-shaped vinyl settee to starboard of the helm station and a similar two-seater helm seat on the port side. The helm station itself is a fully moulded single unit with a large forward facing GRP facia designed to accommodate big-screen instruments such as the Furuno Navnet system installed on Dalliance.
There is generous storage under the helm station for life jackets and other cruising essentials. The flybridge has a full wrap-around spray rail with stainless steel handrails over which the clears dome down, providing a cosy wind-free zone for those frigid winter days.
Wavecrusher Boats has long delivered true turn-key packages, preferring to keep its list of optional extras as short as possible. This means buyers get a boating package that comes equipped with goodies such as remote anchoring, GPS and fishfinder, electric trim tabs, VHF radio, stereo, spotlight, etc.
Dean Waters says that by providing such items, prospective buyers know exactly what their boat is going to cost. It keeps everything transparent and everyone knows where they stand. Waters says Wavecrusher Boats will up-spec boats to meet customers' personal requirements and says there are a number of layout options.
The 3100 interior is a real comfort zone with an internal volume that belies its true dimensions. Dalliance is particularly plush, with deep blue upholstery complimented with rich teak joinery and crisp white vinyl headliner. Immediately to port is the head and shower unit, which has benefited greatly from the moulded internal liner. While not huge, it has all the amenities required including a one-piece moulded vanity unit with single lever faucet that pulls out for showering. Dalliance was also fitted with an electric toilet plumbed through a Lectra/san onboard treatment plant. Immediately forward of the head is an L-shaped settee and teak dining table with unobstructed views through large tinted side windows. The settee seats four comfortably with plenty of room for a fifth foldout chair if required. Opposite to starboard is the second L-shaped settee providing additional seating for four. This settee pulls out to form a large queen size bed that, when made up, does not obstruct movement into or out of the cockpit. The beauty of this arrangement is that, unlike many boats of this size, the dining table does not become part of the accommodation plan. The galley is set along the starboard side between two half bulkheads and features a Granicote-type benchtop with single sink, hot and cold water, four-burner oven and grill and a 130-litre vertical fridge and freezer unit located directly opposite to port. The view from all through the saloon and galley is stunning, with acres of natural light and ventilation through an overhead hatch. The main accommodations are forward in the bow and here, too, the new 3100 has come in for some special attention. Dalliance's owners elected here to go with a four-bunk arrangement - two up and two down. The beauty here is that the lower bunk can be transformed into a queen size double in a flash, with aluminium rods that slot in to support large infill squabs. This effectively means the boat can cater for two couples in relative privacy with the addition of a curtain separating the forward cabin from the main saloon. Alternatively, you could sleep four kids up front and still have the aft double. There is ample storage throughout the cabin and voluminous under-bunk storage up forward. The engine room - accessed via a large gas-assisted hatch in the cockpit sole - provides further storage options for cruising essentials such as outboard motor and inflatable tender.
All-up the new 3100 delivers a lot of bang for your buck. It is beautifully engineered with quality fittings and more than rivals' similarly-priced sports cruisers from large offshore manufacturers. Moreover, the Wavecrusher is built to stand-up to and perform in New Zealand's worst conditions. They've been doing it for years and with 70-odd Wavecrusher designs on the water, you can be confident they've already been there and done that!
Wavecrusher 3100 Flybridge
Designer: Ian Waters
LOA: 31ft 2in (9.5m)
Draft: 2ft or 600mm
BOA: 10ft 3in (3.2m)
BWL: 9ft 2in (2.8m)
Headroom in saloon: 6ft 4in or (1.95m)
Fuel capacity: 400 litres (larger available)
Water capacity: 185 litres (larger available)
Displacement: 5500kg (approx)
Speed
Yanmar 320hp (Mercruiser Drive Bravo 2) - 29 Knots
Volvo 230hp Diesel Duoprop - 26 Knots Max)
Volvo 285hp Diesel Duoprop - 30 Knots (Max)
Price: 3100 Flybridge $254,000 (Standard turn key)
Price as tested $289,000
Wavecrusher Boats, PO Box 724, Warkworth, tel (09) 425-9129, e-mail info@wavecrusher.com Web: www.wavecrusher.com
Keep up to date with news from Trade-A-boat or like us on Facebook!