White Pointer 8m
---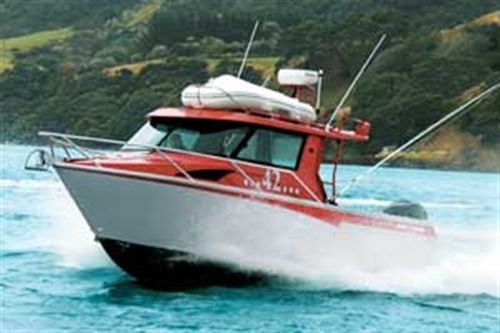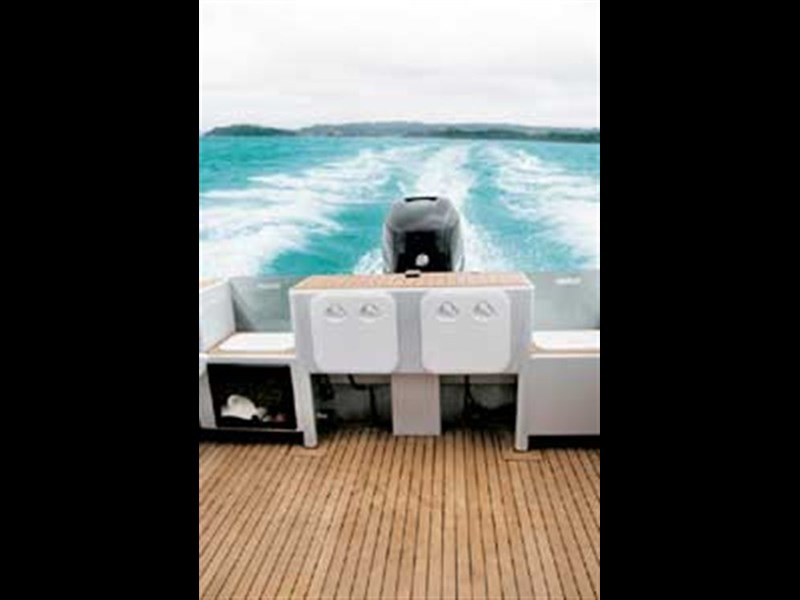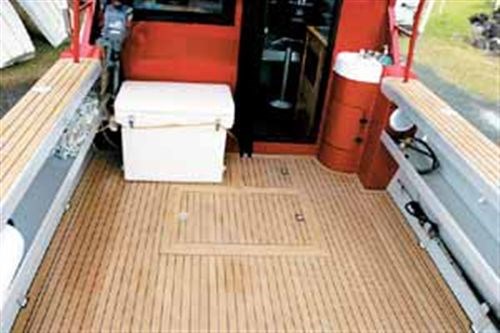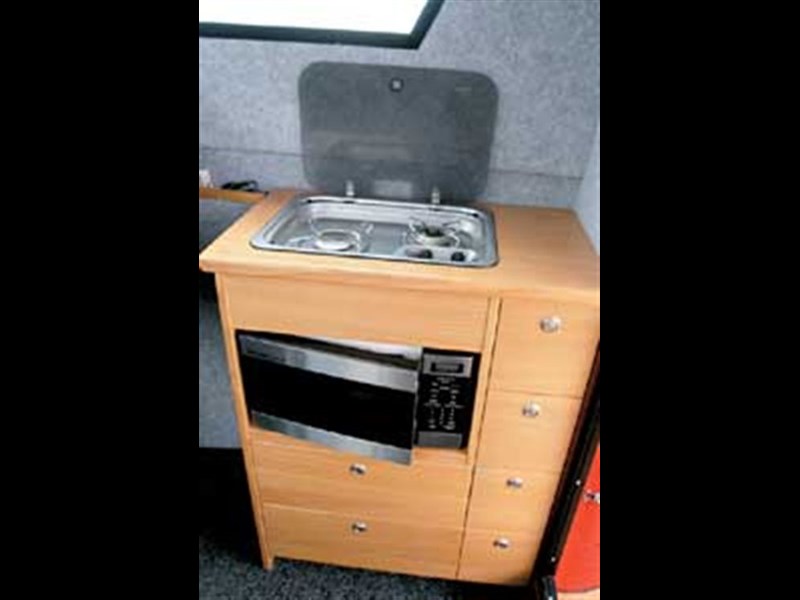 White Pointer boats has a name for eating sea conditions that keep other boats firmly fastened to their trailers. Lindsay Wright went for a ride in the company's latest 8m Custom Cruiser to see if the reality matches the reputation.

The Whangarei locals were shaking their heads. "You've picked the worst day of the year for a boat test," they advised, as grey clouds scudded across the sky.

But it was a great day for testing a White Pointer - in this case the 8m Custom Cruiser.

The White Pointer range of aluminium boats began emerging from the company's Gisborne plant in 1990 - built tough to take teams of fishermen out to the offshore grounds off East Cape and the Mahia Peninsula.

"They were hard-core fishing boats - real offshore weapons," says managing director Rex Briant. More than 400 White Pointers have been launched since.

A few years down the track, the company realised a lot of people wanted the same uncompromising construction standards, but delivered in a softer package for cruising and family fun. "So we introduced the custom cruiser concept two years ago in a Trade-A-Boat article - and it has become our mainstay. But don't let them fool you - they're still fishing weapons in disguise."

The test boat belongs to a Whangarei businessman and its maiden voyage was the 400-mile (741km) offshore passage from Gisborne to its home port.

"I'd owned a launch before this and I wanted a boat that could shoot out anywhere and come back comfortably if it blows up. [It had to have] good performance, but with launch style facilities so that I could comfortably overnight with my wife and two small children," he explained.

"I first saw a White Pointer at the Auckland Boat Show about three years ago ... and it struck me as being a really capable boat. I kept on going back to the same stand every year. I watched the whole cruiser concept develop."

After owning a series of production boats, the White Pointer custom approach also appealed. The company builds standard models: 660, 7.0m, 750, 850 and 8m with hard top variations, but will customise individual boats to their owner's requirements ... so no two vessels are the same.

"The trip home was a real 'Boy's Own' expedition," says the owner. "We left Gisborne with full fuel and fresh water tanks, eight dive bottles and all the gear and food for two guys for 10 days." The 8m Custom Cruiser, named 42 after the solution to all life's problems from the cult classic The Hitchhikers Guide To The Galaxy, fished and dived its way north.

The first night was spent anchored at Lottins Point, north of East Cape and the next day they refuelled at Waihau Bay.

"Whew - we carried 300 litres in 20-litre jerry cans from the garage to the wharf."

Other stops were made in the Whakatane River, White Island, Alderman Islands and Tauranga. "We hauled out and did the 20-hour service there - when the boat was only three days old." Auckland, Kawau Island and Little Barrier Island were all visited before 42 reached home base.

"The worst weather was about 25 knots of wind and a two-and-a-half metre swell on the beam, and the boat just handled it no sweat." Comfortable cruising speed was 25-30 knots with the 275hp four-stroke Mercury Verado pulling 4200rpm and using about 40 litres of fuel per hour.

"We could have done the trip in three days - or 20 hours - but we took 11 days [50 hours running time]. We stopped at every island - fished every likely spot."

Pointer power
White Pointer recommends a maximum of two 200hp outboards on the 8m cruiser and a minimum of one 225hp or a 300hp diesel inboard. The outboard on 42 was the owner's choice, for convenience and portability, and draws its fuel from a separate 400-litre tank module, which is pressure tested to Maritime Safety Authority standards before installation.

In the steep brown chop of Whangarei's outer harbour, the boat cruises easily at 30 knots without the slap and bang that many alloy boats make under way. The hulls are all lined with 25mm of polystyrene foam, covered by 4mm marine plywood and outdoor carpet, which helps keep the noise down, provides thermal insulation and extra buoyancy. The big Mercury barely murmurs in the background, but an annoying high-pitched whine comes from the steering pump, which, the owner explains, is about to be fixed with a "hush kit".

White Pointer hulls have no planing strakes, which also keeps water noise down. The hulls start with an 18-degree vee at the transom, which arrows in to 50 degrees near the bow and contributes to the boat's sea kindly performance. The deep vee and fine entry help with wave breaking while the hull's underwater compound curve adds strength and extra buoyancy for a softer ride.

The hull parts the water in vertical waves, not sheets of spray to be blown back on board and the deck stays dry, helped no doubt by the 900mm freeboard.

Design work is carried out in-house, a lot of it drawing on the experience Briant gained in the process of earning a world jet sprint champion title in one of his own White Pointers.

The custom cruiser has an overall length of 8.2m and a 2.5m beam. Hull plating is 6mm marine grade alloy with 4mm on the topsides and 3mm for the cabin.

The owner, a keen diver, specified two walk-through transom doors with fold-down boarding ladders. One side houses the steering gear and the other has a live bait tank with a transparent front side, which he calls the "Fish TV" ... "it's great to sit back after a dive and watch the crayfish in the tank".

He also opted to install an inverter and microwave oven. Two domestic batteries to power them, plus a start battery, are concealed by watertight doors in the transom. Switches enable them to be paralleled for extra cranking power.

Grip is great on 42's teak decks, a $12,000 extra, and racks are supplied under the gunwale for fishing gear. The hard yakka fishing boat heritage is just beneath the cruiser veneer, though, and a hold space beneath the cockpit holds four dive bottles and fishing gear. It can also be readily turned into a live bait tank. There are eight rod holders set in the gunwale and another six on the stylish aerofoil rocket launcher across the cabin top.

A 2kg gas bottle, which fuels the two-burner stove and califont water heater, is secured under the sink unit to starboard with a fresh water shower above it.

Away from the fishing
The fishing features stay on deck, though. Once you step inside the cabin, it's all cruising boat. The area is lined with grey carpet, and the moulded plastic Marine Tech skipper's seat is mounted on a Softrider pedestal and tastefully covered by Nomac Upholsterers in Gisborne. The kitchen cabinet, table and macrocarpa trim are also made locally by Summerfield Joinery, and help maintain the tone inside the cabin.

Curving tinted glass windscreens, specially imported from the US for White Pointer, and sliding glass side windows keep the main cabin light and airy. The rear window also slides and an opening hatch lets light into the sleeping area.

An 85-litre underfloor tank and electric pump supply fresh water for domestics and the owner opted to use a chilly bin and ice for refrigeration.

A comfy bench, with footrest, is provided for passengers and the dining table telescopes down to make a full-sized berth. Installing an upholstered insert converts the vee berth forward into a double and extra sleeping space is provided by the pipe cot above the starboard bunk.

An electric toilet nestles between the forward bunks and more stowage space is supplied beneath them and under the dinette seats.

Forward of the cabin is a collision bulkhead with watertight opening into the anchor locker, which drains overboard.

This particular White Pointer is a cruiser with an accent on custom - "I basically ordered the works burger," the owner explained, "and added a few more things I wanted on board."

Among these was a free fall anchor windlass (with inside control, so the anchor can be deployed and weighed from the skipper's seat) and trim tab controls that automatically adjust the tabs to suit engine revs and sea conditions or turn off when the boat drops off the plane.

Pushed hard, 42 keeps her act together and doesn't break out or cavitate and the transition from displacement to planing is effortless and quick. With very little noise to go by, it pays to check the GPS readout to keep an eye on speed ... at 6400, revs the three-tonne cruising boat is clocking a comfortable 36 knots across a steep, half-metre slop.

"It gives you a level of confidence - it feels more like a launch, or small ship, sort of feeling," the owner says. "I'd take it anywhere."



SPECIFICATIONS: WHITE POINTER 8m CUSTOM CRUISER
LOA: 8.2m
Beam: 2.5m
Draught: 0.5m
Hull plating: 6mm
Topsides: 4mm
Cabin: 3mm
Horsepower (maximum): 2x 200hp outboards
Horsepower (minimum): 1x 225hp outboard
Inboard: 300hp diesel and stern drive
Fuel: 400 litres
Fresh water: 85 litres
Towing weight: 3 tonnes
Sleeps: 4




Keep up to date with news from Trade-A-boat or like us on Facebook!