X3 Centreboard Yacht
---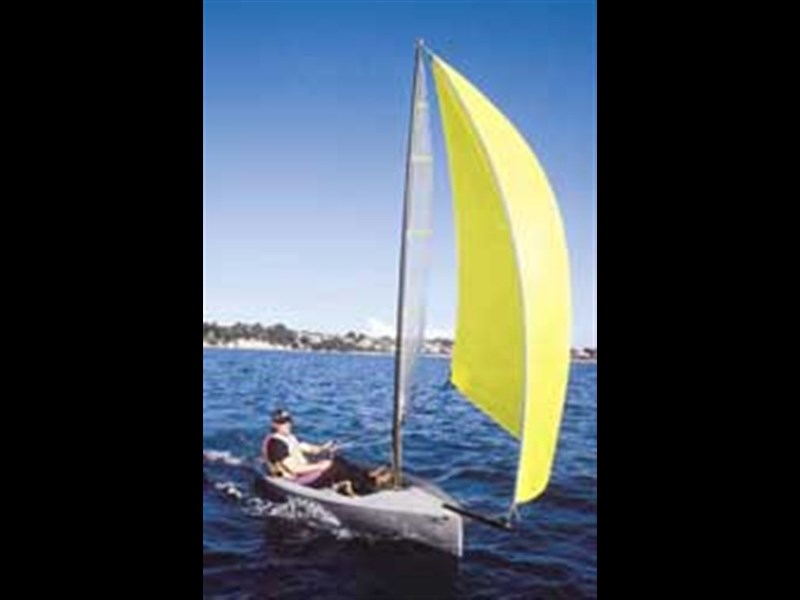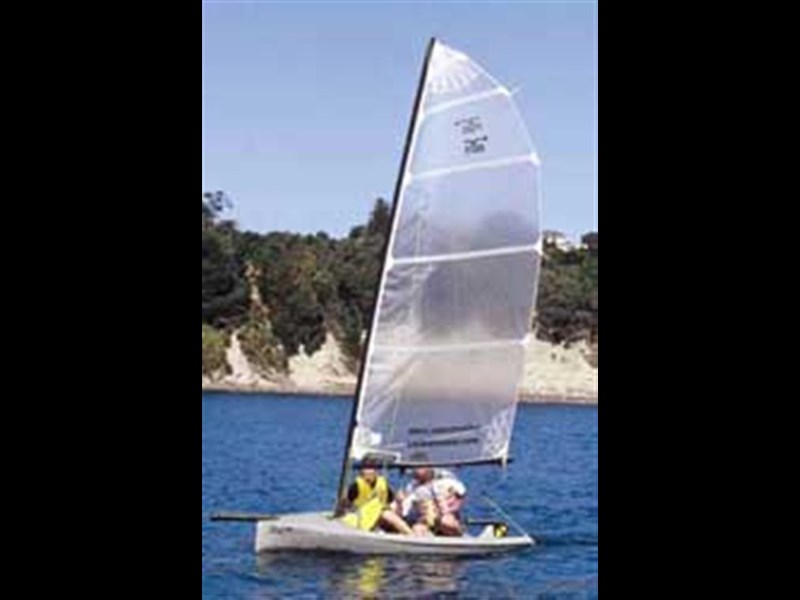 The X3 is pitched as an entry-level sail trainer for young children, a youth boat and an adult's fun boat. Geoff Green asked two knowledgeable sailors to helm this maritime chameleon.
Rhys Nolan of Performance Sailing Equipment in Kerikeri is marketing the Australian-designed and built X3 centreboard yacht in New Zealand. It's a low-cost, hard-wearing yacht, designed to fill two primary roles - beginners' sail trainer and performance youth boat. The ability to deliver across two vastly different applications is provided by two rig sizes, an education-oriented sail plan on a short spar and a performance-oriented rig designed for fun and performance.
The X3 was designed and manufactured by Jim Close in Melbourne. He learned to sail in Sabots at the Royal Brighton Yacht Club, became a sailmaker and competed in many offshore campaigns, including three Whitbread Round the World races. While trying to drum up interest in a Melbourne-backed entry for the 2001-2002 Volvo Ocean Race currently underway, he found Sabot sail training at his old club had declined significantly. Soon afterwards, at a sailing summit, he heard International Sailing Federation CEO Paul Henderson highlighting the need for a durable, yet versatile, centreboard class that could be sailed by two teenagers. The seeds for the X3 were sown, and Close and fellow Whitbread veteran David Allen formed Sail Extreme to produce it. Rhys says the X3 is a modern yacht and part of its attraction as a trainer is its performance-yacht appearance.
"My son wasn't interested in learning to sail and showed no interest in getting into a P-Class, Sabot or Optimist, but he became really enthusiastic when he saw the X3. He liked it because it looked like a 29er or 49er skiff."
Rhys says the motivation to market the X3 in New Zealand came partly from his son's reaction and partly because, with one hull and two rigs, the boat is immensely versatile. The whole family can enjoy it.
"My son is learning to sail it using the small mainsail only, but it is powerful enough to carry a crew weighing 120kg with the big rig. That's two teenagers or an adult-child combination."
The rigs can be purchased separately, allowing a staged investment as the children grow, and the small genaker can be flown from both masts.
"It can be matched with the tall mainsail to create an intermediate fractional rig that allows new crews to get to grips with launching, setting and retrieving an extra without being overpowered in the learning process. It also gives an option to reduce sail area, but maintain performance on windy days."
The X3 is easily and quickly rigged, and although the mast is free standing and the tall rig supports a relatively powerful sail plan, the mast section is quite small.
"The X3 uses purpose-designed fittings where necessary and the mast is a prime example of this," says Rhys. "It's extruded with internal cross webs to provide the stiffness associated with a larger cross-section. An added bonus is that the halyards can't cross, because they run on different sides of the internal strengthening webs."
Shackles are not used to rig the X3, just one of many conscious design decisions introduced at the concept stage.
"Tying the halyards and sheets on teaches the children to tie reliable knots," he says.
Other design decisions include a pivoting centreboard and rudder to minimise damage should a novice or flustered crew run the boat aground. Even the foils' colour was chosen with a purpose in mind.
"They're bright yellow, so the boat is easily seen if it tips upside down." The X3's dish-shaped polyethylene hull is rotationally moulded and a tidy piece of work.
It's fair and is built with 3-4mm inner and outer polyethylene skins either side of a polyethylene foam core. The core and skins are contiguous with no joins in the structure anywhere, not even a hull to deck join, so it's a true monocoque structure. Rhys says the boat can be recycled, although due to its durability and ease of repair, this is not likely to happen for many generations.
While researching this review, I found many people referred to a Laser when trying to quantify the X3. They are entirely different yachts, although for the purposes of referencing the X3 against a known benchmark, it may help. At 3.1m the X3's 55kg hull is 1.13m shorter than a Laser, but only 3kg lighter.
The hull is beamer than a Laser - 1.5m compared to 1.37m - and the 5.8sq m sail area of the big main is 1.26sq m less than a Laser's sail. And the X3 has performance-boosting options in the form of the large and small gennakers (8.2sq m and 4.5sq m respectively) that a Laser does not have.
To gain some understanding of the X3's performance, I asked Trade-A-Boat's Richard Potter to sail it. He has sailed internationally in Lasers and J24s, and had this to say of his light-airs test sail: "It's a little more demanding to sail single-handed than a Laser because with the gennaker there are more ropes to pull and sails to co-ordinate. This also makes it more exciting.
"In the light breeze, it went to windward well and the balance was very good.
"The cockpit is comfortable, there are no sharp edges or angles, and it was large enough to move about in easily. The boat carried my 88kg weight well and was very stable.
Martyn Baker, a sail maker at Halsey Lidgard Sails in Auckland, also sailed the X3 for Trade-A-Boat and confirmed Richard's thoughts.
The X3's sails were originally designed by Jim Close and then made slightly more production friendly by Halsey Lidgard Sails, where they are now produced.
The mainsails for both rigs are constructed from a reinforced monofilm fabric, similar to the material windsurfer sails are made from, but with a scrim running through it to provide superior tear strength. This means if someone falls into the sail while capsizing, it will not explode like a windsurfer sail tends to.
Martyn says the mainsail has several interesting features, including a bag for the tail of the main halyard.
"The bag is near the sail's tack and helps keep the cockpit tidy. If the main needs to be dropped in a hurry, you know exactly where to find the halyard," he says.
To remove the temptation of playing around with batten tensions and stiffness, all the battens are fixed in the pockets and although not impossible to get out, they cannot be changed between races.
The gennakers are built from 0.75oz nylon and are radial cut. Martyn says this provides a very fair and well-balanced sail, which is both fast and easy to trim.
"Both gennakers have two retriever patches on them to eliminate the need for a full-length retrieval chute and this system also collapses the gennaker a lot quicker during a drop."
Martyn says having two rigs makes the X3 viable as a beginner's boat right through to senior level.
"It went really well in a light breeze. The rigs are simple, but efficient, and the helm is light and responsive.
Rhys is marketing the X3 to yacht clubs as a sail trainer and performance youth boat, and says he would like to keep it within the spirit of a one-design class, as far as the various options and crew combinations allow.
"It's all about building up a durable club class that can provide close racing and flexibility in terms of age, weight and crew numbers. And, of course, the boat can double as a fun family beach boat. In a breeze, it could be a blast."
Specifications
Length: 3.1m
Beam: 1.5m
Hull weight: 55kg
Mast height - Education: 4m
Mast height - Fun: 5m
Mainsail - Education: 4sq m
Mainsail - Fun: 5.8sq m
Gennaker - Education: 4.5sq m
Gennaker - Fun: 8.2sq m
Price: A base X3 education package retails for $3990, including GST, and a base fun boat sells for $4660. Gennaker packages, which include the prod, halyard, blocks, sail and sock, sell for $1640 and $2010 respectively.
For more information contact:
Performance Sailing Equipment
PO Box 598 Kerikeri
Phone: 0800 466 969
Email: inoxnz@igrin.co.nz
Keep up to date with news from Trade-A-boat or like us on Facebook!