Eagle 53
---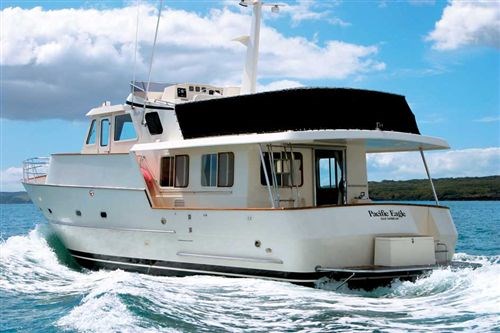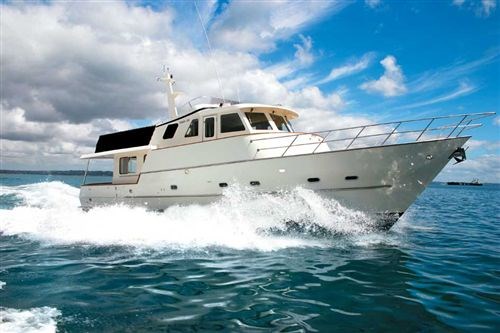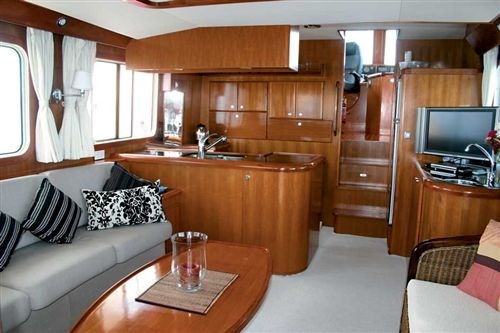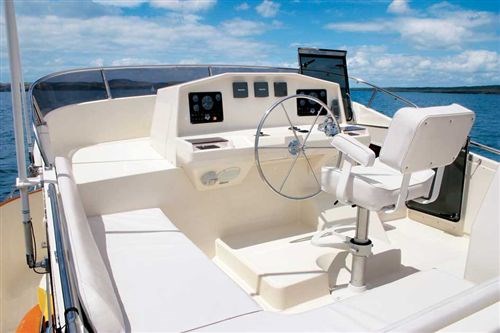 It might seem a little incongruous that a man who spends his working day whizzing around at more than 500mph is content to spend his leisure time pottering around at seven-knots. But slow, says Brian Houghton, a UK pilot now domiciled in Auckland, is the only way to travel at sea. What better then, than a slow boat from China? Steve Raea reports.

Pacific Eagle, an Eagle 53 trawler-style motor yacht, is Brian and Jo-Ann Houghton's home away from home, serving as their base during the New Zealand summer months until the chills of winter force their annual retreat to the warmer climes of Europe.
While the Houghton name might not be well known in New Zealand boating circles, the family's contribution to the local marine industry has been huge. Brian's brother, Barry, commissioned the building of Salperton, a 174-foot Dubois-designed ketch-rigged superyacht built by Auckland's Alloy Yachts.
The yacht was launched in December 2001 after 350,000 man hours and has subsequently been sold and renamed Drumbeat. It remains the largest pleasure craft ever to have come out of New Zealand. It was the Salperton project that first brought Brian and Jo-Ann to New Zealand. Working as an engineering consultant on the project, Brian was effectively the owner's agent overseeing much of the yacht's systems design.
"We purchased a property at Gulf Harbour and bought and sold a number of vessels during the two-year construction period. We spent as much time as we could on the water cruising the Auckland and Northland coasts and developed a love for cruising."
During this time Brian and Jo-Ann seriously considered buying an expedition-type motoryacht and sailing the world's foremost cruising grounds. But plans changed again when brother Barry announced that he was building another superyacht in New Zealand and asked Brian to resume his role overseeing the engineering side of the project.
Salperton II is well under construction at Fitzroy Yachts in New Plymouth and, like her sistership, is from the board of UK naval architect Dubois. The sloop-rigged aluminium yacht will measure 44-metres overall and displace a massive 215-tonnes. It's due to be launched early next year.
Now firmly into his work, Brian spends two days a week on site at Fitzroy Yachts and the rest of the week with Jo-Ann onboard Pacific Eagle at Gulf Harbour. But marina dwelling is not their style, preferring instead to cast off their lines at every opportunity and spend their days cruising.
The couple estimate they've accumulated more than 2000 hours on the water since first arriving in Auckland. That experience helped forge their idea to purchase a serious ocean-going trawler-style motoryacht to provide a home during the Salpterton II project and then embark on their world-cruise after the launch.
The couple initially focused their attention on the proven Nordhavn range of Chinese-built full-displacement trawlers. Nordhavn is arguably the leader in small recreational ocean-going motoryachts and have a price to match. "We looked hard at the Norhavn 57 but baulked at the price."
While holidaying in Palma de Mallorca in mid-2003, Brian and Jo-Ann stumbled upon the Eagle 53, a purposeful and nuggety semi-displacement trawler designed by respected US naval architect Charles Neville.
"We were particularly impressed by the build-quality and the layout which suited us both from a live-aboard and a cruising perspective. The question was how to get one and, moreover, get it to New Zealand."
They contacted Auckland yacht broker Mike Macpherson who had handled the couple's boating requirements since they had first arrived in New Zealand. Macpherson contacted the ship-builders, Transpacific Marine in Ningbo, China, and secured the New Zealand agency for the Eagle range of cruisers.
He then travelled to China to view the company's facilities and to discuss the build of his client's commission. Macpherson says he was impressed by the scale of the operation and the quality control measures in place. While the Eagle hulls are laid up in China, the fittings and finishing materials are all sourced direct from the United States.
"In that sense the Eagle range is a cut above the rest. Everything from the resins and glues are sourced offshore. The teak is the best Burmese available and the stainless steel work is all custom-fabricated in Taiwan."
Constructed of hand-laid fibreglass measuring 32mm at the bilge, the Eagle is anything if not strong. The decks and superstructure are of honeycomb fibreglass construction and finished in ISO-NPG gelcoat for good looks and longevity. The hull is barrier-coated in epoxy to prevent osmosis and the internal network of stringers are all foam-filled and glassed into the boat. The Eagle interior is hand-crafted teak and finished throughout in satin.
Available in single or twin-engine configurations ranging from 220 to 450 horsepower, Pacific Eagle was fitted with top of the line Cummins 450 Platinum series diesels rated at 2600rpm. The engines are coupled to twin-disk gear boxes spinning standard three-blade propellers on two-inch shafts. With a fuelled-up weight approaching 27 tonnes Brian says it was necessary to go for the biggest engine size to ensure Pacific Eagle would attain her 20-knot planing maximum.
The yacht arrived in November 2004 and was commissioned soon after the New Zealand-sourced package of Raymarine electronics and instruments were installed in the boat. Brian and Jo-Ann say Pacific Eagle was a genuine "turn-key" package without much of the stress from teething problems that can quickly sour the new-boat experience.
"The first week we had the boat we headed north to Tutukaka and the Bay of Islands. We found ourselves in some pretty nasty weather with four-metre swells and a confused sea. I was half expecting the boat to creak and groan and for some of the internal joinery to move a bit, but nothing moved at all. It was a great test for the boat and it passed with flying colours."
With a fine entry, deep-vee and low deadrise at the stern, the hull-shape is not conducive to rolling and has proved comfortable at a seven to nine knot cruise in most sea conditions. Regardless, Brian elected to fit hydraulic Wesmar stabilisers which he says have added another dimension to the boat's all-round ride. With the boat out of the water at Westpark's Pearson and Way Boat Builders, Brian also had the chines softened to take some of the slap away from the boat when at anchor.
"It wasn't particularly bad but it was noticeable so we decided to have the work done given that Pacific Eagle was a long term proposition. I also had a long-range diesel tank fitted to increase our range to 2200 miles at seven-knots." While the boat is most economical at seven knots it is still frugal at eight knots, burning 22 litres per hour to give a cruising range of 1700 miles.
With all mechanical systems in place and operational, Brian and Jo-Ann have made the most of summer, spending more time out on the water than they have dock-side. Not, as they say, that being "out there" is any hardship. To the contrary, Pacific Eagle is beautifully appointed with a large saloon with panoramic views, compact but practical galley, two large private cabins and enough nooks and crannies to escape to for time out.
The internal layout is relatively traditional for this type of yacht with the saloon on the aft main deck opening out onto the cockpit through a single stainless steel sliding door. The cockpit is relatively small but extends beyond to the teak and stainless boarding platform through a hinged transom door on the starboard side.
A utility storage box is positioned amidships of the swim platform for the likes of fenders, ropes and buckets. The teak-laid cockpit has two large, under-floor lockers for bulkier items. The aft engine and bow-thruster controls are mounted to starboard of the saloon door while to port is a stainless ladder giving aft access to the bridge deck.
The boat has very generous walk-around decks and bulwarks that impart a sense of strength and safety. The main saloon is richly fitted in teak joinery with a built-in couch to port and free-standing occasional table and wicker settee to starboard. The galley is set to port and faces aft and features smoked glass counter tops, oven and hob and free-standing domestic-style fridge opposite to starboard.
A second sink unit and wet bar has been built in on the starboard side opposite the galley with cupboard storage beneath. The galley is well set up for extended cruising with cupboards galore built into the main bulkhead and supplemented with drawers either side of the twin stainless sinks.
A large screen LCD television and DVD complete the saloon fitout. Moving forward, the wheel house is up two stairs on the starboard side. With three large forward windows, doors to port and starboard and internal access to the bridge deck, and an L-shaped saloon table and squabs set against the main bulkhead, daytime activity gravitates to the wheel house.
The layout is conventional with a single leather helm seat set amidships with the wheel positioned flat against the forward bulkhead. The engine instruments and nav aids are all recessed into the dash with a single large-screen display running SeaPro Lite software. Raymarine electronics including auto pilot, sounder, plotter and compasses have been fitted to the main station with repeaters on the flybridge.
The accommodations are built into the bows and accessed by stairs leading forward from the starboard side of the bridge. A small companionway separates the aft master cabin from the forward guest cabin. The master cabin is spacious and richly finished in teak, with teak and holly floors throughout. With an ensuite shower and toilet, generous lockers and a good size double, Pacific Eagle is well set-up for extended cruising.
The guest cabin has a large island-style double berth built into the bow with similar ensuite. A large hanging locker between the cabins has been designed to accommodate a washer and dryer. Top side windows allow some natural light below but the overall effect of the teak makes the cabins appear quite dark.
Having now lived aboard for more than a year Brian and Jo-Ann say the layout is both practical and comfortable. At 55-feet on deck and 59-feet overall, Pacific Eagle is a big boat and imparts a sense of space, and no more so than on the flybridge. Again, the wheel is set amidships with instruments mounted into a crisp moulded GRP fascia offset with a white lounge squab on the port side. Aft of the helm station is a small tennis court surrounded with black weather cloths fitted to a stainless pulpit providing total privacy for those on the aft deck.
Relaxing back in the wheelhouse, Brian concedes that he is contemplating several changes before pointing the boat offshore. "I think I'll extend the cockpit by one metre to give us more room out there. It's OK here but in Europe we will do far more living outdoors than in. And I'm going to get rid of this helm seat. It's too intrusive. I think a leaner would be much better."
Either way, it is a seat (or leaner) that I would give my eye teeth to accommodate when the Houghton's cast themselves adrift later in the year for a slow cruise to New Caledonia, Fiji and eventually back to Spain where it all began.
Ends

Eagle 53 Semi-displacement trawler

LOA 16.25m
Beam 4.85m
Draught 1.25m
Disp 20,000kg
Engines 2 x Cummins 450hp
Water 900 litres
Diesel 2500 litres (standard)


Keep up to date with news from Trade-A-boat or like us on Facebook!