Hanse 370E
---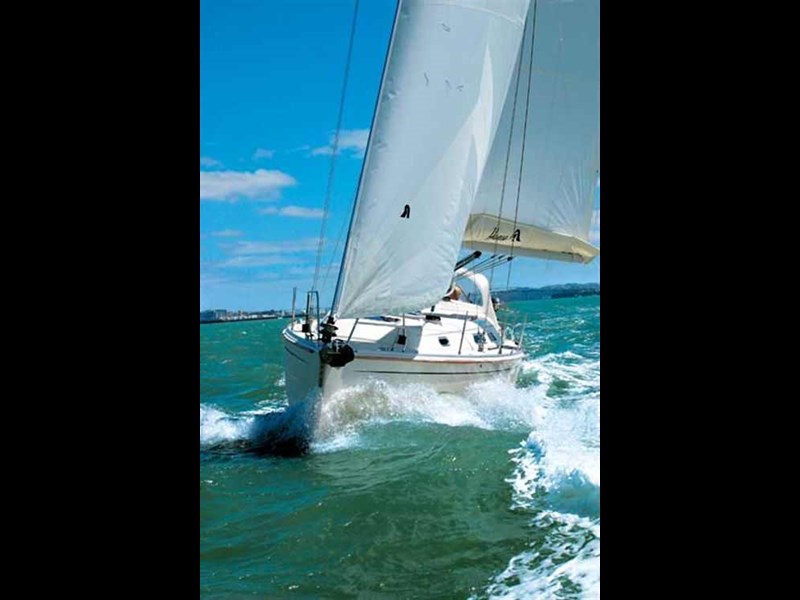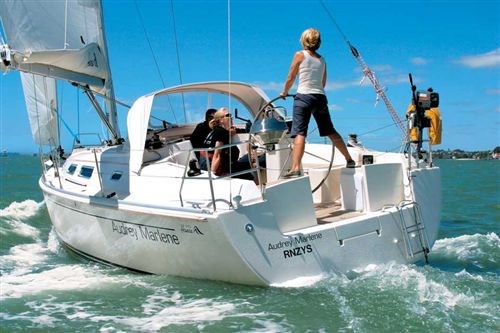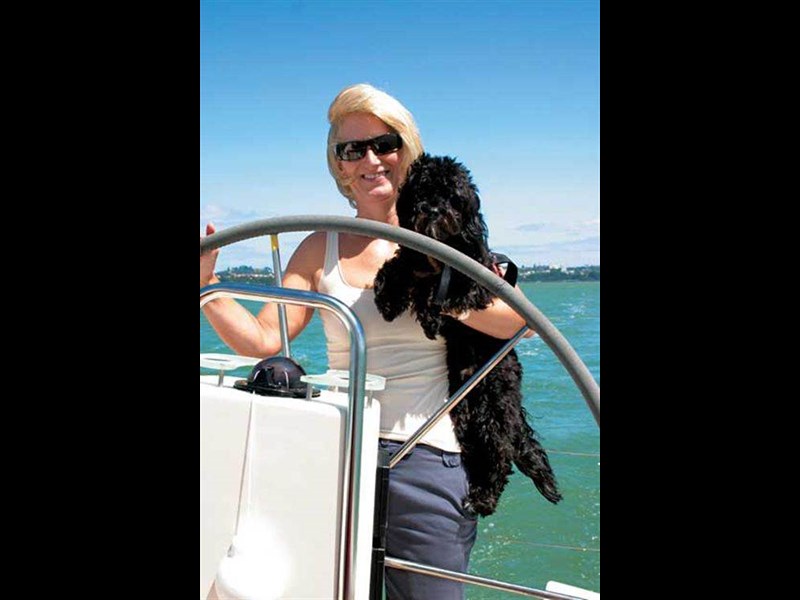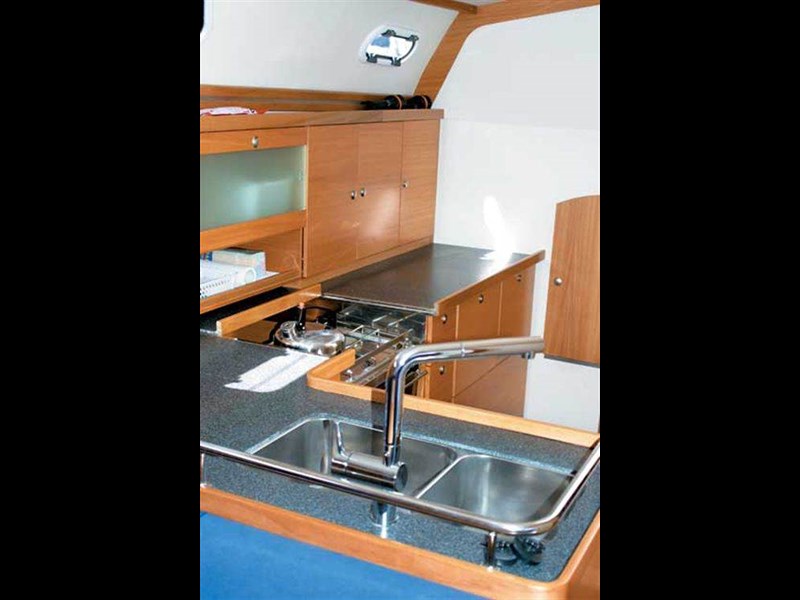 Buying a first boat may be a big step for some, but Sandy Owen took on more than most – buying her first boat with literally no experience of skippering one. Sarah Long reports.

Renowned as a well-priced boat, the new Hanse 370E is also fast gaining a reputation for easy handling. Sandy was the first New Zealand recipient of the model, and launched Audrey Marlene in December last year.

"I'd been reading up on boats for the last ten years, and knew I wanted a brand new production boat as I certainly didn't have the experience to know what I did and didn't want onboard. So I spent a lot of time thinking and reading about the options."

A trip to the Auckland International Boat Show in 2005 sealed Sandy's choice. "I'd never even heard of Hanse, but the boats looked like just what I was searching for. And once Tony (Newmarch – the New Zealand Hanse agent) took me out for a sail, I was sold – there really is no easier boat to sail."

Once the Hanse was launched, Sandy had the tough decision of naming the boat. "It did take me a while to choose a name for the boat as it's so important to get it right. Once I considered my late mother's name I knew that was it – Audrey Marlene. And it suits perfectly."

Sandy's sailing experience, although limited to crewing, does include a trip halfway around the world, so she is by no means a complete newbie. "I sailed from Tenerife to Australia in a friend's boat. The trip was ten months long, heading across the Atlantic, down the Venezuelan coast, through the Panama Canal and then across the Pacific, stopping off on most of the islands." Her quick stop in New Zealand resulted in another life-changing decision.

"I decided to leave England for New Zealand, and once I realized that I was going to go ahead with my boat-buying plans on my own, I signed up on some courses to prepare. I knew I'd be sailing with people who might not have any sailing experience, so if I couldn't do it we'd be stuck."

Sandy completed the Boatmasters course as well as a one-on-one practical course over three days and nights with Gulfwind Sailing Academy. She even completed a Diesel Maintenance course. "I had to learn a bit more than simply how to turn the engine on and off – and the course gave me a practical understanding of how an engine works."

Buying Audrey Marlene on her own did not mean she was entirely alone on her steep learning curve. On the contrary, Sandy has nothing but great things to say about the support that she has been offered. "Ever since I've been in New Zealand I've raced on Champoza – a 50ft Reichel/Pugh design – and a lot of the people on the boat have given me heaps of support and advice. They're like my family away from home!

"I was also lucky to get a berth beside my good friend Garry Hyde who often took me out sailing on his boat White Lightning. Garry and his family have been a huge support and I've gone away with them almost every weekend since I bought Audrey Marlene – the two boats cruising together."

Despite warnings from some people that she was rather "misguided" to opt for a sail boat, launches were never the attraction for Sandy. "I was taken out on a launch because people were convinced that was what I really wanted, and needed. But it wasn't the same, and just confirmed what I thought – I wanted a sailboat.

"Besides, I have the best of both worlds as I have a sailboat which I can sail shorthanded, and I have an engine for times when I want to take it easy."

Simplicity was the key to finding the right boat, and in her own words Sandy is "not a purist. I just want an easy life with an easy-to-sail boat". The Hanse 370E model – along with a few specific options – is perfect for Sandy's needs.

The "E" designates an epoxy hull, which is lighter, potentially decreases long-term maintenance and further improves the stability of the boat. "I chose a bigger Yanmar engine just so I would have the option of using it rather than sailing, and I chose the epoxy hull as it's easier to maintain and less likely to get damaged."

Along with her devoted canine sailing companion, nine-month-old Bertie, Sandy has not held back on her desire to get out on the water, even entertaining visitors from the UK only weeks after Audrey Marlene was launched.

"My first real 'cruise' was with my sister and niece who came out at Christmas. Neither of them had ever been on a boat before, so it was a bit of a steep learning curve as we were away for a week. I had to stay pretty confident and look like I knew what I was doing so I didn't scare them, but the 370 is so easy to sail that we coped perfectly and had a super week going to Waiheke, Mahurangi and Kawau."

With all sheets running back to the cockpit, the yacht is easy to sail single-handed. Automatic pilot and a self-tacking jib add to the simplicity. And with lazy-jacks taking care of the mainsail, the boat is ready to anchor or berth very quickly.

While the Hanse 370's interior offers a fair amount of variety and choice – different cabin layouts, fabrics and colours – Sandy says she wasn't too worried about the selection. "It just had to be functional as they're going to get used – especially by Bertie.

"But as I was going to be travelling with friends a lot I chose to have an extra double berth at the stern of the boat. The saloon settees both become single berths as well."

Sandy also provided some input into the configuration of the galley, after a rather "hot" accident when strapped into one on a different boat. "I had been strapped into a galley to cook for dinner and in turbulent seas the curry spilt everywhere – including all over me. Not the most pleasant of experiences."

The Hanse has excellent light and ventilation with a selection of opening portholes and hatches. Storage is plentiful with huge lockers under the sofas in the salon, as well as in the galley and in the two cabins.

One option Sandy couldn't resist was for colder days. "The most extravagant option I chose was central heating – which I wanted for winter sailing. People here reckon it's a bit of a British thing to do, but with a vent in the two cabins and two in the salon, it keeps the boat toasty warm."

Sandy's puppy Bertie has taken to the Hanse like a duck to water; once he's harnessed on, all he wants is a lap to stretch out and sunbathe on. The only obstacle for him is the stairs to the cabin, though he's happy enough to stay up top and scout the surrounding area. Besides, he can pop his head in through any of the hatches for a reassuring word, if needed.

"I feel really comfortable on the boat, and am pretty confident if something comes up that I can sort it out. It's just so easy – it's much easier to sail than I thought it would be, and it's really responsive.

"But if you'd told me ten years ago that I'd be sailing my own boat in New Zealand every weekend I'd have said that you were mad!"

ENDS

Specifications Hanse 370E

LOA 11.35m
LWL 10.05m
Hull length 11.25m
Beam 3.75m
Draft 1.95m
Displacement approx 6.8 tonnes
Ballast approx 2280kg
Fresh water approx 300 litres
Fuel tank approx 140 litres
Total sail area approx 87.40m2
Berths 8
Engine Yanmar 39hp
Electronics Simrad Autopilot AP25 and Simrad chart plotter CX33
Design Judel/Vrolijk & Co.
Interior HanseYachts GmbH & Co. KG


Keep up to date with news from Trade-A-boat or like us on Facebook!