Riviera 51
---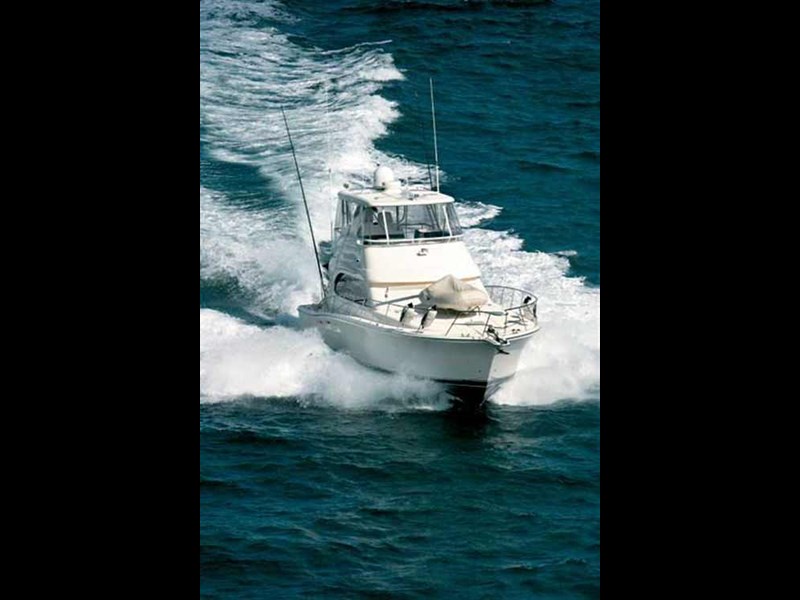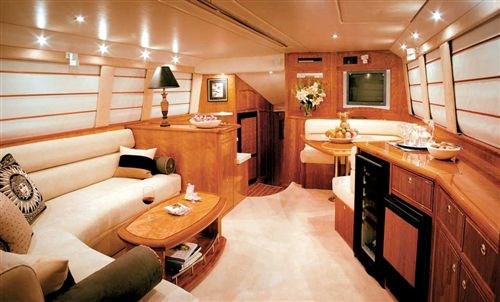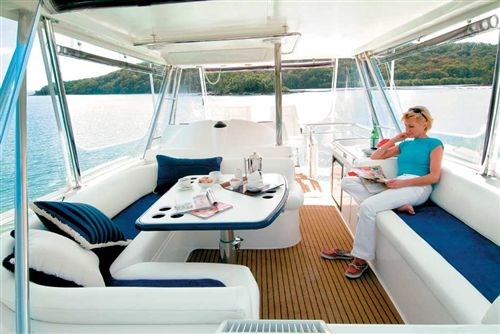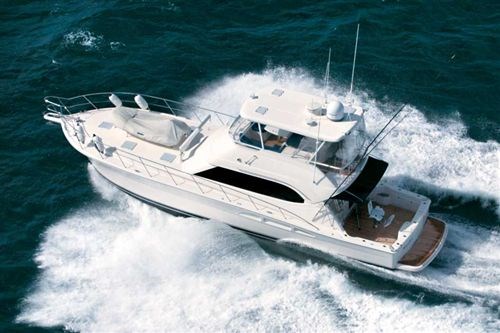 The name Riviera needs no introduction in New Zealand. Synonymous with quality, comfort and performance, Riviera has long been the brand of choice for those who want a vessel that says something about who they are and where they are going.
Stroll Auckland's larger marinas and you will be surprised at the number of new or near new Rivs' lining the piers. Riviera New Zealand MD Bruce McGill says 27 new Riviera's were landed in New Zealand last year and the company is budgeting on a further 21 new vessels arriving this year. These are telling statistics in anyone's book given that new sales to New Zealand predominantly fall in the 48 to 58 foot range, each carrying with it a seven-figure price tag.
McGill says the most popular model in the Riviera range is the Riviera 51 Platinum. Available as an enclosed flybridge or convertible open flybridge cruiser, the release of the model at the Sydney International Boat Show said as much about the company as it did for its latest design. The new 51 was the first model released by Riviera since the much-discussed management buy-out in 2003.
The 51 was a new design from the ground up and further positioned the company as Australia's leading manufacturer of export-quality cruisers. The new model struck an immediate chord with buyers with 15 sales and nine firm expressions over the five-day show; a sales success that refuses to wane. So what makes the Platinum 51 so popular? In a word: Style.
A big boat by any measure, the 51 is more aesthetically pleasing than the Riviera 48 with the extra waterline length bringing the extended flybridge down to size and in better proportion with the sweep of the sheer and topside height. From the aft quarter it is difficult to imagine how a designer could draw a better looking hull.
Designed as a genuine live-aboard cruiser, the boat's real beauty lies in its ability to cater for the myriad of demands that come with extended family cruising; from simple home comforts like a washer/dryer to a domestic style galley, large double cabins and a saloon appointed more like a hotel lobby than a sports cruiser. Available with either inside access (enclosed flybridge) or cockpit access (convertible) to the flybridge, Riviera has effectively put paid to the argument that some flybridge boats can be conceived as being disconnected.
Build
Build quality and engineering have always been a hallmark of Riviera and so it stands to reason that improvements have been made in both domains, particularly to the boat's interior detailing and finish to better reflect the vessel's status and price. While a number of the changes are subtle, like double-moulded locker doors, recessed saloon hand rails, rebated joinery, timber air conditioning vents and the extensive use of gas struts throughout, others are not, like the new cherrywood panelling throughout and the new outward opening transom door with improved seals to protect the cockpit from wash when reversing back on your catch.
Like her forerunners, the 51's hull and decks are constructed from solid hand-laid fibreglass with the same faultless large-radius GRP mouldings in the cockpit and flybridge that owners have come to expect from a company that exports more than half its annual production.
Engineering is first class with improved engine room access through the sealed cockpit sink locker that now comes complete with a gas strut to hold it back in place when working below decks. Automatic engine room lights are activated as you swing the door back, illuminating the boat's battery control panel.
Hit the engine room lights – seven in total – and the (optional) twin MTU series 60 825 horsepower diesels shine like they have never left the shop. Descend the ladder and attention to detail is evident at every turn. The engines sit on vibration-dampening rubber mounts which, coupled with Aqualift exhausts and extensive engine room sound proofing, add up to a smooth and quiet ride.
Dripless PSS shaft seals go some way to explaining the carpet lining the gangway between both engines. Below the waterline all through-hull fittings are double clipped and bronze with ball valves. Dual Racor fuel filters are fitted to each engine to allow filter changes underway. Safety features include a manual/automatic Seafire fire suppression system and parallel battery switches for emergency starts. The vessel's DC electrical system is wired through circuit breakers with colour-coded wiring.
Engine options range from the twin Cat C12 715 horsepower diesels with electronic controls and quick shift gearboxes to the 825 horsepower MTUs through to the large 1085 horsepower Cat C18s.
Flybridge delight
The enclosed flybridge cruiser features Riviera's new internal staircase which has been built into the aft starboard quarter of the saloon. With teak in-laid stairs and moulded GRP liner, the staircase is both easy to climb and surprisingly unobtrusive when viewed from the saloon. Guests exit just aft of the main helm station and can move forward or aft without having to negotiate passengers on the bridge.
The staircase is fitted with a closing cover that hinges over the staircase. This serves as both a safety feature and as a means to isolate the flybridge from the saloon should the party upstairs become obtrusive to those below. The first thing that strikes you about the flybridge is its size. The second is the view, something more akin to a roof-top terrace with uninterrupted views through 360 degrees.
Beautifully moulded in GRP, the main helm station is set forward with twin helm seats set before a wrap-around moulded dash brought to life by three separate Raymarine E120 displays giving depth, radar and chart displays. These are supplemented by a Clarion system with camera showing the bow, stern, cockpit saloon and engine room.
The Raymarine ST6000 hydraulic autopilot, depth sounder and optional wind gear instruments are mounted in a cluster to starboard of the helm station with radio gear to port. Two large MTU engine-management computer readouts giving speed and fuel consumption figures are mounted in a moulded fascia directly above the helm.
Falling perfectly to hand is the twin-disk electronic engine controls which feature MTU's Quickshift with express mode for fast close-quarters manoeuvring. Detail is evident everywhere you look, right down to the reverse-cycle air conditioning vents set into the helm station and windscreen to keep the view forward crystal clear.
And what a view with three large safety glass windows, each fitted with their own wide-sweep wiper should they be required. Aft and to starboard of the helm is the first of several wet bars. It features a sink with a fridge or optional ice maker and a set of drawers for charts and cruising guides. An L-shaped lounge is set opposite to port providing seating for a further four guests.
Overhead, twin opening deck hatches are mounted into the flybridge roof and are separated by a full length recessed stainless steel hand rail. Further handrails are placed strategically where you would expect to find them. I counted no fewer than four stereo speakers set into the roof and flybridge sides. An aft flybridge docking station with excellent views over the cockpit and transom should making reverse-docking a breeze.
Home Comforts
Downstairs, life definitely gets better at 51. The first noticeable change when entering the saloon is the new outward-swinging saloon door. This not only widens the companionway but improves access to and from the cockpit. It also gives easy access to the switch panels installed in twin cupboards aft. With cherrywood cabinetry throughout, the starboard saloon is home to a large wetbar with fridge and cupboards for glasses and bottles.
Large tear-shape windows provide excellent views and light when the high-gloss timber-slat blinds are drawn. Opposite to port is a large six-seater L-shaped lounge that converts into a double berth if required. A free-standing in-laid cheerywood coffee table and scatter cushions lend to the feeling of home.
The galley is set to port on the mezzanine level, two steps down from the main saloon. The counter top height is such that those on galley duty can still chat with guests without feeling left out. Riviera has replaced the original Granicoat countertop with Corion and have incorporated a fiddle rail to keep things in place.
With a stainless steel sink, Grohe tap ware, dish-draw, microwave, three-burner electric hob and mid-size fridge and freezer, gourmet cooking is a breeze. Clever touches include an intercom to the bridge and engine room, fresh water gauges, extractor fan, top-loading garbage bin and a huge under floor pantry with enough storage to keep the boat running for months.
Opposite the galley is a small dinette with cherrywood table that will cater for four quests with the option to seat two more on occasional chairs. The view from here is excellent whether dining or just kicking back. The entertainment system is set against the windscreen and includes a Bose stereo, flat screen television and DVD player.
Slightly forward of the galley and centred amidships in the companionway is the washer/dryer and linen press.
The Riviera 51 has a three-cabin layout with the master cabin to port of the central companionway and the guest cabin forward in the bow. The third cabin with twin bunks is set to starboard, opposite the master stateroom. The cabins, particularly the master and guest staterooms, are considerably larger than on the earlier Riviera 48 and considerably better appointed.
The master stateroom features an island-style king-size berth with dresser, his and hers bedside lockers, storage shelves and a large hanging locker with courtesy light. The cabin is fitted with air con vents, flat screen tv, DVD and CD stereo.
The master ensuite cannot be accessed from the central companionway which is good in-so-much as it discourages guests from using the facilities which include a separate shower stall, Corion countertop with sink and Grohe fittings, Vacuflush toilet and extractor fan. The guest cabin forward is not dissimilar in size and is fitted with an island-style double berth and ensuite that doubles as a day head for guests. The third cabin is generous too with large comfortable bunks and plenty of shelves and locker space for personal gear.
Outdoors living
Laid in sumptuous teak, the cockpit and boarding platform have been re-worked and are better for it, particularly from an angler's viewpoint. To begin with the stainless steel swim ladder now tucks in under the boarding platform. A stainless grab rail has been recessed into the swim platform and the heavy marlin door swings outboard. There is ample room to fit a game chair if that is your thing. If not, an outdoors table and chairs won't upset the balance.
A live bait tank and bait board is located amidships of the transom and plumbed to a bilge pump and aerator. The tank can equally function as an icebox during cockpit parties. Removable fish bins have been added to the cockpit sole and set out athwartships with heavy teak lids fitted with gas struts. Remove the bins and the storage area beneath is large enough for water toys, deflated dinghy, spare lines, fenders and what have you.
The cockpit combing height has been raised while access to the deck and foredeck has been further improved with large moulded steps and stainless support rails. Recessed cleats have made it onto the 51 and there is the usual freshwater washdown, hot and cold hand-held shower and amenities unit with sink, fridge/freezer and tackle storage options. No less than six additional lockers are built into the cockpit combings for general storage.
A fitted bimini cover protects the aft half of the cockpit while floor-level courtesy lights and overhead spot lights are just where you would look for them. The foredeck is akin to a small tennis court with room up front for a dinghy without blocking deck hatches. The 51 is fitted with a Davco single boom crane for lowering and retrieving the RIB.
Drive time
With a full flared bow and powerful shoulders the new Riviera 51 delivers a much drier ride than the smaller 48. The boat handled a short, wind-blown, Hauraki Gulf chop with ease, even when running hard alongside a sistership throwing a solid wake across the bow. Acceleration from the big MTUs is impressive for a boat of this size and weight.
From the flybridge, the 51 feels sure-footed, pleasingly quiet and rattle-free. At 1950 rpm, the boat holds a fast cruise of 26 knots. Push the throttles all the way to 2300rpm and the Riviera climbs through 32 knots. Factory fuel figures for the standard Cat C12 diesels estimate fuel consumption at 170 litres at 1850rpm (23.5 knots) and 190 litres at 2050rpm (26.5 knots.) The standard 51 Platinum carries 2700 litres of diesel but with the option of an additional 1000 litre long-range tank fitted into the bow giving a range something in excess of 450 nautical miles.
Whichever way you look at it, the Riviera 51 Platinum is a big boat inside and out. But it is not merely an evolution of the Riviera 48, rather a boat that has again raised the bar in terms of design, build and finish. And this goes a long way to explaining the sales success of the Platinum series both in New Zealand and around the world.
Specifications
LOA 58'2"
Beam 16'2"
Max draft 4'6"
Dry weight 45,200 lb (20,500 kg)
Fuel cap 2700 lts
Water Cap 860 lts
Power 2 x MTU series 60 825 horsepower
Priced from (base boat) $AUD 1,443,360 inc GST
Replacement of vessel as reviewed $AUD 1,675,000 inc GST
(Prices subject to exchange fluctuations)


Keep up to date with news from Trade-A-boat or like us on Facebook!