Sea-Doo's 2006 models
---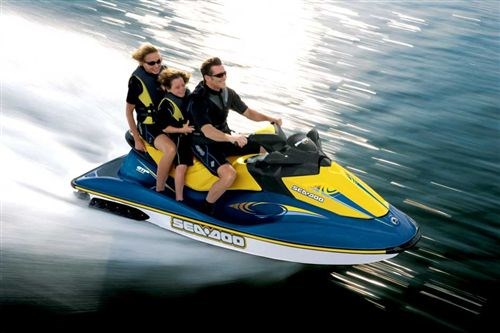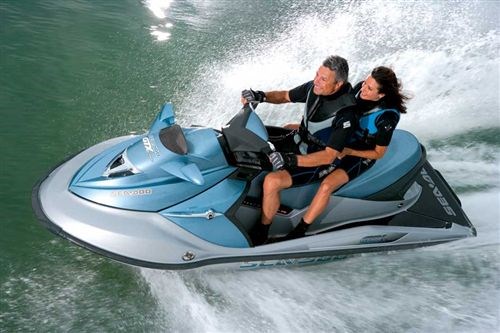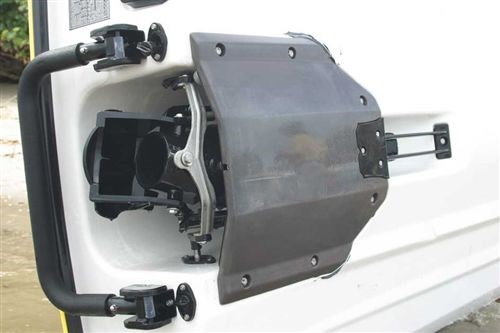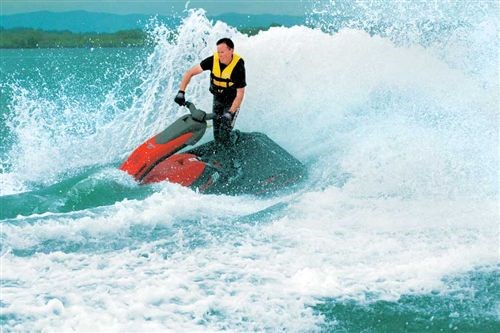 The fun/excitement quotient of PWC riding has been ratcheted up several notches with the release of Sea-Doo's latest models – and if you've game for even more insane gymnastics, you could really liberate your insides in one of the company's sports boats. Lawrence Schäffler reports.

BRP (Brunswick Recreational Products) provided a first-glimpse of its 2006 models in Canada in September last year. Last month New Zealand and Australian journos got the chance to experience a selection of the line-up - PWCs and sports boats - at the Gold Coast's Couran Cove resort.

Extending the manufacturer's legacy of innovation, high-tech engineering and sassy styling, the new models contain a fistful of advances. Key among them is a new 130hp 4-TEC Rotax engine, a closed-loop cooling system (a clever alternative to traditional raw water cooling systems), and a digital display console.

The three-cylinder, four-stroke, electronically fuel-injected 130hp unit complements BRP's existing 4-TEC engine family – its two cousins (which use the same 1494cc block) are the flagship intercooled 215hp supercharged 4-TEC, and the 155hp 4-TEC.

The 130hp engine is billed as a 'high-performance unit in an entry-level' PWC. It's fitted to three newly-designed PWCs – the GTI 4-TEC, GTI 4-TEC SE and GTI 4-TEC Pro (reinventions of Sea-Doo's previous GTI models).

Despite the lower rating, the engine responds with explosive acceleration – believe me, there's no shortage of power – and PWC newbies investing in a GTI might consider initially using Sea-Doo's 'Learning Key'. It's a substitute lanyard system (standard on all 4-TEC models) pre-programmed to limit engine RPM and top speed to about 55 km/hr.

The 130hp unit is naturally aspirated and features four valves per cylinder and multi-port fuel injection. It's connected to a single stage, axial flow, composite/aluminium jet pump equipped with 10-vane stator. The engine also comes with an added bonus: a 3-star CARB (California Air Resources Board) emissions rating.

Closed-loop Cooling

For me, the most significant development in Sea-Doo's 2006 range is the introduction of the closed-loop cooling system – standard on all watercraft using the four-stroke, 4-TEC engines. (Only the 3D DI PWC – equipped with a 951cc, twin-cylinder Rotax engine, still uses conventional, raw water cooling).

An alternative to traditional open-loop systems, it's like a car's radiator and uses the watercraft's aluminum ride plate (moulded into the hull) as a heat exchanger to keep the engine and its coolant at the ideal operating temperature. Unlike open-loop systems, which draw water directly into the engine, it helps prevent corrosion and keeps debris out of the cooling system. More than anything, it eliminates the need for flushing, and ultimately should help to minimize engine maintenance.

New to every model (again, excepting the 3D DI) is a new digital instrument panel. It offers a range of information at a glance (standard items such as speedo, tach, fuel and engine temperature – but also a digital compass). Depending on the PWC model, there are between 15 and 19 different functions presented on the panel. Above all, it's a supremely easy-to-read display.

All models are also equipped with a number of convenience and security features. They include the already-mentioned Sea-Doo Learning Key, and a digitally-encoded theft deterrent system (DESS). The off-power assisted steering system (OPAS) helps with maneuverability in off-power and off-throttle situations, while the D-Sea-Bel sound reduction system cuts engine noise significantly. The tip over protection system (TOPS) prevents oil from getting into the engine's combustion chamber in event of a capsize. (see Feature Overview alongside)

The PWC Models

Totally redesigned for 2006, the GTI 4-TEC and GTI 4-TEC SE entry-level PWCs have a new deck and hull design for up to three passengers. The new design offers a drier ride and the SE gets upgraded features including a retractable reboarding step, dual wide-angle mirrors, footwell carpets, a 15-function digital information center, and a ski-eye.

Both now come standard with technologies previously only available on higher-end Sea-Doo models – the OPAS, Learning Key, D-Sea-Bel sound reduction system, TOPS and DESS.
The GTIs 40-litre storage bin is 100% watertight and as a removable locker, is easily brought into the kitchen for loading with drinks and snacks.

The GTI/GTI SE was recently crowned the 2006 "Watercraft of the Year" by Watercraft World magazine – one of North America's leading PWC publications.

Returning relatively unchanged in 2006 are the popular Sea-Doo RXP (a two-passenger musclecraft) and the RXT (three-passengers musclecraft). Both are equipped with the intercooled 215hp, supercharged engine.

The 2006 GTX is much the same as last year's model (it uses the standard 155hp engine), but for those wanting something extra, the new GTX Limited carries the 215hp power plant. In addition to all the learning and security technology, there are 18 additional accessories specifically designed for the model – including a waterproof cell phone case and a built-in, hand-held GPS.

Designed specifically for towing wakeboarders and skiers, the Sea-Doo WAKE is the standard GTX platform with a retractable high-rise ski pylon, a large reboarding platform, removable board racks, and new, convex mirrors for better visibility.

Billed as one watercraft with multiple experiences, the 2006 Sea-Doo 3D DI gets a power upgrade and is equipped with a twin cylinder 130hp Orbital direct injection 1000-series Rotax engine.

It returns on the XP Semi-V hull which gives the vessel its respected carving ability. In addition, it features the OTAS (Off-Throttle Assisted Steering) system, DESS, D-Sea-Bel, Manual VTS (Variable Trim System) and a triple point steering system that provides different handlebar positions. Handlebars can be rotated forward, vertical, or aft – allowing greater flexibility to fit each rider's ergonomic needs.

Its most unique characteristic, however, is its five different riding modes: VERT, MOTO, KART, KNEE AND SHOQ.

Sports Boats

Complementing Sea-Doo's new PWCs are a number of jet-drive sports boats. Two were available at Couran Cove – the 4.67m Sportster and the 6.02m Speedster. Both exhibit eye-popping acceleration, breath-taking maneuverability (they turn on the proverbial dime) and cling to the water like glue. At the control of a mentally-unhinged pro driver, the boats tested my internal bits with jet-fighter levels of G-forces.

Their major difference from previous years' models is more power. The 2006 four-seater Sportster, for example, is fitted with the intercooled 215hp supercharged 4?TEC power-pack (as compared with previous model's 155hp engine).

The bigger Speedster gets two of these supercharged beasts, boosting output from the previous 310hp to a whopping 430hp. The introduction of the supercharged Rotax 4-TEC packages across the line-up means the sport boats enjoy benefits such as of closed-loop cooling, DESS, and the D-Sea-Bel sound reduction system – which allows you to hear the Clarion AM/FM/CD stereo more clearly.

As with all Sea-Doo sport boats, an optional wakeboard tower is also available, but also new for 2006 is a 430hp Speedster WAKE specifically designed for wakeboarding. Premium equipment (standard) includes remote-controlled 272 kg ballast system, PerfectPass Wakeboard Pro Speed Control, and wakeboard tower with speakers and board racks.

While the sport boats are first and foremost high-performance machines, they are cleverly designed and are much more versatile than the streamlined styling would suggest. Yes, they're robustly engineered and the only limit on how widely they can be thrown around is your level of confidence (or fear).

But they are also sublime 'lifestyle' vessels – eminently suitable for wake-board and ski enthusiasts – but equally at home as a runabout or even a tender to a larger vessel. Whatever your style – I guarantee your fingers will be inching closer to the throttles minutes into your ride.

Keep up to date with news from Trade-A-boat or like us on Facebook!