Dufour Grand'Large 385
---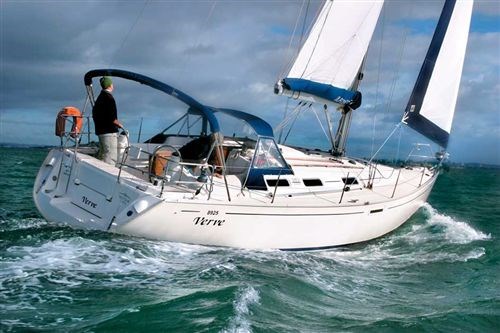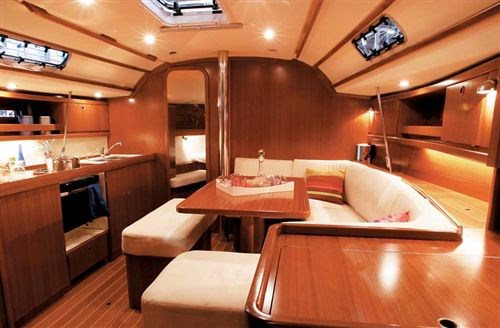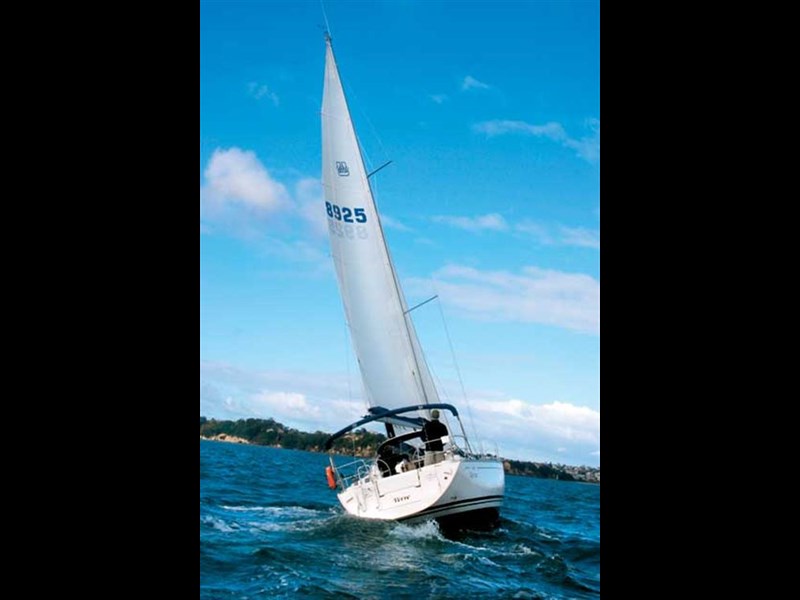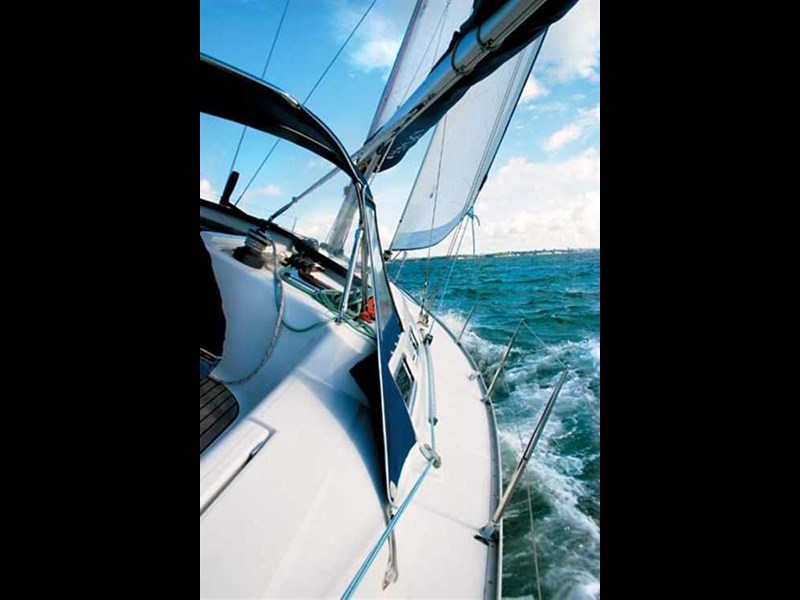 With a history spanning 40-years in production yacht design, French builder Dufour needs little introduction. Or does it? While the brand name has survived, not much about the business today bears any historical resemblance to the company even four years ago. Steve Raea reports.

Former Dufour models like the Classic, Atol and Modern – and the entire Gib Sea range of cruising yachts manufactured by Dufour – have all gone; the production lines torn down and the moulds scrapped.
Radical by any measure, Dufour saw no future in continuing production of what were essentially dated models that could not compete with the likes of Bavaria, Beneteau and Jeanneau. A fresh and innovative approach was essential – not just in terms of the company's fleet but also in its global perception. And who better to spearhead that challenge than the man many credit for Beneteau's dominance today – marketing guru Paul Wuyts.
Securing Wuyts' expertise was one thing but giving him something to work with was another. Hence Dufour's decision to sweep its factory clean and start again from scratch with a line-up of seven new models from designer Umberto Felici.
Felici's new designs struck a chord from the outset with his performance-orientated Dufour 34 winning European boat of the year in 2003. Similarly, the new Dufour 40 won 2003 boat of the year in France. And this year Dufour's new Grand'Large 365 cruising yacht was voted top in its class by Britain's leading yachting press.
The 365 is the second in Dufour's new Grand'Large range and follows the release of the Grand'Large 385 two years ago. Other models include the 325, 455 and the imminent release of Dufour's new flagship, the Grand'Large 525. The Grand'Large is Dufour's answer to Beneteau's Oceanis range of offshore-capable cruisers with a design emphasis on internal volume and comfort rather than straight out sailing performance.
While the 385 bears a striking resemblance to performance-orientated Dufour 34 and Dufour 40, they are in fact very different boats. The 385 has a much fuller hull shape overall and carries her maximum beam well aft to provide greater cockpit space and the volume required below decks to allow twin aft cabins. It's also fuller in the bow and has, by modern standards, a generous overhang aft. But the 385 shares the same aesthetic qualities as the Dufour 40 with a deceptively low coachroof that gives the yacht a lean and almost aggressive styling.
It has a moderate 5'8" cast iron keel fitted with a heavy bulb to keep the centre of gravity low. With a moderate displacement of 6600kg and a sail area of 665sqft, the 385 falls within the performance end of her class.
Construction
Dufour has invested heavily in modern vacuum moulding and resin infusion techniques that the company claims has resulted in weight savings of up to 40 percent over traditional GRP construction methods. The hulls are hand laminated with vinylester resins in the top layers for added protection against osmosis. A one-piece deck structure is PVC moulded by an injection process (resin transfer moulding) whereby resins are injected between a male and a female mould.
This creates a finished surface on both sides of the deck without the requirement for an internal headliner. The deck structure is again vacuum infused whereby tissues are wetted through air extraction to optimise resin-to-tissue ratios. A reinforcing inner hull grid of floors, stringers and ring frames is laminated to the hull to ensure rig and keel loads are evenly spread throughout the hull.
Twaron is used within the grid around the keel for additional stiffness. Internal joinery is now mostly manufactured at Dufour's La Rochelle factory using computer-controlled pattern cutters. The rudder is moulded around a closed-cell epoxy foam core with a solid stainless steel rudder stock.
The 385 carries a continuously-rigged 9/10ths aluminium deck-stepped mast attached to single point chainplates. These are anchored to the hull via solid stainless steel tie rods. The rig carries twin back stays and can be fitted with an internal forestay for hanking on storm headsails. A nice touch is an optional removable prod that attaches simply to foredeck mountings.
On Deck
Designed with short-handed cruising in mind, the 385 differs markedly in its deck layout from Dufour's performance range of yachts. The 385 is one of the smallest in its class to have twin wheel steering. Originally designed for much larger racing yachts, twin wheels have the double advantage of giving the helmsman excellent visibility across the top of the coachroof on all points of sail while providing easy access on and off the yacht through the open transom.
Each pedestal is fitted with a compass and there are good combing seats for the helmsman with angled foot braces on the sole. The engine remotes and instruments are on the port side only. There is space at each wheel for wind instruments to be flush mounted into the cockpit moulding but these are at an awkward angle.
A custom-made mount would be a better bet. The twin wheels are easily accommodated on the 385 because the cockpit is exceptionally wide. This has both advantages and disadvantages from a cruising perspective. Because of the one-metre width between the cockpit seats there is a danger of being tossed about with nothing central to brace against. The central cockpit table mitigates this to some degree but not all sailors would choose to leave this mounted during offshore passages.
Deck hardware is well laid out with Lewmar 44.2 primary sheet winches mounted well aft and within easy reach of the helmsman. The main traveller, small for a boat of this size, is mounted forward of the companionway and, with the mainsheet, reefing lines, vang and main halyard, is led through jammers to secondary Lewmar 32 ST winches on the cabintop.
Generous decks are further enhanced by the inboard location of the chainplates. The low-profile cabintop does not, however, provide much in the way of support for crew going forward in fresh conditions. The foredeck is wide with a well designed and large self draining anchor locker with enclosed electric windless.
A stainless steel stemhead fitting incorporates twin bow rollers and is robust enough to carry sensible ground tackle. With a headsail furler as standard, optional inner forestay for storm canvas, single-line reefing and a stack-pack main with lazy jacks, there is every reason to believe the 385 could be comfortably handled by a couple in offshore conditions.
Life below
Internal volume is impressive. With the option of a two or three cabin layout with twin heads, the Grand' Large can accommodate up to eight overnight. Finished in mahogany trim with solid framings, fiddles and mouldings and a composite faux teak and holly sole, the Dufour is beautifully appointed and finished.
While not in the same league as custom-built handcrafted solid timber yacht interiors, there is every reason to believe the Dufour will retain its good looks for many years provided the internal finishes are maintained. Ergonomically, it's a very usable layout with large twin aft cabins providing standing headroom inside the doors and a generous double berth above the sole.
The aft head is immediately to port at the foot of the companionway and is a reasonable size with toilet, vanity and retractable hand held shower. An opening deck hatch is fitted above for ventilation and light. The galley runs the length of the port side as far as the main bulkhead and is well fitted with twin stainless steel sinks, storage lockers and cupboards above and below, a two-burner oven and a smallish 12V ice box.
Counter space is excellent and solid fiddles around the stove should keep pots at bay. Cooking at sea, however, will be challenging with nowhere for the cook to brace when on the port tack. This is disappointing given Dufour's offshore ambitions for the Grand'Large' range. The saloon is comfortable and large with seating for eight around the mahogany dining table. Storage abounds with usable locker space under the saloon squabs and within the bench seat located amidships.
It is pleasing, too, to see a chart table large enough to be of practical use and with a solid fiddle to keep things where they should be. But chart table storage is a bit miserly. With 6'3" headroom throughout and deck hatches supplemented with three opening ports aside, the 385 feels light, airy and inviting.
The forward master cabin features an island-style double berth with ensuite toilet, vanity and handheld shower. Again, storage is excellent with double hanging locker and shelving. With a water capacity of 440 litres in polyethylene tanks and a diesel capacity of 160 litres, the 385 certainly has the tankage required for extended voyaging.
Fitted as standard with a 29 horsepower Volvo Penta with sail drive and two-blade fixed propeller, the Grand'Large will motor comfortably at seven knots with a top speed in excess of eight knots. Engine access is via the companionway stairs that hinge up on struts giving access to most service points.
Underway
Auckland's Norman and Susan Sharpe were the first to take delivery of a 385. They elected to fit a larger 40 horsepower Volvo given their experiences with the short steep chop common to Auckland's Hauraki Gulf. To this they added a Kiwi feathering propeller to maximise sailing performance. They also had Doyles Sails build a full-hoist blade headsail for the furler. The improvement, they say, was marked and it has allowed them to carry full sail up to about 20 knots true without having to furl.
Our test sail took place in Auckland's Tamaki Strait on a blustery day with winds from the southwest ranging from 18 to 22 knots with the odd gust of 25 knots. Beating off Music Point, the boat soon found her groove and maintained an average speed of 6.5 knots at about 30 degrees to the apparent wind. While not tender as such, the 385 did heel considerably in the heavier airs but this was mitigated somewhat by playing the traveller.
A reef in the main would have been the trick. Interestingly, the long and narrow rudder refused to let go and there were times when rudder turbulence could be clearly seen in the yacht's wake. With slightly cracked sheets, the 385 picked up a gear and regularly achieved better than seven knots as we charged west towards North Head.
Tacking with the blade was short work but working the mainsheet winch under a dodger is not ideal. From the helm the steering felt positive and light but with enough weather helm to gauge where things were at. With pressure increasing, we eased sheets and reached back towards Browns Islands attaining regular bursts of eight to nine knots in a moderate chop.
I must admit to feeling a bit exposed sitting on top of rather than down in the cockpit. After 18-months of sailing in all conditions, Norman and Susan can't speak highly enough of their boat and her sea-kindly manners. Coming from a more traditional Chico 30, Norman agreed that he too initially felt a bit exposed from the cockpit but says he would have no qualms about taking Verve offshore after fitting the required safety equipment.
While the Grand'Large 385 is aimed primarily at the cruising market, it is far removed from the caravan-style of cruising yacht that tends to fill out the genre. With pleasing lines, excellent interior accommodation and a good balance between ease of handling and performance, the Dufour is an excellent all-round package and a boat that I would be proud to call my own.
Specifications
LOA 11.37m
LWL 9.85m
Beam 3.93m
Draught 1.76m
Disp 6600kg
Ballast 1950kg
Fuel 160 litres
Water 440 litres
Engine 29/40hp Volvo Penta
Priced from NZ$335,000 (subject to exchange rates)


Keep up to date with news from Trade-A-boat or like us on Facebook!