Sea Bandit 4000 SF
---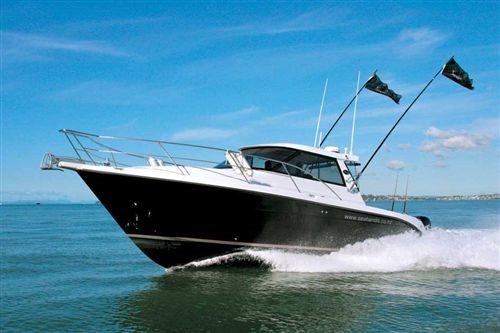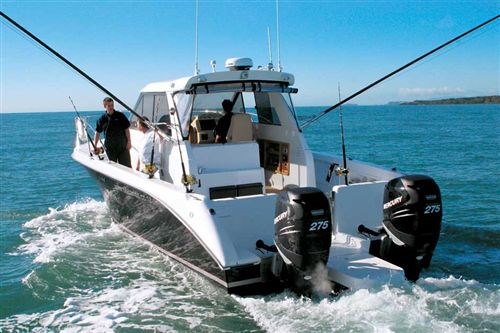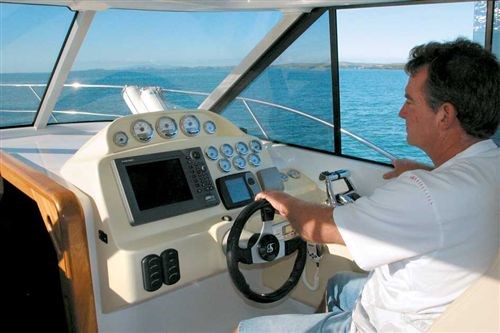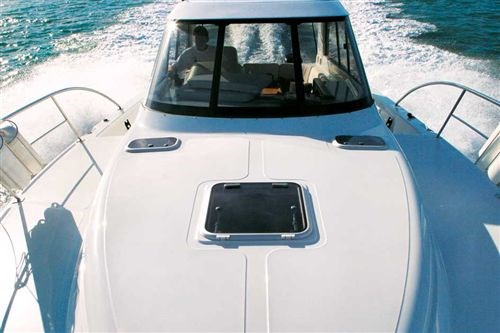 With the pace, handling and style of a trailer boat and the comfort and on-board amenities of a sports cruiser, the new Sea Bandit 4000 SF brings fresh appeal to the mid-size market. Steve Raea reports.

Designed by Bill Cranston, the Sea Bandit 4000 reflects Cranston's own ideas and beliefs garnered over a lifetime of practical boating experience. The Sea Bandit is first and foremost a big volume, powerful, sports fisher designed to get out there...and back…regardless of the mood of Mother Nature. This is evident in the Sea Bandit's broad and powerful hull, generous walk-around decks and bulwarks and a powerful, twin four-stroke outboard installation.

Cranston says he set out to create the floating equivalent of a BMW 5 series; an aggressively-styled and well-appointed boat aimed at the upper end of the sports fisher market - but without a seven figure price tag. The results speak largely for themselves.

The Sea Bandit's fishing prowess is obvious from every angle with a large open cockpit, walk-through transom, large walk-around decks and a setup to suit both inshore and offshore fishing. But to box the Sea Bandit 4000 SF as merely a fishing boat would be to undermine one of its greatest assets; its below-deck comfort and all round live-ability. With a generous saloon, fully equipped galley, comfortable berths and a large head and shower, the boat will appeal to the Admiral as much as it does to the crew.

Cranston needs little introduction in boating circles. Known as a builder of quality custom timber boats, he has more recently concentrated on design, bringing fresh ideas and concepts that he believes better suit today's boating lifestyles. His design philosophy reflects a belief that boat owners seldom have the freedom or time to cast off on a Friday night and stay out for the whole weekend. Work and family commitments are such that boating often plays second fiddle to work, weekend sports and domestic chores.

"I set out to achieve an easily handled, low-maintenance boat with the performance necessary to allow busy people to get out on the water and back in a day. In essence I wanted the qualities of a trailer boat but with the comfort, safety and range of a sports cruiser."

To achieve this Cranston has harnessed modern technology and applied it to a proven hull design to achieve an end package that delivers on all fronts. The sea-keeping qualities of the Sea Bandit are without question, utilizing the well proven Oliver Marine 3700 solid fiberglass hull. Low-maintenance and performance are courtesy of twin Mercury 275hp supercharged Verado four-stroke outboard engines. These are mounted each side of an extended central transom pod providing easy access on and off the boat.

The beauty of outboards, says Cranston, is their reliability, excellent fuel economy, blistering performance and smooth and quiet operation. More over, the Sea Bandit's maneuverability in close quarters is such that an inexperienced skipper can quickly get to grips with the boat. This, says Cranston, should not be overlooked.

"Too often skippers of 40ft boats are hesitant to take them out with their wives or partners because of the difficulties of berthing. The outboards provide complete control and allow the boat to turn in its own length. They're also super quiet, clean burning and provide all the safety of twin-engine installations but without the costs and failures common with stern drives."

Cranston says the idea for a large outboard-driven sports fisher came to him during the last America's Cup. "I was staying with friends on a boat at the Viaduct Harbour for most of the Cup. We would sit around in the afternoon and marvel at the size and performance of the tenders buzzing around the boats. I thought there had to be a way to harness the new outboard technology and apply it to a conventional hull. The Sea Bandit concept was born. Cranston then approached business partner Leo Smith from Tauranga and together they formed Sea Bandit Boats.

The Sea Bandit's construction is a little unusual insomuch as the company commissioned other Tauranga boat builders and firms to supply the major structural components for the prototype 4000 SF. Oliver Marine supplied the stock 3700 GRP hull complete with internal bulkheads while the cabin top and decks were built by Steadecraft Boats.

The internal moulds, joinery and cabinets were also manufactured off site by local Tauranga businesses. The standard and quality of fit out is excellent and certainly every bit as good as similar imported production boats. Cranston's expansive use of solid teak trim, mahogany cabinets and cream coloured vinyls and furnishings further combine to create a stylish and contemporary finish below deck.

With more than 1200 miles on the log since the boat's launch, the Sea Bandit has proved capable and reliable in a variety of sea conditions.

Comfort afloat

The accommodation and layout below deck is influenced by the walk around decks ins much as the upper saloon does not benefit from the full 13'6" beam of the boat. But that said there is ample room for four guests to sit in comfort and enjoy the panorama from the L-shaped settee on the port side. The helm station and single pilot seat is opposite to starboard along with the boat's instrument and switch panels.

The saloon companionway is offset to port and can be fully enclosed with sliding teak slats that recess back into the saloon. The galley is immediately to port and is well equipped for extended cruising with a domestic-sized fridge and freezer, four burner hob and oven and a smallish but usable countertop and sink unit. Galley stowage is useful and practical with cupboards and drawers above and below the countertop.

Opposite to starboard is a beautifully appointed shower and head with vanity, mirror and overhead deck hatch. Cranston has recognized the value of home comforts afloat and this is reflected in the size and practicality of the heads. A gas califont supplies hot water on demand.

The forward cabin is open to the saloon and has split level bunks providing berths for four. An optional infill squab can be added to create a very large double berth if required. Cranston does not, however, tolerate small and this is reflected in the length and width of the forward berths. With a minimum of 6'6" headroom throughout and large Weaver deck hatches, the saloon is light, airy and spacious.

The master cabin is aft of the head on the starboard side and is set in under the cockpit sole. With standing headroom at the cabin entrance and a hanging locker and drawers, the cabin is comfortable and practical. And while short on sitting headroom, the berth is large and well positioned within the boat to avoid the worst of hull slap and motion at anchor. Ventilation and natural light are provided by an internal hatch opening into the upper saloon.

Open to the cockpit, the upper saloon and cockpit are essentially a single entity separated only by a small bridge deck designed to prevent back wash entering the saloon. While a fully enclosed saloon will become a future option, the heavy clears fitted to the test boat provide adequate protection as and when required.

The cockpit is all that you might expect from a sports fisher with fresh and saltwater wash down facilities, a cockpit shower, moulded sink unit and separate bait fridge and freezer. A large central locker in the cockpit sole provides the sort of storage required for extended periods at sea. The transom is fitted with a central double gate giving walk through access to the transom pod between the outboards. The pod is fitted with a live bait tank and hinged boarding ladder.

The real beauty of the Sea Bandit, however, is the walk around decks. These provide anglers with the ability to work fish from all around the boat. It is a feature that Cranston believes will particularly suit charter operators wanting a high-speed fishing platform.

On the run

Getting underway in the Sea Bandit 4000 is as simple as trimming the motors down, hitting the ignition and throwing off the lines. Tight marina fairways are no match for the boat's ability to squeeze around tight corners. Visibility from the helm is excellent from all quarters with little glare or reflection to distort the pilot's view. The helm station is well laid out with the wheel and engine controls well placed for comfortable easy operation.

The big Mercury's are barely discernable at idle; the engine cooling water the only tell tale that they are in fact running. Open the throttles, however, and there is no mistaking that there is some serious horsepower on tap. The boat's hole shot performance is impressive but Cranston is still working to get the right propeller pitch to reduce cavitation. Once onto the plane, however, the boat responds instantly to her throttles and engine trim.

With a fast cruise of 26 knots and a top speed of 38 knots recorded on GPS, the Sea Bandit is capable of big runs with 1500 litres in her fuel tanks. Performance analysis shows the engines come into their own at trolling speeds between eight and ten knots, consuming between 20 and 30 litres an hour, increasing to between 40 and 45 litres an hour at wide open throttle. The boat has not been fitted with trim tabs and in most cases engine trim is sufficient to maintain a correct attitude. Trim tabs would help keep the nose down at low speeds, something Cranston says he will fit to future boats.

The real joy of driving the Sea Bandit is its ability to handle like a trailer boat at all revs. The big beamy hull makes no fuss of diving into steep turns at full speed and responds instantly to her helm. The Oliver Marine hull has always been regarded as a soft riding and quiet hull and these qualities have not been lost on the Sea Bandit. The four-stroke engines have further eliminated any form of vibration through the boat, a feature that will not be lost on those off watch below. Moving around the deck underway is safe and secure with high bulwarks running forward to a solid stainless bow rail.

There is little doubt that Cranston has meet his design objectives with the Sea Bandit; providing an innovative and fresh perspective on lifestyle boating. It is a vessel that demands little of its owners yet provides the sorts of amenities and comforts to cater for a wide range of applications. It represents excellent value for money when put alongside similar sized imports and has excellent potential for commercial applications.

Specifications Sea Bandit 4000 SF (Priced from $490,000)

Designer Bill Cranston
Hull Oliver Marine
LOA 40'6"
Beam 13'6"
Disp 7000kg
Fuel 1500 litres
Water 480 litres
Engines Mercury Verado four strokes


Vessel supplied by Sea Bandit Boats. Tel: (07) 571-0566: Email info@seabandit.co.nz: Bill Cranston mobile: (021) 422 895




Keep up to date with news from Trade-A-boat or like us on Facebook!