Voyager 11m catamaran
---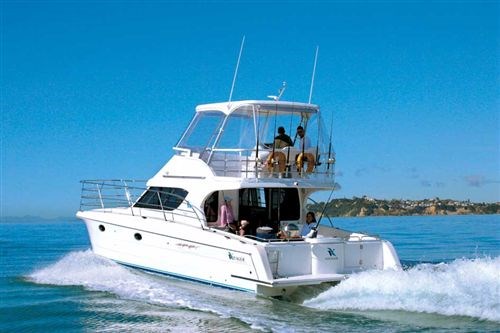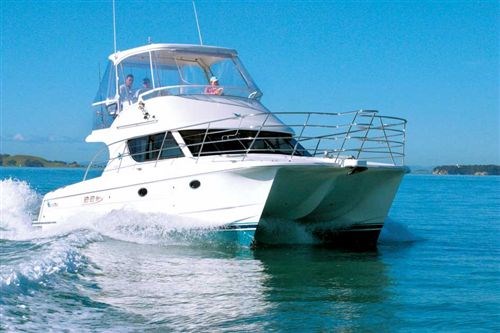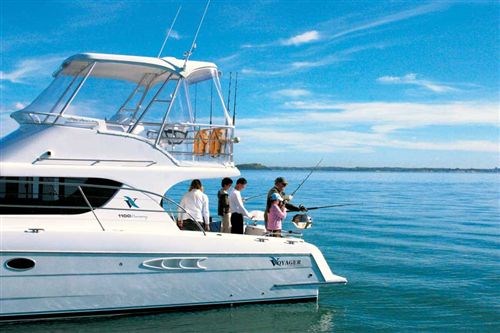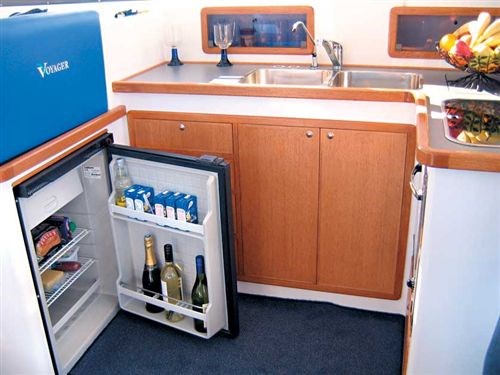 Yes, it's a catamaran cruiser. No, we don't see many of them in New Zealand waters – and certainly never one of these, a Voyager 1100. However, that could all be about to change. Greg Adams reports.

"Kiwis never think outside the square and don't try anything other than monohulls," laments Richard Wardenburg. "They need to realise that 'cats' are the future."

Strong words indeed. But he would say that, wouldn't he? Not just because he and his wife have just spent the best part of half a million dollars on the first one ever to be brought across from Voyager Catamarans in Australia but – liking the vessel so much – they've also become the New Zealand agents for the company. Cats are the future? Could they have a point? Well, in the words of the Toyota advert, I can say anything I like. So, here goes.

It's true that catamarans are a relatively rare breed when compared to the number of their monohulled cousins. There's simply no history, no tradition for cat launches unlike, say, across the Tasman or Stateside. Why? Some swear it's because there's no real large scale production here – many are one-offs. Others claim they're not as aesthetically-pleasing … they're just not as sexy as a sleek mono slicing through the swell.

Wardenberg admits he himself used to be a monohull fan. What changed his mind?
"We were looking for a boat that would fit specific criteria. It needed to have three large cabins, fit into a 12-metre berth, meet our budget and be economical to run."

At a time when oil's gearing up to hit US$100 a barrel, that last point alone should be enough to pique the interest of most boat owners. "I've previously had fast boats but was prepared to accept a discount in speed for improved economy."

And that he has. Cruising at a steady 16 knots – top speed is around 22 knots – the Voyager 1100's two 156HP Yanmar shaft drive turbo diesels (which are, incidentally, de-rated from 256HP) use 22 litres of fuel an hour propelling the low-drag, semi-displacement hulls.

The V1100 offers multiple engine options within a 100 to 250HP range – Yanmar 100 to 190), Volvo (130 to 190), Steyr (110 to 212), John Deere (150), and Yamaha (150 to 200) are listed, with others available on request.

There was another reason Wardenberg chose the cat. "We have a bach at Pauanui," he says, "and, as anyone who's been boating there will know, there's a sand bar that restricts movement. We've hit it often and always have to wait for tides. The low displacement means we can now easily ride over the bar – or even park up on it if we choose."

In fact, the cat's draught is just 2' 6'' (75 cm) with both the four-blade propellers and rudders positioned above the bottom of the hulls, fully protected within the moulded keels. "The boat's designed to be 'beached'. Every month or so I take it to Waiheke and sit it down in water just above my knees. I can then walk round and give it a good clean!"

Stepping aboard the Voyager 1100, two things are obvious straight away – it's stable and remarkably roomy. She might look like a 42-footer, maybe even 45, but you could be forgiven for thinking there's a little bit of Dr Who's Tardis about the thing when you learn it's only 36' 4'' (11 metres) in length – there's definitely room to swing in this cat. The beam is 14' (4.25 metres) and the bridge clearance is 11' (3.4 metres) – 15' (4.5 metres with bimini).

The cockpit's a good size, enough for a table and four chairs, for fishing or simply resting on the combing and watching the world go by. The easy riding and entertaining potential make it a craft for family and friends to enjoy a variety of activities – probably all at the same time. There are rod holders aplenty, freezer, sink and ample storage for gear. There's a walk-through transom with moulded swim/boarding platform, and also a barbecue on the stern for dealing with the day's catch.

Access around the sides is relatively easy thanks to what seems like hand-holds for Africa – at first glance, it looks a bit like overkill but we all come in different shapes and sizes, so why not?

The foredeck struck me as something special – the V1100's is a genuine living/recreational area. It could accommodate a dozen or more people comfortably. This particular boat's kitted out with high railings (to meet survey standards) and teak seats fitted around the edge is an optional extra.

A moulded bow sprit protrudes ahead from large anchor lockers and two forward storage hatches nestled just behind. The owners have an inflatable dinghy in one. There are also two 500 x 500 tinted opening hatches in the foredeck.

Flybridge

The moulded stairway to the flybridge blends well into the cockpit structure, and doesn't take up valuable space. The steps themselves, however, are fairly small – barely enough to cope with my size 10s.

Once upstairs, it's a large and spacious area, well-appointed with features you'd expect only on larger boats – twin helm seats, a substantial wrap-around lounge seat over-looking the foredeck (with room for six adults), a chiller "for the bubbly", and a sink with hot and cold water.

The sink's part of a utility cabinet with a storage locker that's moulded into the port structure. The helm station has full engine instrumentation, VHF radio, anchor control, compass and stainless steel wheel, as well as a Raymarine C80 chartplotter with GPS, depth sounder and auto-pilot.

Back in the cockpit, you step through two glass doors into the saloon. Inside, the V110 is pragmatic but stylish, with warm and welcoming golden brown joinery. The saloon is bright and comfortable, with a raised, wrap-around lounge and dinette to port. Opposite are a second, fully-equipped helm station and a tidy galley to aft, with fridge/freezer, double-sink, two-burner hob, oven, and plenty of drawer and locker space.

The five-piece, tinted windscreen affords a good view – sliding side windows offer ample, natural ventilation. There's a DVD, AM/FM/CD stereo sound system (with speakers upstairs and down), and a flat screen TV mounted above the helm station.

Accommodation

It's three steps down to the cabins – two to port and one to starboard (along with the bathroom). I liked the physical separation and feeling of privacy this provides, when people can go their own ways at night, so to speak.

There's no 'master bedroom', as such. The two forward cabins are both walk-in doubles with 1.9 metre headroom; the aft 'crawl-in' double is beneath the dinette. All have portholes and lights. They also have shelves (rather than lockers) for storage.

Officially the V1100 accommodates up to eight – the three cabins, and a pull-out double in the saloon. However, that could easily go into double figures with a few tweens on the flybridge.

The bathroom's a reasonable size. It boast all the usual things – toilet, hand basin and shower (both with hot and cold), an opening side ventilation portlight and ventilation fan – as well as one of the largest vanity mirrors I've seen on a boat this size. The boat has a 35-litrestainless steel exchange hot water system, and an 80-litre holding tank. It carry 700 litres of fuel, and 600 litres of water.

House battery power's provided by two 2000 amp hour 12V AGM units. Two heavy-duty 65Ahr 12V AGM take care of starting duties.

This Voyager has been built for the Moorings charter fleet for use in Auckland, Bay of Islands and Tonga. Yes, this is an offshore-capable vessel. "There's a guy currently going around Australia in one of these," says Wardenburg, who's buying a second 1100 for himself and considering taking it to Tonga.

He says the Voyager 1100 is basically a longer version of the Voyager 1040 – by two feet. "We had the cockpit extended," he says. "Richard and Shane Walker, from Moorings, came up with the idea. Voyager is now building this extended version in Australia and exporting it to the US and the Pacific Islands. Ten of them will be used at Fiji's Chedi resort at Nananu Island."

Built by Seacat Australia on Queensland's Gold Coast, Voyager Catamarans were designed by Derek Appleton and Navel architects Stanyon Marine Design. The hull's construction is hand-laid fibreglass – made to survey standard using Vinylester resin. The moulded deck and flybridge are foam sandwich and cored construction.

The V1100 offers comfortable cruising, with a price tag between $500,000 and $650,000, depending on fittings. It's economical, well fitted out, good riding, and with a stylish but practical design.

Is it going to change the hearts and minds of Kiwi boaties? Time will tell, but for people who aren't into the rock'n'roll of boating, it's going to prove very attractive.

Specifications Voyager 1100 (Price: $500,000 - 650,000)

LOA: 11 metres (36' 4'')
Beam: 4.25 metres (14')
Draft: 0.75 metres (2'62)
Approx weight: 6,200kg
Fuel capacity: 700 litres
Water capacity: 600 litres
Engines: 2 x 156HP Yanmar

Keep up to date with news from Trade-A-boat or like us on Facebook!