Elan 40
---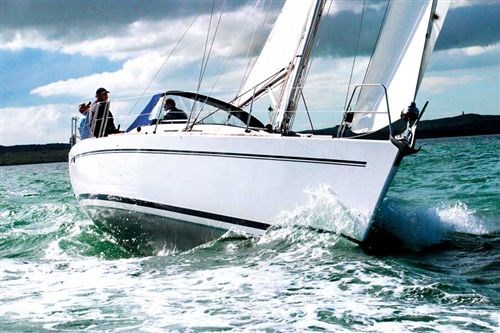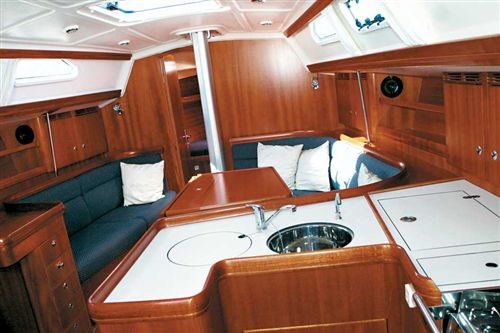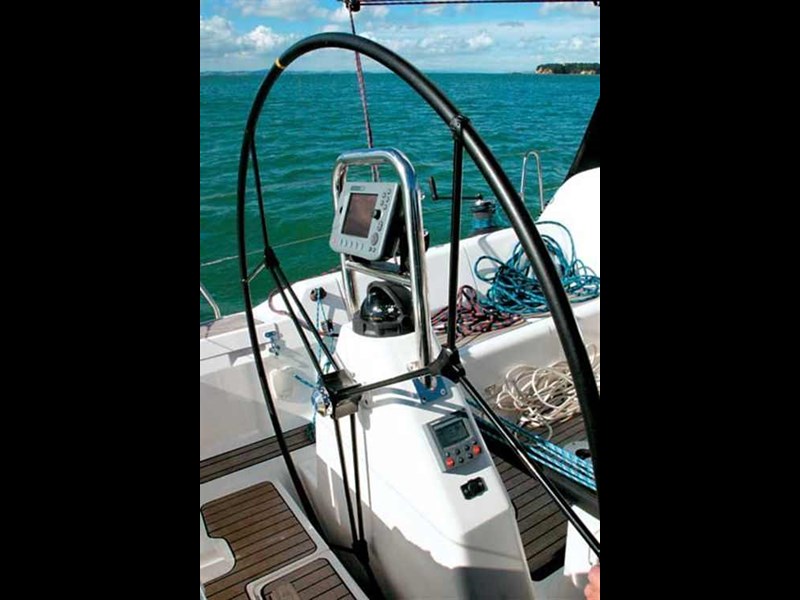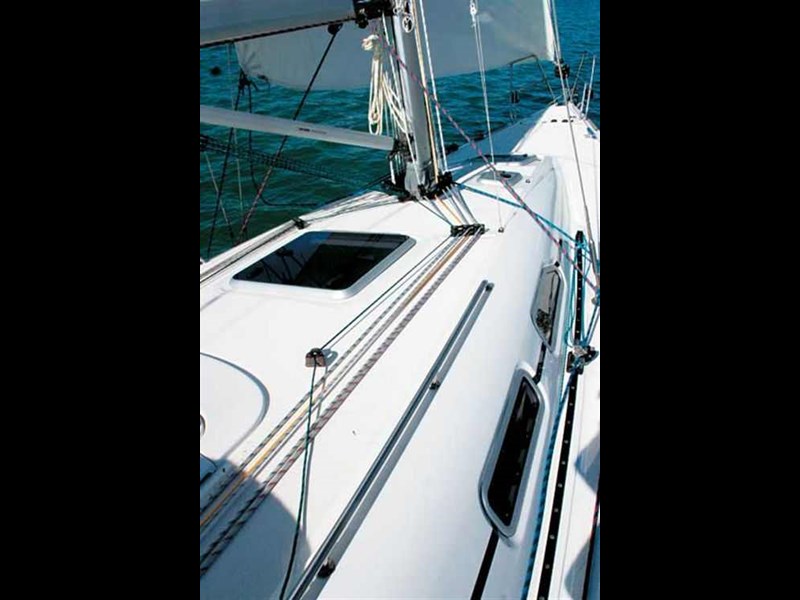 Brain Smith's specs for a new boat were seemingly contradictory - comfortable cruiser, easy to sail short-handed, but good looking and a slick mover that would stimulate his race demons. The Elan 40, he says, delivered it all and more. Lawrence Schäffler reports.

From the drawing board of British designer Rob Humphreys, the Elan 40 is a popular contender in Europe's competitive 40-foot production yacht market. It's a fast, agile vessel with expansive, well-thought out accommodation and precision finishes – and it's developed a healthy following in the five years since production began. Scores are racing on the Solent and in the Baltic, and in 2004 Cruising World voted it Boat of the Year - Best Performance 40-Footer.

Like many of the modern European production yachts, the Elan 40's available in different versions to cater for owners' varying needs. Smith's boat, Elysian, is the performance version (deeper keel, beefier winches, racing rig), and it switches between cruising and racing modes at the whim of the skipper's mood. For Smith, that was the trump card, "I like to sail fast. I did heaps of research and sailed the Elan extensively, and I honestly cannot fault it."

Strong words from a man who's sailed all his life, owned numerous yachts and has fought his share of split-second racing starts. A former president of Yachting New Zealand, he also had an extensive network of experts/friends/advisers scrutinising his every move, and the ultimate decision. "Fortunately, it was a fairly popular decision, so I still have friends."

Ironically, he says, in the overall scheme of things, two simple issues were paramount in the selection process: the galley, and the suitability for short-handed sailing. "My partner was emphatic about a practical galley. She didn't like designs where the galley runs down one side of the boat, she preferred the security of the Elan's 'enclosed' unit. For my part, I knew we'd often be sailing as a couple, and as my partner is not an experienced sailor, I wanted a boat that would be easy to handle by myself."

The Elan's cockpit is particularly well-designed for that. Without really having to move his butt, Smith has immediate access to the main traveller (just forward of the helm pedestal), main sheet, jib sheets and winches and the hydraulic Hasselfors backstay tensioner.

She's a pleasure to sail – responsive, light on the helm with good feedback from the rudder. Sometimes you don't need the helm, on our day on the Hauraki Gulf, close-hauled in a 17 knot sou'wester, she displayed perfect balance, slipping effortlessly through the water. Helm-free sailing at its best. But I'm getting ahead of myself.

Construction

It looks and feels solid and there's plenty of documentation to support the impression. Elan Marine warrants its hulls for five years. Construction uses a multi-axial laminate and an isophtalic polyester resin, with a NPG (neo penttyle glycol) gelcoat added for osmosis resistance.

The moulded inner structure is glued and laminated to the hull, and the rig load is distributed through the hull via internal tie rods mated to a bonded grid in the bilge. All core material is cut by CNC machines.

Elan moved to vacuum infusion construction two years ago, and the resin is drawn in under eight tonnes of pressure. "The technique," says Mike Macpherson, New Zealand's Elan agent, "creates fibre-to-resin ratios of 60 percent as opposed to the 42-44 pecent typical of most hand lay-ups – and that provides a significant increase in hull strength."

Vacuum infusion offers a further bonus, Germanischer Lloyd now gives all Elan yachts the new 'Yacht Plus' certificate. Yacht Plus is highly-regarded by Pantennius, Europe's major insurer of recreational craft, and it offers a premium discount for vessels with the rating.

Cockpit

With its racing heritage, the Elan's cockpit is understandably festooned with running rigging – but it's a surprisingly roomy area. It's dominated by a large-diameter carbon-fibre wheel, and I have to confess to mixed feelings about it. Yes, helming is featherlight and, given the wheel's diameter, perching out on the windward combing is easy and offers excellent visibility.

But the wheel segments the cockpit so you have to step up and around it to move forward. Which is a pity as there's great access from the open transom (the helmsman seat folds down on to the sole). Still, for those with racing in their veins, I guess the wheel's advantages outweigh any practical consideration.

There's no faulting the rest of the lay-out – for helmsmen who like to trim, there's easy access to sheets, winches, traveller and back-stay tensioner. Teak inlays in the sole, seats and combing add style and good grip. A trio of Raymarine wind/speed instruments set into the companionway hatch are complemented by a binnacle-mounted C70 Raymarine GPS/chartplotter and autopilot.

With the exception of an array of Spinlock clam cleats on cabin roof (either side of the companionway), the boat features Harken equipment throughout. Six self-tailing winches are mounted on the cockpit combings (two pairs of 48s, with a pair of 53s handling primary duties. Thanks to Smith's performance preferences, they're upgrades from the standard winches).

But the cockpit's best feature (endorsed enthusiastically by Smith) is the cavern-like locker under the port seat. Elysian is the two-cabin version of the Elan 40 – on three-cabin versions, the port locker becomes a mirror image of the aft, starboard cabin (more about that in a minute).

Smith stows his 2m Aquapro (deflated) down there (for long passages – usually it hangs off removable davits on the transom), as well as the tender outboard, sail covers, genniker, sheets, spare anchor – you name it. Down below, a watertight bulkhead hatch in the bathroom below gives additional access to the cave.

Deck

It's clean, uncluttered, spacious, with a moulded tread surface. With generous side decks, there's an easy flow between cockpit and foredeck. The 9/10s fractional rig (Selden spars) is keel-stepped, and it carries a pair of aft-swept, airfoil-tapered spreaders and stainless steel standing rigging. It also looks a bit like an English low-bow with a graceful, pronounced bend.

Smith had the sails manufactured locally (his racing alter ego insisted on having input into design and cut) and Elysian carries a powerful full-batten main and 95 percent furling jib. It's a happy sailplan, and with the shrouds sitting well in-board, it offers excellent windward efficiency. Like the mainsheet and traveller, the cars on the genoa tracks are adjustable from the helm station.

Interior

The cruising attributes of the Elan 40 comes into their own down below. Elysian is the two-cabin version of the design (Smith didn't see any point in the three-cabin version as "two-couple-cruising" is his preferred sailing arrangement). The master cabin's in the forepeak, with the second cabin tucked under the cockpit sole (starboard). They share a single bathroom to port.

It's a classical, understated presentation: precision mahogany joinery, inlaid floors, plenty of soft curves – all offset by pristine white ceilings and blue upholstery. The décor's crispness is accentuated by lots of natural light (a large hatch in the saloon and numerous ports). Lankier sailors will take heart from the six-foot-plus headroom through much of the boat.

My favourite feature is the large, symmetrical, fold-up saloon table – it offers guests a true dining environment. The table is positioned on the centre-line, and with both leafs deployed so everyone has a "proper" place at the table. In many boats, the table favours one side of the saloon, diners on the opposite side have to stretch forward or eat off their laps. More importantly, it means everyone can easily reach the table's centre well where a variety of robust merlots awaits selection.

It's not difficult to see why Smith's partner succumbed to the allure of the L-shaped galley. Just aft of the saloon (starboard), it's compact, well-designed with plenty of work surfaces, and it offers a feeling of snug efficiency. Main features are a top-opening fridge (115 litres) and a gimballed, three-ring cooker and oven, all complemented by a host of lockers and drawers.

A pair of round sinks (with fitted covers) is set into the benchtop, and positioned near the boat's centerline, they should drain easily even when heeling. Smith has also fitted an electric freezer under the nav station seat (port, opposite the galley).

Course calculations take place on a modestly-sized chart table in the nav station (port, midships), and there's plenty of space for electronics. A peek behind the hinged switchboard panel above reinforces the quality of the Elan factory's workmanship – neatly bundled wiring and busbars for easy connections. Wired for shore power, the boat's fitted with a number of 240-volt AC points.

Immediately aft of the nav station is the bathroom. It's roomy and continues the white/mahogany trim theme. It's a divided into shower area and toilet, with a drop-down seat to allows seating while showering. A holding tank is standard.

Accommodation

More symmetry in the forepeak master cabin, with identical his & hers hanging lockers and drawers framing the V-berth. In addition, there are two stowage shelves. For extended cruising, Smith has fitted a 160-litre collapsible Covertek water tank under the berth. Three ceiling hatches – one large, two small – offer plenty of light/ventilation – and all have detachable mosquito screens.

Back aft, under the cockpit, what the starboard double berth cabin lacks in headroom it makes up for in length and width. With the "centerline" bulkhead slightly offset to port, couples have a choice of sleeping lengthwise or thwartships. The cabin's equipped with a hanging locker, storage shelves and three portlights.

With the companionway steps removed, access to the 40hp Volvo's essentials (belt, water, oil and filters) is good. Removable panels in the cabin and bathroom offer additional access. The Volvo's fitted with a saildrive and folding prop.

Performance

Displacing 7900 kg, the Elan is perhaps a little heavier than other 40-foot production yachts, but if the design's European race record is anything to go buy, the extra weight hasn't affected performance (see www.elanyachts.co.nz).

As the performance version of the design, Elysian sports a 2.05m fin keel and bulb (1.8m is standard). It's the perfect counterbalance to the rig – she weathers gusts stoically, slipping on effortlessly. The large, spade rudder affects turn-on-a-dime tacks, and it's easy to see why the design's race record is so impressive. It's a boat that likes to "fly".

Perhaps the greatest question mark about Elysian is the danger it holds for Smith's temperament - will he be able to resist the temptation to sheet in? Allow his partner some cruise time?

Personally, I blame that wheel – it does things to you…



Specifications Elan 40

LOA 12.20m (40')
LWL 10.24m
Beam 3.83m
Draft 2.04m
Displ. 16,755 lbs
Mainsail 41.4m2
Engine Volvo 40hp
Fuel 135l
Water 235l

For more information, contact Mike Macpherson, New Zealand Yacht Brokerage Ltd, Auckland, tel 0274 427 114.


Keep up to date with news from Trade-A-boat or like us on Facebook!