Keelow Craft River wild 560 XL
---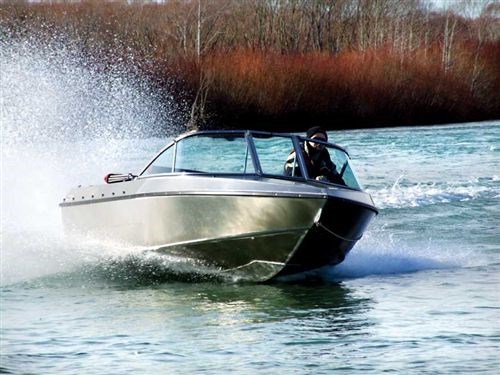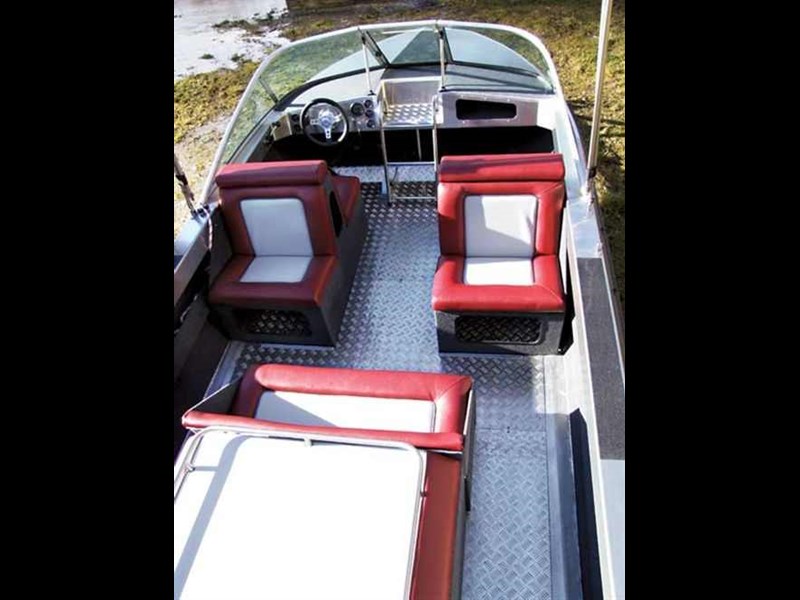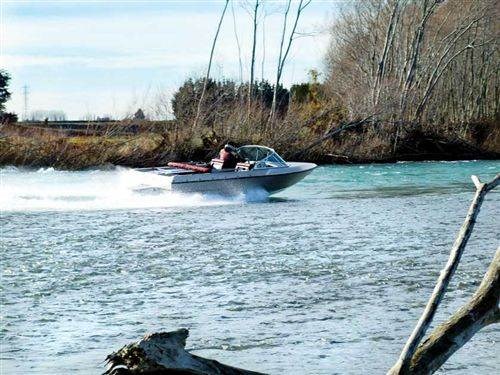 After a recent jet-boating expedition in Canada, Christchurch's Ken Bowmar gained a new respect for the larger, alloy-constructed boats favoured by Canadian and North American jet boaters. He decided to have one built. Paul Smith reports.

Such a craft, reasoned Ken Bowmar, would be long enough to cope with the lake chop of Southern lakes, provide sufficient freeboard to keep his wife and four young boys feeling safe and secure, yet still be agile and tough enough to negotiate the hazards of South Island braided river systems.

Bowmar outlined his requirements to Neil Ross, who markets the Keelow Craft brand of jet boats through his Gore-based business, jetboat.com. The range includes the "River Wild" and "Highlander" recreational river boats, as well as the current world championship-winning "Challenger" river racing tunnel hulls. The resulting design, constructed by Gore's Avon Engineering Ltd, is the River Wild 560 XL.

Design

The boat is a conventional, moderate deadrise vee bottom hull with just a small variation in deadrise from 15 degrees at the transom, to 16.5 degrees forward of the delta keel plate.

At 5.6m, the boat's a full metre longer than the typical recreational jet boat hulls in New Zealand. The design includes a wide delta keel section with plenty of width carried forward, turned down chines, a reasonably gentle stem line and an absence of planing strakes. In many respects, the design echoes the characteristics of 1970s/early 1980s river-going jet boats.

Over the past 20 years, the recreational jet boat market has become somewhat infatuated with top speed capabilities and the requirement for boats to "turn on rails" like their jet sprinting siblings.

To cater for this demand, jet boat manufacturers and designers opted for deeper vee designs, often with the deadrise increasing from the transom forward at a greater rate, and with plenty of planing strakes to provide both lift and increased lateral adhesion. These designs require greater boat speed to reduce draught and therefore more powerful engines.

But in recent times, there's been a growing awareness among recreational jet boaters that most boats spend most of their time on the water at modest cruising speeds. With the rapidly escalating costs of boat ownership, there is a greater requirement for overall efficiency at cruising speeds. In short, the pre-occupation with top end performance is beginning to wane.

Against this background, the 560 XL aims to meet contemporary recreational jet boating needs. It extends to the layout of the boat, with ease of access both into and around the cockpit area, comfortable seating for up to seven adults, and sufficient freeboard to make parents of small children feel a little more relaxed in rougher water conditions.

A folding bimini cover is another concession to overall boating comfort especially with the family aboard on those blisteringly hot, mid-summer days on the Southern Lakes.

Layout

With cockpit dimensions of 3.15m by 1.8m, there is plenty of space. Access to the foredeck is through a walk-through windscreen (with its hinged center panel), and a stainless steel ladder that clips into the dash board. The same ladder is easily clipped on to the transom for use as a boarding ladder during waterskiing or diving activities.

Two back-to-back front seats are also reminiscent of an earlier era of jet boating. The practicality of such seating is undeniable when the boat's used for towing skiers or water toys, fishing or even just watching the scenery unfolding.

It also allows comfortable movement through to the back of the cockpit where an extended double bucket seat is sited immediately forward of the engine cover. There is good storage available beneath the back-to-back seats with a 140-litre alloy fuel tank located beneath the rear seat.

The alloy engine cover, lined in marine carpet, fits snugly around the engine, allowing full access to the transom area. The cover's easily removed for servicing of the engine and waterjet, while a SoPac hatch in the center of the aft deck allows access to the plumbing and fuel systems, sandtrap, waterjet inspection hatch, steering and reverse actuators etc.

A treadplate alloy cockpit sole is in keeping with the sometimes rugged use such jet boats receive at the hands of enthusiastic owners. The helm is situated to port, with the Morse forward/reverse control on the coaming and a selection of VDO marine instruments flanking a padded steering wheel. The starboard side of the dash features a deep, lined glove locker.

Full length, lined parcel trays run along each side of the cockpit. Cockpit coamings house a stainless steel rod holder on both sides and a stainless steel bollard in each rear corner.

Construction

Like the majority of jet boats, the 560 XL is constructed of marine grade aluminum alloy. Unusually, however, the delta keel plate is formed in 6mm 5083 marine grade alloy (10mm is most common). But the bow plates are formed in 6mm alloy when 4mm or 5mm is usual. More importantly, the entire keel section from the transom forward to the stem is double skinned, in 6mm "bisalloy" plate.

"Bisalloy" is well-proven as a strong and durable material for the vulnerable keel sections of GRP jet boats since the late 1980s. Recently, a few manufacturers of alloy jet boats have adopted this technology for severe duty river boats and commercial jet boats. In addition to its strength and impact resistance, "bisalloy" is less prone to sticking to soft shingle and sand when negotiating extremely shallow water than aluminum alloy.

Hull and deck are welded together to form a strong, rigid alloy monocoque. This example of the "River Wild" 560 XL is not painted, so the quality of the fit and finish of the hull construction is plain to see.

The gunnel beading is UHMP, screwed at 100mm, and centers around the perimeter of the hull and it was nice to see that each screw head was consistently aligned in the horizontal plane.

A solid alloy waterjet cover with a protective alloy frame combines with a trimmable ride plate to minimise waterjet damage and steering loss in the event of the craft striking rocks or other hazards.

Performance & Handling

This boat's fitted with a Chevrolet Vortec 6.3 litre V8 engine. It develops 330HP and its torque delivery is ideally suited to the Hamilton Jet HJ 212 waterjet fitted with a 2.4 kW "turbo" style impeller.

Although the boat had only an hour or so running prior to our evaluation, the engine fired up instantly, ran extremely smoothly once warmed up and delivered consistent power throughout the rev range. It spins the waterjet to 4600 rpm at wide open throttle and after more constant use, the owner may expect this to increase slightly in optimum conditions.

The Waitaki river was flowing fast with high volumes of water due to the heavy snowfalls in the week or so prior to our evaluation. It was difficult to accurately determine boat speed in these conditions, especially since the batteries in my handheld GPS were flat!

However, we noted the boat held a lovely clean plane at just 2400 rpm, cruised very comfortably at between 3000 rpm and 3500 rpm at boats speed I would estimate at between 50 and 65 km/hr. On flat, still water, I would expect the boat to achieve at top speed of between 80 and 85 km/hr depending upon the load.

More importantly however, was the way the boat handled a variety of river conditions with comfort, poise and excellent handling. The ride in rougher, faster flowing water was smooth and predictable while the absence of planing strakes contributed to the reasonable noise levels.

We found the boat tracked straight and true across the current even when both hands were removed from the wheel. Although the boat tended to turn from the bow just slightly, we were unable to coax into grabbing or knifing so the overall balance of the craft was pretty close to neutral.

Changes of direction are as quick as desired by applying more power and even in full lock turns under heavy throttle, the waterjet maintained full drive allowing the boat to navigate any of the smaller streams offered up by the Waitaki with confident ease.

Handling characteristics of longer boats with greater wetted area include such things as a gentle transition to plane, their ability to hold plane at lower boat speeds, and a lower draught at lower boat speeds than shorter craft with greater deadrise.

In these respects, the "River Wild" 560 XL excelled, making it ideal for a range of boating activities. I liked the feeling of boating a shallow section of river at slow speed knowing that there was a huge reserve of power available to push the boat up and over a shelf or around an unusually tight corner if the need arose.

The 560 XL is supplied on a tandem axled, galvanized box section steel framed trailer with center rollers and two timber sliders and LED lights as standard. Hydraulic over-ride brakes are an optional extra. The rig has a towing weight of 1500kg with a half tank of fuel.

Pricing starts at $60,000 and increases in accordance with the level of specification required. The boat, as reviewed, has a retail price of $65,500 (inc. GST), making it competitive with similarly specified 4.5m recreational jet boats.

Specifications

Hull Construction: Marine grade 5083 alloy.
Design: Keelow Craft Design Team
LOA 5.6 m
Beam (O/A) 2.15m
Beam (Chine) 1.9m
Freeboard: 700mm @ transom
Deadrise: variable, 15 degrees at transom
Engine: Chevrolet Vortec 383, 6.3 litre V8, 330 HP
Waterjet: Hamilton Jet HJ 212, 2.4 kW 'turbo' impeller.

Price: $65,500 inc. GST (as reviewed).


Keep up to date with news from Trade-A-boat or like us on Facebook!