Stabi-Craft 609 Super Cab
---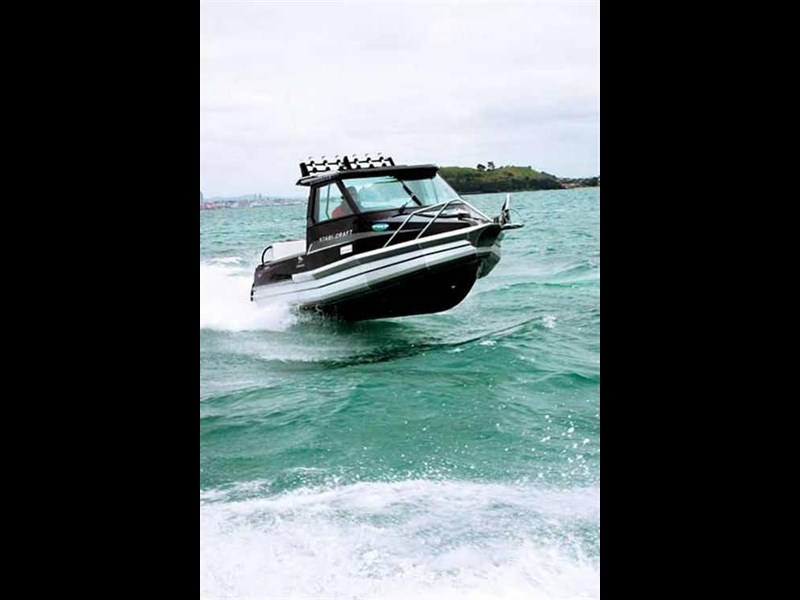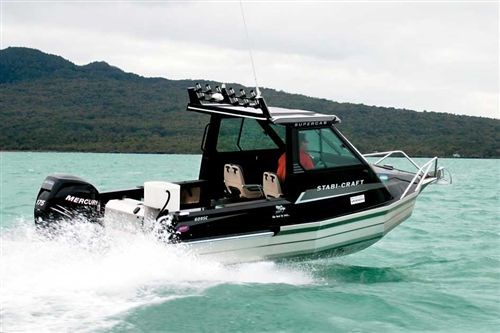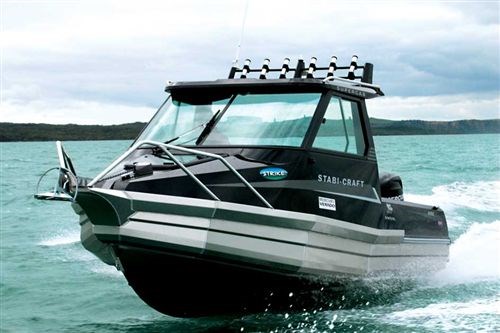 Sky Television's "Fishing NZ" host Adam Clancy recently took delivery of a new Generation II Stabi-Craft 609 Super Cab from Gulfland Marine. Appropriately named Black Magic, Clancy and boat will soon start filming in a place near you. Steve Raea reports.

As undisputed market-leaders in alloy pontoon trailer boats, Invercargill's Stabi-Craft has established a reputation for hard working, rugged and capable sea boats. It is a reputation deserved. With a production run that exceeds 700 units a year, across 19 models, Stabi-Craft is a refreshing Kiwi success.
Innovation and timely response to customer demands and feedback are essential to the longevity of any market-leading brand. It is a core business principle that has helped shape the new premier offshore Super Cab range of Stabi-Craft boats.
Stabi-Craft's 609 SC (Super Cab) was released last year as a natural successor to the first Super Cab model in 1994, the 759 SC. The range now includes the recently-launched flagship 859SC. Super Cabs are the replacement for Stabi-Craft's older, yet arguably more stylish, hard top range. Where the Super Cabs differ most notably over their predecessors is in the wheelhouse and cabin superstructure. These are now constructed in aluminium rather than moulded GRP.
This gives the Super Cabs an edgier and perhaps more aggressive look than their hard top cousins but it also makes them stronger and more durable – sensible attributes in what are essentially marketed as offshore-capable trailer boats. While the hard top range might have had the edge in looks, the new super cabs benefit from subtle increases in internal cabin volume through a change to construction method used to join the cabin top to the pontoons.
Referred to by Stabi-Craft as Generation II hulls, the pontoons are now an integral part of the cabin walls, thus increasing cabin width. While the change is not too discernible in the 609SC, it has added an extra 320mm to the larger 759SC. Stabi-Craft says the real benefit of the Generation II hull is the encapsulation of an air cushion that enhances the hulls ability to plane more readily in rough water.
Stabi-Craft make no bones about shortcomings in its hard top range. It concedes that the curved perspex corner windows were easily scratched and prone to discoloration, while the aluminium framing between the windscreen panels were obtrusive. Now fitted as standard with curved glass windscreens from Australia, Stabi-Craft has addressed these problems in the Super Cab range.
The new 609 SC features an open wheelhouse with only a quarter starboard side bulkhead separating the cockpit from the forward cabin. This makes a lot of sense in a six-metre boat and imparts a sense of space while creating easier storage options. While the forward cabin is fitted with twin V berths, these are too short to provide any real overnight solution. Fitted with wide parcel trays, large overhead hatch, cabintop and wall linings and an anchor well inspection hatch, there is no suggestion that the 609 SC has been short changed in terms of onboard comfort.
The cockpit and cabin sole are no-nonsense treadplate alloy while the somewhat box-like helmstation is fabricated from painted aluminium. Most other alloy surfaces including the cockpit combings and side shelves have been Nyalic treated. The boat imparts a sense of rugged no-nonsense practicality that reflects its primary purpose as a weekend fisher. Stabi-Craft get top marks too for fitting a solid stainless steel Sarca fairlead and bollard for fastening off.
Manual anchoring is best achieved through the forward hatch but the trademark Stabi-Craft external pontoon walkaround provides sure footing if a trip to the bow is unavoidable. Overhead hand rails will assist but the camber of the forward deck is awkward, especially if the deck is wet.
Back in the wheelhouse, visibility is markedly improved with the new curved glass windscreen and twin side opening windows. The 609SC helmstation is to starboard with the wheel flush mounted on a black painted aluminium binnacle. While this could look slightly agricultural in the raw, the addition of a stunning new Navman 8120 flat panel navigation cum engine gauge/management system adds a finish any mariner would be proud to own.
Supplemented with only a VHF radio, 12V socket-plug and a BEP Marine switch panel for lighting, wiper, bilge pump and accessories, Black Magic is proof that sometimes less really is more. Fitted with twin single pedestal seats, your mates will have to park themselves on their chilly bins while underway but they will appreciate the extra space when the time comes to bait up and get the rods over the side. As a fishing platform the 609SC is typical Stabi-Craft – stable, buoyant and roomy.
While short on toe holds, the wide cockpit combings provide plenty of thigh support and a comfortable seat when required. Fitted with an overhead rocket launcher and supplemented with six flush-mounted rod holders, rod storage won't be a problem. The transom and aft battery storage lockers are traditional Stabi-Craft with twin Sopac hatches giving easy access to the parallel switches and batteries.
The 609SC is fitted with a sealed 200 litre underfloor fuel tank with the filler centrally mounted on the transom. Access onto and off the boarding platform is via a port transom cutaway, which is within easy reach of a solid hinged boarding ladder. With the advent of heavy four-stroke outboard options, Stabi-Craft has built in additional strengthening in what it calls a "Superpod". This provides additional buoyancy to counter engine weight.
Performance & Handling
With a recommended 130 HP rating, Black Magic pushes the envelope with her 175HP Supercharged four-stroke Mercury Verado outboard. While Adam Clancy says he's seen 48 knots on the log, mother nature was far from cooperative on our test day outing. With a typical stiff Auckland sou-wester and a strong opposing tide, the Waitemata Harbour can be challenging on any boat.
It is very often difficult to determine how well-behaved a boat is until you hop out of one and into another. I was fortunate enough to do so on this particular day. What had been an uncomfortably slog against wind and tide in one vessel became an altogether far more pleasant experience in the Stabi-Craft. There is no denying, to my mind anyway, that pontoon hull forms offer a more stable and balanced ride in a chop than their traditional deep "V" brethren.
While the chine slap is certainly more noticeable, the overall feeling of stability and control is assuring. At a fast cruise of 25 knots, the 609SC went about its business with sense of purpose and poise, muscling her way across the short chop oblivious to the 25 knot breeze buffeting her beam ends. Egged on by Adam Clancy to show her who was boss, the Mercury showed willing when pushed first through 5000rpm then onto 6000rpm when things started to get blurry.
But the Stabi-Craft didn't mind one bit, relishing a bit more engine trim. Back off the throttle and into some hairpins, the boat showed no hesitation despite some initial cavitation at the prop. After half an hour at the helm, there was little doubt that even I would struggle to get out of shape unless I did something really stupid.
Like most boat tests, however, time does not afford a through analysis in varying sea conditions. Buyers should therefore make it their business to test prospective boats in a variety of conditions. But ask Adam for his impressions and they're nothing short of glowing. Remember too that there has to be a reason why Stabi-Craft vessels have a solid reputation so check one out for yourself.
Summary
While perhaps lacking the "wow" factor of the more curvaceous GRP-moulded cabins on the earlier hard top models, the new 609SC is still a good looking boat with its black exterior superstructure and striking silver graphics. It is not a luxury craft but it is honest to its roots. And there is a lot to be said for that. The market is flooded with would-be pretenders that are a little bit of this and a little bit of that.
The 609SC is not one of them. It is a hard working and capable weekend fisher that offers safety, practicality and performance at a competitive price. At 1430kg on trailer, it does not require a huge investment in a tow vehicle but is easily managed on and off the trailer. While the power of the Mercury Verado is nice to have, it is unnecessary. The recommended 130HP will provide good performance and economy, and keep the total rig price down.
Specifications
LOA 6.2m
Beam 2.54m
Weight on trailer 1430kg
Deadrise 20 degrees
Rec HP 130
Max HP 175
Fuel Cap 200lt
Priced from $65,000

Vessel supplied by Gulfland Marine 671 Whangaparaoa Rd. Tel (09) 424 5556 or email craig@gulflandmarine.co.nz

Keep up to date with news from Trade-A-boat or like us on Facebook!