13.5m Corsair Cabriolet
---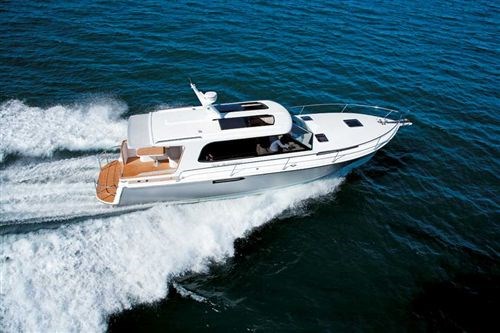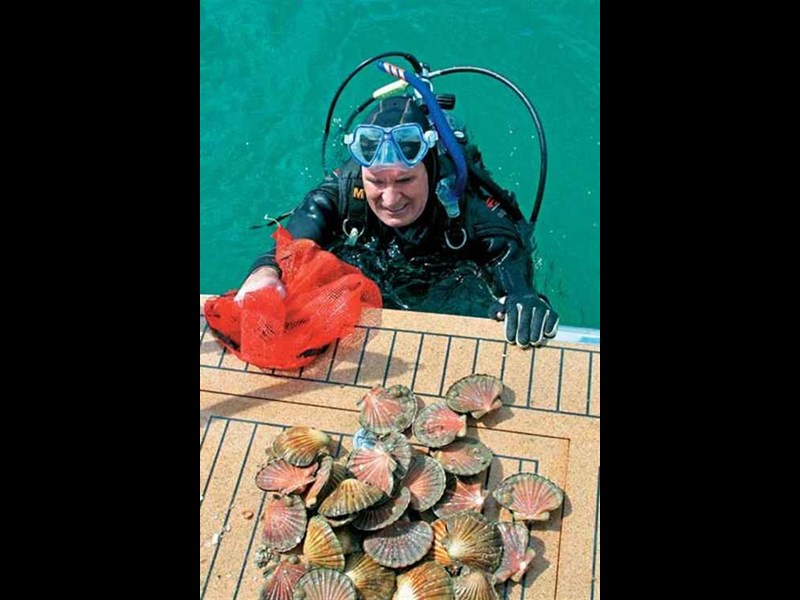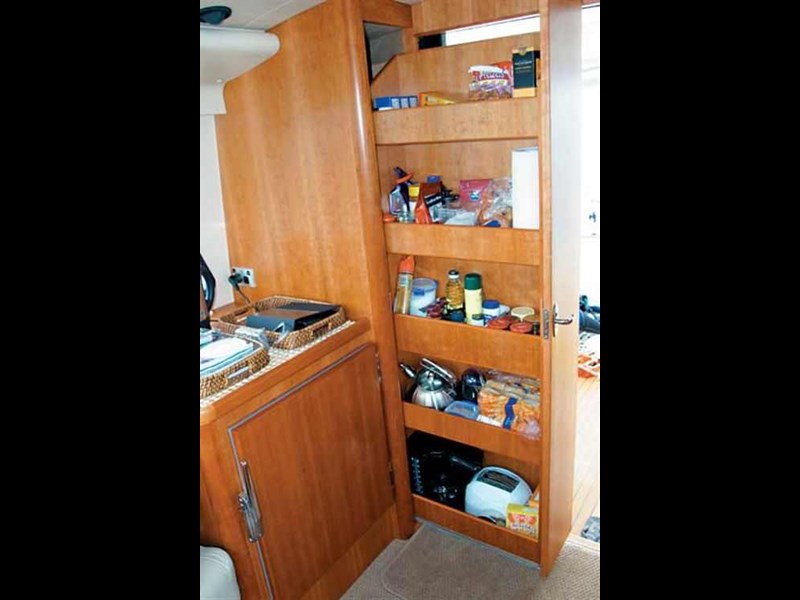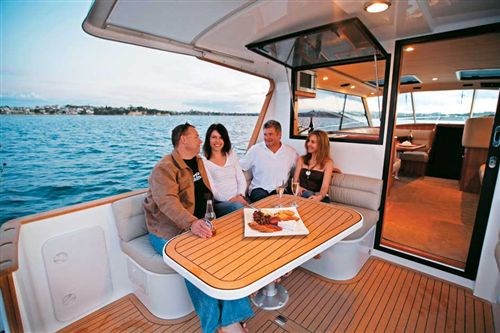 Rejuvenating an iconic design with modern technology, fresh styling and quality craftsmanship, Dean Salthouse has created a user-friendly, fun-oriented vessel that begs to be taken on an extended cruise with the family. Lawrence Schäffler reports.

New Beginnings is the second Corsair Cabriolet Dean has built. A third is nearing completion, and he's about to begin laying up the fourth. If you're confused about the use of "Corsair" and "Salthouse" in the same sentence, it's probably because you know Bob Salthouse stopped building Corsairs decades ago. Didn't he…?

Let's backtrack a bit.

The Corsair (Mk 1 and 2) was the creation of Bob Salthouse, a 1970s design that became synonymous with easy seagoing characteristics and comfort. It went on to become one of New Zealand's best-loved launches. Scores are afloat today, and despite their age and "period" styling, are still in hot demand, selling quickly whenever they come on to the market.

There's plenty of convoluted history about the evolution of Salthouse boatbuilding since the Corsairs – and we don't have space to cover any of it here. Suffice to say, all good things come to an end, and with a multitude of more modern designs asserting their superiority, production of the Corsair ceased around the mid-1990s.

Until Dean – the youngest and only of Bob's three sons to follow in his father's boatbuilding footsteps – decided to resurrect the design. And give it a modern makeover.

He established a new, independent company in 2004 – aptly named Next Generation Boats – and went about tweaking the much-loved design: extending, reshaping, adding spray chines, additional bulkheads… all very discretely. In fact, for the uninitiated, the difference between the old Corsairs and the new Cabriolet is not immediately obvious.

Unsurprisingly, the reincarnation proved an instant hit. Classics, it seems, will always appeal to a particular segment of the market, particularly when they're supported by modern technology, precision engineering and clever interior design.

In essence, says Dean, "the Cabriolet's been designed for the modern lifestyle, while accommodating those with a nostalgic bent. There's an emphasis on fine finishes, a quality interior, modern conveniences that simplify the cruising lifestyle – but it's all underscored by pragmatism. I don't think there's much sense in only admiring a boat, you have to be able to enjoy it as well. It's about balancing style with ease-of-use and low maintenance."

All of which describe the Cabriolet perfectly. There's the made-for-a-party cockpit and the expansive foredeck, the handcrafted interior, the luxurious leather upholstery, the comprehensive galley, comfortable accommodation… and yet, above all, there's a sense of it being a family boat. A bit like a well-appointed, welcoming bach on the water, and one that caters for diverse interests. More on that in a minute.

Construction

We experienced the Cabriolet on a typically unsettled spring day around the Hauraki Gulf – part of a grand scheme to collect a few scallops. New Beginnings easily shouldered aside the steep, short chop – no bone-jarring thumps and shudders. The hull has a fine entry to cut through seas effortlessly with a moderate 11 degree deadrise aft for economical cruising.

Dean's new, specially-designed spray rails built into the hull provide added lift, reducing drag and deflecting the water, making the Cabriolet an extremely dry boat even in heavy weather conditions. Hull profile and hydrodynamics aside, the boat feels solid – and so it should.

The Cabriolet hull is hand-laid GRP with an end grain pre-sealed balsa core. Extra protection comes courtesy of a vinylester osmosis barrier below the water line, and an isophthalic gelcoat exterior that reinforces the sleek lines.

To accommodate the higher speeds of the Cabriolet (compared with the original Corsair), Dean has added extra strengthening below the forward soles, as well as an extra engine room bulkhead to strengthen the saloon sole and minimise hull flex.

Cockpit

For me, the Cabriolet's place-to-be is its spacious cockpit – especially if you're an "activity-oriented" guest. There's plenty of room for fishing and diving (as we discovered first-hand) – and it leads out on to a wide, swim platform with built-in, live-bait tank. But you're equally well-served if your interests run to a game of Scrabble with the kids, or a soul-searching analysis of life over a hearty cabernet at sunset.

The wrap-around, leatherette cockpit seats invite a contemplative mood, and the fairly large cockpit table's a great focal point for al fresco dining. There's an easy flow between the cockpit and galley/saloon, creating a harmonious indoor/outdoor living area.

A particularly clever piece of design is the large window between galley and cockpit that whispers open on its gas struts, creating a large serving hatch. And when the weather turns to custard, the entire cockpit can be enclosed with clears – creating a warm, snug area.

Galley/saloon

Stepping inside, the open plan theme continues –it's an elegant blend of handcrafted cherry cabinetry, leather settees and thick carpeting. Galley and saloon are on one level, and it's here that the quality of the workmanship and practicality of design are most evident.

Take the "pantry", for example. It's contained in a deep, pull-out "drawer" which uses the full height of the galley. It slides open smoothly, revealing an array of shelves. It's clever utilisation of space, and makes it easy to find your favourite biscuits. There's a similar (smaller) pull out liquor cabinet under the helm seat.

All drawers are fitted with rollers, so they operate smoothly and silently – but their piece de resistance is their soft, vacuum push lock latches. Reminds one of the way the doors close on the top-of-the-range BMWs – they "suck" silently into position.

Saloon and galley work well as a unit. The leather settee to port surrounds a gorgeously-crafted, drop down table (it forms a double berth for dinner guests too confused to find their way back to their boat). A second leather settee lies to the starboard side of the saloon.

Masses of working space in the U-shaped galley will warm the heart of any chef. His/her arsenal includes a four-burner gas cooker/oven, a microwave (yes, the boat's equipped with an inverter and shorepower), a stainless steel bench top, all those whispering drawers, a top-loading S/S freezer and a separate, front-loading fridge.

And once it's all prepared, the meal can be enjoyed with one of the best views I've seen on a launch this size. That's thanks to the near-surround vision – large, tinted glass windows the full length of the saloon (they slide open), three windows up front and the serving hatch at the rear. This sense of airiness is reinforced by two sliding, targa hatch windows in saloon roof. All that's required for total perfection is a Vivaldi violin concerto – easily provided by the Clarion CD player.

Time to move to another anchorage – and to check out the skipper's corner. The helm station features a formidable array of instruments. In addition to the various meters relaying information about the health of the twin MTUs below, they include a Raymarine autopilot, a Raymarine C80 chart plotter, radar and digital fish finder, a Raymarine ST60 tridata system and Bennett trim tab controls. And if you're the kind of guest that likes to know where you going and when you'll get there, you'll enjoy the large, comfortable two-person leather helm seat. Will Dean enjoy all your questions? Er, I think so…

With that 360 degree vision, visibility from the helm is excellent, and it emphasizes the enormity of space on the foredeck. A great area for sunbathing – and I'd wager – for trying all those fancy John Travolta moves at one in the morning when the music's pumping.

No, the 2.9m Aquapro inflatable is never in the way – it lives on the aft cabin top.

Accommodation

New Beginnings sleeps eight comfortably – four berths in the forepeak (ideal for children and their friends), the double berth master cabin (just aft, to port) and two in the saloon, on that drop-down table and settee. Everyone uses the single bathroom (starboard, opposite the master cabin), with its head, basin and separate shower.

It's a very large bathroom, light and airy, with an electric toilet (yes, the boat's fitted with a 90-litre holding tank). I particularly liked the shower "door" – it's a spring-loaded membrane that pulls out of a recess in the bulkhead, and disappears again through a "squeegee-like" barrier to remove excess water. Again, clever use of space.

Forepeak and master cabin both feature large, Lewmar deck hatches, fabric upholstery, under bunk storage, and vinyl ceiling panels. The master cabin also has a hanging locker and drawer unit.

Performance

There's little doubt that the Cabriolet has extended the sea-kindly legacy of the original Corsair. Despite the sea conditions (not very nice) on our hunter-gatherer outing for scallops, New Beginnings remained unperturbed, even when Dean insisted on pushing the throttles to their stops – "to see if we could make 30 knots in these *&%$ conditions." We could.

The Bennett trim tabs contributed to the performance: a little experimentation to alter the bow's angle of attack heading into the waves brought about an immediate change – and a remarkable easing of the motion. Dean' addition of spray chines also do a good job of dispersing the water sideways (even at 30 knots) – making for a dry boat.

He's also done a good job on sound-proofing. The growl from the MTUs is relatively muted (helped no doubt by the underwater exhaust exits), and we were able to have a normal conversation at the helm.

The 315hp MTUs shift New Beginnings' nine tonnes displacement easily, and their fuel consumption is reasonably frugal. Together, at a cruise speed of 21 knots (2800 rpm) they consume a shade over 67 litres per hour, giving a range of around 250 miles. At wide open throttle (3800 rpm), that climbs to 154 litres per hour, with a top speed of just over 30 knots. She carries 900 litres of diesel in a single, alloy tank.

The Cabriolet's can be described as a classy but user-friendly family cruiser that feels supremely comfortable in any sea. For my money, the most honest measure of a vessel is its practicality and "liveability" – and this one succeeds on both scores.

Specifications – Corsair Cabriolet (priced from $685,000.00)

LOA 13.5m (44'4")
Beam 4.12m (13'6")
Draught 1m (3'2")
Displacement 8 - 9.5 tonnes
Engines 2 x 315hp MTU
Fuel Capacity 900l
Water Capacity 720l
Black tank Capacity 95l
Sleeping Capacity 8
Headroom 1.93m (6'4")


Keep up to date with news from Trade-A-boat or like us on Facebook!