Bavaria 30
---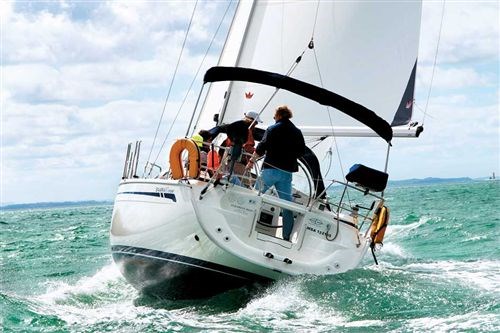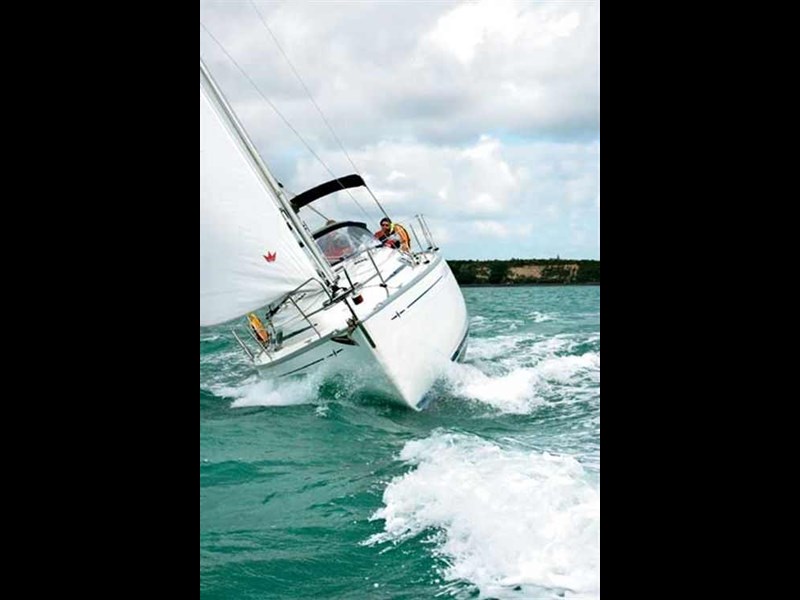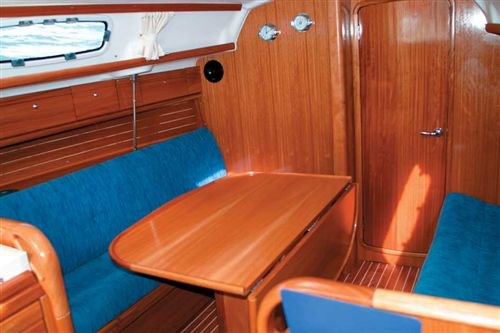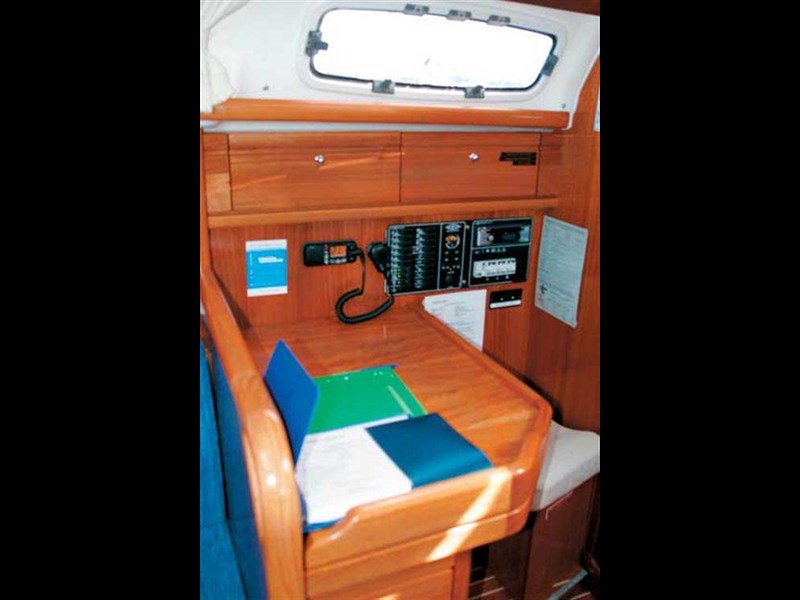 The smallest in the German builder's line-up, the Bavaria 30 nevertheless packs a surprising amount of living space. Steve Raea reports.

With something like 70-odd yachts imported into New Zealand in the last five years, Bavaria needs little in the way of introduction. Walk any marina pier in Auckland and chances are you'll spot a Bavaria. Higher in the topsides than most of our domestic designs; the German-made yacht presents as a modern cruiser with crisp pleasing lines.

The real surprise, however, is the amount of internal volume and comforts Bavaria build into its yachts. The baby of the Bavaria fleet, the Bavaria 30, is no exception. Boasting twin private double cabins, a separate head and shower, full galley and saloon, the boat has more room than most 35-footers. And it's usable room.

We're talking here about a double aft cabin with standing headroom at the entrance. A full double up front with twin hanging lockers and drawers, and a head and shower that makes that in my own 35-footer look positively prehistoric. So how does Bavaria pack so much into so little? The answer is simple. They gain volume by increasing the height of the topsides and carrying maximum beam well aft.

Add to that a raised cockpit and suddenly there is the sort of room we only ever dream about in 40-foot plus boats. So what is the trade-off? In Bavaria's larger boats there is little, remembering that they are first and foremost cruising yachts with a design emphasis on comfort rather than speed.

But in the smaller Bavaria 30 there is a notable trade-off in speed, windward prowess and general sea-keeping ability. That is not to suggest for a moment that they are unsafe. They clearly are safe, but they're never going to do much on the circuit against the likes of the Young 88, Ross 930 or Carpenter 29. The beauty of the Bavaria lies in its appointments and the options these provide for genuine liveability.

Elizabeth Reed was imported by International Marine Brokers in September last year and displayed at this year's Auckland International Boat Show. Owners Bob and Caroline Randall have subsequently put the yacht into charter with Charter Link at Bayswater Marina.

While not inexperienced sailors, the couple wanted an easily-managed yacht they could cruise comfortably as a couple or single-handed. With optional in-mast furling mainsail, the Bavaria has proved a snap to sail and reef. It is these same attributes that has made the boat popular among the Charter Link fleet.

Construction
The Bavaria 30 shares the same construction as her bigger sisters with a fully-glassed sub-frame, large glassed timber knees for the chain plates, and ply laminate bulkheads glassed to the sole to stiffen the hand-laid hull.

Much of Bavaria's boatbuilding process is automated with CNC-controlled wood-cutting machines and auto-varnishing lines to conveyor systems and robotics. To further reduce production times – and cost - little is offered by way of options. The interior joinery is mahogany or, err, mahogany, and there are limited choices of fabrics and furnishings.
But deck gear and systems are first rate with a sensibly-sized Volvo Penta D1 30 horsepower diesel engine with sail-drive giving an honest 6.5 knot cruise.

Goodies include Lewmar 30 self-tailing primary winches and Lewmar self-tailing halyard winches, a Lewmar Pro Series remotely-operated capstan, and a 7/8ths Selden fractional rig with Furlex furler drum. Sails are factory supplied from Elvstrom and include a self-furling main and genoa. Standard factory-fitted electronics include Raymarine ST60 tri-data instruments giving speed and depth and Raymarine ST 60 wind instruments showing wind speed and true and apparent wind direction.

The Randall's have also fitted Raymarine's C70 chart plotter providing future plug and play options for radar or a second depth sounder. Self-steering is also courtesy of Raymarine with the company's new Smart Pilot and S1 core pack with rotary drive. An Icom VHF completes the picture.

Comforts below include a 20lt hot-water tank plumbed via the heat-exchanger on the engine. A separate 240V element provides hot water off mains electricity when on the marina. Tankage is reasonable with 150lt of water and 90lt of diesel. The yacht is fitted with separate engine and house batteries, a decent size 12V fridge and a two-burner hob and oven. Wiring is numbered and coded according to the owner's manual and the nav station switch panel is very well laid out with a combination water/battery gauge that provides for running checks as you go.

For all its volume, the Bavaria 30 has pleasing lines thanks to the trade mark blue sheer stripes on the cabin and hull topsides. Similarly, the blue boot top helps bring the topside height back into proportion with the yacht's overall length.

Living Space

During our all too brief sail on Auckland's Waitemata Harbour, I ventured below with a view to sleeping, eating, entertaining and living onboard. The companionway, freed of the traveller sensibly placed on the cabin top, leads to a conventional interior with the galley and aft cabin to port, head and shower to starboard, saloon amidships and a forepeak master cabin. And one mustn't forget the navigation station directly below to starboard. Remember, all this in a 30-footer.

Access to the engine is easy with a gas-strut that assists when raising and lowering the companionway steps. There are hatches to most parts of the boat with usable access to the fridge unit, sea cocks, steering quadrant, batteries and pumps. The galley has formica-lined benchtops with inserts that fit over the sinks to increase counter space. The icebox and fridge are recessed and fitted with fiddle rails to stop things flying around.

The galley is fitted with a single mixer tap and circular sink useful for stacking plates. Storage is well catered for with mahogany lockers and drawers built into the sink unit. The saloon, however, is the highlight of the Bavaria 30 with its full-size salon table with twin folding leaves, overhead Lewmar hatches, mahogany side lockers and wine rack and mock teak and holly sole.

There are handrails to aid your passage in a seaway and opening portholes to keep the interior cool while on the anchor. At around 178cm long, the blue fabric-covered port and starboard settees can be used as sea berths if required. Beneath the settees full-length ply lids is easy access to the batteries and fridge unit with providing of general storage space.

While not the most comfortable seat, the navigation station has a big chart table and good room for mounting electronics in the timber fascia alongside. The head, just aft of the companionway and chart table, is a beauty. You get a manual pump-out toilet linked to a holding tank and a moulded vanity unit with sink. There is a manual shower sump pump and enough headroom and elbow room to have a decent shower. Once more, a channel allows the shower locker to drain completely.
The aft cabin, while handy at sea when on starboard tack, is perhaps best left for guests even though it is well appointed with standing headroom at the entrance and a fair sized hanging locker. Soft-backed vinyl wall and ceiling liners add a further touch of class. Twin hatches allow cross-flow ventilation while a third hatch leads back to the steering gear.
A side hatch also gives access to the Volvo-Penta diesel. But for my money the forepeak cabin with its double vee-shaped berth, twin hanging lockers and superior headroom feels a little more inviting. But, as I keep reminding myself, all this in a 30-footer.
Under Sail
With the standard-issue sail wardrobe of furling No. 2 headsail and in-mast furling main, there was little to be concerned of the forecast 25-knot breeze. The running rigging and deck hardware is standard Bavaria fare which has proved itself to work well, even in a blow. All lines lead aft through cabin top jammers. The mainsheet is worked from a self-tailing winch mounted on the port cabin top, helping to keep the spaghetti manageable. With two-speed self tailing Lewmar primary winches, genoa trimming is a breeze.
Bavaria's open pulpit with removable seat not only makes the yacht easy to board but lends to an impression of space. Adorned with cockpit lockers each side and an aft single gas locker, there is no shortage of storage for cruising necessities. The optional folding Lewmar wheel fitted to Elizabeth Reed makes great sense in a yacht of this size but I have to say it felt a bit too flimsy for my liking. In terms of volume, the Bavaria 30 made short work of accommodating four adults in its cockpit.
The winches are well placed for tacking and there is no danger of getting caught up in the mainsheet. The non-skid decks and mouldings provide sure-footedness and the decks are wide enough to pass outboard of the stays. At rest, the cockpit table can be assembled off the pedestal for al fresco dining.
With full sail in 18 to 20 knots of breeze, the little Bavaria showed willing, rolling off with a quartering breeze at between six and seven knots. Pinch her up a bit, though, and she tended to want to round-up with little or no warning. And once she's away there is no pulling her back. The rudder, to my mind, did not have a lot of bite and I suspect windward work is not the boat's forte. That said, with less canvas and the correct sheeting angle, the yacht did feel quite well balanced and happy slipping along at about 5.5 knots. But let's be honest. This is a cruising yacht.
In summary the Bavaria 30 is a perfect entry-level yacht for those wanting a large-volume comfortable cruiser at a very reasonable price. The yacht is equipped as standard with everything you need for safe and comfortable sailing. It is not a yacht designed to thrill but it is also not a yacht that will catch you out unawares. In many ways I see the Bavaria 30 as a great retirement boat when the alternative might otherwise be a power boat. The Bavaria motors very well and, when fitted with a self-furling main, should prove no more difficult to handle than a small launch.
Specifications Bavaria 30 (priced from $195,000)

LOA 9.45m
Beam 3.29m
Draft 1.85m
Weight (dry) 4400kg
Ballast 1,100kg
Fuel 90 lts
Water 150 lts
Berths 6
Engine Volvo Penta D1 30HP

Importer International Marine Brokers, 121 Beaumont St, Westhaven, Auckland. (09) 366-6165
E-mail info@internationalmarine.co.nz
www.internationalmarine.co.nz


Keep up to date with news from Trade-A-boat or like us on Facebook!