Hanse 400e
---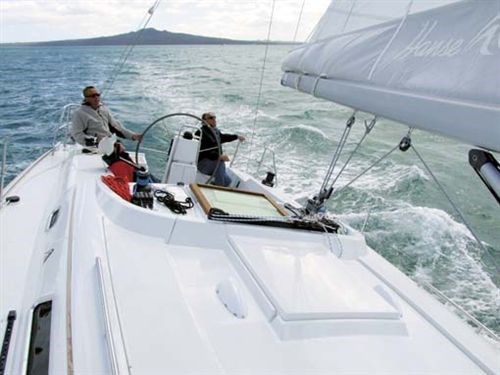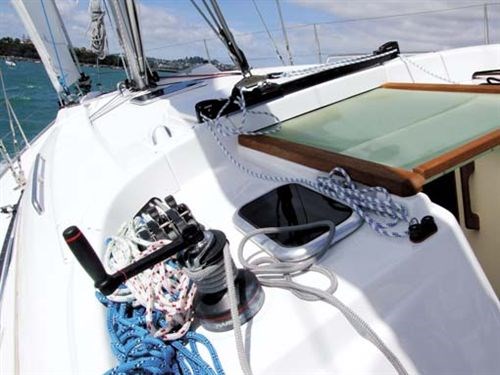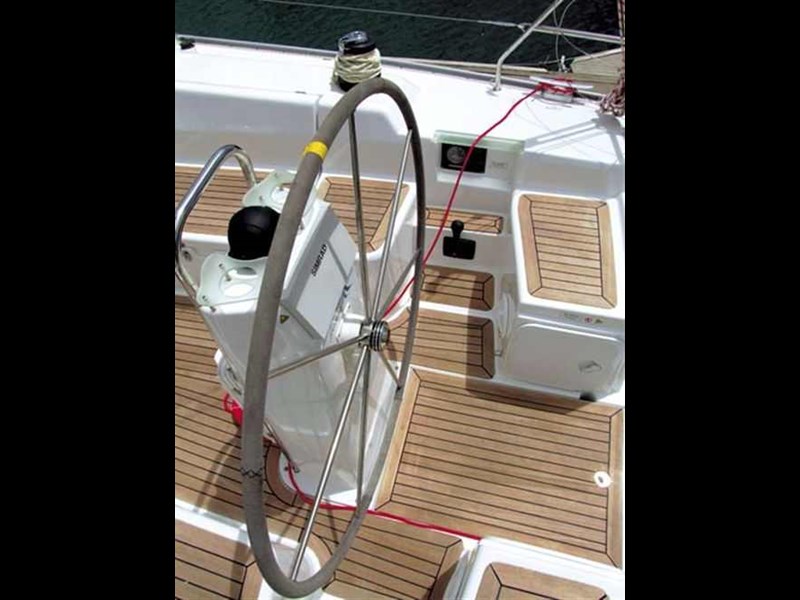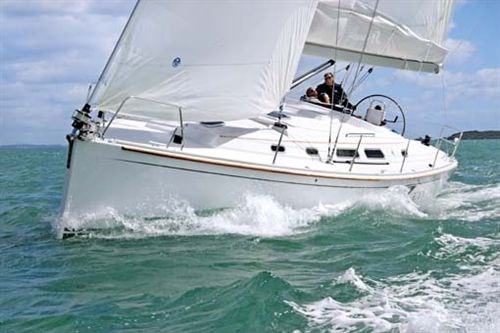 Race-winning performance is not generally associated with production-built yachts. Most production yacht buyers are happy to trade-off a bit of speed for ease of handling and large comfortable interiors. With Hanse's 400e, that compromise isn't necessary, writes Steve Raea.

 

What if – in these days of mass-produced production yachts – you want a boat that is competitive; a yacht that is responsive in the light, well-balanced and fast to weather...a boat that will surf easily and match it foot-for-foot with like-size racing yachts yet retain a comfortable cruising interior? It was not so long ago that you could have one...or the other – a cruising boat or a stripped-out racing yacht.

Recently, however, manufacturers have sensed a growing "need for speed" and have responded with a growing range of better performing boats. This has taken several forms. Giant builders like Bavaria and Beneteau have released purpose-built race-spec yachts like the Bavaria Match and Beneteau First. Others like Elan, Dufour and Hanse have built performance into their designs through modern composite construction, taller rigs and more efficient foils and sails.

While a relative newcomer to these shores, the German-built Hanse range of yachts clearly reflects this shift in design philosophy. Recognising that sailors like to sail fast and well, the company's designs are race-bred yet retain a comparable level of comfort to yachts from more established production yards.

Based in the small coastal town of Greifswald, Germany, Hanse Yachts was established by Michael Schmidt, a former Admiral's Cup winner. Joining Schmidt in the "creative heads" department is three-quarter-ton cup winner Karl Dehler, a respected designer and builder. Dehler signed on when the company that bears his family name was sold to Dutch interests. Add to the Hanse crew the design team of Judel/Vrolijk (designers of America's Cup winner Alinghi) and the racing pedigree is obvious.

It is little surprise, then, that like her predecessor, the Hanse 40 (European Yacht of the Year 2006), the new Hanse 400e sails extremely well and is a delight to sail short-handed. At the heart of this ease of handling lies a tall (64ft above WL) tapered twin-spreader deck stepped 9/10ths fractional rig, self-tacking jib and a fully battened main with optional bat cars and single-line reefing that actually works.

Discontinuously rigged, the mast is fitted as standard with a solid mechanical vang and large split backstay for mast bend when on the wind. In the cockpit, all control lines emerge from under-deck routing on either side of the companionway hatch ahead of a pair of self-tailing Lewmar halyard winches.

Further aft in the cockpit the primary sheet winches are mounted where you would normally expect to find spinnaker sheet winches - just in front of the wheel. The steering is light and responsive yet well balanced with just enough weather helm to let you know where things are at. The small (390 sq ft) self-tacking jib makes light work of upwind slogs and provides enough power to keep the yacht powered up in anything over about 15 knots true. Fitted as standard with outboard genoa tracks, the Hanse 400e can be fitted with an optional 140 percent genoa or gennaker. Spinnaker fittings, poles, halyards etc are not supplied. Perhaps the only criticism of the control line layout is the position of the mainsheet traveller.

This is forward of the companionway hatch and is quite short, making for an inefficient and restricted sheeting position. This could be retro-fitted into the cockpit just aft of the companionway hatch. Hanse has departed from the production norm by retaining a full transom without boarding platform and with just a single mid-ships walkthrough. It has been said that the boats can be difficult to get on and off because of the height of the transom step.

In standard trim, the cockpit is clean and clutter free with a single pedestal and wheel accommodating the engine and autopilot controls. The sailing instruments (log and wind) are mounted each side of the pedestal recognising that racing sailors prefer to sail off their headsail wools. The factory-supplied sails are branded "North" but these are not of the same quality or cut that we would expect in New Zealand.

They're workmanlike but strictly for cruising. On-deck stowage is good for a boat of this type, as is the stowage and general feeling of space below decks. The Hanse 40e is a good example of a design that hasn't tried to set new records for the number of heads, cabins and appliances that can be squeezed into a 39'7" design. The model is available in two or three cabins and with one or two heads/showers. The two cabin, one head review boat was just about right, providing a larger more user-friendly galley than the three cabin version.

When it comes to styling, there is no question that the Hanse is modern below decks with white bulkheads, square squab-like upholstery and high-gloss finishes to the mahogany cappings and table tops. There is little doubt, however, that the Hanse is more modest in its below decks appearance than most other production yachts. It is well-fitted but there are numerous square edges and fairly basic joinery and cabinetry. That said, however, the interior is practical, light and airy with an easy flow throughout the boat.

The internal layout of the two-cabin review boat features a double aft cabin on the port side immediately below the companionway. It is a large cabin with standing headroom inside the entrance and is fitted with a hanging locker and shelves and two opening hatches for ventilation. The head, vanity and separate shower stall is slightly aft of amidships to port.
The unit is well-equipped and fitted with hot and cold water, cabinets, safety glass shower stall door and holding tank. Forward is a small two-seater table with twin swivel chairs. The table doubles as a chart table but it is too shallow and small to be of any real practical value to a traditional navigator particularly if hard pressed on a weather leg. Behind the table are cupboards that house the yacht's main electrical switch panel and radio gear. This is hidden from view when the cabinet is closed and again not very practical from a sea-going perspective.

A radio should be seen and heard. An alternative option is a traditional full length squab which, if fitted with a lee-cloth, would provide a useful sea berth. Opposite is the main U-shaped saloon and dining table. The Hanse is short of fiddles and hand rails which would make blue water passages a bit trying. This, of course, could be mitigated at very little expense.
The galley is located on the starboard side of the companionway and is nicely equipped with twin stainless steel sinks, stainless galley fiddle, single mixer, two-burner oven and Corion countertops. The galley is fitted as standard with 12 volt refrigeration with side and top-opening doors.

The two-cabin boat benefits from additional bench space running aft on the starboard side. There are plenty of below bench cupboards and drawers for cutlery, pans and utensils. The forward cabin is roomy with a traditional double V-berth or an optional offset double. The cabin has a large hanging locker and drawers with an overhead hatch for ventilation and light.
The cabin sole is teak and holly ply with numerous inspection hatches to service a moderate bilge. At nearly two inches, the stainless keel bolts and washers look convincing as too does the engineering around the integral chainplates and glassed-in bulkheads.

The two-cabin version has huge amounts of storage in what forms the third double cabin in the three-cabin boat. This locker can be accessed from above and below decks though it is so deep that some sort of shelving will be required to make it more user-friendly.
And so to construction. In basic form, the Hanse 400e consists of GRP with a balsa core sandwich down to the waterline with a solid GRP laminate below. Polyester resin is the norm for this lay-up with a vinlyester barrier coat below the waterline for added osmosis protection.

An optional extra – as featured on the review boat – is an epoxy hull for around another $20,000, along with a lower case "e" after the model number to go with it. The main advantage of an epoxy hull is the reduced risk of osmosis. But there many other benefits. Essentially, epoxy construction provides a stiffer and lighter boat thanks largely to the more efficient quadraxial glass used in the infused laminate.
For those taking their boats to hotter climes, epoxy laminates are less prone to post-curing and, therefore, keep their shape better over time. Neither does epoxy emit the same smell as more traditional laminates. These are good reasons, the company believes, to make the epoxy option worth taking up.

Born to the water
There is no denying that the Hanse is a handsome yacht. Broad of beam and with a low, shapely cabintop with small opening windows, there is little to suggest this is a production yacht being cranked out at the rate of 1000 a year. To my eye the boat looks like a cross between a Beale and a Davidson – lean and purposeful.

With only one previous outing, the review 40oe was still in the midst of being set up with reefing lines and the like. But this did not deter us setting off in a solid 20 to 25 knots of breeze on the inner Hauraki Gulf. This was my first experience with a self-tacking jib and I have to admit to being sceptical given the pint-size headsail in relation to the generous main.
I was quickly proven wrong. The 40oe fair clipped along and pointed well without complaint. The headsail was found wanting off the wind and did not respond to anything more than a broad reach. The optional genoa with outboard sheeting is a must for sailors keen on realising the yacht's true potential but lazy sailors will get by fine if they don't mind sailing the angles.

Headsail flapping or not, the Hanse climbed through nine knots off the breeze and skipped along as if on rails. The helm was positive and light but with just enough weather helm to keep things in check. With direct rack and pinion steering to the rudder stock, there was no hesitance or delay between the helm and the rudder.

Turning through the breeze and hardening up, the self-tacking jib dutifully flicked itself across the track and set perfectly. With wind speeds ranging from 25 to 30 knots apparent and with full main the Hanse buried her shoulder and stuck to her game. While clearly over-canvassed, the yacht showed real pointing prowess, maintaining a steady 7.7 knots at about 45 degrees to the apparent wind angle. At no stage did the rudder lose its grip on the water and we never felt in any danger of rounding up. Admittedly, the cruising main didn't look the best and I suspect a flatter sail would be rewarded with even better height.

But, from my place on the helm, the Hanse felt like a fabulous sailing yacht; powerful and full of promise. I can confidently say it is the best production yacht I have sailed in terms of its manners in what was a good fresh breeze. While the Hanse does not have what I would consider a remarkable interior, it is comfortable and roomy with generous storage and a sensible layout. Put a few strategic handholds and fiddles here and there and I believe the Hanse 400e would make a great cruising yacht with enough where-with-all to burgle line honours at unsuspecting yacht clubs along the way.

Specifications Hanse 400e
LOA 12.10m
LWL 10.08m
Beam 4.04m
Draft 1.98m
Displacement 8.5t
Ballast 2195kg
Engine Yanmar 40HP sail drive
Water 300 litres
Diesel 140 litres
CE Cert Ocean A
Base price Hanse 400 in polyester is $367,000.
Price as tested in epoxy with his extras $407,000.


Keep up to date with news from Trade-A-boat or like us on Facebook!