Sea Nymph Executive
---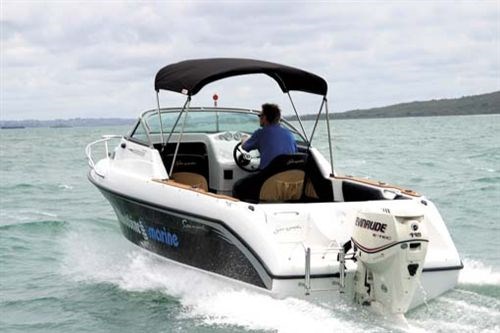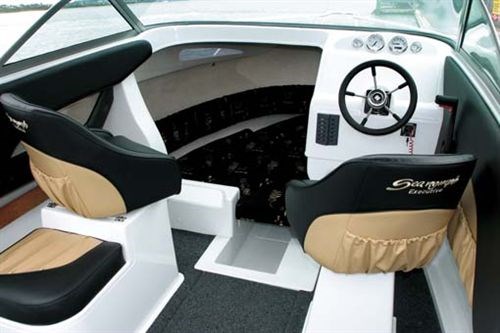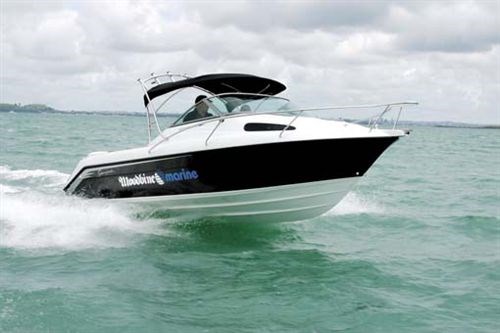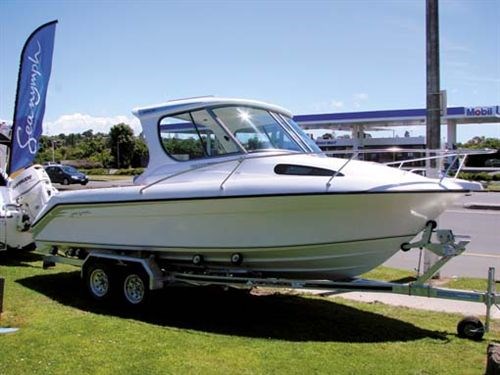 Like the mythical spirits that share its name, Sea Nymph's new "Executive" range offers a little beauty and seduction of its own, reports Greg Adams.

It's unchartered waters, for sure. But that's been the case during the four years since Robbie Hopper stepped in to help the Kiwi boating icon stay afloat.

He's made changes. Several, in fact, from up-dating and modernising the look of the whole fleet to closing the company's factory and contracting out almost all of the design and production process.

"I could run it from my spare bedroom," he jokes. But, of course, building boats is no laughing matter. Although he doesn't "do it for the money" there's a passion and enthusiasm in his demeanour that seems the perfect fit for the Sea Nymph legacy.
"One of the reasons I bought it was the history – I want to bring back the brand. I remember as a kid we had a 14ft 6 model. I think a lot of people did. Sea Nymph is a proven performer, well-built with good looks. It's the only brand I would have bought."

It's a reassuring vote of confidence for would-be Sea Nymph buyers. Not in the cheesy Victor Kiam kinda way (you know, with his "I loved the shaver so much I bought the company [Remington]" TV advert). But one that combines a boatie's heart with a businessman's head. He also makes a point of talking and consulting with the boating fraternity to learn their likes and dislikes.

"I try to spend time with people, asking them what they want and what they don't want from our boats – after all, they're the ones that will buy them and use them." This year, for example, sees the introduction of colour to a formerly all-white hull.

The black on our two review boats (the Regal 580 and Blazer 640) certainly looked cool and offers it a new visual dimension – other colours will be available to choose from, starting with graphite. If you look closely, you'll also see a change to the company logo. After 15 or so years it needed to be "refreshed," as Robbie puts it.

The latest 'Hopper touch' is the introduction this year of an "upmarket" version of the popular and proven 580 Regal and 640 Blazer models.

"Some people want a little more than someone else," he says by way of explaining his decision to go for a higher quality finish. "There's definitely a demand there."
Essentially, it's the interior finish that distinguishes the 'Executive' from the rest. If the word conjures up images of power and opulence, then you're on the right track.

The black and tan upholstery (other colours are available) looks stylish; the pleats in the seats' vinyl covers are exclusive to Executives and a classy touch. The cockpit is carpeted, which not only offers an element of comfort but, along with the liners, does a remarkable job of sound-proofing. (Trade-A-Boat currently uses a basic Blazer (uncarpeted) as its photo boat and the difference in noise between it and the Executive is very, very noticeable.)

Rails, latches, cleats, bollard and fairlead are all stainless steel, with teak on the gunnels. If you like, there's also a wood grain dash and steering wheel option.

Stepping aboard these boats – and if the cockpit seems large for the type of craft … that's because it is. "They're designed to have more usable cockpit space than our rivals – but that means a slightly smaller cabin," says Hopper.

The basic difference between the two models we looked at is length and power; otherwise the specs and options are pretty much the same. The Blazer measures 6.4 metres in length, with a maximum beam of 2.5 metres – making it one of the "beamiest" boats on the market in its class. The Regal is 5.8 metres, with a 2.38 metre maximum beam. The fibreglass hulls come with a five-year warranty.

As for power, the Executives are fitted with Evinrude E-TEC engines – super-quiet, and lending an appropriate air of elegance to the Nymphs. Our Blazer came with 200HP and, boy, does she go – cruising speed is 30mph at 3,000 revs; top speed an impressive 55mph at 6,000 revs.

In fact, the 200 is probably a little overpowered – unless you're planning on carrying a lot of heavy equipment, say for diving, or pulling up multiple skiers. A 150HP engine would be comfortable. Likewise with the Regal: the 115HP was nice (we hit 50mph before easing back), but 90 is easily adequate.

The cabin is "cosy", with a fully upholstered interior, back rest, double bed and shelving. It's also possible to re-jig and install a portable toilet. The clear overhead hatch provides access to the foredeck. Incidentally, this is now flush with the deck – another Hopper-inspired design feature – and the anchor windlass is optional.

In the cockpit, the helm has a comfortable bucket-style seat and there's a king and queen seat combo portside. The dash is a simple row of gauges (volts, revs, speedo, etc.), with room beneath for GPS and fish finder. Hydraulic steering is standard.

On the 580, there's a cleverly-placed hand rail on top inside edge of the windscreen (fitted as standard). The screen itself is acrylic – it used to be glass but the change to plastic (another Hopper innovation) means a sweeping view across the horizon as opposed to a segmented one.

The Executives continue with Sea Nymph's "flexible" seating policy. Two large, moveable squabs, each with a fish bin beneath, can be arranged in a variety of ways – across the back, along the sides, square to the sides, or any combination of these, the choice is yours.

Six rod holders are distributed around the gunnel. Talking of which, as the carpet can't be removed, there's also a new 'moulded liner' available that can be put in the cockpit to contain any mess during fishing trips – a bit like a giant drop sheet.

Canopies are optional. Our Blazer had an attractive fixed bimini frame and rocket launcher; the Regal was fitted with a free-standing bimini. The Blazer is also available in a hard top.

At the back, the transom lifts out to provide clearer access to the platform for diving and skiing. There's plenty of additional space underneath. An interesting feature is the Sea Nymph's lengthened hull, which extends further back than the engine mounting. Not only does this offer more space but helps the boat climb up on the plane.

The Executive Sea Nymphs are already gracing New Zealand waters and, if you like the look of them, are available through the company's agents in Auckland (Woodbine Marine), Hamilton (Elton Marine), Wellington (Kapiti Propeller and Marine), Christchurch (Lifestyle Marine) and Invercargill (Steve Gooding Marine).

Overall, these boats handle and perform well. For all the changes, though, it's a relief to know that the really important bit – the hull – has been left untouched. These Sea Nymphs are as seaworthy as ever. They're a dry, comfortable and relatively quiet ride. But when it comes to the specs, there's little doubt the Executives are a cut above. Of course, that may mean you wouldn't want the "guys" out messing it up with bait and beer, but it definitely makes for quality family and social boating.

So, what's a little luxury going to set you back? Well, the Blazer Executive as seen here is $84,5000 (the basic spec starts from the low $70,000s) and the Regal Executive is $58,760 (starting around $52-53,000). That's only a few grand's difference from the standard fit-out – it's hard not to be tempted.

SPECIFICATIONS

Sea Nymph 580 Regal Executive
Length 5.8m
Weight 1750 kg (incl. trailer and engine)
Maximum beam 2.38m
Transom beam 1.83m
Transom deadrise 20°
Specified HP 70-150

Sea Nymph 640 Blazer Executive
Length 6.4m
Weight 1250kg (incl. trailer and engine)
Maximum beam 2.5m
Transom beam 2.18m
Transom deadrise 22°
Specified HP 120-225


Keep up to date with news from Trade-A-boat or like us on Facebook!