Activa 4500
---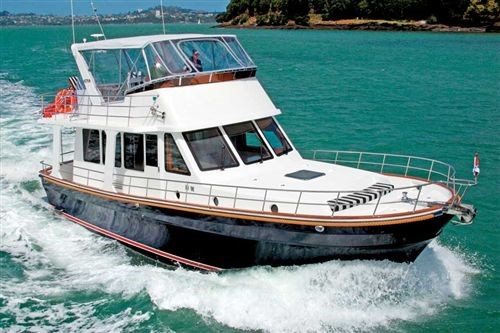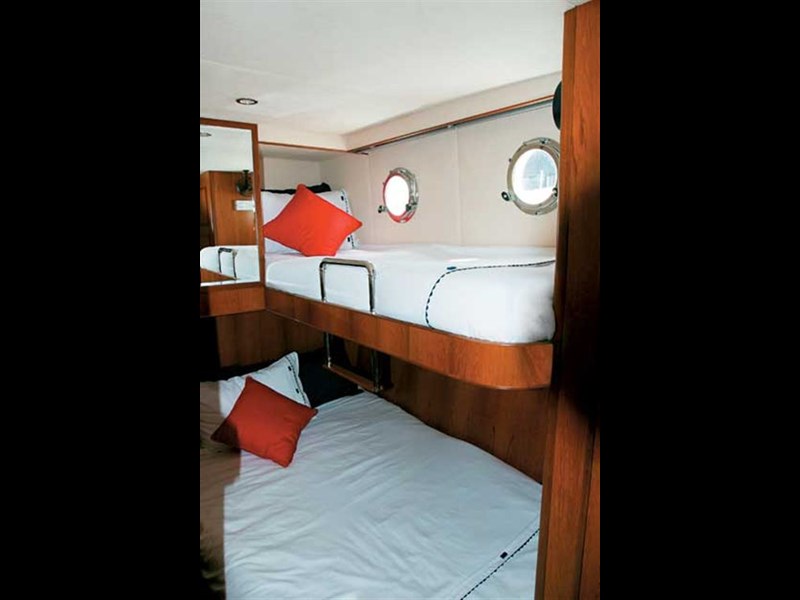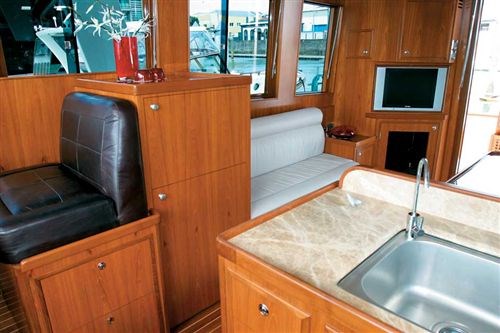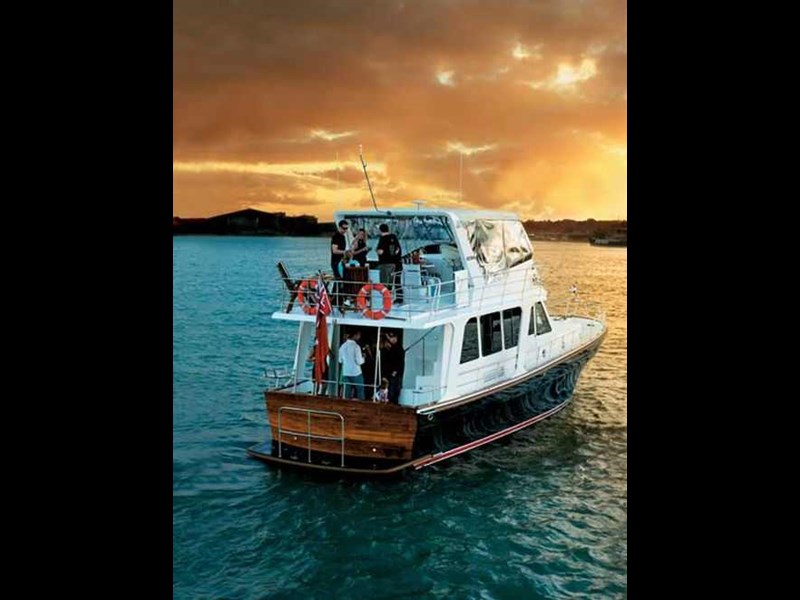 "Trawler" conjures up images of ageing fishing fleets and seagulls fighting for discarded scraps. Rusty, uncomfortable, smelly – definitely not luxurious. Until you climb aboard the Activa 4500. Greg Adams reports.

This boat ain't like any trawler I've ever seen. With its high bows it has that distinctive, Grand Banks trawler look – but that's where it ends. She's a stylish piece of work, and its classically-themed décor is the work of John Winter, son of the Winters of Danske Møbler furniture and marine interiors fame. "I have an appreciation of joinery," he says matter-of-factly.

That much is obvious when first stepping aboard. There's wood – or more precisely teak – almost everywhere. And it's the solid stuff (hewn from controlled Burmese plantations, I should add). The cabinetry oozes class and craftsmanship … and that's sums up Winter's approach.

The Activa 4500 is one of four boats imported by Winter's company – Adventure Bay (www.adventurebay.co.nz). Formerly Winter Yachts, which developed several Charter Superyachts in its time (perhaps most notably the 86ft Powercat Pacific Harmony), the company re-branded in 2005 and focused its efforts in a different direction.

"We formed Adventure Bay Motoryachts with one goal: to offer the best hand-crafted traditional quality motorboats at the best value in the market." Sadly, that meant giving up on building boats here in New Zealand. But New Zealand's loss, in this respect, is China's gain. China?

"Asia is becoming a world leader in yacht construction," says Winter. "China continues to impress the world with its rapid growth and talent for making everything, pleasure boats included."

When he began his search for suitable boats to import, he looked around the world for designs and builders. "Lots of US products are too expensive for the market here – good quality is phenomenally expensive. And at the other end of the scale, joinery is too simple and cheap".

Turning his attention to Asia, Winter found "good and bad" but a contact suggested he try Charles Chang, a Naval architect in Taiwan and owner of Activa. He was suitably impressed and the result is a trifecta he hopes will be a winning combination – the low cost labour of China, Taiwanese construction and Kiwi attention to detail.

"The same reason everybody is going to China these days also applies in boats. But we selected the best New Zealand designers and surveyors to oversee production in Shanghai to ensure the boats are being built to Maritime Safety Authorities (MSA) commercial passenger charter survey and follow ABYC electrical codes."

So what of the boat itself? The 4500 measures 13.5m (46'6") in length; the beam is 4.3m (14'2") and the draft is 1.16m (3'10"). The semi-displacement hull isn't a new design – or even Taiwanese in origin. A few years back, Activa bought the tooling for it from US- company Performance Trawlers, which sold hundreds of boats in the 1970s and 1980s. It has a three-year structural and workmanship warranty.

It's powered by two 240hp, four-cylinder Yanmars. Activa, however, will fit pretty much any engine and configuration (single or twin) you like. Cruising at 6-8 knots, the Yanmars uses 10 litres of fuel per hour; at its maximum 14 knots, the boat consumes about 23 litres an hour.

The engine room a good place to tend to the Yanmars. I'm around 6'2" and only had to stoop a little. Every part of the engines can be reached with ease. Access is via a flush hatch in the cockpit floor. A step ladder takes you down into a "lazerette" area, complete with shelving and plastic bins for storing just about anything. Then there's a door in the watertight bulkhead, through to the engines. Electrics are 12V and there's a Genset for 240 volt power.

This boat's flag-blue hull definitely reinforces the classic look. But the boat's most eye-catching feature is its rope rubbing strake. Made by Dutch company Vetus (and tried on tested on canal boats over there), the 80mm rope contains an 8mm tensioned steel cable inside. It's a kind of visual acknowledgement to a nautical tradition – and pretty rugged, too.

"The belting is very forgiving when bumping steel or concrete posts. It won't scratch like stainless and it takes a very sharp edge to cut an outer strand of the rope. If it does get damaged, repairs are very easy to do, a few loose strands cut can be trimmed back in minutes and sealed and are unnoticeable."

The 4500's cockpit feels comfortable, with easy transom access to a swim platform. There are rod holders and bait tray but it struck me as somewhere better suited to a welcome mat and a glass of bubbles at the ready.

Access along the sides to the foredeck is easy and well-protected; moulded steps lead up to the boat's social centre, the flybridge. It's massive, and the helm station stretches across the front. The Simrad chartplotter is the focal point, and there's plenty of space for fitting an auto pilot and radar. I like the nifty boat-systems indicator, showing exactly what's operating (or not) …bilges, lights, the galvanic indicator.

Behind the helm, there's a sizeable sofa to port and an open area aft, with room for seats and a table, a barbecue and fridge. It certainly adds a different dimension to most flybridges, and looks just the place for cocktails and relaxing as the world goes by. An inflatable can be fitted vertically behind this area, and there's ample storage under every squab.

Back down below, a large sliding door lets you into the saloon area, surrounded by tinted windows. There's an L-shaped sofa with dinette table immediately to port, and TV and smaller sofa opposite. In front of this is the fridge and freezer and the helm – all covered in teak, of course.

The galley is fairly small but stylish – the tops are marble, for example – and contains everything you need: microwave, sink, four-burner gas hob and gas oven, and plenty of cupboard space.

Steps leading forward take you down to the two cabins. The master suite is in the forepeak, with a large bed and plenty of storage. It also features a large skylight, subtle lighting and a 15" LCD TV. Alongside is the en-suite shower and toilet.

The guest cabin can be two- or three-berth (with a double and single up top). This boat's configuration had a second head, but you could get away with one and incorporate the extra space into the master bedroom. Both are well-apportioned, with Italian fittings, granite tops, electric flush-and-grind toilets, heated towel rails, extractor fans and mirrored ceilings – enhances the feeling of space. If you have extra guests, the saloon's settee folds out into a double bed. I particularly liked the night light (LED) system throughout the boat that makes for safe and easy movement at night.

There's a distinct Kiwi flavour: paua inlays, and much of the equipment has been sourced locally (good for local warranties and servicing). It includes Fisher & Paykel and Retravision appliances, to a BBQ Factory barbecue and gorgeous Tasman leather on the sofas. "We've tried to use New Zealand-sourced products wherever we can," says Winter. "It's easier for owners to deal with local suppliers."

Performance

In general, the boat has an easy motion – a comfortable balance between stability and manoeuvrability. It probably won't suit everyone, though. It's not a sport fisher and while there is room for fishing and diving, I'm sure the designer's thoughts were more attuned to entertaining and comfort. It's a pleasant ride – and up on the flybridge, those Yanmars are nicely muted.

Winter believes the boat will appeal to people retiring from yachting, and calls it the "gentleman's cruiser". "It's a yachtsman's motor boat. It has the classic, traditional lines and craftsmanship experienced yachties appreciate." I'd go along with that.

This particular Activa 4500 – with its equipment – is for sale at around $850,000 – but you could get the basics for $620,000.

Specifications Activa 4500

LOA: 13.5m (46'6") Beam: 4.3m (14'2") Draught: 1.16m (3'10") Displacement: 13,000 kg (approx) Fuel capacity: 1900 litres Water capacity: 760 litres Engines: 2 x Yanmar 240

Price as reviewed: $850,000

Keep up to date with news from Trade-A-boat or like us on Facebook!