Hunter 38
---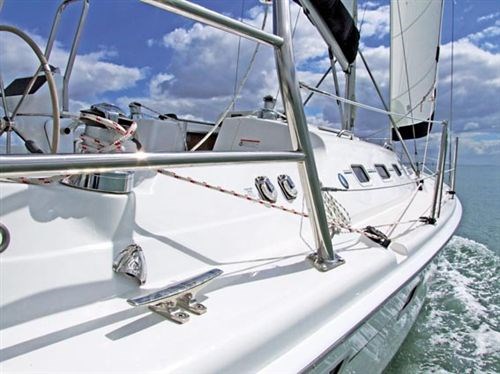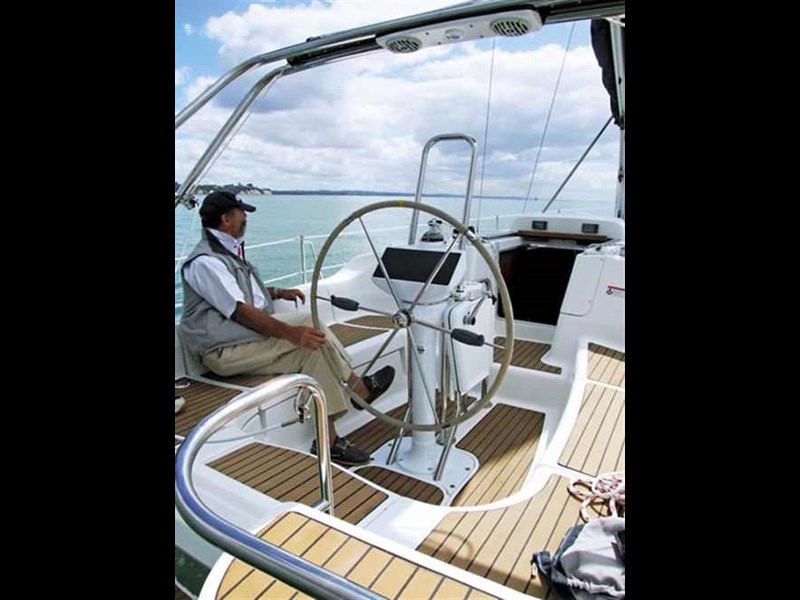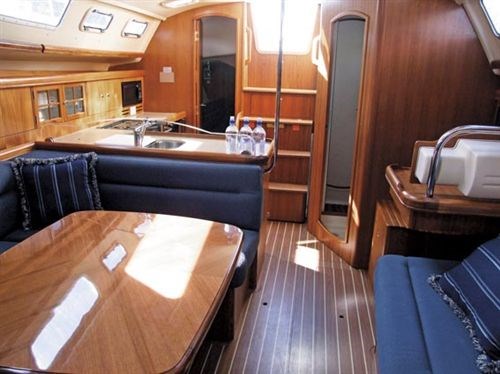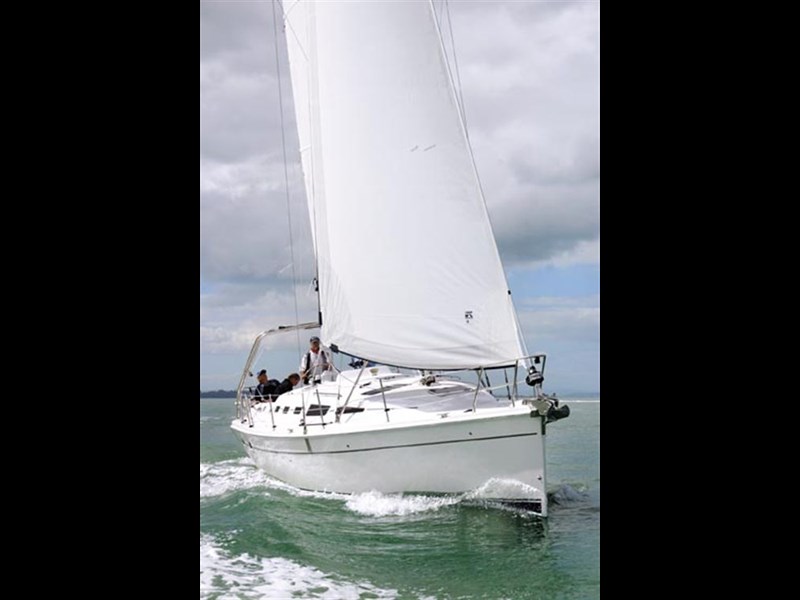 American-built Hunter Yachts has turned a corner with new production processes and material and is attracting excellent reviews with its new range of cruising yachts.
There is little argument that the US-designed and built range of Hunter yachts has received less than complimentary press over the years. Often referred to as floating caravans, Hunter has always done comfort well but often at the expense of performance. It would be fair to say too that quality issues chipped away at the reputation of Hunter during the 1980s. Despite all of that Hunter has remained one of the most prolific US production yacht builders with a history spanning 30 years.
No doubt aware of the need to shape up or ship out, Hunter owners and founders, brothers Warren and John Luhrs, addressed the issues facing Hunter, bringing in some top names in US yachting to pitch design ideas to better improve sailing performance. The company also upgraded its construction processes and materials which are now equal to those of competing production builders. This change of ethos is clearly evident in the Hunter 38 – a mid-size cruising yacht that blends form and function and continues Hunter's reputation for design innovation.
Released in 2004, the Hunter 38 went on to win Cruising World's Best Production Cruiser under 40ft. The new 38 carries Hunter's trademark appendages: the heavy-wall stainless steel arch that carries the mainsheet traveler, large cockpit bimini, the Bergstrom & Ridder rig and exterior topside chainplates. What has changed is the yacht's hull-shape and appendages.
Designer Glenn Henderson has introduced a narrower beam aft and a finer entry forward to achieve better performance in mid-range conditions. A low-drag deep draft (6'6") keel is complemented with a redesigned deep draft rudder on a composite stock. This, says Henderson, aides pointing ability by generating lift. The cockpit has changed too, losing the circular look in favour of a more traditional and practical layout. To describe the look of the Hunter as aggressive would be overstating things, but the new 38 certainly looks more like a yacht designed for ocean sailing.
Construction
Hunter Yachts use Baltek end-grain balsa core sandwich construction for topside construction and a solid GRP laminate below the waterline. Lay-up includes chop strand, woven rovings and bi-directional cloth. Kevlar is added from the stem to the keel for added impact resistance. Hull and deck are joined on an external flange and sealed with 3M 5200 sealer and thru-bolted. The flange is protected with a heavy vinyl lip-seal fitted with a stainless steel rubbing strip for added impact resistance.
Further topside strengthening is added around the area of the cap shroud chainplates. These are thru-bolted through the topsides. The advantage here is a wider shroud base for the B & R rig which does not carry a backstay or runners. The lowers shrouds attach to a single deck chainplate fastened to the hull via a stainless steel tie rod. Hunter literature says the company's construction methods ensure a light yet strong yacht with little excess weight.
While this might be so, the Hunter 38 weighs nearly 8 tonnes which puts it in the medium to medium/heavy displacement category. Three gel-coats are used in construction. A modified epoxy skin coat resin is applied during the hull lay-up together with a neo-pentel-glycol (NPG) gel-coat for additional protection against osmosis. The exterior is finished in Maxguard, a gel coat with an added UV inhibitor to prevent crazing and cracking.
Cockpit
Different by design, Hunter has always been out on a limb in terms of cockpit design and controls. The cockpit is dominated by a solid twin-rail cockpit arch anchoring the mainsheet traveler. The traveler control lines are mounted either side on the stainless rails with jam cleats. In ordinary trim the stainless arch carries a large bimini top that extends both forward and aft of the traveler. This provides excellent sun and rain protection but hinders a helmsman's ability to monitor the masthead Windex or indeed the trim of the main.
Running rigging is well set up with reefing lines, vang and halyards returning to the cockpit via Spinlock clutches mounted on the cabin top. Hunter has not skimped on deck gear with extensive use of Harken blocks and Lewmar self tailing winches. The yacht is fitted Selden mast, boom, solid vang and a quality Furlex S200 self furler for the head sail. The Whitlock Direct Drive steering pedestal is solid and reliable and easily negotiated with the Lewmar collapsible wheel folded in.
The pedestal is designed to accommodate wind, speed, depth and autopilot instruments. These, however, had been fitted to the instrument pod above the companionway and were too far from the helm to be easily monitored. Fitted with a small plastic cockpit table, the ergonomics for entertaining are excellent. Transom-mounted seats are another nice Hunter touch even if they are not terribly pleasing to the stern profile. Stern boarding access is good through the open transom. This is secured at sea by a fold-up gate that locks into position.
Life line gates have also been added aft as a useful alternative to boarding from the stern. Stowage includes a large cockpit locker to port beside which is the gas locker. A further two lockers are built into the stern boarding platform. It is a clever use of space but retrieving items from these lockers underway will be challenging. Adorned with the usual cockpit shower, stereo speakers and lighting, the 38 has great cruising potential. The cockpit seats and sole are finished in Flexiteek, a plastic hard-wearing teak alternative that is easy to remove and relatively cheap to replace.
The Rig and Sails
The Bergstrom and Ridder rig is well proven on Hunter yachts and has some advantages over the conventional single or twin spreader rig. It carries no back stay or runners and therefore requires no adjustment once correctly tuned. This is primarily achieved with a double set of large swept back spreaders and diagonal shrouds – now a common appendage on America's Cup yachts. The diagonals effectively do the work of an inner forestay.
The primary disadvantage of the B&R rig is the inability to run square off because of the acute spreader angles. This will not suit sailors that want to fly a conventional mast head spinnaker. But that said, cruising sailors often prefer to tack downwind which is often faster and less stressful on the crew. The Seldon rig is available with in mast furling or conventional single-line jiffy reefing and a stack-pac main sail cover. The Hunter 38 is main-driven and this is evident by the very generous roach of the main sail. Factory-supplied sails are by UK Halsey and include main and 110 per cent genoa.
Interior comforts
Available in a two or three cabin layout, the Hunter 38 has one of the most inviting and comfortable layouts I have seen in a yacht of this size. The two-cabin review yacht had a large queen size athwartship berth that disappears under the cockpit sole. The cabin is fitted with seating port and starboard and has twin hanging lockers. These are small and there are no drawers so personal clothes storage could be challenging.
While there is standing headroom at the entrance to the aft cabin there is only sitting headroom when in bed. The cabin is well ventilated with a large hatch opening into the cockpit supplemented with smaller opening ports in the cabin sides. The cabin has internal access to the yacht's single head and shower unit at the foot of the companionway to port.
The L-shaped galley is opposite the head and is very well equipped with twin stainless steel sinks, large Corion counter top, separate 12 volt under bench fridge and freezer and eye-level microwave oven. The two-burner stainless steel stove and hob is gimballed and fitted with pot holders but lacks a decent fiddle rail. Galley storage is reasonable with a bank of cupboards above the benches and a cupboard beneath the sinks.
This, however, gives access to the yacht's bronze thru-hull skin fittings which are neatly arranged and labelled. With 6'6" of headroom and three overhead hatches, the ambiance below is light, airy and roomy. The main U-shaped dinette is to starboard and features a polished teak table on double pedestals. This, in theory, can be lowered to provide a third double berth. The table is very nice but without fiddles has little sea-going use.
There is good storage beneath the squabs. It is pleasing too to see that Hunter has included a chart table, albeit small, opposite to port. This is equipped with a solid plinth for mounting instrument repeaters. The main switch board is located at the chart table and this is well marked and arranged. Forward of the chart table is a comfortable two-seater settee that, in theory, can be used as a sea-going berth.
The cabin sole is lined with Everwear – a hard wearing synthetic teak and holly product that will look good for considerably longer than the real thing. The forward cabin is not large but is well equipped with split squabs, storage access through the bunk front, small cedar-lined hanging lockers, reading and down lights. All interior bulkheads are lined with satin teak veneers and gone is the solid fibreglass headliner in favour of a lighter and more aesthetically pleasing vinyl.
Performance
I have sailed a number of new Hunter yachts over the years and must admit to being a bit sceptical about Hunter's claims of improved performance. I am happy to admit, however, that the Hunter 38 is a lot more agile than previous models. The deep draft rudder felt responsive in a light but building breeze on Auckland's Hauraki Gulf. Not without a pleasing degree of weather helm, the yacht climbed well to weather and settled in to the "groove" with little trimming effort required.
Like many production yachts that cater for single or twin aft cabins, the cockpit feels high off the water with a corresponding bow-down feeling. The relatively small headsail and swept spreaders add up to fast tacking ability and this proved to be the case. Windward performance was particularly strong with a steady 6.5 to 7.0 knots achieved in 12 to 15 knots of true wind. Performance off the wind was more than adequate for what is essentially a cruising yacht. The cockpit design works well despite the primary winches being so far aft.
Visibility from the helm is good whether seated on the aft combings or standing at the wheel. Below deck there were no annoying creaks or groans to report and the motion was comfortable despite a chop. The Hunter's 40 HP Yanmar diesel engine is more than adequate giving an easy seven-knots at cruising revs. Better again, and against the production norm, the engine is coupled to a propeller shaft which will pay dividends further down the track in terms of reduced maintenance and costs. Hunter have set out to make a statement with the new 38 and they have achieved their objective with an all-round package that I am sure will be appreciated by those seeking a well-mannered versatile yacht with all the trimmings expected in a production cruiser.
Specifications
Hunter 38 (Price as reviewed $355,000)
LOA 38'2"
LWL 34'8"
Beam 12'11"
Draft 6'6" (deep)
Displacement (est) 18,326 lbs (8320 kg)
Ballast 6128 lbs (2782 kg)
Fuel 284 L
Water 132 L
Engine Yanmar 40HP
Yacht supplied by Gulf Group Marine Brokers (www.gulfgroup.co.nz)

Keep up to date with news from Trade-A-boat or like us on Facebook!